If you have ever seen a front child bike seat, you may have felt a pang of awe or even jealously at seeing kiddo out riding shotgun with their parent. As your child moves through infancy, you may be looking to bring them along on biking adventures but might be wondering how safe those front child bike seats really are. 
High-quality front-mounted child bike seats are considered a stable and safe option for parents hoping to go bike riding with their children who are at least one year of age, with a maximum weight limit of around 35 lbs (16 kg).
Biking adventures are great exercise and a great way for families to bond. Whether you already have a bike seat or are looking into getting one, it's important to know the pros and cons before you commit. Read on to find out what makes front child bike seats safe and what to look for so you can choose the best and safest option for you and your little one.  
How front child bike seats work
Font-mounted child bike seats attach to the front of your bike, just below the base of the handlebars. This allows the child to sit snuggled between the adult rider's arms, and they tend to be the smallest among bike seats.  
When installing a front bike seat, it is essential to have enough room between the seat and the handles for it to work. This typically means that the top tube of the bike frame needs to be 20 inches or longer.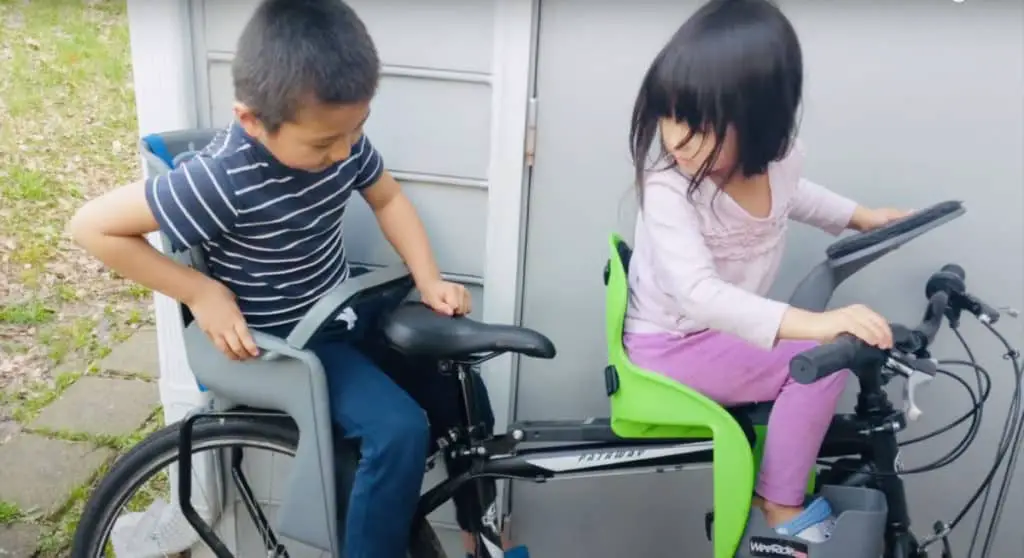 Is biking with a front-mounted child bike seat safe?
To ride in a bike seat safely, your child needs to be old enough to sit well on their own. They also need to have enough strength in their neck to support a lightweight helmet. 
According to the American Academy of Pediatrics (AAP), infants younger than 12 months should not be carried on a bike. 
Just like riding in a car, there is always the risk of serious injury when carrying a young child on your bike. Also, like riding in a car, however, there are precautions you can take and equipment you can use to make riding a safe and rewarding experience. 
Tips for creating a safer experience with child bike seats
Cycling together as a family can be one of the most enjoyable outdoor experiences. Implementing a few safety tips can help you adjust to riding with your 
Reevaluate your expectations
Riding a bike with a kid is not the same as riding a bike on your own. Balancing is going to feel different, and your visibility may be off with your child sitting in front of you. You can also expect to move at a slower pace and to stop more often than you usually would. 
Don't forget the gear
Whether riding alone or as a passenger, when getting on a bike, a good helmet is non-negotiable. Finding a bike helmet for your baby or toddler is a challenge because of its small size and lightweight requirements, but there are some out there. 
This helmet from Giro comes in sizes as small as 45cm in circumference, making it a great option for little ones as young as 12 months. 
Protect little feet with foot straps
When sitting in a bike seat, little feet run the risk of getting caught in the bike spokes. Though most child bike seats are equipped with a footrest, that is not enough. Many children don't do well with sitting still. They will attempt to kick their feet or let them dangle unless they are properly secured in place. 
Look for a bike seat with foot straps so you can keep your kiddos' feet safely out of harm's way without having to worry about whether they slipped off the footrest.  
"baby on board"
Riding a bike with a child is different than riding alone, and child seats can be a bit inconspicuous. If you are concerned that some bicyclists may unintentionally ride too close, you may want to consider getting a 'baby on board sticker so that they know to give you more space on the road.
Pro and cons of front child bike seats
Among bikers, there are many different opinions on which type of carrier is the best option for riding with your child. While there is really any best or better, if you are considering a front child bike seat, it's a good idea to weigh the pro and cons so you can choose what will work best for your family. 
The pros of using a front-mounted child seat
Your child gets a front-row view. Kids love to see what's going on, and with a front-mounted seat, they get the best view during your biking adventure. This is great for bonding over the scenery and pointing out different things during your ride. 
The seat is easier to attach and remove. Front-mounted seats tend to be easier to add and remove from the bike. They are usually lighter as well, so you've got less weight to carry. 
Your child may feel safer. Sitting in a front seat instead of a rear seat may make your child feel more secure since they are closer to you. 
You may feel more secure. Instead of having to turn around as you would with a rear-mounted seat, you can easily see and talk to your kiddo during your ride. Your child also won't be able to pull on the back of your clothes or hair, which can make riding difficult. 
The cons of using a front child bike seat
Your child is more exposed. In the event of a head-on crash, your child is more at risk than they would be if they were in a rear-mounted seat. Front child bike seats also lack suspension systems, so there isn't really anything to absorb the impact from bumps. 
Steering can be difficult. If you have a particularly squirmy kid that likes to kick, their feet may get in the way of your steering. Front seats can also feel more cramped depending on the length of your bike's top tube, causing your knees to bump the seat. 
Visibility is limited. With your child seated in front of you, your visibility of the path ahead will be somewhat limited. This isn't typically an issue for riders, but it is something to consider if visibility is a concern.
Front seats can't be used as long. The weight and size limits on a front-mounted bike seat are lower than that of a rear-mounted seat. If you are looking for a wider age range, a front seat may not be the choice for you. 
Here's a short video explaining what I think the best options are for riding with a child.
Front child bike seat weight limits
As mentioned above, front child bike seats can't be used as long as some of the other child carrier options. The weight limit for a front-mounted seat is 35 lbs (16 kg), so once your child reaches this point, you will need to switch them to a rear-mounted seat or maybe even get them started with a bike of their own. 
Final thoughts
Having a front child bike seat allows you and your child to foster a love for riding bikes and spend more time together outdoors.  While it's important to wait until your child is the appropriate age before taking them out riding with you, once you're ready to hit the trails together, front child bike seats provide a safe and comfortable carrying option. 
In the end, it's up to you to weigh the pros and cons to find out which type of seat will be the best and safest option for your family.
---
My Recommended Child Bike Seats
Affordable and sturdy, I recommend getting the following child bike seats for anyone looking for a seat to ride together with your child. I've been using these two seats for more than 6 years for both of my kids and they're still holding up great. If you want to see all the gear I recommend, check out my Gear page.
Recommended Front Child Seat: WeeRide
Recommended Rear Child Seat: Schwinn Deluxe