So you're thinking about getting a bike trailer—Contrats!
This guide is the ultimate resource that will give you everything you need to know about purchasing the right bike trailer, whether you're looking for a budget option, want to buy used, have more than one child, looking for a stroller conversion, or just looking for the best trailer for your specific situation.
I have attached every major bike trailer brand to many different types of bikes, including a cruiser, hybrid bike, mountain bike, road bike, and disc brake bike. This guide covers everything I've learned about purchasing bike trailers.
My recommendation for most people: Schwinn Joyrider
My recommended trailer for most people is the Swhinn Joyrider, which is an affordable double-seater that converts beautifully to a stroller. Check out my full review with photos here.
In a similar fashion to the popular Wirecutter reviews, below you will also find many of the bike trailers that we've personally purchased, tested, and reviewed to make it easy for you.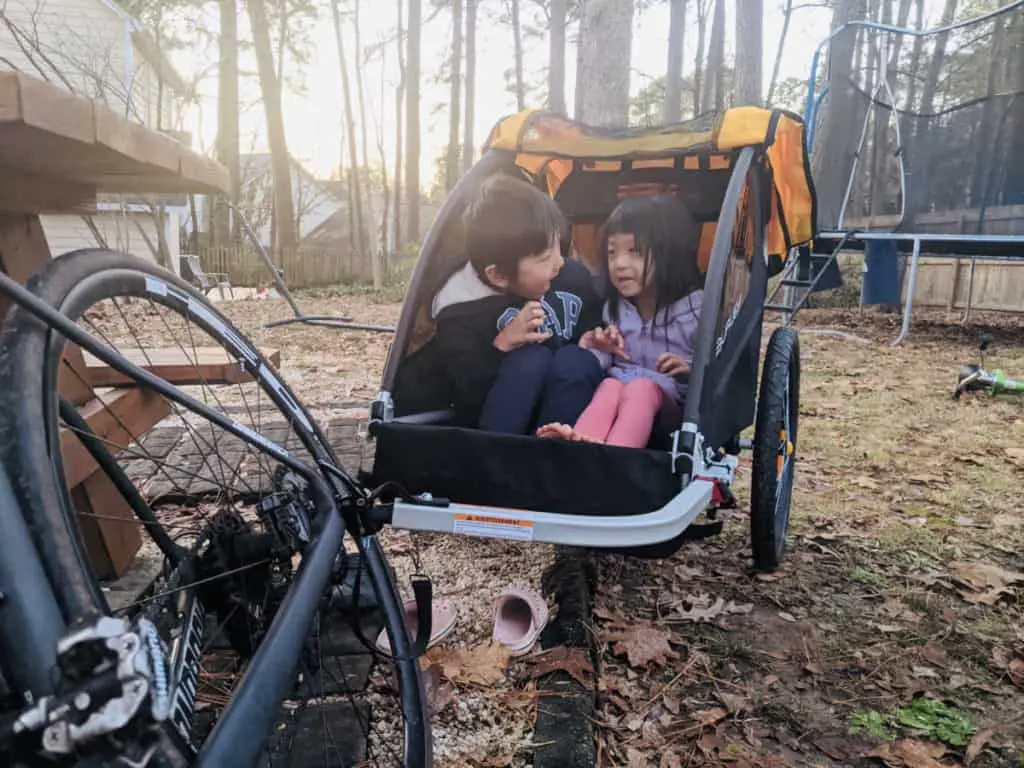 ---
What's the best bike trailer?
A good bike trailer costs from $300 to $1000 and has a weight capacity of at least 75 lbs (34 kg). There are trailers with single or double seats, trailers that convert to a stroller, trailers that are lightweight, trailers that have larger wheels, and even trailers that have suspension.
I'm here to make this easy for you!
Regardless of what you might be looking for, this guide is an up-to-date guide with the latest from the bike trailer industry. Below I've also outlined the top recommendations for the most common situations, with price and affordability being an important consideration.
To start, ask yourself these helpful questions:
Where do you plan to ride with the bike trailer?
Do you plan to use it as a stroller as well?
What is your budget?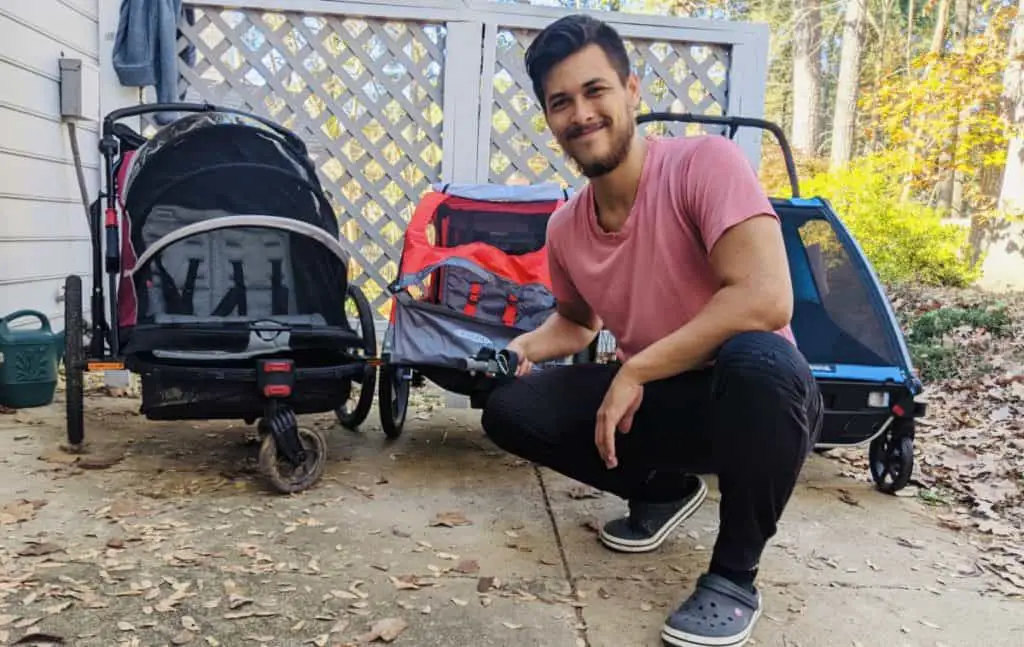 ---
What is a bike trailer and how do people use them?
A bike trailer is a trailer used for recreation or transportation that attaches to the axle of a bike's rear wheel using a hitch arm and attachment system.
Bike trailers are distinguishable by a few key features:
Single or double seats: All bike trailers have seats with a harness to strap in the child. Trailers either have single-seat or double-seat capacity.
Large wheels: The wheels are noticeably larger (16 to 20 inches) to enhance the comfort of the ride.
Protective cover: The large protective canopy covers the bike trailer frame and keeps the child enclosed.
Stroller conversion: In some models, bike trailers can convert to a functioning stroller for added convenience and usability.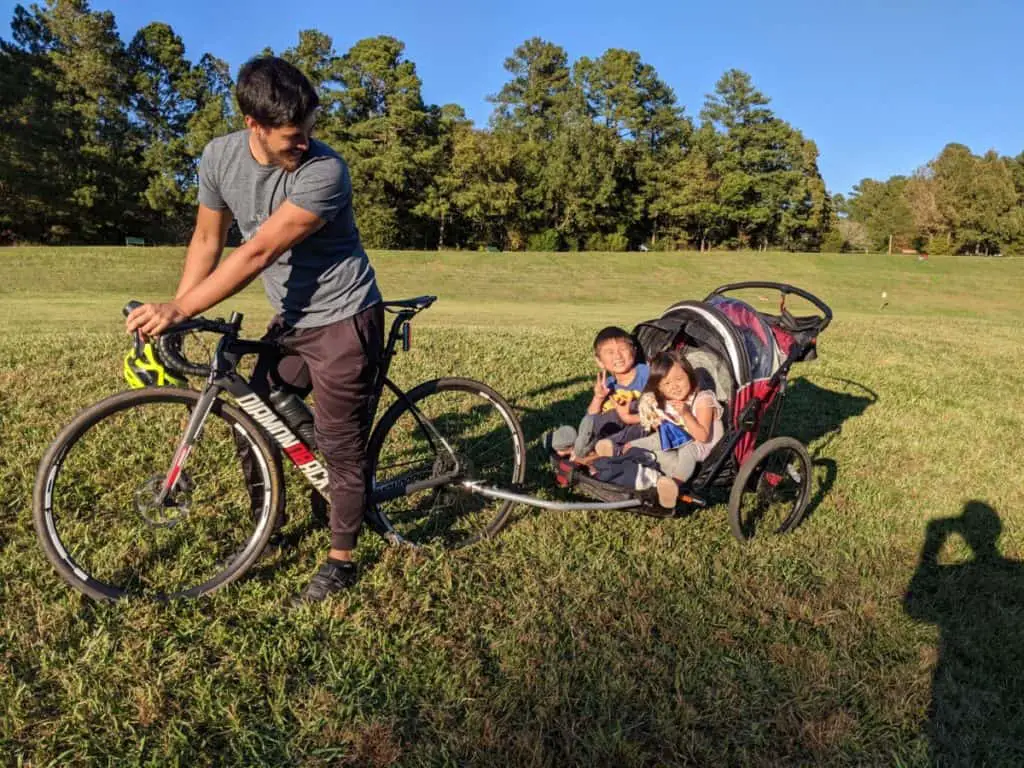 ---
Different types of bike trailers
There are many types of bike trailers available to specifically cater to the type of riding you plan to do. Every situation calls for a different type of bike trailer in a different price range.
For example, a family that just plans on occasional outings on paved bike paths probably doesn't need to swing for a $1,000 Thule Chariot Cross. They might do just fine with a $300 Burley Bee (just trailer) or a $490 Schwinn Joyrider (stroller/trailer).
In this section, we'll cover five main types of riding you can do with a bike trailer.
---
1. Riding with one child or two children
If you will be riding with one child, then one of the options mentioned in the list below would suit your needs. Single-seat trailers are more lightweight, narrower, and typically cheaper.
To ride with two children, a double-seat bike trailer would be required. Double seaters have more interior space and are heavier, wider, and just great fun for two siblings (or friends).
Pictured: Schwinn Joyrider
---
2. Riding with a dog
If you love cycling but wish you could take Fido with you, then a bike trailer might be the perfect solution. Bike trailers are a healthy and safe way to get around with a dog (and I'm sure he wouldn't mind either!).
But there are some important things to consider before riding with your bud in a bike trailer, and often it takes time for a dog to trust the trailer enough to feel comfortable riding it.
If a dog is slowly introduced to riding in a bike trailer, then it is perfectly safe for a dog to ride with you. It usually takes days or sometimes a few weeks for a dog to trust the bike trailer enough to enjoy riding in one, so be sure to take the appropriate amount of time to slowly introduce the trailer. It is recommended to acclimate your dog slowly by filling it with your dog's favorite things before you start riding together.
If you want to know how to safely ride with your dog in a bike trailer, I wrote this article specifically for people who want to acclimate their dog to a bike trailer, plus some recommended bike trailers for dogs.
Pictured: Schwinn Rascal from Amazon
---
3. Riding with cargo (groceries)
If the idea of replacing driving with biking gets you excited, then getting your groceries with a bike trailer is a great place to start.
Bike trailers are spacious and can hold an impressive amount of weight (up to 40–100 lbs), which is why they are perfect for doing your regular grocery shopping. Even with a child in the trailer, there is still space to hold groceries.
Even if you don't have a child and just want to use the trailer for shopping, I would still recommend a child trailer because of its spacious interiors and affordable prices.
You can get any of my recommended trailers listed below. Or, if you're just looking for an affordable trailer that gets the job done at a good price point, you can go with the Schwinn Trailblazer for around $136.
Pictured: Schwinn Day Tripper on Amazon
---
4. Riding on rough terrain
The rougher terrain you plan to ride on, the more expensive the trailer will be.
For smooth paths and sidewalks, any bike trailer will manage just fine. For mountainous or gravel terrain, it is recommended to get a trailer that has suspension for added comfort to the child.
In addition, larger 20-inch wheels will offer a smoother ride, as opposed to 16-inch wheels.
If you're a family looking for an all-terrain trailer to use in all climates and situations, the Thule Chariot Lite or the Burley D'Lite X are the top-of-the-line options for all-terrain riding.
Pictured: Thule Chariot Cross on Amazon
---
5. Riding up hills & long distances
The average bike trailer weighs from 20 to 40 lbs (or 9 to 18 kg), depending on the seating capacity and design of the trailer. Factoring in the weight of a child and cargo, the total weight being pulled ranges from 40 to 100+ lbs (or 18 to 45 kg).
If you plan to do longer rides that entail hills and lots of stop-and-go riding, then the weight of the trailer will be a significant consideration. A good-quality lightweight trailer is recommended in such cases.
But don't let the weight of the trailer intimidate you!
Most riders find that it quickly becomes easier and easier to pull the bike trailer as your legs get stronger and you get used to handling the trailer. However, you will notice the extra weight most significantly when riding up hills and covering long distances (more than 5 miles). If you're anticipating that you will be doing hill climbs and long rides, then a lightweight bike trailer would be a good consideration.
Pictured: Instep bike trailer on Amazon
---
What to look for in a bike trailer
Here are five critical things to look for when purchasing a bike trailer:
1. Cost & Affordability
Cost is the most important factor for many people. Bike trailers can cost from $100 to $1,000, and everywhere in between, which is rather confusing at first.
Aren't all bike trailers the same more or less? Nope, not all trailers are created equal.
The cost of a bike trailer varies depending on several factors, including safety features, frame materials, seat capacity (single or double), and stroller conversion capabilities.
If you're new to bike trailers and just want to get started, it might be tempting to go for a $100 budget bike trailer. And that might be the best option for you, but your budget and how you plan to use the trailer will benefit more by spending $300–$490 for an entry-level bike trailer.
As you climb the price ladder, you get better features and quality.
For a budget trailer, you typically won't get a stroller conversion kit, and you get lower-quality covers that are cumbersome to remove, as well as smaller wheels.
For an entry-level trailer, you'll find stroller conversion and a canopy cover with better safety features.
For a mid-range trailer, you start to see very high-quality materials and durability for an affordable price, as well as stroller conversion and solid safety features.
And at the highest-end, you get the bells and whistles, with suspension on the trailer for rough terrains, ultimate comfort, and unparalleled quality.
2. Weight Limit
Bike trailers can hold an impressive amount of weight, which makes them one of the most desirable ways to get around with a child or pet. Especially when riding with a child in a bike trailer, it is crucial that the bike trailer has a weight capacity high enough to safely hold the child.
Depending on the durability and brand of the bike trailer, they can hold from 40 lbs on the lower end to 150 lbs on the highest end. Double-seated bike trailers are designed to carry more weight, so they may be preferable for growing families.
For a child to ride in a bike trailer pulled by an adult, the industry-wide recommendation is to wait until the child is at least one year old.
Although every child develops at a different rate, it is recommended that a child be able to sit upright on their own while wearing a bicycle helmet. This ensures that the child has enough body strength to enjoy a ride in the bike trailer without bouncing back and forth too much.
Regardless, it is generally recommended to not ride aggressively on rough roads or at speeds above 10 mph (or 16 kph).
With that said, there are some cyclists who start bringing their child along for the ride at around 6 months old or earlier! Depending on their physical development, this is entirely plausible. Ride at your own risk!
For a detailed explanation about age limits for bike trailers, read: How Old Should a Child Be to Ride in a Bike Trailer?
To learn how to ride safely with an infant, read: Can an Infant Ride in a Bike Trailer? Top 5 Bike Trailers for Infants
3. Safety Features
There are two primary safety features that are important to look for in a bike trailer: (1) the harness and (2) the cover.
A five-point harness is a standard safety feature of almost all bike trailers, even the cheapest trailers. It's just important to make sure that the harness will fit your child by checking the weight limit of the trailer (which is typically 40 lbs per child).
If your child is under the weight limit and under 6 years of age, the harness should fit comfortably without a problem.
The second safety feature to look for in a bike trailer is the cover. On the lower end of bike trailers, it is common to have a mesh/plastic cover that just flaps over the front of the trailer to enclose the child. These canopy-style covers are not ideal for safety reasons, particularly in the event of an incident. However, they are more lightweight and usually offer better airflow through the trailer. They are also a bit more tedious to attach and detach when a child is mounting the bike trailer.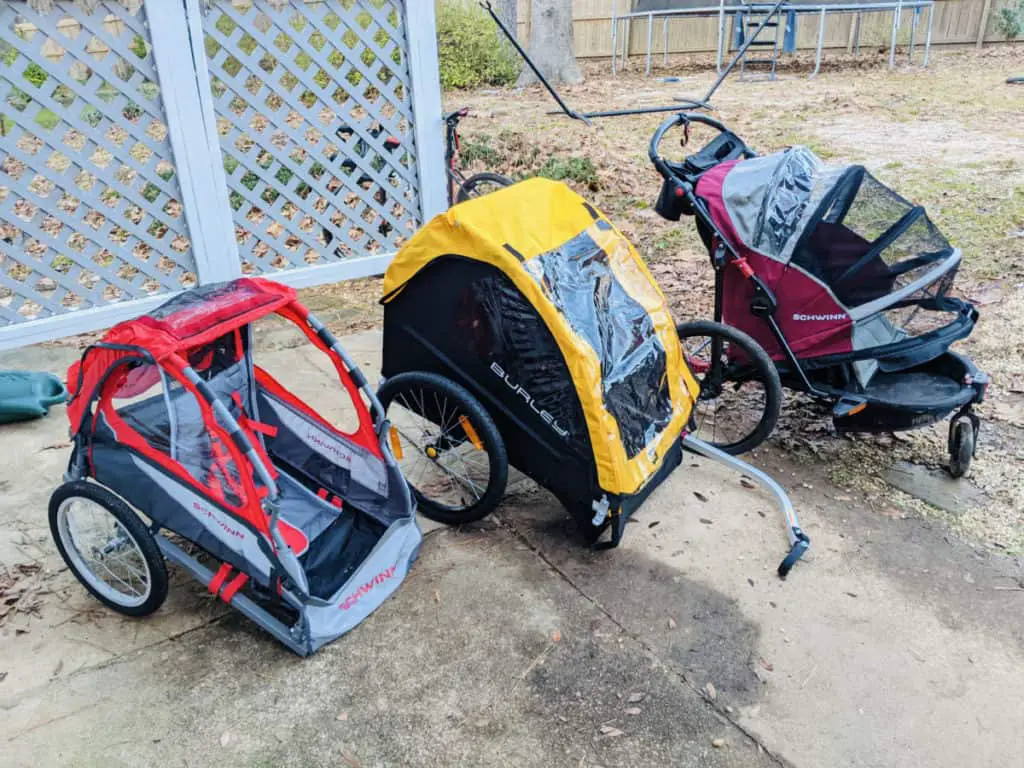 On mid to high-end bike trailers, the covers offer more protection and usability. The covers are more like cages and can easily be pulled up or down to allow for a child to mount the trailer.
A final note regarding safety features: bike trailer manufactures make it a priority to make their products safe. As long as you are following basic safety precautions, then you will rarely have safety concerns. Ride on sidewalks and paths, ride at speeds under 10 mph, and put on some flashing lights.
Here's my in-depth article on the safety of bike trailers.
4. Wheels
Bike trailer wheels typically come in two sizes: 16 inches and 20 inches.
The gold standard for bike trailer wheels is 20 inches, which offers smoother rolling over bumps and rough terrain. 20-inch wheels also make for an excellent stroller experience.
You will typically find 20-inch wheels on mid-range bike trailers and up, but don't be surprised if you find them on an entry-level trailer like the Schwinn Joyrider. If you can, aim to find a bike trailer that has 20-inch spoke wheels.
On the lower end of wheel quality, you will find 16-inch wheels that are sometimes plastic, like with the Instep bike trailers. But the incredible affordability of that particular trailer (just around $120) may be enough to make you want that model if you're just looking for an occasional rider.
5. Attachments
Making sure that your bike is compatible with a bike trailer is one of the first considerations to make when shopping for a trailer to pull your precious cargo. Most bikes are compatible with all major bike trailers for kids.
Bike trailers either attach to the axle of the rear wheel or to your bike's seat post.
In most cases, you'll be able to easily attach your new bike trailer right out of the box, with all accessories included. Specifically, if your bike's rear wheel has a standard quick-release (skewer that goes through the center of the wheel), then most trailers will attach easily to your bike.
Some types of bikes, however, may require a simple adapter in order to attach the trailer. Typically, bikes that have 12mm thru-axle wheels or hooded-style dropouts may require an adapter.
If you have disc brakes on your bike, be sure to read my guide on attaching a bike trailer to disc brakes.
If you're not sure about how a bike trailer might attach to your bike, I've created a helpful guide, which you can check out here.
---
Bike Trailers vs. Child Seats
Another common question parents ask is, "What is the best and safest way to ride together with a child?" There are essentially two ways to ride with a child: a child seat or a bike trailer.
Bike trailers are generally the safest option because the child is more protected in the event of a crash. Additionally, bike trailers are easier to handle the bike with than child seats.
At first glance, it would seem that the bike-mounted child seat is the easiest and safest way to ride with a child due to the fact that they are kept close to you. In fact, that was my belief for years until I looked more into bike trailers.
However, bike trailers are much safer and much easier to handle than child seats.
Need further convincing? Here's an article I wrote just about bike trailers vs. child seats.
---
Are bike trailers even safe?
The next reasonable question that any loving parent would ask is, "Are bike trailers even safe?"
The short answer is—Yes, they are. The longer answer is: With any outdoor activity that involves semi-high speeds, there is an element of risk, but the health benefits and enjoyment factors more often outweigh the risks.
For example, an adult riding a bike next to a child or skiing with a child has the same risk factors as pulling a bike trailer. This is exactly the reason why bike trailers are arguably the safest way to ride with a child.
By following some basic safety tips and your own common sense, bike trailers are much safer than similar alternatives, such as a child seat.
On top of that, there is the added benefit of being very healthy for you and your child long-term, which helps reduce the risk factors involved with riding with a bike trailer.
With that said, there are several things you can do to make riding with a bike trailer even safer. The most reasonable cause for concern with bike trailers is the trailer not being visibly seen by cars on the road. You can nearly eliminate this risk by using flashing lights, mounting a flag on the trailer (which typically comes with the trailer), staying on sidewalks and bike paths, and avoiding riding on roads with cars.
Another common safety concern is losing control of the bike while riding, which can be reduced by riding at lower speeds under 10 mph and practicing often.
Here's everything you need to know about riding safely with a bike trailer.
There are many excellent articles that Mr. Money Mustache wrote arguing that bikes are the safest form of transport that I would recommend reading. Find out more here.
---
Is it hard to pull a bike trailer?
The difficulty of pulling another human by bike is one of the first mental blocks we face when buying a bike trailer. After all, just pedaling ourselves up a hill can be a monumental task itself.
Pulling an additional 40 to 100 pounds of extra weight (the bike trailer plus one or two children) is significantly more difficult than pulling just yourself. However, the added health benefits to you and your child often outweigh the difficulty for many parents.
In addition, the difficulty of pulling a bike trailer will decrease over time as you become stronger and follow some simple riding tips.
In this article, I explain exactly how hard it is to pull a bike trailer with kids, as well as give you some helpful tricks to make it easier.
---
The 8 Best Bike Trailers for Every Common Situation
These eight recommended bike trailers are based on years of personal experience, customer reviews, and affordability.
My assumption is that you want the best bike trailer for your money, and these are truly the best bang-for-buck bike trailers on the market. All of them have high-end features that would normally cost much more than their current price tag.
If you need help figuring out if your bike is compatible with these trailers, check out my full guide here.
Here's a helpful video where I explain it all simply!
---
Schwinn Joyrider
Best double-seat bike trailer & stroller

Price: Around $490 (check on Amazon)
The Schwinn Joyrider is a steal of a deal at only around $490 for a double-seated trailer that converts seamlessly to an excellent stroller. It has high-end features, such as stroller conversion out of the box, a solid protective cage, large 20-inch wheels for extra smoothness, and large interior space. You get all of that without breaking the bank at just around $490!
I personally have been using the Joyrider the longest out of all the trailers we have, and I still stand by it as the best bang-for-buck bike trailer on the market!
Note: The Amazon description page mistakenly labels this trailer as a "1 Seat" trailer, but that is incorrect. It is in fact a "2 Seat" trailer.
Pros
Affordable—A low price point for high-quality features
Protective cage—Added peace of mind
Stroller conversion—Converts seamlessly to a comfortable stroller
Cons
Wide—The frame is slightly wider than average double-seat trailers
Heavy—On the heavier side of trailers weights (40 lbs)
I wrote a full review of using the Schwinn Joyrider, which you can check out here.
---
Price: Around $500 (check on Amazon)
There's no reason to get a double-seater unless you need one! There are not many single-seat trailers that convert to strollers on the market, which is why the Thule Chariot Cheetah is truly one of a kind. Keeping in mind that Thule is a high-end brand with excellent quality, the Chariot Cheetah is a good deal for what you get, including stroller conversion.
Pros
Stroller and jogger conversion—Stroller conversion comes with the trailer and the jogger conversion is sold separately
Lightweight—Just 20 lbs
High weight limit—75 lbs!
Large interior space—One of the tallest bike trailers available
Cons
Not much storage space—It's a minimalist trailer, so there's minimal space for cargo
---
Burley Bee
Best double-seat trailer only

Price: Around $300 (check on Amazon)
The Burley Bee is a well-designed, high-quality, lightweight, and budget-friendly bike trailer for frequent riders.
With the reputable Burley brand and high-quality materials, the Burley Bee is one of the best bang-for-buck trailers for anyone looking for a trailer that is just really good at being a trailer.
Pros
Affordable—A low price point for high-quality features
Looks great—Just a cool-looking trailer that might turn into a robot
Lightweight—Weighs just 20 lbs, which is half the weight of some trailers
Cons
No stroller conversion—stroller not available on this trailer
I wrote a full review of using the Burley Bee, which you can check out here.
---
Burley Minnow
Best single-seat trailer only

Price: Around $280 (check on Amazon)
A high-quality single-seat trailer at an affordable price, the Burley Minnow is recommended if you aren't looking for a trailer that converts to a stroller.
Why get a single-seater?
You might be wondering why someone would want a single-seat trailer as opposed to a double-seater. Apart from the obvious reason that some families will only be carrying 1 child, the reason a single-seater is a good choice is simply because of weight. The weight of a bike trailer can make or break your riding experience.
For example, if you're going on a longer ride or climbing lots of hills, then the Burley Minnow will really come in handy. Also, having a single child sit alone in a double-seater is not as comfortable due to the weight distribution.
Pros
Affordable—A low price point for high-quality features
Lightweight—Weighs just 22 lbs, which is half the weight of some trailers
Cons
No stroller conversion—It's a minimalist, lightweight trailer
---
Price: Around $130 for single, (check on Amazon) or $200 for double (check on Amazon)
For budget-minded families that also want a bike trailer with great reviews, the Schwinn Trailblazer is hard to beat at under $150!
However, it is with much hesitation that I even mention a budget bike trailer on this list. It is true that budget bike trailers can get the job done for an affordable price. But the quality is substantially better if you just pay $300–$490 for an entry-level bike trailer like the Schwinn Joyrider or Burley Bee.
There are two other noteworthy budget trailers that are in the same price range as the Trailblazer: the Instep and the Allen Sports Deluxe.
The reason I would recommend the Schwinn Trailblazer over those two options is simply because of the quality. They just don't have the same level of durability that the Trailblazer offers.
Stroller Conversion
The Schwinn Trailblazer also comes in a double-seat capacity and stroller conversion for around $200. You can check out that model on Amazon here.
Pros
Acceptable quality for a budget trailer
Double and single seats available
Stroller conversion available on double
Cons
Lower quality materials (budget trailer)
No stroller conversion on the single-seater
I wrote a full review of using the Schwinn Trailblazer, which you can check out here.
---
Price: Around $1,000 for double (check on Amazon) and $900 for single (check on Amazon)
Best for active families who want the most out of their bike trailer, the Thule Chariot Lite is a top-of-the-line quality trailer that is worth every penny. Its large wheels and suspension feature make it a great option for gravel riding our mountain riding.
Although on the higher end of the price spectrum, the Chariot Lite is actually a few hundred dollars cheaper than its older brother, the Thule Chariot Cross. For that reason, the Chariot Lite makes the list of exceptional trailers and I would recommend it to someone looking for a trailer that can take a beating.
But why would anyone swing for such a pricey bike trailer?
The Chariot Lite comes with suspension, which adds extra comfort to your child on rough terrain. If you plan on any gravel or mountain rides, then this trailer is ideal for your type of riding.
But if you're just planning on recreational riding, then the Schwinn Joyrider does many of the same things for more than half the price.
Pros
Highest-quality materials—Truly the best components on the market
Suspension—Added comfort on rough terrain
Double front wheels—Makes for an excellent stroller
Lots of storage—It even comes with a pannier bag attached to the back
Cons
Cost—It's a top-of-the-line bike trailer and has suspension
Complicated to assemble—It comes with a lot of attachments that are hard to understand at first
I wrote a full review of using the Chariot Lite's older brother, the Thule Chariot Cross, which you can check out here.
---
Price: Around $150 (check on Amazon)
The Schwinn Rascal is perfect for spending quality time outside with Buddy. It's lightweight, affordable, and even has a doggy door!
Pros
Affordable—A good price for a dog-specific bike trailer
Doggy door
Lightweight
Cons
Low weight limit (50 lbs)—This trailer also has a 100 lbs option for large dogs
I wrote an in-depth article about riding with dogs and how to help a dog get comfortable with riding in a trailer. You can check it out here.
---
Price: Around $100 (check on Amazon)
Although any bike trailer for kids will do just fine to hold groceries or tow large objects, you may just want a basic cargo trailer that gets the job done. In that case, the Schwinn Day Tripper Cargo trailer is an awesome choice. It can hold an impressive 100 lbs of cargo.
Pros
Affordable
High weight limit—100 lbs
Large 20-inch wheels—Other cargo trailers only have 16-inch wheels
Cons
---
How to buy a used bike trailer
If you're looking for a high-quality bike trailer for under $200, then buying used is the way to go!
Bike trailers are one of those items that should ideally be passed on from one family to the next while reducing the need to manufacture new bike trailers.
In other words, there are plenty of used trailers for sale floating around! Below I've outlined some things to know before you buy a used trailer. 
Best practices when buying a used bike trailer
1. Search in your local area
Search for "bike trailers" on Craigslist, Facebook Marketplace, and eBay in your local area.
2. Filter your search by price
Sounds obvious, and it is. Sorting the items with a price filter will give you an immediate result on what you're looking for. 
3. Look up the retail price of the exact bike trailer
Once you've found a used bike trailer for sale within your price range, be sure to look up the actual retail price for that trailer.
Sometimes sellers sell trailers without giving it much of a discount. For example, a $150 Schwinn bike trailer going for $100 on Craigslist is not much of a deal. But at $300 Burley Bee going for $100 is a heck of a steal!
4. Ask the right questions
If the description and photos don't tell you much about the condition of the trailer, then don't shy away from asking questions.
The trailer should have the basic features intact. I would recommend asking the following: 
Does it come with the coupler hitch attachment?
What is the condition of the wheels?

Wheels are important (duh). They need to be rotating fine. 

What is the condition of the cover? 
5. Don't be afraid to drive a few hours to pick up the trailer
If you found the perfect bike trailer, but it's 100 miles away, consider making it a day trip with the family and explore a new area (possibly with a new bike trailer). 
For more of an in-depth guide on how to buy a used bike trailer, read my guide on buying a used bike trailer.
---
Get clear on your reason for getting a bike trailer
Now, I don't want to steer you away from buying a bike trailer. In fact, I would be happy to see more people out and about. But it's important to know your Why before making the purchase. If you have a clear reason, you will be more likely to get the most out of using the trailer and make it a priority to take the trailer on family outings. On the other hand, if you lack the motivation to ride with a trailer, then it's easy to see it as an expense, rather than an investment.
My personal reason for using bike trailers whenever possible is for our health. It's healthy for me to burn some extra calories and strengthen my legs by pulling the 100 extra pounds of kiddos behind me. It's also healthy for my kids to experience the thrills and freshness of the outdoors, as well as see me, their parent, set an example of healthy living.
I also happen to believe that if everyone took their bike out more instead of the car, humanity would be much better off health-wise, environmentally, and financially.
These motivations I have are enough to remind me to take the kids out with the bike trailer at least a few times per week, especially when we're going any distances within 2 miles. I heard once that half of all cars on the road in America are traveling to destinations that are under 2 miles away. This fact really shocked me, as I realized that we could solve so much of the traffic and health issues we face just by biking and walking more.
Anyway, enough about me. What's your motive?
Are you hoping to start biking more than driving? Are you planning on spending more time outdoors with the kids? Are you looking for a nice recreational activity with the family? Getting groceries?
Regardless of the reason, it will help you make a decision about which trailer to get if you can recognize the clear benefits of riding with a bike trailer.
---
Four benefits of bike trailers
Here are four not-so-obvious benefits of riding with a bike trailer:
1. It's good for your kids
This is probably the main reason families get into bike trailers—it's just all-around fun and healthy for the kids. From the age of 1 year old (or younger) to around 6 or 7, kids can enjoy the great benefits of being outdoors without having to know how to ride a bike themselves.
On top of that, something we don't often consider is that kids are constantly watching our behavior. If they see that we are choosing to bike instead of taking the car, then they will model that behavior throughout their lives.
Our family's rule is that if our destination is under 3 miles, then we must bike or walk. Many people write this off as impossible or dangerous because they are accustomed to driving and therefore don't know that there are perfectly safe and feasible roads/paths all around us.
I was living in New Jersey when we started riding with a bike trailer, which is arguably one of the most bike-unfriendly areas in America.
2. It's good for your health
What about you? Will you lose weight and have your heart become more efficient at pumping blood as a result of pulling a bike trailer? YOU BET.
With around 40 to 100 lbs of extra weight behind you, you're going to be putting down more power, burning more calories, and making your heart work harder.
If you just determine to ride with the bike trailer once per week for about 3-5 miles, you will get a killer workout just from that. The longer you go and the more hills you climb, the more efficient your body will become at pulling the extra weight.
So yes, bike trailers are an investment in your health. Not only physical health but mental health too. Driving is stressful. Driving with kids is outright the worst. The simple act of getting in the car with the kids is a huge task.
With bike trailers, on the other hand, every ride is an adventure and a huge stress relief.
3. You can save money
Depending on how determined you are to make biking a lifestyle as opposed to driving or taking public transit, you can save a significant amount of cash.
Just keep this mind-blowing statistic in mind, provided by the US Environmental Protection Agency (epa.gov):
"Car trips of under a mile add up to about 10 billion miles per year, according to the 2009 U.S. National Household Transportation Survey (NHTS).2 That's like the entire population of Chicago driving to Las Vegas and back!

If we all chose to power half of these short trips with our feet instead of petroleum, assuming an average fuel economy of 22 mpg and an average fuel price of $2.50/gallon, we would save about $575 million in fuel costs and about 2 million metric tons of CO2 emissions per year. That's like taking about 400,000 cars off the road each year. The total financial savings are even bigger — almost $900 million dollars — when you include savings on maintenance and tire replacement."
So if you have similar driving habits as the average American, you could cut your driving time and costs significantly by just biking instead of driving.
There are surely many reasons not to do that, such as safety concerns, fitness level, etc. But you never know until you try. I would suggest making a list of the most common destinations that you drive to from your house, and then take out Google Maps to see what the safest route would be to get there.
Now, the thing about bike trailers is that I do not recommend using them on the road. I only really feel comfortable riding on the sidewalk or on bike paths. This is mainly because the bike trailer is significantly wider than the bike, so it becomes difficult to ride on the shoulder of the road. In addition, the bike trailer is lower to the ground, so cars may not see it while they are passing you.
4. You can save the environment
As mentioned above, 10 billion miles worth of car trips every year are under 1 mile. Just think about the environmental impact it would have if we all decided to start biking all distances under 1 mile.
Not only would it have an impact on the environment, but it would have a significant impact on car safety (fewer cars), as well as our personal wealth (savings) and health (body performance). Of course, there would be a huge economic shift we would have to deal with! But after that settles, the end result would be a cleaner, healthier, happier, and wealthier world for everyone.
---
The Bottomline
This article covered everything you would need to know before buying a bike trailer—which is a lot! We covered different types of bike trailers, what to look for in a trailer, why trailers are the best option to ride with a child, and some of the top recommended bike trailers for every situation.
Overall, my recommendation is to ask yourself the following questions and then just pick one of the trailers from the list above.
Where do you plan to ride with the bike trailer?
Do you plan to use it as a stroller as well?
What is your budget?
Need help finding the right bike trailer?
If you need help finding the right bike trailer for you, my recommended trailer for most people is the Swhinn Joyrider, which is an affordable double-seater that converts beautifully to a stroller. Check out my full review with photos here.
Check my list of the top bike trailers for every common situation, which you can check out here.
Ride on!