My experience riding bikes:
My name is Benjy Suzaki and ever since I discovered the joys and benefits of cycling with my kids 6+ years ago, we have made biking part of our daily life. We save money and live clean every day by taking the bike trailer instead of the car to parks, the library, grocery stores, and anywhere else within biking distance.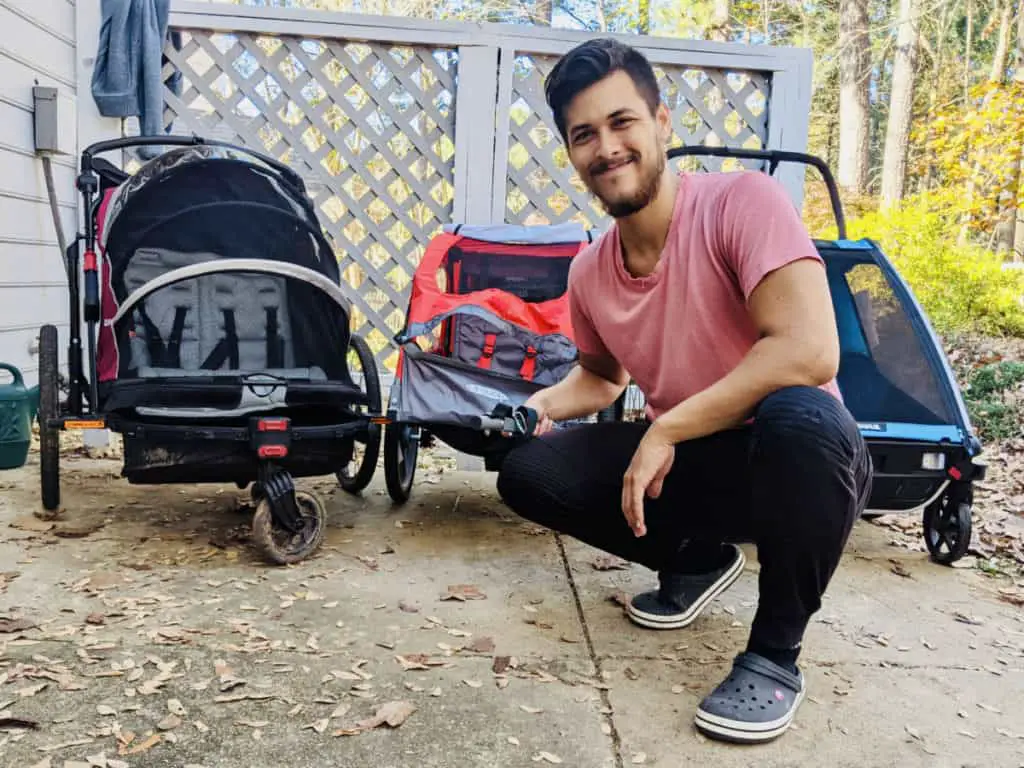 I have spoken with countless others who have the same questions and concerns about riding with kids that I did.
The first question people ask is usually about the benefits of bike trailers and if they're even safe, followed by how much a bike trailer costs. Once they can get past the safety concerns and it seems feasible, they start to wonder what the best bike trailer is for them and how difficult it is to pull a bike trailer.  
Curious people also begin to consider what the weight limit is for a bike trailer, or whether an infant can ride in a bike trailer. 
Some people may dismiss the idea of bike trailers because they don't have the "right" type of bike. To which I reply with, "Any bike can pull a bike trailer".
If you need help picking the right bike trailer to get started, then check out the Ultimate Guide to Buying a Bike Trailer.
Here's a complete list of answers to the most important questions to ask when getting started with bike trailers.
---
Frequently Asked Questions
Here's a list of articles answering common questions about getting started with bike trailers. Read through them one by one or pick and choose!
Benefits of Bike Trailers
---
Buying a Bike Trailer
---
Top Bike Trailers
---
Attaching a Bike Trailer
---
Riding with a Dog
---
Other Questions
How much do bike trailers cost?
Bike trailers cost from $100 on the lowest end to $1,000 on the higher end, and everywhere in between. The cost of a bike trailer varies depending on several factors, including safety features, frame materials, seat capacity (single or double), and stroller conversion capabilities.
If you're on a tight budget, you can get a trailer for as low as $100. However, the quality of a budget trailer suffers at that price range. I would recommend the Burley Bee or my personal favorite Schwinn Joyrider. 
Here's everything you need to know about costs of bike trailers.
Can a bike trailer attach to any bike? 
Most bikes are compatible with all major bike trailers for kids. In some cases, you might need an additional attachment to fit your bike. Namely, if you have a thru-axle bike, then there is a good chance you will need an adapter.
I personally recommend using a road bike. But if you have a cruiser, e-bike, or mountain bike, those work perfectly fine too.
Here's a complete guide on how to attach any bike trailer.
I have disc brakes, will a bike trailer attach? 
If you have a thru-axle disc brake bike, then you might need to get a thru-axle adapter in order to attach the trailer hitch to your bike.
Here's everything about attaching a bike trailer to disc brakes. 
Can a dog ride in a bike trailer?
If a dog is slowly introduced to riding in a bike trailer, then it is perfectly safe for a dog to ride with you. It is recommended to acclimate your dog slowly by filling it with your dog's favorite things before you start riding together. 
It usually takes days or sometimes a few weeks for a dog to trust the bike trailer enough to enjoy riding in one, so be sure to take the appropriate amount of time to slowly introduce the trailer.
Most of the content on this website applies to riding with a dog in a bike trailer. Here are 5 tips for riding with a dog.
Here's a detailed article on how to acclimate a dog to bike trailers.
What are the options for children with special needs? 
It is perfectly safe and feasible for an individual with special needs to ride in a bike trailer, depending on the weight of the child. For children who weigh under 85 lbs (or 38 kg), you can get a regular bike trailer for kids. For children who weigh 85–150 lbs, you can get a dedicated bike trailer that is designed specifically for special needs. 
Here's are the best bike trailer options for special needs children. 
---
More About Us
For the past 6+ years, I have been making small adjustments to my life to make cycling and living a healthy lifestyle a priority for our family every single day. It started when I decided to ride everywhere by bike, including to my job in New York City from our house in New Jersey (30-mile daily round trip).
I fell in love with commuting to work by bike, as it allowed me to get my health in order, save about $200 per month, and avoid the stressful commute that everyone else was dreading. 
Since then, bike trailers have been a big part of our family, as they give us the freedom and fun to explore the outdoors and get great exercise as a family.