Introducing children to biking from a young age is a great way to foster a love for the outdoors and create a family bonding experience. You may be interested in bringing your little one along in a rear child bike seat as you ride, but exactly how safe are they?
Rear-mounted child bike seats are considered a safe option for adults looking to ride a bike with a child on board. The recommended age for riding with a child is at least 12 months, with a maximum weight of 40 lbs (18 kg).
Whether you already have a bike seat in mind or you are just contemplating the idea, it's important to know the pros and cons before making your decision. Read on to find out what makes rear child bike seats safe and what to look for so you can choose the best and safest option for your family as you raise the next generation of riders.  
Is biking with a child safe?
Biking with children as a passenger may be somewhat of a controversial topic among parents. While rear-mounted bike seats are generally deemed safe for parents who would like to introduce their little ones to riding, like all things, there is always the risk of injury. 
When riding a bike with a kid, it's important to remember that it's not the same as riding a bike on your own. Balancing is going to feel different, which may make mounting and dismounting the bike difficult. According to the Bicycle Helmet Safety Institute, about one-third of injuries involving kids in bike seats occur while getting on and off the bike, so be sure to use extra caution and maybe even get help until you are comfortable doing it on your own. 
You can also expect to move at a slower pace and to stop more often than you usually would. Pedaling high-speed through bumpy trails isn't the type of riding you're going to be doing with your child on board. And while most parents understand that, it's still worth mentioning.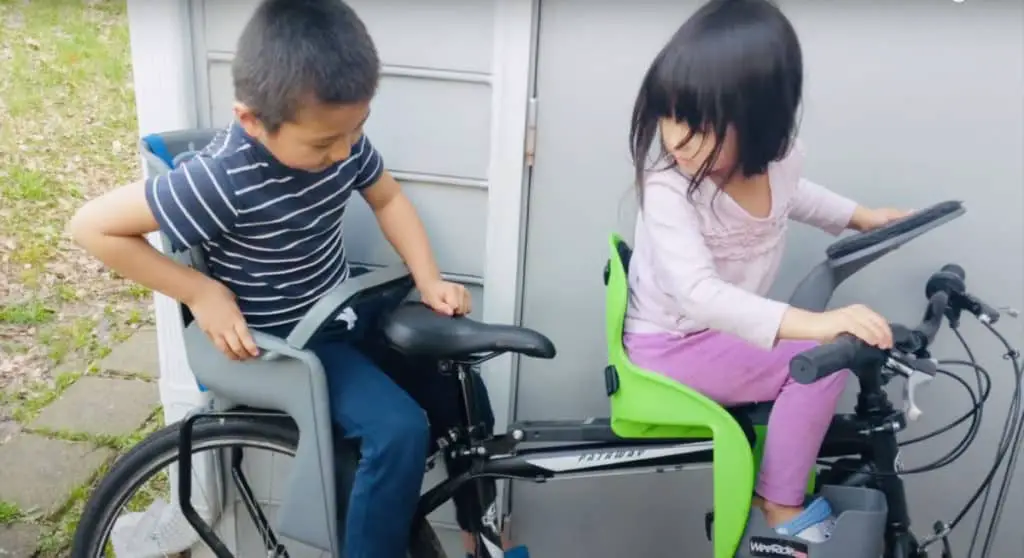 Always, always wear a helmet
This probably goes without saying, but the bike seat isn't the only piece of equipment you'll need to keep your kid safe. It's important to invest in a good helmet and make sure it's securely in place on your kiddo's head before strapping them into the seat. 
Especially with bike seats, there is the risk of the bike falling over while standing still, which could be damaging to the child's head without a helmet. I've personally had my bike fall over a few times with my son in it, so a helmet is highly encouraged at all times.
What are the standards for rear-mount bike seats?
If you plan on riding with your child, it's important to invest in a high-quality bike seat. According to ASTM International, the standard requires that rear-mount seats meet certain specifications. When shopping for your bike seat, look out for the following so that you know you are getting a seat you can trust:
The carrier should be free of burrs, sharp edges, and sharp points.
Carriers should be equipped with a rear reflector, footrest, armrests, backrests, and a belt to keep the child secured in the seat. 
Should be tested for temperature resistance against high and low temperatures. 
Here's a short video explaining what I think the best options are for riding with a child.
Pro and cons of rear child bike seats
If you're trying to figure out which type of carrier is the best option for riding with your child, it's a good idea to weigh the pro and cons so you can decide if a rear-mounted child bike seat will work for you. 
The pros of using a rear child bike seat
You'll feel more comfortable. If you have long legs, you'll find rear-mounted seats much more comfortable than those that mount in front. Smaller riders will find this more comfortable as well since you won't have to reach around your child to grab the handlebars. 
Better for naps. Most rear-mounted seats recline, allowing the baby to sleep comfortably if it's time for a nap. 
Protects your child from debris. Sitting in a rear seat instead of a front seat will help protect them from debris and wind. For example, if you quickly come upon a low-hanging branch, you will likely take the hit instead of your child. 
Rear seat can be used longer. Instead of having to switch out your seat or get a trailer, having a rear-mounted seat enables you to ride with your child a few years longer than a front seat would.  
The cons of using a rear-mounted child seat
Less bonding. It's hard to chat with your child about what you're seeing or doing if they sit behind you.  
Balancing can be difficult. Some people find it harder to balance with a rear seat than they do with a front seat. You might need to practice with a sack of potatoes before comfortably putting your kid into the seat. 
Turning around can be dangerous. With a rear-mounted child seat, you won't have a constant view of your child. You will have to occasionally turn around to check on your child, which can be a bit risky. 
The difference between rear frame-mounted and rear rack-mounted seats
There are two different mounting options for rear bike seats to better fit the needs of your bike: frame-mounted and rack-mounted. 
Frame-mounted rear bike seats attach directly to the bike's frame with a locking bracket and are typically easy to install. Make sure to check for compatibility, though, as this mounting style isn't compatible with carbon frames or e-bikes. 
Rack-mounted bike seats attach to a cargo rack that is previously installed on your bike. This style is compatible with most bikes as long as there is a rack that is rated to carry at least 55 lbs (25 kg).
Rear seat weight limits
While there are some bike seats that hold up to 70 lbs (31.7 kg), the safest recommended weight limit is 40 lbs (18 kg). For some kids, this could mean being able to ride in the seat as late as six years old, while others could be younger. 
How to pick a seat that is right for you
When shopping for a front bike seat, you'll want to focus on a few key factors to determine which seat will work best for you.
Child's Age: There are many rear-mounted seats that are designed for kids ranging from one to three years old. This typically goes based on the child's weight, though, so keep that in mind as you shop.
Bike Compatibility: You'll want to check your bike's specifications to make sure it will work with the type of seat that you want. 
5-point Harness: This is preferable to a 3-point harness, especially for rear-mounted seats. A 5-point harness will make sure that your child stays securely in place without the risk of sliding out. 
Weight of the seat: The less the seat weight, the less you have to carry, but this could also mean that you are sacrificing comfort and impact resistance. Look for a seat with quality, light-weight materials. 
Easy to install, easy to clean: Not all seats are created equally. Kids and be messy, and so can life outdoors. Look for a seat that is waterproof and easy to install, so save yourself the extra hassle. 
Need to figure out if a rear or front seat is best for you? Be sure to read my guide here.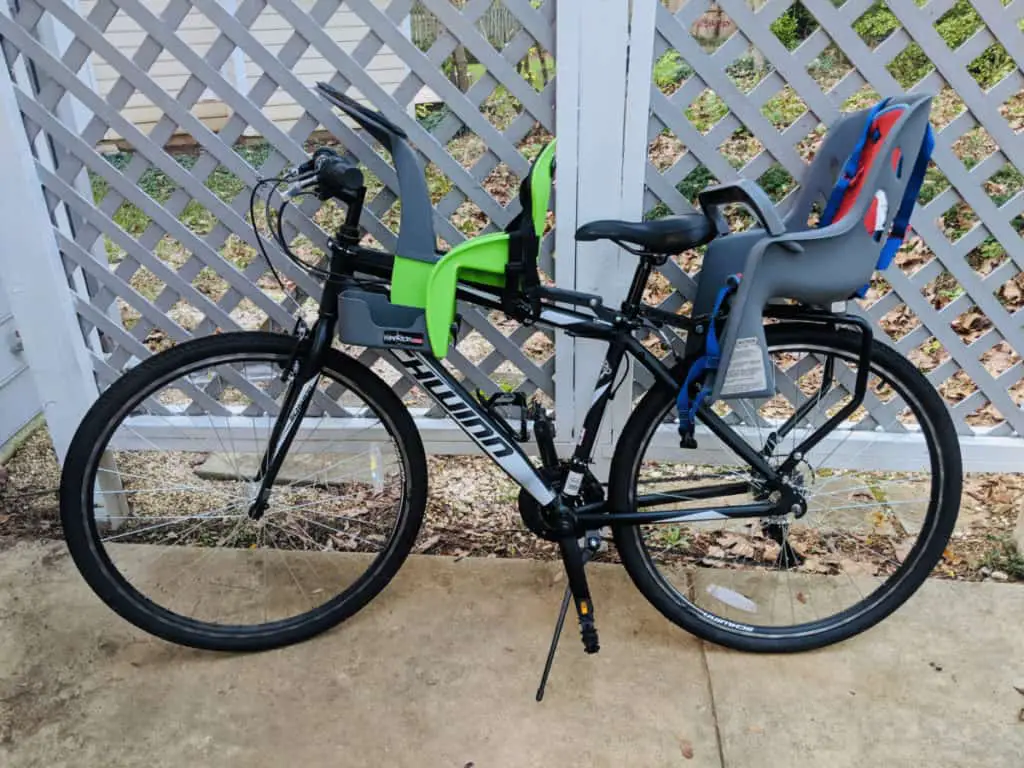 Final thoughts
It can be difficult juggling the responsibilities of parenthood while also trying to maintain the hobbies and activities that you love, and chances are if you like to ride bikes, so will your kids. 
Though rear child bike seats are generally considered safe, it really comes down to your confidence and comfort level while riding a bike. It's a good idea to practice riding with extra weight before buckling your child into the seat and always ask for help if you need it. And don't forget, always wear a helmet!
---
My Recommended Child Bike Seats
Affordable and sturdy, I recommend getting the following child bike seats for anyone looking for a seat to ride together with your child. I've been using these two seats for more than 6 years for both of my kids and they're still holding up great. If you want to see all the gear I recommend, check out my Gear page.
Recommended Front Child Seat: WeeRide
Recommended Rear Child Seat: Schwinn Deluxe