Parents love biking with their kids because it is a fun and healthy way to enjoy the outdoors together. But kids grow fast! It can be challenging to know which child bike seat will work best for your infant.
Read on to discover a list of some of our favorite child bike seats for infants. Then, we will look at the advantages and disadvantages of each seat, so you don't have to go through all the trial and error.
Different types of infant bike seats for biking
There are three major types of child bike seats for infants: backpack-style, front or rear-mounted. We will look at the pros and cons of each type of bike seat when attached to a bike. 
A backpack-style infant carrer for biking
A backpack-style seat is a lightweight carrier that attaches to the back of an adult's bike and rests over their shoulders. This type has advantages in weight distribution (it doesn't put too much pressure on any specific place but does add weight to your body).
Pros and cons of backpack-style infant carriers
Backpack-style infant carries are the most convenient to use as they just strap on and off an adult's shoulders like a backpack. These backpack-style carriers can cause some extra strain on the rider because of the additional weight being carried on your body, making hills and uneven terrain harder to navigate.
Front-mounted infant seats for biking
The front-mounted seat attaches to a bike's handlebar, with the child sitting in between. This style has advantages because it's easy for parents to see their kids but can be more demanding on hills or under heavy loads.
Pros and cons of front-mounted infant seats
Some of the pros of using a child bike seat are that it's easy to strap on and go, is lightweight for younger kids (under 18 lbs), or adults with back problems. Using front-mounted infant bike seats can give you peace of mind that your child is safe because they allow parents to see their child at all times.
These front-mounted seats are typically less stable since they are attached to the handlebars rather than a non-moving bike frame. Front-mounted seats attach here to allow room for your legs to pedal the bike. Any moving of the handlebars presents a movement of the infant seat. Some other cons include the front mount making hills difficult because parents can't see their little one very well.
Rear-mointed infant seats for biking
The rear-mounted seat attaches onto the back of an adult's seat. This style is the most popular because it's easy to strap on and go.
Pros and cons of rear-mounted infant seats
Rear-mounted infant seats are generally more stable than any other infant seat since they are attached with bolts and straps to a non-moving portion of your bike's frame. Some cons include the bike seat not fitting many bikes, which means you will have to purchase new equipment or adapters for it to be compatible with other models. 
Rear-mounted seats can be a bit more difficult to balance on unsteady terrain as they add weight to the back portion of your bike instead of keeping all of the weight in the center where it can be easily balanced. 
Safety tips for using an infant bike seat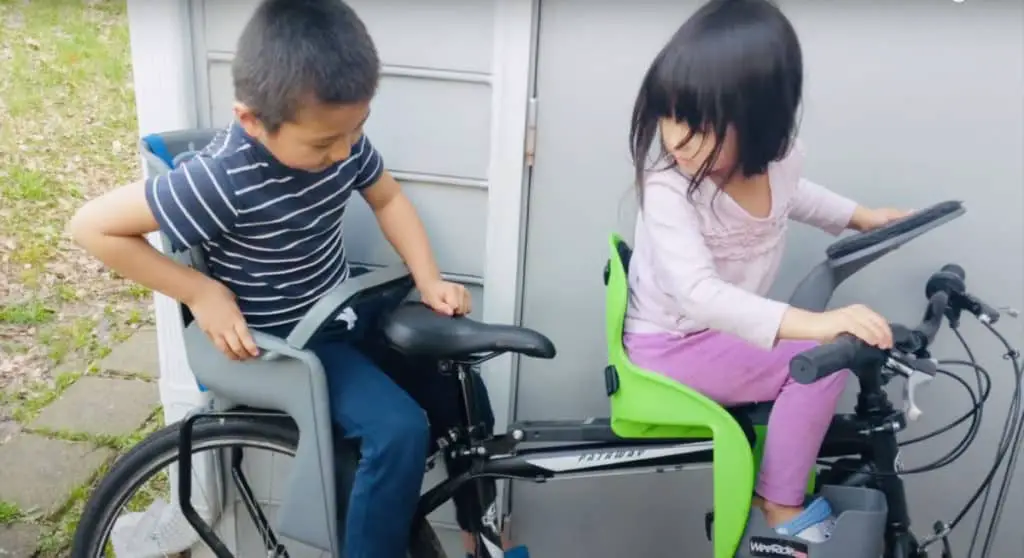 A few safety tips for using infant bicycle seats: 
Always be sure your child is wearing a child or infant's helmet (Amazon) if they are of age.
Make sure child helmets are worn correctly so that it is most effective.
Always use a bike seat that is the right size for your child. Look at the weight and size restrictions.
Make sure the child is strapped in tightly, so they don't move around while you ride.
Ensure there is no space between their head and the helmet when they are strapped in the seat. When strapping them in the seat, be sure to buckle your child securely and make sure it fits snugly so that they can't move around while you ride. 
Always use a bike seat that is the right size for your child by considering the weight limits on each seat. 
Comparing the top 4 brands for infant bike seats
There are brands on the market that produce infant bike seats that are generally considered safer and more convenient. The top four brands for infant bike seats are:
Schwinn infant bike carriers and seats
Schwinn is a trusted company with more than 100 years of experience designing and manufacturing child bike carriers. Schwinn bicycle carriers are well-made, durable units that suit the needs of infants perfectly. In addition, the carrier has adjustable straps to fit children from infancy up until they can no longer be carried by their parents on a bike seat.
This Schwinn Deluxe Bicycle Mounted Seat for toddlers and children is one of the safest on the market. The Schwinn Deluxe seat will run you $89.99 on Amazon. This seat offers:
A lightweight Polypropylene construction that won't weigh down your bike.
A more convenient, rear-mounted version.
A 40-lbs maximum weight.
Vented seat design with custom padding for added comfort.
The Schwinn brand comes with experience and safety. Schwinn's bicycle carriers and seats are quality without being costly. 
CyclingDeal infant bike seats
The CyclingDeal Brand offers various bicycle carriers and other products to suit kids' needs from infancy up to elementary school age. This infant bike seat has a front-mounted infant seat that can be adjusted as your child grows, so it will always fit their size.
This CyclingDeal Front-Mounted Infant Bike Seat is sold on Amazon for $59.98 and comes with various safety and convenience features. The CyclingDeal Front-Mount Infant Bike Seat offers:
Safety belts and straps for younger children and infants. 
Suitable for children from 1 to 4 years of age
A 33-lbs max weight. 
Bikes must have a front beam for attachment to the bike's frame. 
The rider's leg movement may be restricted.
The CyclingDeal Brand infant bike seat offers various safety features that are ideal for parents, including safety straps for younger toddlers and infants. The CyclingDeal Front-Mounted Seat attaches directly to your bike's frame, making it a safer option than many front-mounted seats.
Thule brand infant bike seats
The Thule brand has the most comprehensive range of products, and it also offers a wide variety of different infant bike seat styles. In addition, the company even manufactures specific car seats for children who are not yet old enough to be carried on bicycle seats but want to ride with their parents or siblings.
This Thule Yepp Mini Child Bike Seat is one example of the styles that Thule produces. It is sold on Amazon for $200. The Thule Yepp Mini Child Bike Seat offers:
Vented seat for added comfort.
An easy mounting system that is compatible with most models.
A childproof safety buckle.
A 33-lbs weight capacity
The Thule Yepp Mini Child Bike seat is optimized to keep your child safe and secure, and though it comes with a lower weight capacity, it is one of the better options for infants and toddlers.
ClevrPlus infant backpack-style carrier
ClevrPlus offers a single child carrier that has a weight capacity of up to 42 lbs. The product also comes with safety features like buckle straps, which stop your child from falling out if they should happen to get off balance while riding in the backpack.
The ClevrPlus Infant Backpack Style Carrier is sold on Amazon for $149.99. The ClevrPlus Infant Backpack-Style Carrier comes with:
A max weight capacity of 42 lbs.
Includes an insulated pocket for bottles and cold drinks.
They are designed for children from 9 to 48 months. 
The ClevrPlus Infant Backpack Style Carrier is compatible with a wide range of ages and sizes. This pack is made with quality material and is safe for frequent use. 
These top four infant bike seats are some of the safest and most convenient on the market. Each offers a similar maximum weight and is flexible for children from infancy up to four years old. They are all made with some of the most quality materials and give parents peace of mind knowing that their children will be safe while biking. 
Conclusion
It can be challenging to know which child bike seat will work best for your infant. There are three major types of child bike seats for infants- backpacks, front or rear-mounted. Some pros of using a bicycle seat include being easy to strap on and go, lightweight (under 18 lbs), or adults with back problems. 
However, some cons may be that the bike saddle doesn't fit many bikes and is not as safe at certain speeds because it's hard to keep an eye on your baby from behind you in traffic. No matter the pros or cons of any particular infant bike seat but be sure to follow the safety regulations to keep you and your child safe. 
Though rear child bike seats are generally considered safe, it really comes down to your confidence and comfort level while riding a bike. It's a good idea to practice riding with extra weight before buckling your child into the seat and always ask for help if you need it. And don't forget, always wear a helmet!
---
My Recommended Child Bike Seats
Affordable and sturdy, I recommend getting the following child bike seats for anyone looking for a seat to ride together with your child. I've been using these two seats for more than 6 years for both of my kids and they're still holding up great. If you want to see all the gear I recommend, check out my Gear page.
Recommended Front Child Seat: WeeRide
Recommended Rear Child Seat: Schwinn Deluxe