As parents, we choose to spend time doing what our kids want to do and prioritize their needs over ours. But having kids doesn't mean you should give up everything you love. Take cycling, for example. With the right child bike seat, you can share the joys of the road with Junior.
I've been riding with my two kids since they were infants using child seats, and we've learned a lot over the years about how to do it safely and comfortably.
The best child bike seat for larger children (over 40 lbs or 18 kg) is a rear-mount model. Most rear-mount seats are safe for children up to 48 lbs (21.7 kg). Typically larger in size, rear-mounts often offer suspension systems to provide a smoother ride for bigger children.
So, if you've got a growing kid on your hands (and your bike) and want to keep the pedals turning on weekend rides, it's time to find the right bike seat that can handle a larger child. Give this article a spin to discover your options. 
---
Which child bike seat is best for larger children?
There are two basic types of bike seats for children: front-mount and rear-mount. Which one you choose will depend on factors such as:
Child's size
Child's age
Type of adult bike you're using
Note: Children should only use a bike seat once they are nine months old and have the neck muscle strength to hold their head up. Some states and localities require a child to be at least 12 months old before riding in a bike seat. Upper age limits don't officially exist since using a bike seat at that point is more about the weight and height of the child than their age.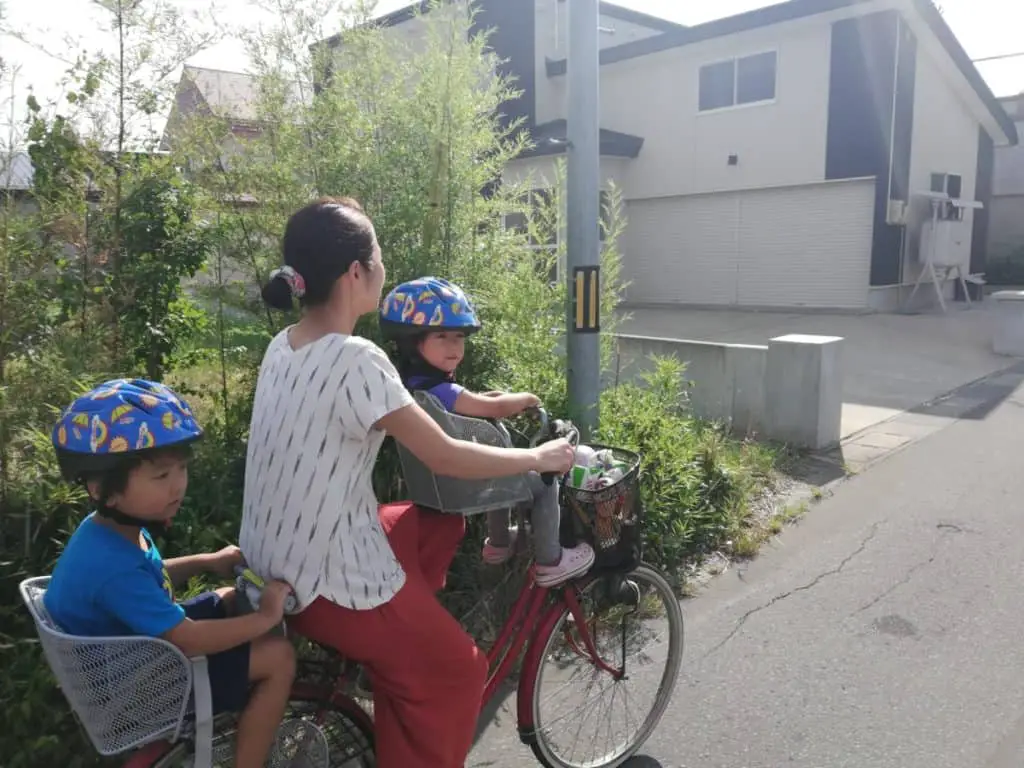 Weight limits are the main consideration when choosing a bike seat for your child. The maximum weight recommended on bike seats currently on the market ranges from 33 lbs (15 kg) for front-mounts and up to 48.5 lbs (22 kg) for rear-mounts.
While there are no explicit height limits, height does play a role in seat choice and safety. Dangling legs can be a hazard to the biker and the child. For front-mounts, height can be an issue since a taller child can hinder the biker's ability to see the road. With that said, more often than not, rear-mount seats are better for larger children over 40 lbs. 
Let's take a look at the main factors of front and rear mount seats to determine which is best for your child:
| | | | |
| --- | --- | --- | --- |
| | Front Mount | Front-Mid Mount | Rear Mount |
| Weight Limit | Up to 33-35 lbs | Up to 40-48 lbs | Up to 48.5 lbs |
| Age Range | 9-12 months to 3 years | 2-5 years | 9-12 months to 6-7 years |
| Mounting Position | Below handlebars | On top tube between handlebars and stem | Rear frame or rear rack |
Rear-mount bike seat
A rear-mount bike seat sits behind the adult rider and, depending on the bike style, attaches to the bike's frame or a rear rack. Rear seats are larger than front-mounts, offering taller backs and sides and more features.
For larger children over 40 lbs, a rear-mount bike seat is the safest way to go. Chances are children over 40 lbs are also of a height that prevents them from safely riding in front of the adult rider who needs to see the road. This combination of weight and height necessitates a rear-mount seat since front-mounts are not rated for the heavier weight. 
| | |
| --- | --- |
| Pros | Cons |
| Suitable for larger children over 40 lbs | Inability to see the child during the ride  |
| Longer useful life as the child grows | Difficult to adjust during the ride |
| A suspension system can mitigate a bumpy ride | Position over rear tire equals bumpy ride |
| Some models recline | Balance of rider can be affected  |
| Rider's vision and pedaling not impeded | |
Front mid-mount bike seat (MTB)
The front mid-mount bike seat is installed on the tube between the handlebars and the rider's seat stem. Often used on mountain bikes, this type of mount helps protect the rider's center of gravity on more aggressive terrain.
| | |
| --- | --- |
| Pros | Cons |
| Ability to see and interact with the child during the ride | Not suitable for young children under 2 |
| The child feels secure between the rider's arms | Rider's arms are spread apart awkwardly |
| The child can see where the bike is going | The rider's line of sight can be impeded |
| A smoother ride for the child (not over the wheel) | No harness straps or backrest |
Some front mid-mount bike seats may work for children over 40 lbs, depending on height. The higher mounting location can hinder the rider's view of the road if the child is too tall.
Front-mount bike seat
Front-mount bike seats are generally recommended and preferred for smaller children younger than three years. They mount below the handlebars and help the bike feel more balanced than a rear-mount.
| | |
| --- | --- |
| Pros | Cons |
| Ability to see and interact with the child during ride | Not suitable for children over 33-35 lbs |
| The child feels secure between rider's arms | Rider's arms are spread apart awkwardly |
| A smoother ride for the child (not over the wheel) | The child will outgrow the seat quickly |
| The child can see where the bike is going | Takes up space between handlebar and rider |
A standard front-mount bike seat is not a suitable choice for larger and taller children.
---
What to look for in a child bike seat for larger children
Now that we've established that rear-mount bike seats are the best choice for children over 40 lbs let's explore what to look for when choosing a rear seat. 
Bike seats have come a long way, and you can find several useful features on today's seats:
Taller back and sides: Your child is better supported, especially when they (inevitably) fall asleep.
Suspension: A suspension system eliminates vibrations, giving a smoother ride.
Single-hand use: Some bikes allow the rider to adjust the seat or straps with one hand— definitely a plus on safety.
Helmet pocket: This is a recessed area in the back of the seat that provides a hollow for your child's helmet, allowing their head to lean back more naturally and not pitch forward.
Reclinable: Seats with multiple reclining positions give you more options for use with younger children and sleepy ones too.
Adjustable footrest: A footrest protects dangling legs from turning wheels. If it's adjustable, it will grow more easily with your child.
Recommended child bike seats for children over 40 lbs
There are several rear-mount seats on the market, so it shouldn't be hard to find one to fit your child and budget. Here are a few we found that are rated for children up to about 48 lbs:
Rack-mount
Adjustable
Suspension
Reclinable
Helmet pocket
Single-hand use
Frame mount
Adjustable
Suspension
Reclinable
Reflectors
Removable padding
3-point harness
Single-hand use
Rack-mount
Adjustable
Suspension
Helmet pocket
Removable padding
6-point harness
Reflectors
Full-body wraparound cocoon
Rack-mount
Adjustable
5-point harness
Removable padding
Reflectors
Budget-friendly 
Safety precautions with your new child bike seat
Using a bike seat to carry your larger child on rides can be done safely if you choose the right seat for their size and follow standard safety practices:
Choose a rear-mount seat attached to the frame or a rear rack.
Always enforce the No Helmet = No Ride rule. This is especially critical with a child seat in the case that the bike falls over.
Always use the harness strap system to buckle a child into the seat.
Adjust the footrests to fit your child's leg and foot to avoid the wheel spokes.
---
Bike trailer vs child seat: which is safer when riding with a child?
A bike trailer is safer than a child seat in the event of a crash because it has a protective cage, is lower to the ground, and has a five-point harness. Additionally, it is easier to handle the bike with bike trailers than with child seats.
I wrote an analysis on Bike Trailers vs Child Seats, which you should definitely check out here.
---
Final thoughts
You can always ride alone, of course, but there's no need to give up cycling just because your youngster is bigger now. Sharing the open road with your kids means creating great memories that will last a lifetime. Why not find a bike seat for your growing child and keep on spinning those wheels? 
Though rear child bike seats are generally considered safe, it really comes down to your confidence and comfort level while riding a bike. It's a good idea to practice riding with extra weight before buckling your child into the seat and always ask for help if you need it. And don't forget, always wear a helmet!
---
My Recommended Child Bike Seats
Affordable and sturdy, I recommend getting the following child bike seats for anyone looking for a seat to ride together with your child. I've been using these two seats for more than 6 years for both of my kids and they're still holding up great. If you want to see all the gear I recommend, check out my Gear page.
Recommended Front Child Seat: WeeRide
Recommended Rear Child Seat: Schwinn Deluxe