The Schwinn Joyrider Double Bike Trailer is an eye-catcher. It looks like a stroller from the future with its sci-fi appearance and massive protective cage that protects your precious cargo.
I've been using the Joyrider as our family's go-to bike trailer for over 4 years now. We love its convenience, comfort, high-end features, and stroller conversion all for a killer price.  
But there are a few things that I don't particularly like about it.
This is a comprehensive review of the Schwinn Joyrider Double Bike Trailer. Keep riding to find out if this is the trailer for you! 
---
What makes the Schwinn Joyrider the best double bike trailer?
The Schwinn Joyrider bike trailer is best for budget-minded families looking for a sturdy double-seated bike trailer that also converts to an excellent stroller. The Joyrider is an affordable double-seater with high-end quality and converts easily to a comfortable stroller. If you're looking for a durable double-seat trailer/stroller on a budget, then the Joyrider is highly recommended.
| | | |
| --- | --- | --- |
| Price Range | Around $350–$480 (check on Amazon) | A good deal for a double-seater of this quality |
| Stroller Conversion | Yes | Converting to a stroller is easy |
| Seats | Double | Comfortably fits two passengers with a padded bench-style seat |
| Weight Limit | 80 lbs (36 kg) | High weight limit |
| Wheels | 20-inch spoke wheels | Large wheels for extra smooth rides |
| Product Weight | 40 lbs (18 kg) | On the heavy side, but that's what you get with bike trailers |
Pros
Affordable price for a double-seater bike trailer and stroller
Strong protective cage
Ample storage for cargo
Large wheels for a smooth ride
Cons
Wide frame can make it hard to fit through some doorways
Large design can make it hard to store
Keep reading to find out everything you need to know about the Schwinn Joyrider.
In this article, we will cover a few important factors to consider when purchasing any bike trailer. They are: 
Price
Design
Weight Limit
Comfort
Attaching to a bike
(Plus 3 things I don't like)
---
Affordable: High-end features for an entry-level price
For a double-seater trailer with the durability and quality of a high-end model, the Schwinn Joyrider was a no-brainer for us. For just around $350–$480 (check price), what you get is well worth the money. Typically, a bike trailer at that price range or less usually doesn't convert to a stroller or can only hold one child. 
Here's a quick comparison with other popular bike trailers in a similar price range or with similar features: 
---
Design: Safe, durable, and comfortable
Let's talk about that cage!
I can't count the number of times people have stopped us on the street while we were using the Joyrider as a stroller just to ask where we got it or just to stare in awe at a stroller from the future. Kids especially get a kick out of it. One time a small boy just pointed and laughed hysterically. 
Apart from looking cool, the design of this trailer is actually very practical.
It has a massive cocoon-like cage that covers the seats. I call it a "cage" rather than a "canopy" simply because it feels more like a cage, with those solid steel bars that go across the front. The sturdiness of the cage gives me comfort that my kids would be protected in the unlikely event of a crash or the trailer rolls over (which has never happened). 
Large 20-inch wheels
The wheels are really what make the Joyrider a joy to ride: it's an excellent stroller! I confess that I have probably used this thing more for strolling than for cycling, just because I simply love how the stroller maneuvers with its massive wheels.
If you're planning to use your bike trailer as a stroller, as well as a bike trailer, then the Joyrider is a solid choice. 
The trailer uses a security latch system to easily remove the wheels when putting into the trunk of a car.
How heavy is it? 
Schwinn's product description states that the Joyrider weighs 40 lbs, which is on the higher end of bike trailer weights. For comparison, the Thule Chariot Lite weighs 28 lbs (that's probably why it costs almost $1,000). 
Personally, I did not even notice that it was significantly heavier than other bike trailers until I tried out others and actually compared the weight. However, I do believe that the extra weight is justified due to the large protective cage and wide design. 
How much weight can it hold? 
Another reason that makes the Joyrider stick out from the rest is its notably-high weight limit. It can hold an impressive 100 lbs. It has no issue holding two children comfortably. In addition, the extra interior room that this trailer offers makes it perfect for growing children. The Joyrider can theoretically hold children until they are 7 or 8 years old, which makes it a great investment.
Is it comfortable for the kids? 
There's an ongoing joke in the bike trailers community that kids almost always fall asleep in the bike trailer—and there's a good reason for that. They are super relaxing for kids!
The Joyrider in particular has a bench-style seat that holds two children, as opposed to the hammock-style seat that comes with many trailers. The bench-style seat that comes with this trailer is sturdy and gives the kids more room to be comfortable without rubbing against each other. In addition, the Joyrider is slightly wider than average double-seat bike trailers, which gives kids a little more room.
In short, it's comfy. Don't be surprised if your child falls fast asleep every time you hit the outdoors! I actually used the bike trailer as a napping mechanism when my son was 2. 
---
Attaching the trailer and stroller conversion
The Joyrider bike trailer comes already assembled out of the box, so all you have to do is hitch it to a bike and get going. 
When using as a bike trailer: 
Attach the coupler to your bike's rear wheel
Flip the hitch arm forward
Attach the hitch arm to the coupler using the security pin
Hit the road!
When using as a stroller: 
Make sure the hitch arm is flipped to the rear
Attach the provided front wheel to the trailer
Adjust the handlebar height to your liking
Now you have a stroller!
Some types of bikes are not compatible out of the box. If you're not sure if your bike is compatible, check out this post. 
---
Drawbacks of the Schwinn Joyrider
There are three main drawbacks to the Joyrider that have occasionally been an inconvenience. All three revolve around the impressive SIZE of the trailer. However, the Joyrider is still my top pick for a budget double-seated bike trailer. 
1. It's wide and sometimes doesn't fit through doors
All bike trailers are wide, especially double-seaters. The Joyrider is slightly wider than other bike trailers, which can become an issue if you are using it as a stroller inside buildings, such as museums or amusement parks.
I have on occasion not been able to fit it through the door at the museum or local store. In those cases, I just fold it up and fit it through. It's a hassle, but to me, it's still worth the convenience that comes with the super-smooth stroller. 
To be fair to Schwinn, all bike trailers are wide and will cause issues when strolling around indoors. 
2. Storing in the car trunk is a hassle
I have a Toyota Prius, so the trailer doesn't completely fit inside the trunk when folded up. Fortunately, the wheels come off easily enough with the push of the security latch. 
If you have a sedan or car with a smaller trunk than a Prius, then you will surely need to take the wheels off. If you have an SUV or minivan, you're in luck 🙂 
3. It's heavy
The Joyrider is one of the heaviest models in its price range (40 lbs). There are some instances where the weight of the trailer should be considered.
For example, if you plan to do a lot of hill climbs or long-distance riding (more than 10 miles), then you could go for a more expensive lightweight double-seater, like the Thule Chariot Lite (expensive) or the Burley Bee (no stroller conversion). 
But honestly, the weight of the trailer has never been an issue for me, so if you're just planning on occasional recreational rides on bike paths, then the Joyrider is a perfectly suitable trailer. Regardless of the weight, the Joyrider is still my choice of bike trailer to take my kids around. 
Here are my recommended top lightweight bike trailers.
Here are 7 tips to make pulling a bike trailer easier.
But what do other parents say about the Joyrider? 
Before I bought this bike trailer, I made sure to comb through all of the most helpful comments on Amazon so that I could make an informed decision. 
Here's what most users say: 
Pros from Customers
"The Schwinn Joyrider was very easy to set up and required little tools."
"Bench seat and cushion, it is very comfortable for my girls."
"While it is amazing as a bike trailer. We love it as a double stroller."
"Built very well and our girls love it."
"20-inch spoked rims."
"The kids love it because they have room to bring toys and play."
Cons from Customers
Some types of bikes need a coupler adapter
"That stroller is great for that purpose but the thing is heavy. It's heavy to pack up in the car, it's heavy to push, it's just a beast. Now, I'm not saying the Schwinn trailer is light as a feather, it definitely isn't, but because of the large bike tires on the back, pushing this stroller is a breeze."
"My one and only complaint about this trailer/stroller is the lack of sun protection."
"I had to fold it up to get it through the front door to my house. Because of its size, it's a bit heavy."
---
Bottomline
The best way to get the most out of the Schwinn Joyrider is to use it often outdoors on paved bike paths. If you take it for a spin just once or twice a week, you will quickly get used to the weight and feel of this bike trailer.
Unless you're up for a physical challenge, I recommend staying on paved bike paths that are relatively flat. The more hills you have to climb, the faster you will feel the extra weight of the bike trailer behind you. On smooth paths, on the other hand, you will barely even notice the bike trailer. Just don't forget it's there! 
Overall, the Schwinn Joyrider is highly recommended for families like mine, where we want quality and functionality without breaking the bank. 
Need help finding the right bike trailer?
Check out the Ultimate Guide to Buying a Bike Trailer for more help with choosing a trailer. I also have compiled a list of the top bike trailers for every common situation, which you can check out here.
Ride on!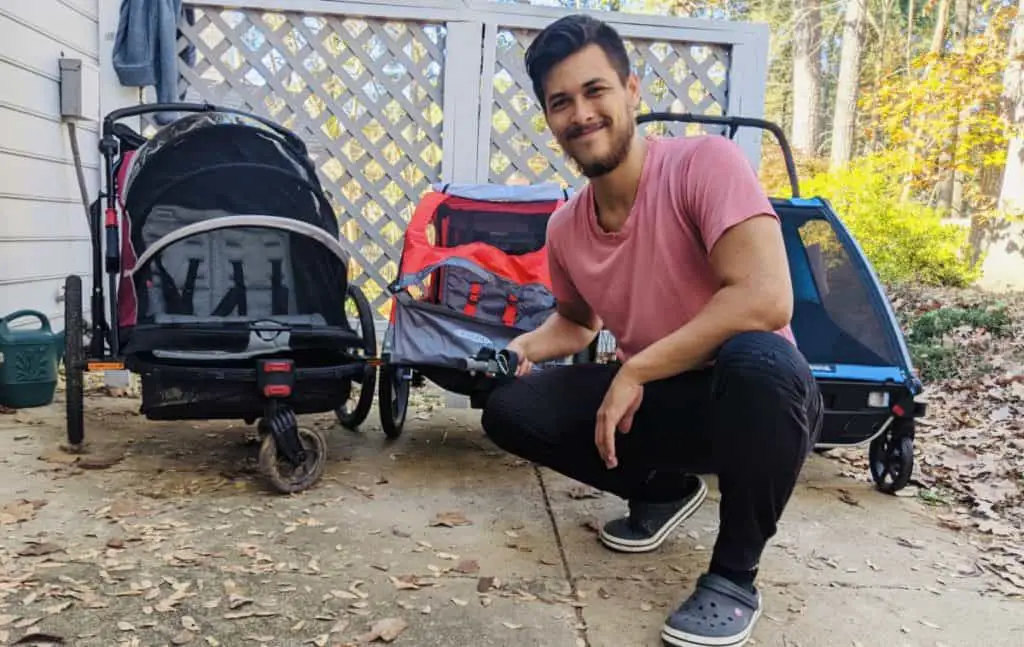 Also read: