Modern cruiser bikes are a must-have if you enjoy city riding and light excursions. Unlike the rickety scraps available back in the day, today's models have unique features and overall design that make it plain fun to take these bikes out for a spin. 
But what if you have a baby or toddler?
Child bike seats can safely attach to a cruise bike as long as the bike has the correct mounting points for the child seat. The recommended child seat for a cruiser bike is a rear-mount seat, as opposed to a front-mount seat, because rear-mounts are typically more compatible with the bike frame of a cruiser.
Getting the best child bike seat is, however, not a walk in the park. There are lots of options to choose from, and it doesn't help that all manufacturers tout their seats as the best. That's where we come in. We've provided a comprehensive guide on all things child bike seats to help you make an informed decision. Let's jump right in.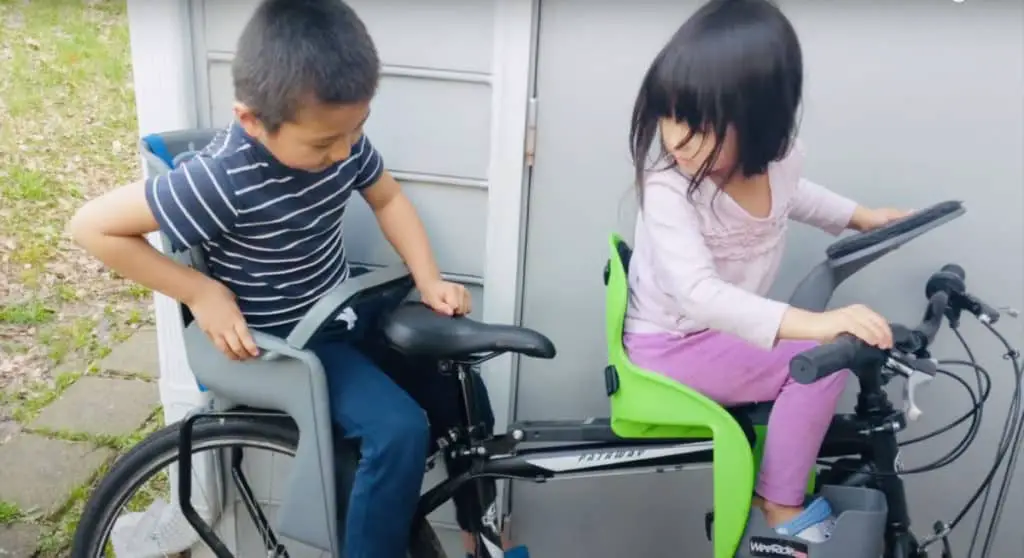 Can a child's bike seat go on any bike?
If you already have a child bike seat at home, this may be among the top questions at the back of your mind. Why buy a child bike seat for a cruiser bike when you can use the one you have? Well, different bikes require different types of seats based on the design of the bike, and some bikes won't hold a child seat.
For instance, small-wheeled bikes don't function well when fitted with a bike seat.  On the other hand, recumbent cycles don't have the seat tube that the seats require to be secured in place. However, any bike or tricycle that can hold a conventional rear rack can hold a child seat. Nonetheless, you still need to choose the right type of child seat depending on your bike (more on this later).
Benefits of using child bike seats on cruiser bikes
There are many reasons to invest in a child bike seat for your cruiser bike. For starters, these seats ensure your child's safety. If you have a baby or toddler, they won't be able to hold on to the bike or support themselves. The seat offers the support they need throughout the ride.
Furthermore, being a passenger on a bike is tons of fun for children. They get to enjoy the sights as they bond with mom and dad instead of staying at home because they're too little. You'll also love the experience because you can go faster compared to if the child was riding their own bike.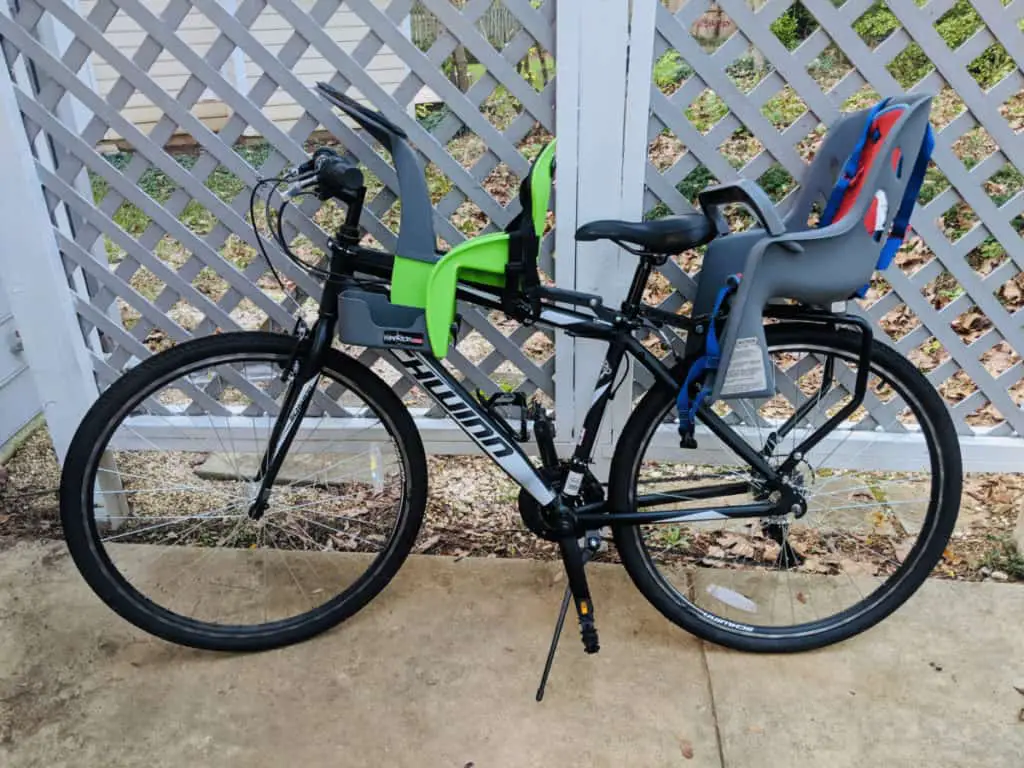 Child's seat buying guide
So, you've decided it's time to tag your child along on your cruiser bike excursions, and you're ready to begin shopping for a child seat. You go online, and you realize the process will be like trying to find a needle in a haystack. There are numerous options with different features, and you can't seem to narrow down to one child seat. You're not alone.
Most parents struggle to find the perfect child seat for their child. After all, you want the best for your little one. So, do you go for the seat with all the bells and whistles, or the one that offers the most comfort? Is it okay to look for affordable options? The following tips will help you make an informed decision.
Familiarize yourself with the available options
The first thing you need to do is understand the available options and choose the one that offers you the most convenience. Bike seats for cruiser bikes come in three forms. These include;
Rear mount
Front mount
Trailer bike seats
Rear-mount seats
These seats work by fitting the rack behind the rider. For cruiser bikes, the seat will attach to a rack or seat post. The major advantage of these seats is that your child isn't in the full face of the wind because your body acts as a barrier. However, your little one won't have the best view of the road on this bike, and you won't be able to keep an eye on them.
Rear mount child seats come in three designs. These include:
Cantilever
Seats designed to fit a rear carrier rack
Seats that fit directly to the seat stays and seat tube.
Front-mount seats
Front mount child seats fit right in front of the bike. This type of seat is an excellent option because it makes it easier to keep an eye on your child during the trip and also talk to them. Furthermore, your child gets a perfect view of the road. Other advantages of this child bike seat include:
You can have two seats on the bike.
Balance is better, especially in bumpy areas.
It's easier to get on and off the bike.
Your child won't be able to pull on your hair or the back of your clothes.
This bike seat isn't perfect, though. Some of the disadvantages of a front mount seat include:
In the event of a fall, you fall in the direction of your child.
You may need to pedal awkwardly with your knees outward because the seat gets in the way.
Your child is more exposed to the wind.
The little saddles that bolt to the top tube aren't recommended for long trips. If the child is tired, they can easily slip sideways or let a foot dangle into the front wheel.
Bike trailers
Bike trailers work like carts that are pulled by the bike. These are not suitable for small children and toddlers. They're designed for older kids who can support their heads and sit upright without any help. These seats are perfect if you have two kids because they get to enjoy the trip together.
Learn more about bike trailers here.
Prioritize safety
Safety should be your topmost priority when shopping for child bike seats. Some models are safer than others.  Look for the following to ensure maximum safety on your trip.
Three-point harness with straps going over the shoulders and securing between the legs.
Waist belt
A seat that tilts backward. This feature not only provides comfort but also keeps your child from slumping into the straps.
Keep in mind the child's comfort
A good child bike seat should offer full back and head support. Also, ensure the seat reclines so that the child's neck is supported when they're asleep. Additionally, ensure the seat has a removable seat padding that's easy to clean.
Check for useful additional features
Some additional features will allow you to improve your biking experience. For starters, look for a car seat that has an integral reflector on the back. This is an excellent feature for any parent that enjoys riding after dusk.
An anti-theft lock is also a useful feature worth paying a few extra bucks for. This feature ensures your child's bike seat won't be stolen if you leave it unattended. A foldable seat is also a better option because it saves you on storage space.
Wrapping up
If you were wondering whether you can fit a child's bike seat on a cruiser bike, know you know. Your little one can tag along on all your excursions as long as you have a suitable seat for a cruiser bike. Explore the options available, examine the features, and choose one that matches your preferences as a rider. Don't forget to layer the little one in protective clothing because the wind can be a bit much for their tiny bodies. 
Though rear child bike seats are generally considered safe, it really comes down to your confidence and comfort level while riding a bike. It's a good idea to practice riding with extra weight before buckling your child into the seat and always ask for help if you need it. And don't forget, always wear a helmet!
---
My Recommended Child Bike Seats
Affordable and sturdy, I recommend getting the following child bike seats for anyone looking for a seat to ride together with your child. I've been using these two seats for more than 6 years for both of my kids and they're still holding up great. If you want to see all the gear I recommend, check out my Gear page.
Recommended Front Child Seat: WeeRide
Recommended Rear Child Seat: Schwinn Deluxe