Riding together with a child can be a challenging prospect. Child seats can help parents that enjoy cycling, but they may also be a cause of concern if they plan to use a folding bike. In comparison to conventional bikes, many think that putting a child seat on a folding bike is impossible.
A child bike seat can safely attach to a folding bike if the bike has a high weight limit, ample space for a child seat, and the right type of child seat.
You will need to carefully take into account: 
Weight capacity
Storage
Seat type 
The needs of the child 
In this article, we'll take a look at the various issues and concerns surrounding riding a folding bike with your child to ensure your little one is not endangered and your fun is not compromised. So keep reading to learn more!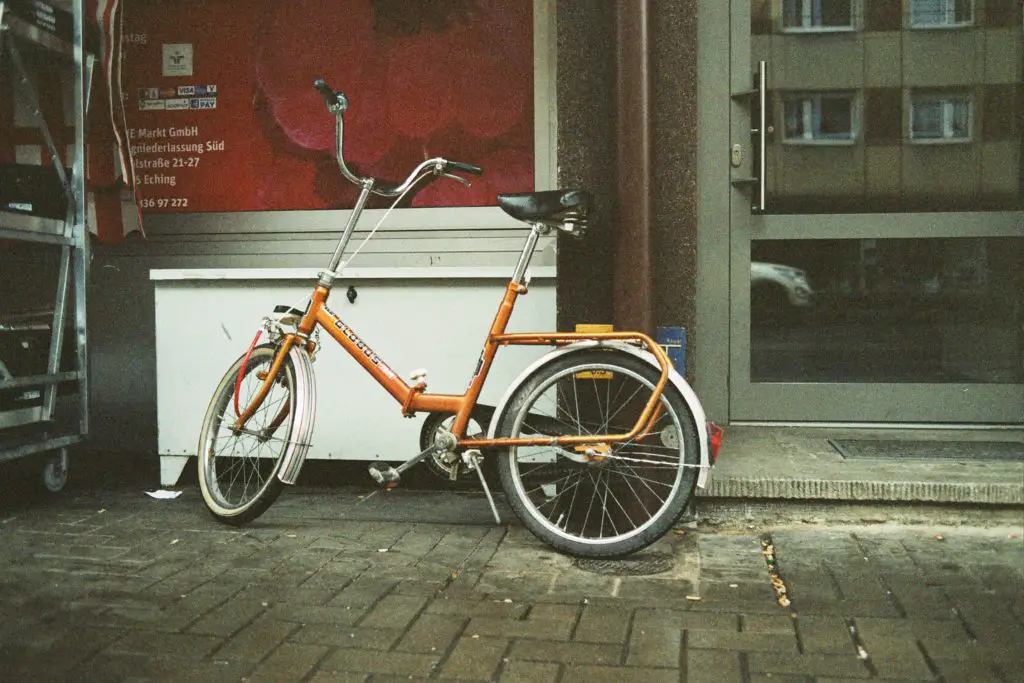 Should you attach a child seat to a folding bike?
The main appeal of a folding bike is its lightweight and compact structure, which makes it great for commuting and tight storage. Unfortunately, this also limits what can be attached to your folding bike. For parents looking to bike with their children, this could be a serious problem.
If your folding bike has a low weight capacity, bringing your child along is either impossible or incredibly dangerous. The limits of a standard folding bike will barely support even the lightest of parents and their children. Even if your own weight is below the capacity by 200 lbs (90 kg) or so, there remains little room for extra weight.
There is also the issue of storage space, which can be compromised if you add a child seat to your folding bike. If you like folding bikes for their ease, then child seats may defeat this purpose, especially if you are short on time.
There are some parents that will be unable to pull off attaching a child seat to a folding bike, having to sacrifice: 
Comfort
Money 
Safety to even attempt it 
Storage space 
Time 
However, these potential challenges don't make it totally impossible, and the prospect still deserves a careful look before a decision is made. Read on to understand the different troubles you'll need to consider.
Finding the right bike to attach a child seat
As mentioned above, you should only attach a child seat to a bike with a safe weight limit. Once you've figured out the weight limit, the right bike for a child seat should be based on: 
Your weight 
Your child's weight
The weight of the seat 
How much any other equipment weighs 
Once you have this information, you'll be able to decide if you'll need a new folding bike or if your current one works. You may need to look into a full-size folding bike to accommodate higher weight requirements. 
The following may be useful options for you to consider:
This bike has: 
20-Inch Wheels 
7-Speed
Shimano Rear Derailleur
Steel Frame
Design with Adult Young Women/Men in mind
26" Full Suspension Mountain Bike
This bike has:
26-Inch Wheels
Full suspension
21-Speed
Steel frame
Designed for Men and Women
This bike has:
27.5-Inch Wheels
Dual-suspension
21-Speed
Steel frame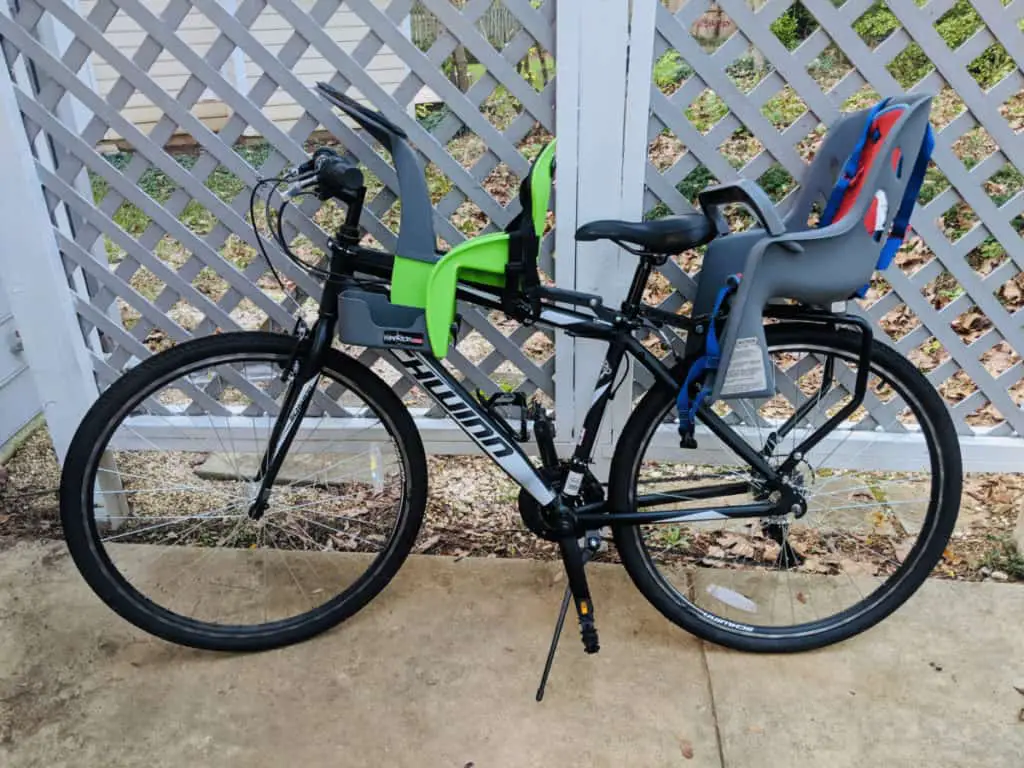 Finding the right type of child seat
Just as weight proves to be an issue for foldable bikes, the aspect of portability is also challenged by adding a child seat. Adding extra parts and space to your bike can cause complications as you fold and store your bike. You may want to coordinate buying your child seat and bike together to better plan your biking experience.
The three types of seats are: 
Rear – The  rear seat gives the child more space but also removes them from view and makes communication difficult, if not impossible
Front – These seats make it easier to see and talk with your child but can also cramp the both of you in a closer space
Mounted – Mounted seats have the advantages of front seats but should only be used by older kids, as the lack of harness requires them to hold on to the bar for safety
The following are examples of each type of seat:
Schwinn Deluxe Bicycle Mounted Child Carrier (Rear)
This seat has:
Compatibility with seat post diameters of 25-32mm
3-point harness and padding for safety
Adjustable footwells and removeable headrest
40-lbs (18 kg) maximum weight
Front Mount Baby Carrier Seat Bike
This seat has:
Compatibility with 27.2-38mm seat frame diameters
Lifetime warranty
Tool-free assembly
Tested for children up to 30 lbs (13.6 kg)
SHOTGUN Kids MTB Child Seat and Handlebar Accessory Combo Pack
This seat has:
Compatibility with all mountain bikes
Full rubber protection for frames
Custom mudguard and stem-cap
Weight capacity up to 48 lbs (21.7 kg)
You may notice that the rear and front carriers are much larger than the handlebar and seat set-up. If you are unable to find the space or time to assemble and disassemble them, then you may have to wait until your child is old enough for the handlebar seat. Later, we will discuss recognizing when it's time to transition from seat to seat.
Need to figure out if a rear or front seat is best for you? Be sure to read my guide here.
Evaluate the pros and cons
If any of the previously mentioned concerns worry or confuse you, you may want to rethink your cycling plans. A child seat on a folding bike can be very unsafe and frustrating unless you have the right equipment that takes care of the: 
Comfort 
Price that you need 
Storage space 
Terrain
Weight 
If you find you are having trouble figuring it out, you may need to rethink your plans and go a different path for your cycling needs.
Here's a short video explaining what I think the best options are for riding with a child.
Setting up and maintaining your bike and seat
If you can get past these initial concerns, then you should continue to ride your folding bike with your child. The following are factors that you should consider so that your cycling stays possible, especially if you are new to folding bikes and child seats.
New to folding bikes?
Before you set out on your folding bike, be careful where you plan to ride. Folding bikes will require more energy to go the same distance as a traditional bike, so be sure not to go too far, or at least plan for a break. Also, be sure to avoid going off-road unless your folding bike is one of the few models that has a suspension system. 
Finally, be sure to travel light. Other than you, your passenger, and any necessary equipment, you'll want to cut out any extra weight where possible. Given the limitations of a folding bike, adding a child to the equation can only complicate matters, so ensure you're familiar with your bike and prepared for possible dangers.
Using a child seat on a folding bike
Of course, this all must work for your child, as well. As your child grows older, you'll have to change the seat type to accommodate their ever-growing size: 
Between 9 and 12 months of age, switch from a rear seat to a front seat 
From 2 to 3 years, switch to mounted seat for added stability
Keeping these guidelines in mind, you'll be able to ensure that your hobby will be able to continue for years. 
Children grow out of a lot of things, and bike seats are no different. So, make sure they're comfortable and know when they're ready for a new seat.
As you go through different seats, be aware of how each one will affect folding and storing your bike. As mentioned earlier, the handlebar seat is much easier in terms of space but is not safe enough for younger children. If possible, testing out a friend's bike and child bike seat might help clear up which type of seat your child is ready for.
Conclusion
All in all, child seats on folding bikes can be a bit of a mess, especially if you are new to cycling. To say the least, mounting your child's bike seat improperly can be dangerous and hurt both you and your child. If you are willing and able to overcome the initial troubles, then you'll be sure to have a great cycling experience.
As long as you exercise caution and account for every piece of the puzzle, riding a folding bike with your child is within your grasp. While difficult, it is fair to say that attaching child seats to folding bikes is possible.
Though rear child bike seats are generally considered safe, it really comes down to your confidence and comfort level while riding a bike. It's a good idea to practice riding with extra weight before buckling your child into the seat and always ask for help if you need it. And don't forget, always wear a helmet!
---
My Recommended Child Bike Seats
Affordable and sturdy, I recommend getting the following child bike seats for anyone looking for a seat to ride together with your child. I've been using these two seats for more than 6 years for both of my kids and they're still holding up great. If you want to see all the gear I recommend, check out my Gear page.
Recommended Front Child Seat: WeeRide
Recommended Rear Child Seat: Schwinn Deluxe