If you have a mountain bike and your child is ready to start biking with you, finding the proper seat attachment for their height can be difficult. There are many types of seats for children but be sure that they attach safely and securely to your bike's frame. 
Child bike seats can attach safely to a mountain bike. A front-mounted child seat is the best type of seat for mountain bikes due to the comfort to the child and rider. The best quality seats will come with instructions on attaching them, or it might be obvious how to mount them based on their design. This will allow your child to sit comfortably and securely while they enjoy riding alongside you. 
Read on to discover how to attach a child's bike seat to a mountain bike and which mountain bikes are the best options for child seats. The most important thing when looking for the best child bike seats is that they are adjustable. That way, as your little one grows, he/she will always be able to ride safely with you! 
Need to figure out if a rear or front seat is best for you? Be sure to read my guide here.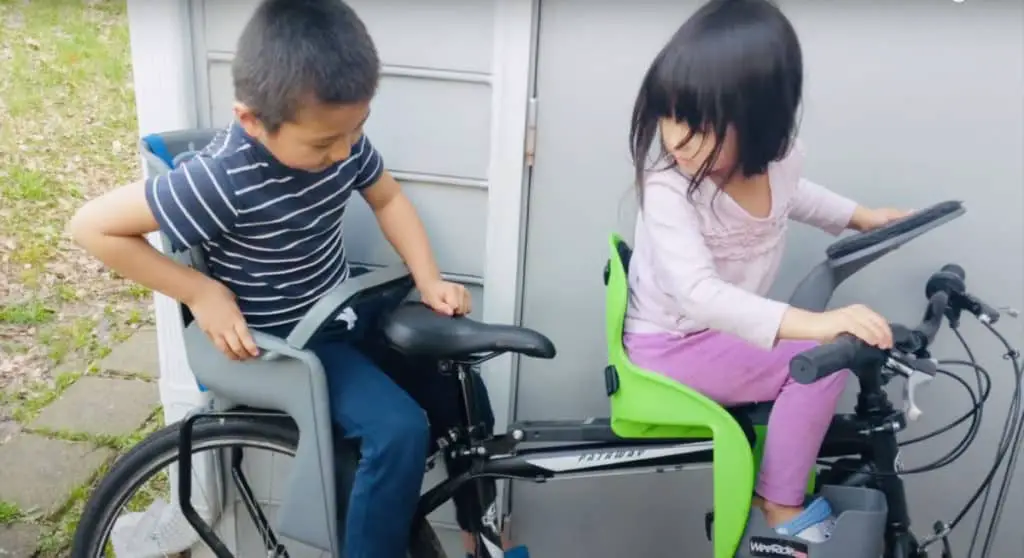 How to attach a children's bike seat to a mountain bike
Child bike seats are generally designed to attach securely to the back of a bike seat, most commonly on a town or city bike. But what if you want your child seated in the front or even better, perched up high near you so they can see everything?
Find a bike seat that attaches to the mountain bike frame
The ideal seat will attach to the bike frame rather than clipping onto any other portion of the mountain bike. Child seats attached to your bike's frame will provide the most stability when riding. Child seats will come with instructions for attaching them to your mountain bike. 
Securing the seat to the bike frame of your mountain bike will ensure that your child's seat will not move in either direction or shake while you are riding your mountain bike.
Securing the child bike seat to a bike rack on your mountain bike
If your child's bike seat attaches to the front or top of a bike, it can connect to any style of mountain bike. To install it onto a metal bike rack on your mountain bike, find a place where you want it securely attached and tighten it with screws included in the package.
You can connect the child's seat to a metal rack on your mountain bike with screws. The style you choose will depend on how and where you like to ride and what type of bike seat you have. For mountain biking with a seat attached to a rack, be sure the rack is securely attached to the frame of your mountain bike.
Tighten up the straps on either side of the bike
Make sure the additional straps that come with the child seat are tight enough so that there is no slack. Tighten these straps to be sure that the child bike seat is securely attached to the frame of your mountain bike. 
These straps should be able to hold a child's weight without falling off or loosening over time. Make sure you have tightened all screws or bolts on your child's seat before attaching it to your mountain bike; this will prevent any accidents from happening.
Finishing steps and testing the ride
Once everything is in place, test out how well it works by cycling around with your child seat attached before going for a long ride. If you need more security, use some zip ties to secure down any loose straps or cables. 
Choose the right child bike seat for a mountain bike
The child bike seat should also follow any safety guidelines set by your local biking authority to be certified safe for use with children under four years old. The best child seat for mountain biking is one that attaches to the frame of your bike, like a BMX or mountain bike. A child seat is not made for high speeds and rough terrain.
Rear-mounted child seats are best for mountain biking
We will focus on the correct type of seat for your child and what you might need to do for them to be certified safe by your local biking authority. The kind of seat that is best for mountain biking attaches to the frame of your bike, like a BMX or mountain bike.
Front-mounted seats are better for biking on the street. Mountain bikes are typically heavier than their counterparts and require more of your child's body weight to remain in one place when riding, so a rear-mounted seat is best. The length between where you mount it and the frame also makes a difference: longer distances make them less secure, while shorter distances make them much more stable.
Rear-mounted seats typically mount from the rear wheel to a rack on the back of your bike and are secured by either straps or an overhand bar. The seat should also be angled towards where you want it to lean when they're seated for them not to slide forward and off during biking.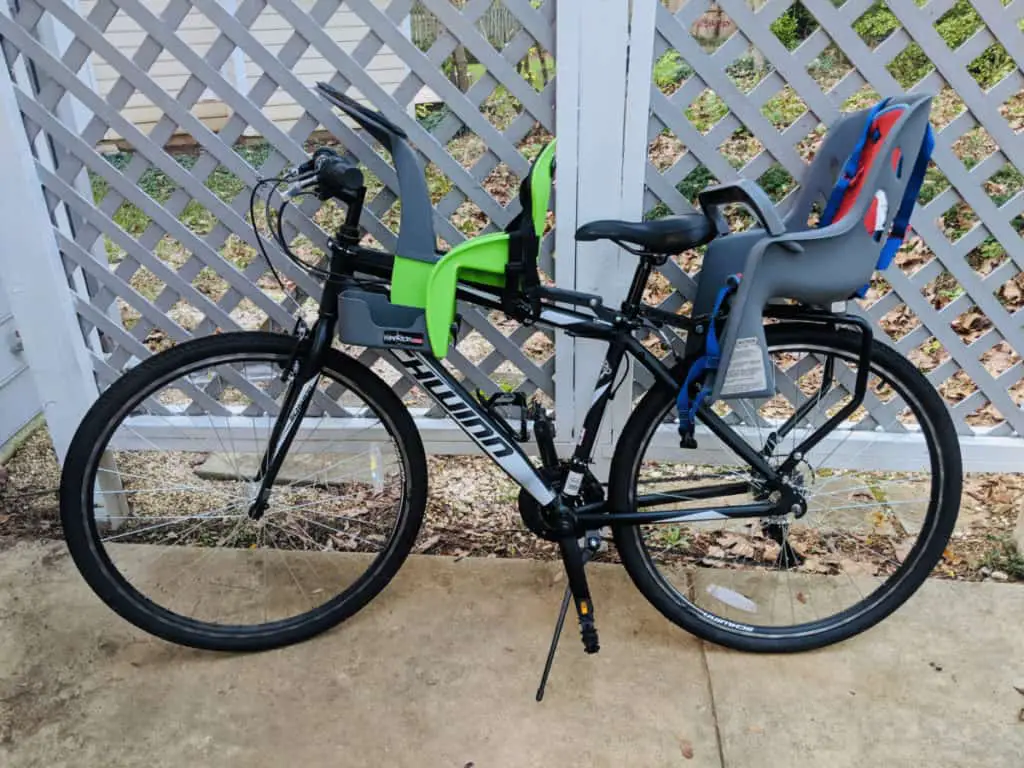 The top 3 child seats to attach to your mountain bike
There are many child bike seats on the market that are designed specifically for mounting on a mountain bike. Most of these seats are rear-mounted options that give you more stability and security when attaching the seat. Here are some of the best child bike seats for attaching to mountain bikes.
Thule Yepp Maxi seat for mountain biking
The Thule Yepp Maxi Seat is sold for $249.95 on Amazon. The mount on the Thule Yepp Maxi Seat offers shock absorption when mountain biking and the seat comes with a five-point harness for security. The footrests and straps on this seat are adjustable for growing children.
Schwinn child carrier for mountain biking
The Schwinn Deluxe Child Carrier Seat for mountain biking is sold for $89.99 on Amazon. The Schwinn Deluxe is a rear-mounted bike seat that is easily assembled. A three-point harness offers extra safety, as does the adjustable footwells and removable headrest, while a sleek vented design prevents any wind drag. A comfortable padding system provides your little one with excellent support in their back as well as shoulders and bottom.
Burley Dash child bike seat for mountain biking
The Burley Dash Child bike seat is sold on Amazon for $149.99. It is the perfect solution for attaching to your mountain bike. The rack mounts easily onto a rear back rack with preset clamps. Foldable and lightweight features make transporting this seat around quick and easy. Multiple height positions on grip pads can be adjusted with a simple twist of a knob, up to 40 lbs (18 kg)! 
These three child bike seats are ideal for attaching to your mountain bikes. They all offer excellent options for mounting to your bike frame and added security features to keep your child safe when riding. These seats come with some of the highest maximum weight capacities and features that allow them to expand as your child grows. 
Here's a short video explaining what I think the best options are for riding with a child.
Conclusion
If you are a parent who enjoys biking with your child, it is essential to have the right bike seat for them. There are many different types of seats available but some work better than others to make sure your child has a safe and comfortable ride. Child seats can be attached to your mountain bike without issue, but some are better for mountain biking than others. 
The best quality seats will come with instructions on attaching them, or their design might be self-explanatory, which means they can sit comfortably while enjoying nature with you. To ensure safety from local authorities, these seats should also meet the necessary criteria before receiving certification as safe for use by children up to four years old.
Though rear child bike seats are generally considered safe, it really comes down to your confidence and comfort level while riding a bike. It's a good idea to practice riding with extra weight before buckling your child into the seat and always ask for help if you need it. And don't forget, always wear a helmet!
---
My Recommended Child Bike Seats
Affordable and sturdy, I recommend getting the following child bike seats for anyone looking for a seat to ride together with your child. I've been using these two seats for more than 6 years for both of my kids and they're still holding up great. If you want to see all the gear I recommend, check out my Gear page.
Recommended Front Child Seat: WeeRide
Recommended Rear Child Seat: Schwinn Deluxe