If your child is under five years old, then you may find yourself wondering if you can take them on your next biking adventure. Below you'll find the answer to the question of whether you can attach a child bike seat to a full-suspension bike.
A child bike seat can safely be attached to a full-suspension bike. The safest types of child bike seats for full-suspension bikes have handlebars, footpegs, and comfortable seats. You should also be in search of features that make for easy installation.
Below you'll find the best child bike seats for full-suspension bikes so that you can take your child mountain biking with you. You should look for front-mounted seats, as is discussed in further detail.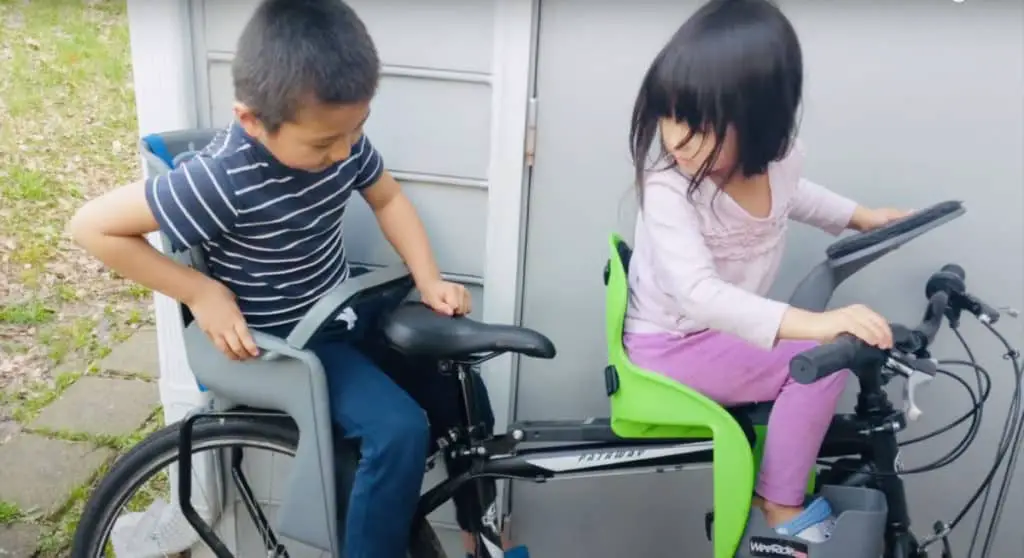 Can you attach a child bike seat to your mountain bike?
The short answer is yes; you can attach a child bike seat to a full-suspension bike. However, due to safety and rider comfort concerns, there is a select type of bike seat that you should be using for these purposes. 
Why front-mounted seats are safer
If you plan to take your kiddo on a mountain bike ride, then front-mounted seats are an excellent way to go. This will ensure that your child stays safe and secure as the bike bounces around. A front-mounted seat allows you to keep watch over your young rider, as well as coming with the awesome benefit of keeping you in a position to interact with them at all times.
The standard manufacturer recommendation is that you wait until your child is at least 15 months old before introducing them to the bike seat. For their first ride, you should pick a simple route to see how they react. As your ride buddy ages, you can then introduce them to progressively tougher terrain.
What tools do I need to mount a child bike seat?
Child bike seats typically come with installation kits that include all the tools necessary for attaching, removing, and adjusting the seat. Take, for example, this Ealitak kids bike seat, which comes with installation tools, including a wrench.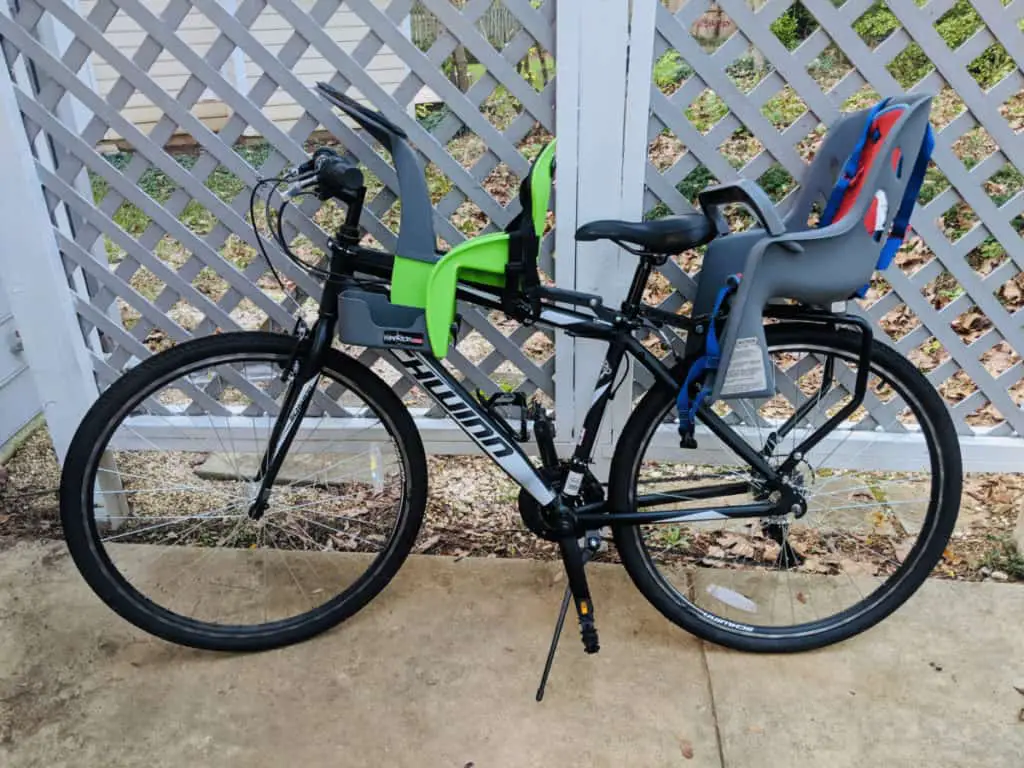 What to look for in a child bike seat
The safety and comfort of children are always of utmost importance for parents. The good news is that manufacturers clearly have these concerns in mind when they design child bike seats. Be sure to consider the following as you shop for a bike seat.
Seat materials
Make sure that the seat has enough give to account for all the bumps in the trail. Many of these seats are made out of either leather or faux leather, which should enhance the ride's comfort.
Handle
A handle gives your riding buddy something solid to hang onto so that they can maintain balance throughout the ride. Look for a handle that is easy for young arms to reach and forgiving on soft hands. You'll notice that several of the handles in the bike seats referenced above are also designed to be adjusted easily.
Make sure the seat fits your bike
You'll need to make sure that the bike seat is compatible with the bike you own. Some of the best seats on the market have adjustable clips that are designed to fit any full-suspension bike. 
If you are unsure whether the seat will fit your bike, you are encouraged to read the manufacturer's instructions. Most of the bike seats listed below fit all mountain bikes except for older styles or road bicycles with cables on the top tube of the bike, which interfere with installation.
Consider the ease of installation
The seats listed below come with their own installation kits and instructions. Although they are all similar to each other, slight variations may make one seat more straightforward to install than the other. 
Consider, for example, the subtle differences between the Ealitak seat and the UrRider:
Ealitak: The handlebar and seat are mounted separately.
UrRider: The handlebar and seat are mounted together and fold into each other, making for easier transport.
Portability
You probably won't want to have the seat-mounted all the time, so you should look for a seat that is easy to tuck away in storage when it is not in use. This is where a foldable seat such as the UrRider can hold an advantage because you don't have to worry about keeping track of separate pieces.
Durability
You also want a seat that can stand the test of time. Look for aluminum alloy brackets rather than plastic if you find yourself riding quite often. Otherwise, you won't save much money in the long run if you end up having to replace your seat on a consistent basis.
Stirrup types
Front-mounted child bike seats come with stirrups where your child can secure their feet during the ride. Pay close attention to this feature as you shop around for a child bike seat. It's easy to overlook this feature, which can play a role in rider comfort. Some seats have adjustable footpegs, while others may have metal bars instead.
Best child seats for full-suspension bikes
In the section below, you'll be introduced to the top child bike seats for full-suspension bikes. These are the leaders in terms of having features that add to both rider safety and rider comfort while also not compromising the bike frame.
Ealitak Kids Bike Seat for mountain bikes
The Ealitak Kids Bike Seat is a front mount seat suitable for full-suspension bikes. The set comes with small handlebars and a rapidly adjustable seat that should make for a cozy ride. The cushion is made of leather and held firm by an aluminum firm bracket that attaches to the bicycle's body.
This seat is designed for children ages 2-5 who weigh less than 48 pounds. The handlebars for your riding buddy are mounted on top of the existing handlebars for your bike. Since the handlebar and seat are mounted separately, it is easier to remove the seat portion when you plan on riding alone.
UrRider Child Bike Seat
The UrRider Child Bike Seat takes a slightly different design approach. The soft handrail is equipped with an anti-slip, resilient framework instead of a handlebar that attaches to the bike's handlebar. This bike seat is easily portable, thanks to the foldable bracket. 
The entire seat also only weighs two pounds. The seat is anchored by two supporting points. The aircraft-grade alloy is both ultralight and durable. Silicone pads for the fork arms are designed to prevent any damage to the paint of the bicycle.
Shotgun Kids Bike Seat for mountain bikes
The Shotgun Kids Bike Seat is designed for children aged 2-5 and up to 48 pounds. An adjustable width is designed to fit any mountain bike. The bike comes with grippy footpegs for your child's feet, a feature not commonly seen in front-mounted bike seats.
The seat is designed for simple removal, thanks to the quick-release mechanism. The saddle is also easily adjustable. A molded rubber protector on the arm is designed to protect the bike frame against damage.
Final Thoughts
The only safe child bike seats for full-suspension bikes are front-mounted seats, which will offer a safe and secure ride. In the sections above, you'll find tips for how to attach these as well as guidance on which features to look for in a child bike seat for full-suspension bikes.
Though rear child bike seats are generally considered safe, it really comes down to your confidence and comfort level while riding a bike. It's a good idea to practice riding with extra weight before buckling your child into the seat and always ask for help if you need it. And don't forget, always wear a helmet!
---
My Recommended Child Bike Seats
Affordable and sturdy, I recommend getting the following child bike seats for anyone looking for a seat to ride together with your child. I've been using these two seats for more than 6 years for both of my kids and they're still holding up great. If you want to see all the gear I recommend, check out my Gear page.
Recommended Front Child Seat: WeeRide
Recommended Rear Child Seat: Schwinn Deluxe