It's the perfect day for a bike ride, but you don't have a bike seat for your toddler to tag along with you. You have been wondering about getting one so he/she can ride with you, but can child bike seats attach to any bike? 
Most standard road bikes, hybrid bikes, commuter bikes, and mountain bikes can have a child seat mounted on them, but specialized bikes like carbon fiber frame bikes and suspension mountain bikes typically cannot have a child seat attached to them.
So what types of child seats work best with which bikes?
I've been riding with my kids in child seats for several years using many different types of bikes, including mountain bikes, road bikes, and hybrid bikes. We've never had any issues when attaching a child seat to any type of bike, but there are a few important things to keep your riding safe and fun.
Can a child bike seat attach to any type of bike?
While most commuter bikes and city bikes will fit some type of child bike seat on them, most specialized bikes do not. Bikes with a carbon fiber frame are not strong enough for the extra weight required to handle a child bike seat. They can quickly become off-balanced and make it hard to manage without spilling your child. 
Child seats fit best to medium and larger bikes. Many seats need a conventional top tube to attach to for more security for your child. Small frames can be hard to fit correctly for bike seats that need the tube. Bikes without a tube often shake badly under the weight of a larger child. 
Need to figure out if a rear or front seat is best for you? Be sure to read my guide here.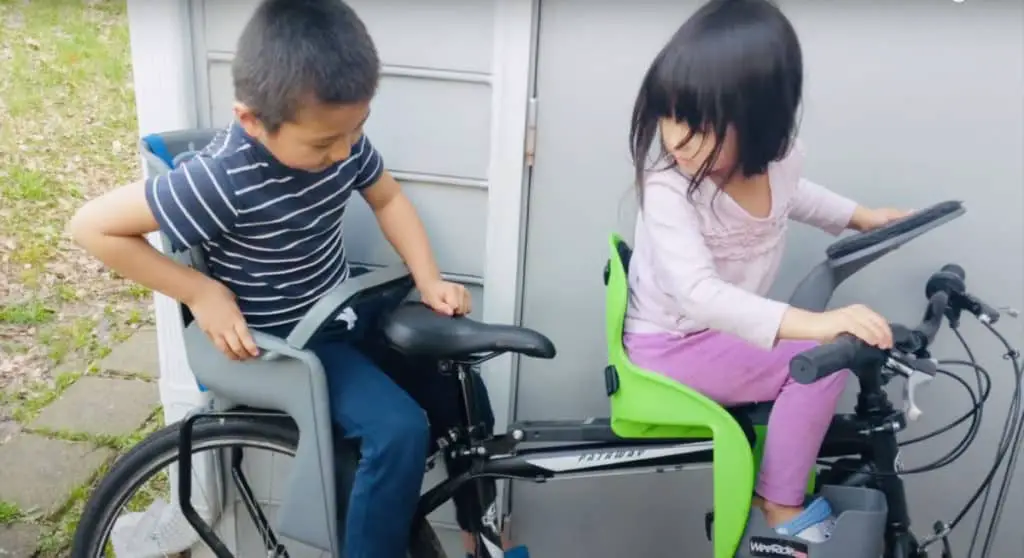 The benefits of a front-facing child bike seat
Front fitting child bike seats usually attach to the top tube using a bracket have both advantages and disadvantages to consider. 
| | |
| --- | --- |
| ADVANTAGES | DISADVANTAGES |
| Your child can see more with a front-mounted seat. | If you have to brake suddenly, you may be thrown forward toward your child. |
| You can talk easier to your child. | Your knees may not have enough room to pedal like normal. |
| If you have two children, you can have two seats. | Front attached seats are meant for shorter rides and distances. |
| Balance is often better with a front attaching seat. | Your child is exposed to the elements more. |
| You can usually get on and off the bike easier without spilling the child over.  | A sleeping child could slip in the seat and catch a foot in the wheel.  |
| Your child cannot be gabbing your hair and clothes while you ride.  | Front-mounted bike seats take up about 10 inches of the space between the stem and saddle of your bike, not leaving you much room to maneuver.  |
| You can point out things to see ahead to your child.  | |
You will need to decide if the advantages make you feel more comfortable with a front-attaching seat than a rear-attaching seat. 
Types of bikes that are not compatible with child bike seats
Several types of bikes are not compatible with a child bike seat, as we discussed above. 
Bikes with rear suspensions should not have a child bike seat. The suspension makes you work much harder to get where you are going if you manage to mount it on without issues with the suspension.
Fiber frames are not meant to carry loads. The lightweight frames are not forgiving of the weight and will not stand up to long-term use. 
If you have disc brakes like many of your specialty bikes, you will probably need to get a unique rack so that they can mount adequately without messing up your brake system. 
Keeping all of this in mind, it's good to know what works with your bike before you go out and purchase a child bike seat. 
What's the most universal type of bike for a child bike seat?
You can undoubtedly add a child seat to e-bikes, cruisers, and cargo bikes, but the bike most used with a bike seat is the city bike. Commuters use bikes more than ever to save on gas costs and avoid long traffic jams and parking issues
Although child bike seats can mount on several different types of bikes, the most universal type of bike is standard, upright city bikes. Almost all child bike seats will mount to these types of bikes. Brands like Thule have various seats, so you are bound to find a good choice available for your needs. 
Adding a luggage rack or buying a bike that has one already allows a child bike seat to be added and the extra plus of being able to haul groceries and other items home as needed. 
What's the most universal type of child seat?
While several great brands make child bike seats, front or rear mounting has a lot to do with personal choice, and the type of bike you have the most universal seems to be the back mounting child bike seat. The child has a bit more protection from the weather in the rear, and they can be mounted in more ways and handle more weight for larger children. 
You should have eyelets and clamps to attach the seat to the bike securely to the frame.
You will want to choose one with the added safety features of adjustable footrests with added protection from your child dangling his foot into the bike stokes, which is the number one bike-related injury for child bike seat use. 
The universal bike seat should also have a five-point harness that securely holds your child in place and does not allow them to slip around in the seat even if they fall asleep.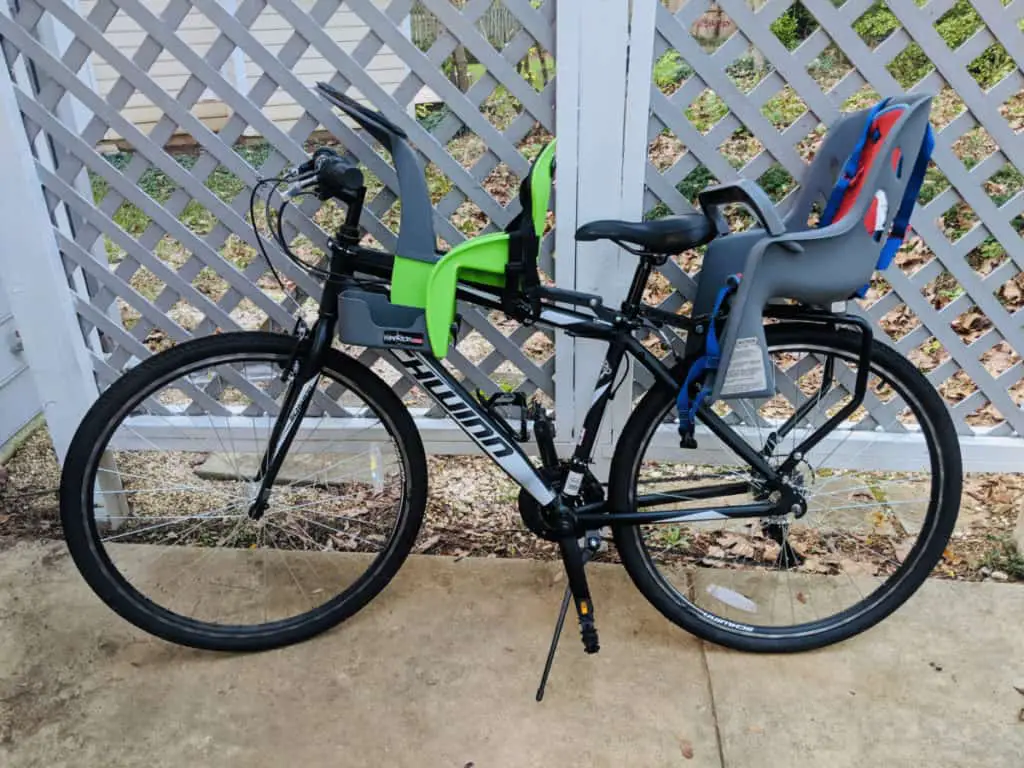 What do you need to know about rear-mounted bike seats?
So, you think you want to buy a rear-mounted bike seat, but what factors will you need to know before you do? 
As a general rule, rear-mounted child bike seats fit more bikes than others, but there are still some things you must know to ensure it is compatible, like whether your bike seat has any space left on the seat post and what kind of brakes you have. Why is this important? 
Typically, a rear child bike seat can accommodate a larger child with a higher weight than a front-mounted seat. Some will allow a six-year-old who weighs up to 48 lbs (28.7 kg) to ride with you, whereas a front child bike seat usually only accommodates a child under 33 lbs (15 kg) and is between the ages of nine months and three -years old.  
There are two styles of rear-mounted child bike seats: 
The frame-mounted mounts securely to the bike's seat post.
The rack-mounted mounts directly to the bike's rear luggage rack. Some bikes do not come with a luggage rack, and you may need to purchase and attach it to your bike.  
Things to keep in mind about attaching a rear child seat
If you have an external brake cable on your seat tube, you probably cannot mount a rear mount bike seat to the post because it will be in the way.
You will need a couple of inches clearance between the bottom of your seat and the mount for the seat. So, if you need the lower setting for your seat to reach the ground, it may be a problem. 
Disc brakes are sometimes an issue when mounting to a rear mount child bike seat. If you have disc brakes, you may need to find a disc brake compatible rack to install your child's seat. 
Here's a short video explaining what I think the best options are for riding with a child.
Conclusion
As you can see, not all bikes are compatible with all seats. For best results, you need to consider your child's size and the type of bike you have and then buy the child seat that best fits your child's needs based on the bike you have. By doing so, you should be able to buy the safest seat for your child and enjoy many outings together. 
Though rear child bike seats are generally considered safe, it really comes down to your confidence and comfort level while riding a bike. It's a good idea to practice riding with extra weight before buckling your child into the seat and always ask for help if you need it. And don't forget, always wear a helmet!
---
My Recommended Child Bike Seats
Affordable and sturdy, I recommend getting the following child bike seats for anyone looking for a seat to ride together with your child. I've been using these two seats for more than 6 years for both of my kids and they're still holding up great. If you want to see all the gear I recommend, check out my Gear page.
Recommended Front Child Seat: WeeRide
Recommended Rear Child Seat: Schwinn Deluxe