Child bike seats can be attached to most bikes and allow some room to carry your belongings with you in a pannier. There are multiple ways these additions can be set up to provide you with a safe and comfortable ride. 
Many child bike seats are designed to be used with panniers, including rear seats and front seats. In the case of a rear child seat, the seat is typically placed in between the panniers to allow for the panniers and child to sit comfortably without intruding on the rider's pedaling experience.
Read on to discover what types of child's bike seats are compatible with panniers and the most appropriate setup for using the two together. In addition, we will discuss some of the advantages and disadvantages of using a pannier with child's bike seats and the best setup for this type of transportation.
Child bike seats that can be used with panniers
Most child bike seats have been designed to be used without panniers altogether, but that does not mean they won't work together. Pannier can be used with front or rear child bike seats. 
When used in tandem with child's bike seats, panniers will usually have two straps on each pannier, which go over and around the child's seat for stability. The child generally sits behind the cyclist with a saddle-shaped backrest behind them to lean against, depending on the seat.
With the child's bike seat being attached to the panniers and not just sitting on top of them, it makes for a more stable child bike seat-pannier combination. 
Front child bike seats allow for an easier ride while still allowing access to talk easily between rider and passenger (or vice versa), and when used with panniers, they can balance the weight from the back of the bike.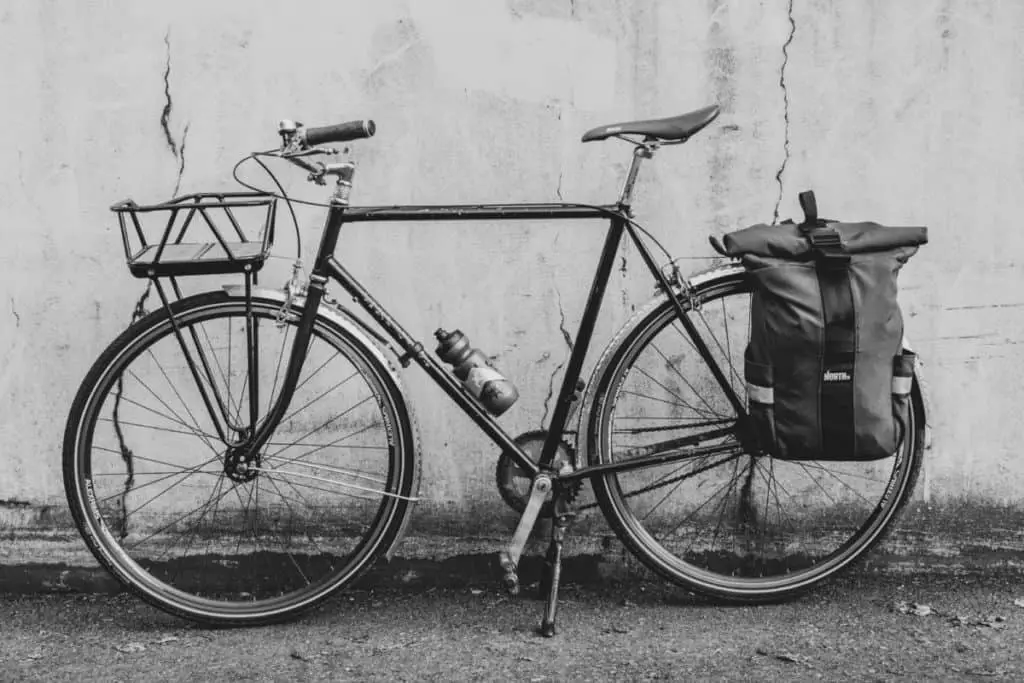 Panniers that best fit on your bike with a child seat
The are several options for placement when using a pannier with a child's bike seat, including:
Rear panniers with rear child seats
Front panniers with front child seats
Rear panniers with front child seats and vice versa
All of these placement options come with advantages and disadvantages for riders.
Rear panniers with rear child seats
Saddle-style panniers that have an open area between the two bags like ones from Ortlieb or Timbuk2 are typically easy to attach child seats. When riding with a child seat on pannier racks, it's safer to use a saddle-style bag.
The opening at the top between the bags makes installing child bike seats much easier because they don't need any additional supports attached. The opening allows for quick and easy attachment of the child seat without removing the pannier. 
Front panniers with front child seats
If you have front pannier bags, then attaching your child's bike seats will require adding some spacing typically by using bungee cords or straps. However, this is not always necessary because there are many types of child bike seats that come with mounting brackets (which you can attach directly to the panniers). 
Having front panniers with front child's bike seats will add more weight to the front of your bike, making steering more complicated than normal. If your terrain is smooth and level, this should not be an issue, but if the terrain is on the rough side, this setup is not recommended. 
Front panniers with rear child seats or vice versa
Using front or rear panniers that are set up opposite the child's seat (i.e., front panniers with rear child seats or front child seats with rear panniers) is a more balanced way to ride. Though riding may be safer and more balanced with this setup, mounting and dismounting can be more difficult, so it is best to have someone with you to assist in those moments. 
The best setup for children's bike seats with panniers
When considering child bike seats, the best setup can depend on the rider, but generally, rear panniers and rear child seats make for the easiest and safest ride. Rear child seats mount directly to the bike's frame, and the added weight from the panniers can be balanced with your weight when riding. 
With a rear mount, the child must sit behind you on your bike. This is perfect for shorter legs because it won't interfere with their feet touching pedals! However, be warned that this type of mounting system does require a bit more physical strength to keep them balanced.
There are, however, some alternatives to using panniers with child bike seats. 
Alternatives to child seats and panniers
Child bike trailers are an alternative to child seats and panniers. Some of the advantages of using a child bike trailer include:
They are more stable than a child bike seat or child carrier which is attached to the back of your bicycle rack because they attach at the front.
Child trailers also double as cargo trays so when not being used for transporting children, parents can use them with an additional benefit: storing their groceries.
Trailers allow one place to put all of your shopping — securely fastened behind you. This means that rather than having extra bags on either side of your bike or carrying them, you can use a secure trailer.
These trailers should only be used on smooth terrain, as they can become dangerous on rough terrain. Child backpack carriers are another alternative if your children are small enough for them. These can be used in tandem with panniers and pose less of a balance issue for riders. 
Advantages and disadvantages of panniers with child bike seats
There are some advantages and disadvantages of using panniers with a child's bike seat. Though it can be done, some setups require more balance and can be more dangerous than others, or some alternatives.  
Benefits of child bike seats on panniers
Whether you are using front or rear child seats or panniers, there are certain benefits that come with them. The benefits of using panniers with child's bike seats include:
Higher visibility of your child when using front child's bike seats
Panniers and child's bike seats are securely mounted to the bike's frame for safety.  
Rear child's bike seats make it easier for steering and a more even disbursement of weight on the bike, especially when paired with front panniers. 
Pairing panniers and child seats in the setup that is easiest for you will give you the maximum benefits. If you aren't used to the physical strength of some setups, find what works best for you. 
Drawbacks for using a child bike seat with panniers:
Again, no matter the setup, there will be some drawbacks to using panniers with children's bike seats. Some of the disadvantages of using these together include:
Front child seats can be more difficult than using rear rack mounted child bicycle seats on panniers because of the uneven weight disbursement.
Front child seats make for more difficult steering, especially when paired with front panniers. 
Child seats on panniers can feel more unstable when compared to alternatives like trailers. 
There is a risk of your child being thrown off if your child's seat doesn't have appropriate strapping. If your child's feet or legs are too close to the spokes when using rear seats, there could be a danger of them getting caught and injured.
No matter the setup of your child's bike seat with panniers, there are some drawbacks to using these methods. The important thing to do is practice without your child in the seat to get used to having extra weight on your bike during your ride. 
Conclusion
When it comes to transporting small children on a bike, there are many different options. However, depending on the rider and their needs, rear panniers or child seats may be the best option for you. Rear child seats mount directly to the frame of your bicycle while providing some extra support as they lean against them. 
If you're looking for an easy-to-install setup that provides comfort without taking up too much space when not in use, then consider using rear panniers and a rear-mounted child seat!
Though rear child bike seats are generally considered safe, it really comes down to your confidence and comfort level while riding a bike. It's a good idea to practice riding with extra weight before buckling your child into the seat and always ask for help if you need it. And don't forget, always wear a helmet!
---
My Recommended Child Bike Seats
Affordable and sturdy, I recommend getting the following child bike seats for anyone looking for a seat to ride together with your child. I've been using these two seats for more than 6 years for both of my kids and they're still holding up great. If you want to see all the gear I recommend, check out my Gear page.
Recommended Front Child Seat: WeeRide
Recommended Rear Child Seat: Schwinn Deluxe