Have you ever tried to find a child seat for your electric bike and been frustrated by the lack of options? There are some seats that attach to the back rack with straps, but it can be tricky to get them on if you have an oversized basket or panniers. 
A child bike seat can be attracted to an electric bike with either a rear-mounted child seat or a top tube child seat. Top tube seats are harder to attach because the shape and size vary from bike to bike. If the battery pack on the electric bike is in the way, it will also make it more difficult to attach a child bike seat.
If you are trying to take a family trip on an electric bike, read on to see which child seats connect to an electric bike for your child. 
Can a child bike seat attach to an electric bike?
All styles except the top tube attach quickly to an electric bike. Assuming the electric bike does not have an incompatible battery placement on your electric bike frame.
Do some research if you are renting a bike on the shape and size of the battery. You will also need to know where the battery is placed on the frame to give you a better idea if your child bike seat fits. 
Different types of child bike seats that fit electric bikes
Child bike seats that fit electric bikes can come in a variety of different styles. The most common is going to be the back rear mount and the trailer. 
The back rear mount sits atop the back of the electric bike frame, and the child sits upright right behind you. This can be easier to access your child and be in close proximity but your child is also more exposed to the weather and other outdoor circumstances.
The trailer sits behind the bike and rests on its own two wheels. You can connect the trailer to the bike's frame, and the peddler will have to tow it behind them. You need to make extra considerations for all turns to avoid hitting the curb because it will take more space.
E-bikes come in many shapes — some with step-through frames that make it harder to attach footrests or child seats on either side of the battery pack. 
Ebikes use similar handlebars and stem as regular bicycles – this allows families to find comfort riding together without any additional struggle getting them situated. Like you would expect during your typical car ride.
Below are some child bike seats you can purchase that will fit on electric bikes:
Recommended Front Child Seat: WeeRide
Recommended Rear Child Seat: Schwinn Deluxe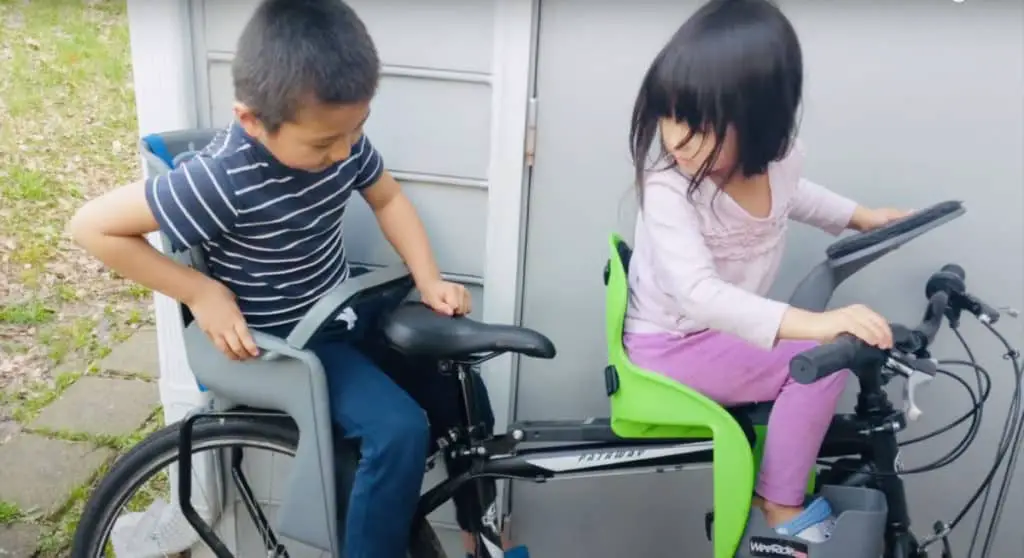 Do I need a special adapter for my child's bike seat?
Most children's seats that attach to an electric bike will not need an additional special adapter. Most products come with adapters that can easily attach to an electric bike.
Some bike seats will need some minor adjustments to the frame of the electric bike. For this process, you can use an "Allen" or hex wrench, which is generally included with your child's seat.
Most children's bike seats will come with all the attachments necessary for you to put them on an electric bike. 
Some bikes are not compatible with the attachment piece, so attempting to attach it first before planning your entire ride would be helpful. This can be especially true for bikes with a large battery or unusual top tube size. 
Tips for installing a child bike seat on an electric bike
When you're installing a child's bike seat onto an electric bike make sure to read the manufacturer's instruction manual before attempting to attach the two. 
You also want to be sure to install the seat on a bike with a frame that's at least 20 inches long and 16-20 inches high. 
Make sure your electric bike has been designed for carrying cargo, as not all of them are. If it doesn't have an attachment, you should be able to find one online or in sporting goods stores. Typical attachments fit on the back frame and have a flat surface to fit a child seat on.
What effect will a child seat have on battery life?
The actual seat itself will do nothing to the battery of an electric bike. Where you need to be more concerned with is the extra weight of your child.
The more your child weighs, the more work your electric bike must do to give the same output. If your battery isn't strong enough, it may have trouble pushing both of you up a tall hill.
If you plan on going long distances, you may need to add in time to recharge your bike before finishing your trip.
The added weight could cause the battery to work harder and will reduce its life cycle. You won't be able to go the same distance as you would without a child seat attached. 
Your manufacturer's manual is the best resource on how much weight the bike can hold safely, without additional weight. Estimate the life cycle with the added child bike seat.
The benefits of using a bike trailer with an electric bike
Instead of using a child seat that sits on top of your electric bike and exposes your child to danger, you could opt for a trailer. 
The trailer helps keep your child protected from the weather and also any accidents that may happen while riding. Rocks that are kicked up or dust that is floating in the air won't have an effect on your child because they will be fully covered. 
It's also easier not to worry if your child is comfortable or fitting correctly because they'll have more room to move in the trailer seat. 
You need to be careful of turns and allow for more space when making a right turn because if you don't, you have the potential to hit the curb and disturb your child. 
For everything you need to know about pulling a bike trailer with an e-bike, check out this article here.
How to safely ride an electric bike with your child
An electric bike is a great way to get around with your family. The battery-powered motor makes it much easier to tackle hills and headwinds, meaning you can spend more time outside together than if you were biking or driving in the car alone. 
To safely ride an electric bike with the family, follow these guidelines:
The battery power on the e-bike should never exceed 20 volts and 500 watts. This helps keep your child bike seat safe from falling off or your trailer coming undone. 
Always use the safety lanes that are provided for bikers, if possible. Some areas do not contain bike lanes so you will need to be extra cautious when riding these streets.
Bring a helmet for your child who may be exposed in a rear child bike seat.  
Make sure to check all of your lights and signals before taking off on any ride to ensure that you will be visible at all times when biking during daylight hours.
Electric bikes have more power, so you always need to be careful when riding with your child on any major street.
Riding an electric bike with your child
You can attach a child bike seat to your e-bike as long as you have made sure the two are compatible. The placement of the battery and the size of the frame will be the factors that determine if your child bike seat is compatible with your electric bike.
In the end, it's up to you to weigh the pros and cons to find out which type of seat will be the best and safest option for your family.
Here's a short video explaining what I think the best options are for riding with a child.
---
My Recommended Child Bike Seats
Affordable and sturdy, I recommend getting the following child bike seats for anyone looking for a seat to ride together with your child. I've been using these two seats for more than 6 years for both of my kids and they're still holding up great. If you want to see all the gear I recommend, check out my Gear page.
Recommended Front Child Seat: WeeRide
Recommended Rear Child Seat: Schwinn Deluxe