Biking is a great way to get much-needed exercise, and as a parent of a baby or young child, it is also a fantastic way to spend quality time with your family, enjoying nature and the outdoors. Finding the right child seat is critical for comfort (for parent and child). And a key safety question is: How much weight can a child's bike seat hold?
I've been riding with my two kids since they were infants using child seats, and we've learned a lot over the years about how to do it safely and comfortably. Even to this day, I ride with my 6-year-old and 4-year-old (at the same time) using a front and rear child bike seat.
How much weight can child bike seats hold?
Read-mounted child seats can hold up to 60 lbs (27 kg) and front-mounted child seats can hold up to 30 lbs (13.5 kg). Depending on the age and weight of the child, style of bike, and geographical terrain, different situations call for a different style of seat.
With the safety and security of children being paramount, it is important to explore all the options available for children's bike seats and, based on several factors, including the child's weight, select the seat that is truly the best fit. Read on to find out more on selecting the perfect child's bike seat!
---
Weight limits for three different styles of child bike seats
The three styles of child bike seats are front-mount, mid-mount, and rear-mount.
All three styles are unique and have different age requirements and weight limits. It is important for parents to understand what seat works best based on the age and weight of their child, along with the style of cycling the parent and child will engage in. 
We will cover each style of child bike seat and help you know how to find the best fit.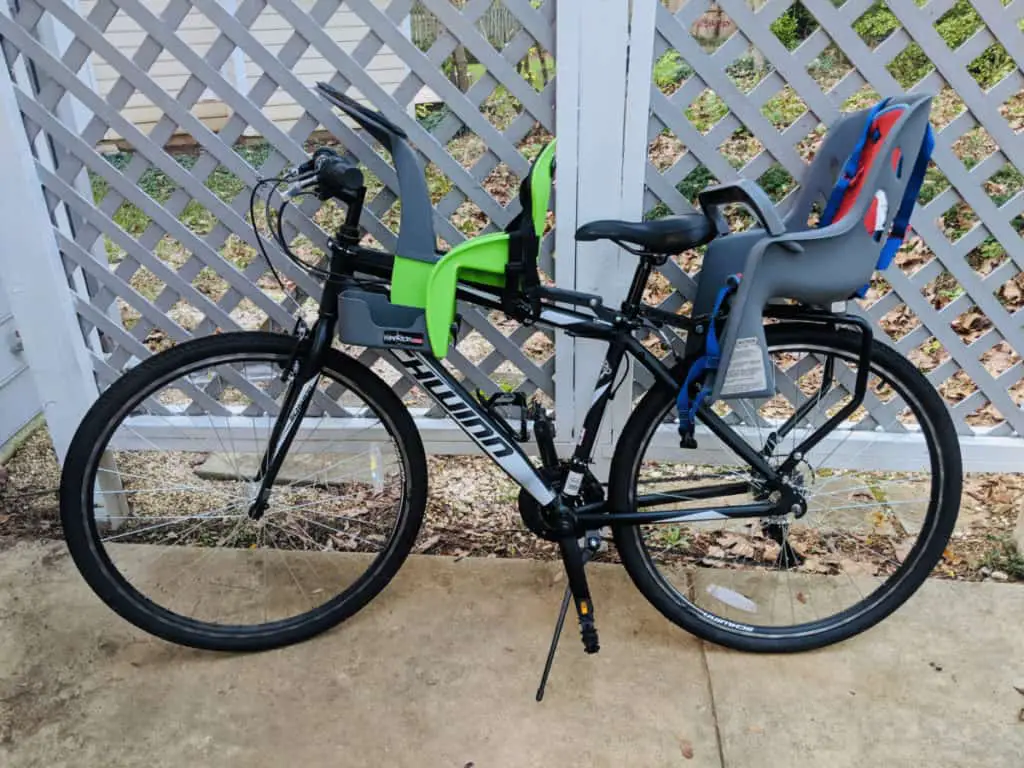 ---
Front-mounted child bike seats
A front-mounted bike seat attaches to an adult bike right behind the handlebars. There are several styles of front-mounted seats, but they are all mounted in the same basic location.  
The most common front-mounted seats are used for younger babies and toddlers under 30 lbs (13.5 kg). However, there are styles of front-mounted seats that are safe for much bigger children, up to 60+ lbs (27 kg). The two common types are:
Bucket style: Bucket-style seats are designed for children from 9 months to about 30 lbs. They look similar to a stroller or car seat and include an outer protective shell, along with shoulder straps to safely hold the child inside the seat. Here is an example of a front-mounted bucket seat on Amazon: Peg Perego Orion
Open style: Open-style seats are less restrictive, do not include harness straps, and function similar to a mounted chair. This style of child seat is best for children age 2–6, with some able to support children up to 65 lbs (30 kg). Here is an example of an open-style front-mounted child seat on Amazon: Ur Rider Child Bike Seat
Benefits and drawbacks of front-mounted bike seats 
Front-mounted seats are particularly popular with parents of younger children under age 2. However, even for older toddlers and young kids, there are still some benefits to the front-mounted seat.
The Pros:
Allows parents to see their child easily and recognize if baby or child is in distress
Allows for more interaction and eye contact between parent and child
Provides child an unobstructed view of the ride
However, the front-mounted seats also include some potential drawbacks that parents should be aware of.
The Cons:
The child is more exposed to wind, dust, and dirt
Steering with a front-mounted seat can be more difficult
Children can potentially grab the bike handlebars, causing a fall
---
Rear-mounted child bike seats
A rear-mounted child bike seat attaches to the rear of the bike, positioned behind the adult bike seat. These are most commonly used with toddlers or young children, up to 60+ lbs (27 kg). There are two main types of rear-mounted seats.
Rack-Style: Rack-style bike seats attach to an adult bike via the bike rack. The bike must be able to accommodate a bike rack in the back to accommodate this style of seat. Here is a great example of a rack-style, rear-mounted seat: Rack-style child seat
Frame-Mounted: Frame-mounted seats attach to the bike by the seat post and are positioned behind the bike seat. To use a frame-mounted seat, there must be a few inches of clearance on the seat post, so for shorter parents, who have their seat set low, a frame-mount won't be possible. Here is an example of a frame-mounted seat.
Many parents prefer the rear-mounted style of bike seat, especially as their toddler gets older and, unlike babies and younger toddlers, may not need the constant supervision that is provided by the front-mounted style.
Benefits and drawbacks of rear-mounted bike seats
If you are considering a rear-mounted seat, there are definite benefits to consider:
The Pros:
The child is not as exposed to wind, dirt, and dust in the air
Better visuals for parents watching the path or road in front of them
More versatility as most rear-mounted seats have higher weight limits 
Easier to get on and off a bike with a rear-mounted seat.
However, just like front-mounted seats, the rear-mounted styles also have their fair share of drawbacks.
The Cons:
Difficult to communicate with a child in a rear-mounted seat
Parents cannot observe child consistently
Many people find it harder to balance a bike with a rear-mounted seat
In this situation, the child bike seat is the most minimally invasive to the adult's riding motion and vision. However, some people prefer to be able to see their child without turning around. 
---
Mid-mounted child bike seats
Another style of child bike seat is the mid-mounted seat. These are specialized seats that are used primarily for mountain biking, although many parents will use them on standard bikes with older children, age 3–6, or children who have grown out of standard child bike seats. Some characteristics of the mid-mounted child seat include:
Hold more weight: Some mid-mounted seats can hold children in excess of 75 lbs (34 kg). 
Small and lightweight: Mid-mounted seats are minimalistic and simply add a place for the child to sit safely in front of their parent, typically when they are too large for a standard front-mounted seat. 
For older children: These seats are not appropriate for babies or young toddlers, as they offer minimal protection and are used mainly for all-terrain riding.
Mid-mounted seats look very similar to a traditional bike seat, as seen in this example mid-mounted seat. For parents selecting a child bike seat for the first time, all the choices can be overwhelming, with benefits and drawbacks for each. 
---
Choose a seat that fits your child's age and weight
Safety is always the biggest priority, so it is critical to select a child bike seat that is appropriate for the age and weight of the child. Parents should always check the weight limitations on every seat, both front and rear-mounted, to ensure that it is appropriate for their specific needs.
At what age is a child ready to ride with you?
With any child bike seat, the weight requirements and limitations will be clearly outlined. Parents should wait to bike with their baby or young toddler until he can easily hold his head up and remain well supported on his own.  
This typically occurs around 12 months, or at the earliest, around 9 months. If parents are unsure whether their child is ready to join them on a bike ride, they should consult their pediatrician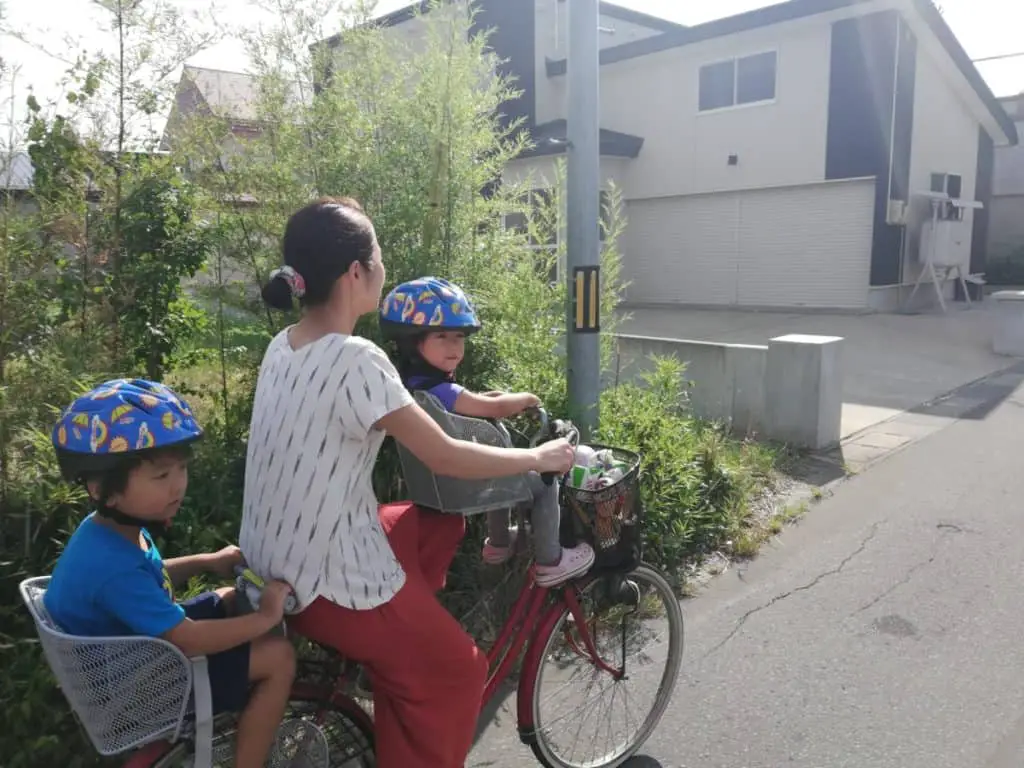 ---
Bike trailer vs child seat: which is safer when riding with a child?
A bike trailer is safer than a child seat in the event of a crash because it has a protective cage, is lower to the ground, and has a five-point harness. Additionally, it is easier to handle the bike with bike trailers than with child seats.
I wrote an analysis on Bike Trailers vs Child Seats, which you should definitely check out here.
---
Conclusion
Whichever bike seat is ultimately selected, biking with toddlers and children can truly be a wonderful and exciting bonding experience. Biking is fantastic exercise, and most babies and toddlers truly enjoy the fresh air fun of a bike ride. Starting out biking with toddlers can help them develop a love for this healthy hobby that will last a lifetime.
Ride on!
Though rear child bike seats are generally considered safe, it really comes down to your confidence and comfort level while riding a bike. It's a good idea to practice riding with extra weight before buckling your child into the seat and always ask for help if you need it. And don't forget, always wear a helmet!
---
My Recommended Child Bike Seats
Affordable and sturdy, I recommend getting the following child bike seats for anyone looking for a seat to ride together with your child. I've been using these two seats for more than 6 years for both of my kids and they're still holding up great. If you want to see all the gear I recommend, check out my Gear page.
Recommended Front Child Seat: WeeRide
Recommended Rear Child Seat: Schwinn Deluxe