If you're looking for a high-quality bike trailer for under $200, then buying used is the way to go!
Bike trailers are one of those items that should ideally be passed on from one family to the next while reducing the need to manufacture new bike trailers.
In other words, there are plenty of used trailers for sale floating around! Below I've outlined some things to know before you buy a used trailer. 
But what's the best way to look for a used bike trailer and what should you look out for?
---
The best place to purchase a used bike trailer is through a local marketplace, such as Craigslist, Facebook Marketplace, or eBay. Since bike trailers can be passed on for many years, you can find a high-quality bike trailer for a good price.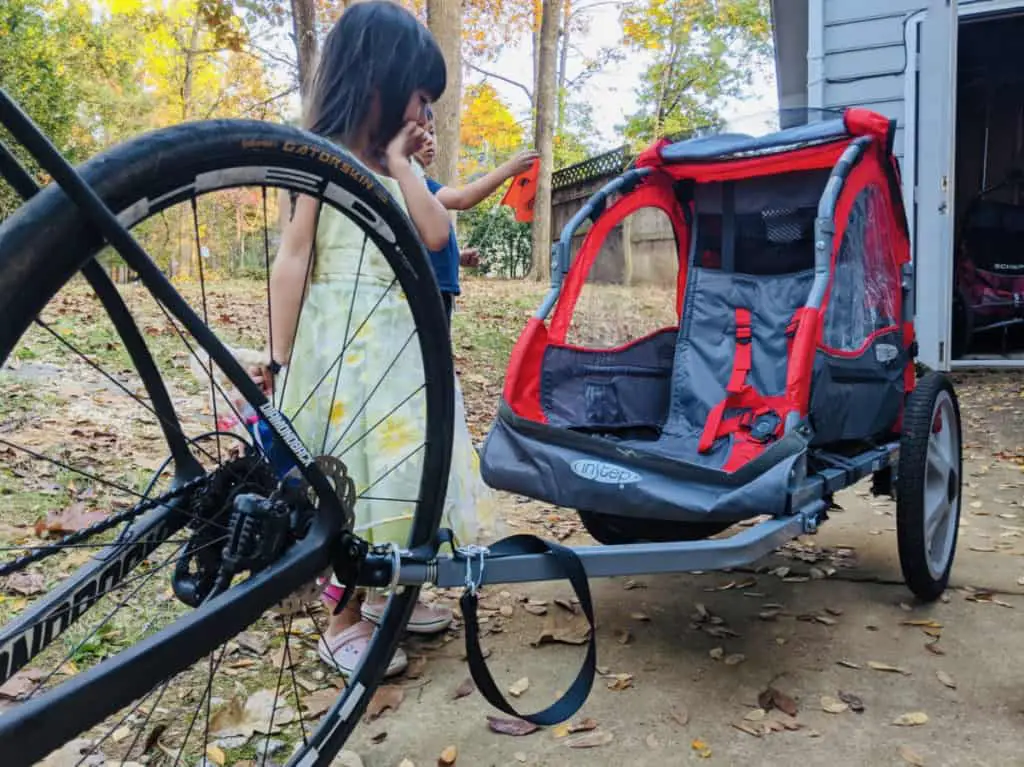 ---
Best practices when buying a used bike trailer
Apart from using the same best practices you would when purchasing any used bike trailer, there are a few important things to look out for when purchasing a used bike trailer.
---
1. Search in your local area
Search for "bike trailers" on Craigslist, Facebook Marketplace, eBay, or whatever local marketplaces are in your area.
Search "bike trailers" and filter by price
Sorting the items with a price filter will give you an immediate result on what you're looking for. 
Filter by distance
Don't be afraid to drive an hour or longer to get the bike trailer, especially if you find a good deal.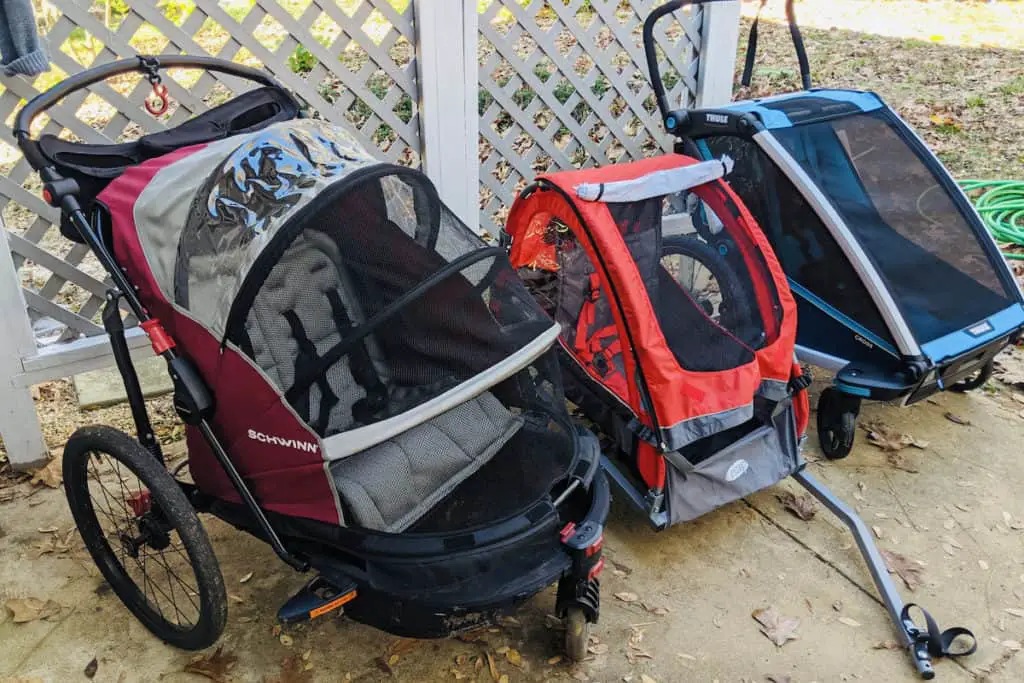 ---
2. Know the retail cost of the used trailer
Once you've found a used bike trailer for sale within your price range, be sure to look up the actual retail price for that trailer.
Sometimes sellers sell items without giving it much of a discount. For example, a $150 Schwinn bike trailer going for $100 on Craigslist is not much of a deal. But at $300 Burley Bee going for $100 is a heck of a steal!
A quick search in my area in North Carolina brought up listings of the popular Instep bike trailer for $90. Seems like a good deal, until you realize that the Instep bike trailer is a budget bike trailer for $135 on Amazon.
Not quite the deal we're looking for.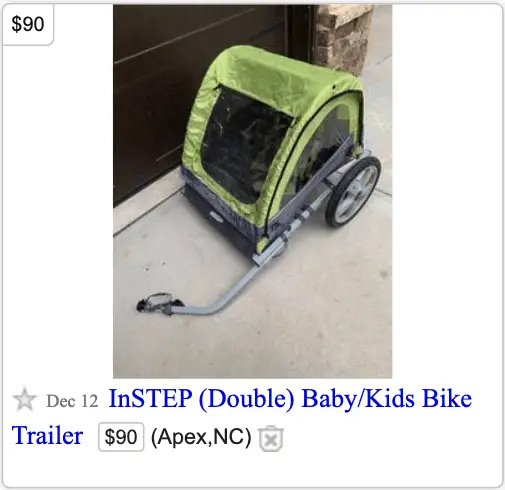 ---
3. Bring your bike with you
Not all types of bikes play nicely with all bike trailers.
For example, if you have disc brakes and a thru-axle, then the trailer's coupler attachment will likely not fit on your disc brakes.
Therefore, it is recommended to bring the bike with you to make sure
If you're not sure how a bike trailer would attach to your bike, check out my article on attachments.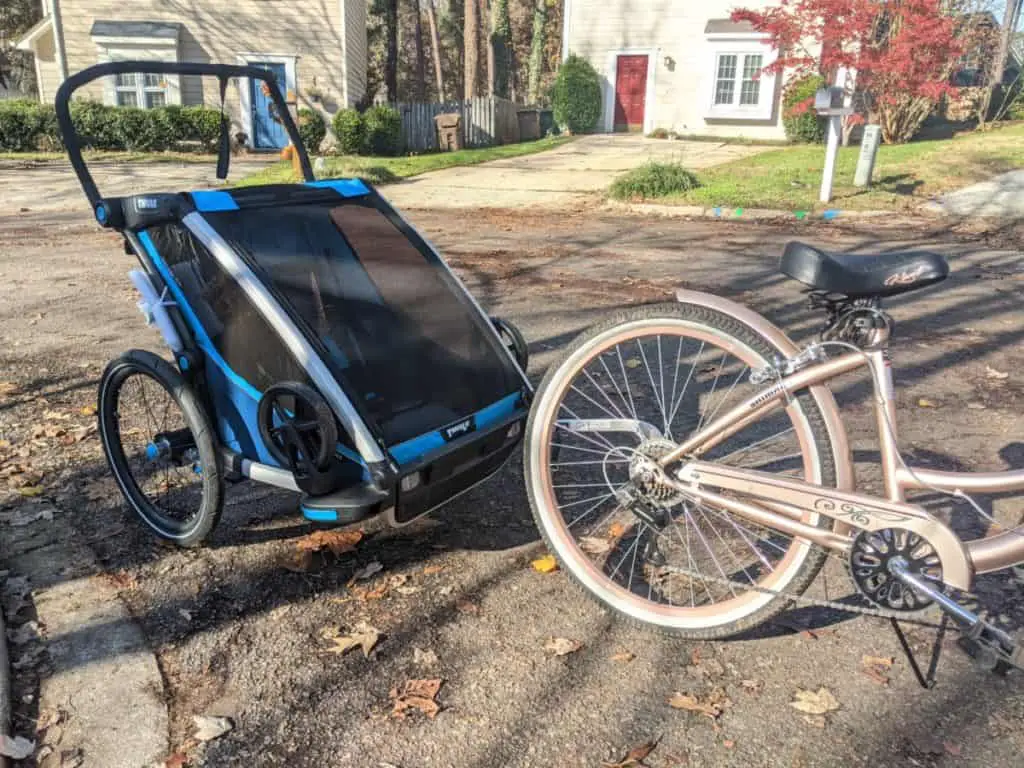 ---
4. Look for wear and tear
It is expected to see natural wear and tear on any used bike trailer.
But there are a few important areas to look for significant damage. Specifically, the hitch attachment and the wheels are most important.
Make sure that the hitch and coupler attachment work properly, have no cracks, and are not bent.
Also, take a look at the wheels and give them a spin to ensure they spin smoothly and straight.
---
5. Ask the right questions
If the description and photos don't tell you much about the condition of the trailer, then don't shy away from asking questions.
The trailer should have the basic features intact. I would recommend asking the following: 
Does it come with the coupler hitch attachment?
If it doesn't, you can easily get one for around $10 on Amazon
What is the condition of the wheels?

Wheels are important (duh). They need to be rotating fine. 

What is the condition of the cover? 
If possible, you can ask these questions before seeing it in person by email, text, or phone.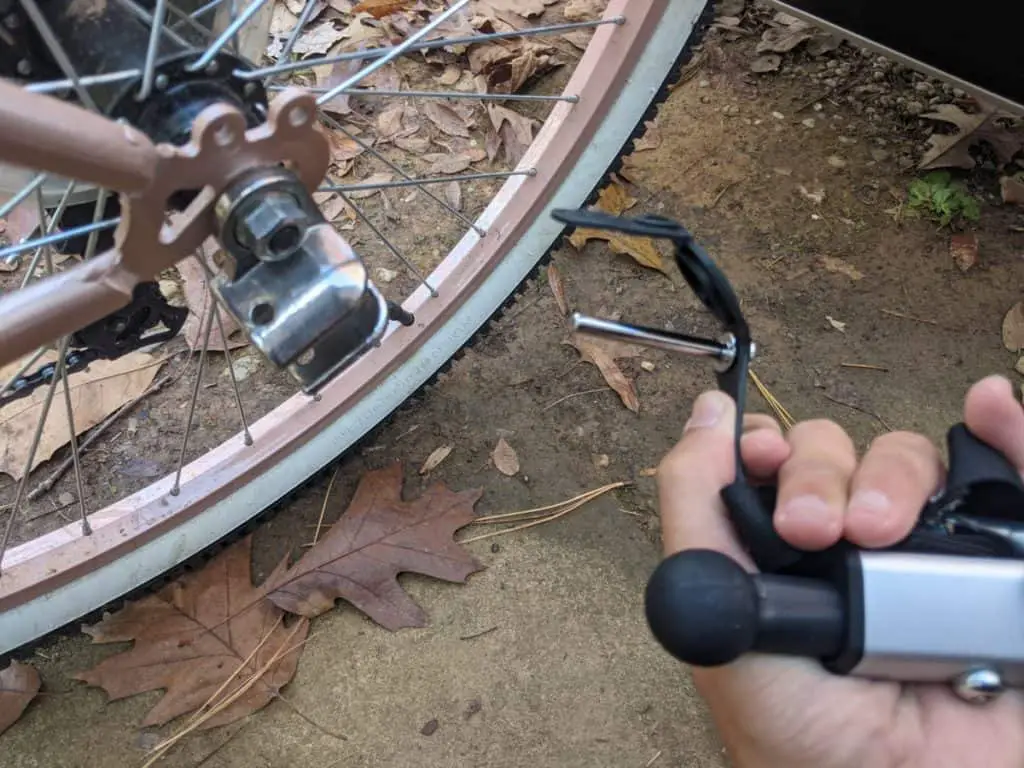 ---
6. Beware of bots
Some marketplaces are riddled with bots. Notably, Craigslist will bring up many results that are obviously bots.
Unfortunately, the higher the ticket item you are looking to buy (or sell), the more bots you will encounter. So you just need to be a little skeptical of any listings that look too good to be true or use very generic photos and descriptions.
Anything that seems like a legitimate sale (not $0) and uses photos that the seller took themselves is worth looking at.
I just did a search for "bike trailers" with a price filter of under $100 and a radius of 100 miles of my area in North Carolina. The results turned up many spammy bike trailer listings selling for $0, which were obviously bot-generated.
You can tell something is a bot because of the generic photos used. Just steer clear of those, and you might find a few good deals.
---
Conclusion
Finding a solid bike trailer takes patience. Be sure to know how much you plan to pay and how much you're actually saving by getting a used bike trailer.
As mentioned above, be sure to look up the actual retail price of the trailer for sale. If the retail price is $150 and it's being sold used for $100, I wouldn't go for it. But if it's being sold for $50, then it might be a great deal!
If you're not having any luck finding a used trailer, there are a few very solid bike trailers that you can get for under $300, if you are able to swing for that price range.
If you need help finding the right bike trailer for you, check out the Ultimate Guide to Buying a Bike Trailer. I also have compiled a list of the top current bike trailers for every common situation, which you can check out here.
Ride on!