Many parents are excited to get out and enjoy the outdoors with their young children. At a certain age, the child is able to ride a bike by themselves.
For children younger than this age, a child bike seat is a good solution—but can an infant ride in a child bike seat?
An infant can safely ride in a child bike seat when they reach the age of nine months. Most experts agree that children younger than nine months will be unsafe riding in a child seat. Infants should wear a helmet while riding and are generally safer with a front-mounted child bike seat. 
I have been riding with my two children in child seats since they were under 12 months old without any issues (sometimes with bot kids at the same time!).
Let's take a look at some of the different recommendations for child bike seats for your infant so you can keep them safe and comfortable on the road.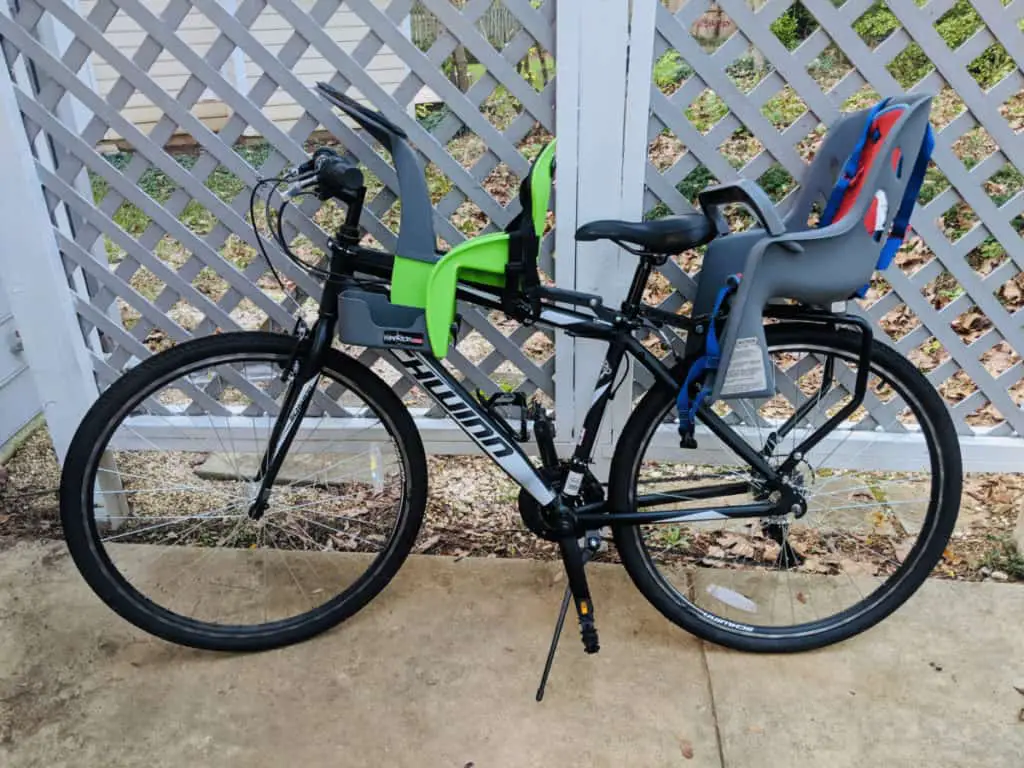 ---
Can an infant ride in a child bike seat?
An infant can ride in a child bike seat. Most recommendations are for a child to be somewhere between nine to twelve months when they start to use a child bike seat. Infants younger than this age generally can't support their head or necks enough to sit in one of these child bike seats. 
There are a few general rules that parents should follow to make sure that their child is safe in the bike seat. These include:
Age requirement: The child should be at least nine months old. While there is no maximum age, most children will naturally grow out of the seat at around 4 to 6 years old and want to ride on their own or ride in a bike trailer.
Height requirements: There are no height requirements, but just find a seat that fits the size of the child. 
Weight requirements: Most front-mounted seats have a weight limit of 30 lbs (13.6 kg) and rear-mounted seats have a weight limit of 48.5 lbs (22 kg).
Parents must choose a child bike seat that fits their child, as well as one that will fit their bike comfortably. Try out a few bike seats to see which one works the best. Think about which ones comfortably fit the height and weight of your child but can also grow with them so you do not need to pay for a second seat a few months later. 
---
Why is there a recommended age minimum?
The recommended minimum age for using a child bike seat is for the child to be one year old. There are some seats that are designed for children nine months old. These recommendations are in place to keep the child safe while on the road. 
It is best to read the recommendations on the child bike seat. Some bike seats recommend that the child is one year old before they use the seat, while others are fine for children as young as nine months. Others may have a weight and height requirement rather than an age requirement.
---
Is a child bike seat dangerous for an infant?
Most child bike seats recommend the child be at least one year old before you use them. 
There are concerns that come with using child bike seats with a younger child, even though some are approved to do this:
The infant will be hurt in an accident. 
The bumps on the road may hurt the baby. 
The baby may not be able to hold their head up enough on their own. 
Choosing the right bike seat and riding the bike carefully can help with this problem. Parents need to be aware of the dangers to make sure they are safe with their infant, but they can easily still ride their bike with the baby. 
How to ride safely with an infant
I have been using both front and rear seats with my two kids since they were very young. My top tip to riding safely with a child bike seat is to be careful when mounting and dismounting the bike.
The only times my kids have been in danger when riding in a child seat was when I was not carefully mounting or dismounting the bike. If you're not careful, the bike could fall over with the child in the seat.
The easy solution to this potential risk is to always mount and dismount while the bike is leaning against something. You should never mount or dismount without a wall or some solid object to lean the bike against.
Also, a bike should never be left standing just with the kick stand. A kickstand is flimsy and will easily fail to keep the bike from falling over due to the top-heavy weight of the child.
---
Is a front or back seat safer for an infant?
A front-mounted child seat is safer for the infant than a read-mounted child seat. They can feel more comfortable while being placed right between the arms of their parents. For young infants, the front seat is often the best option.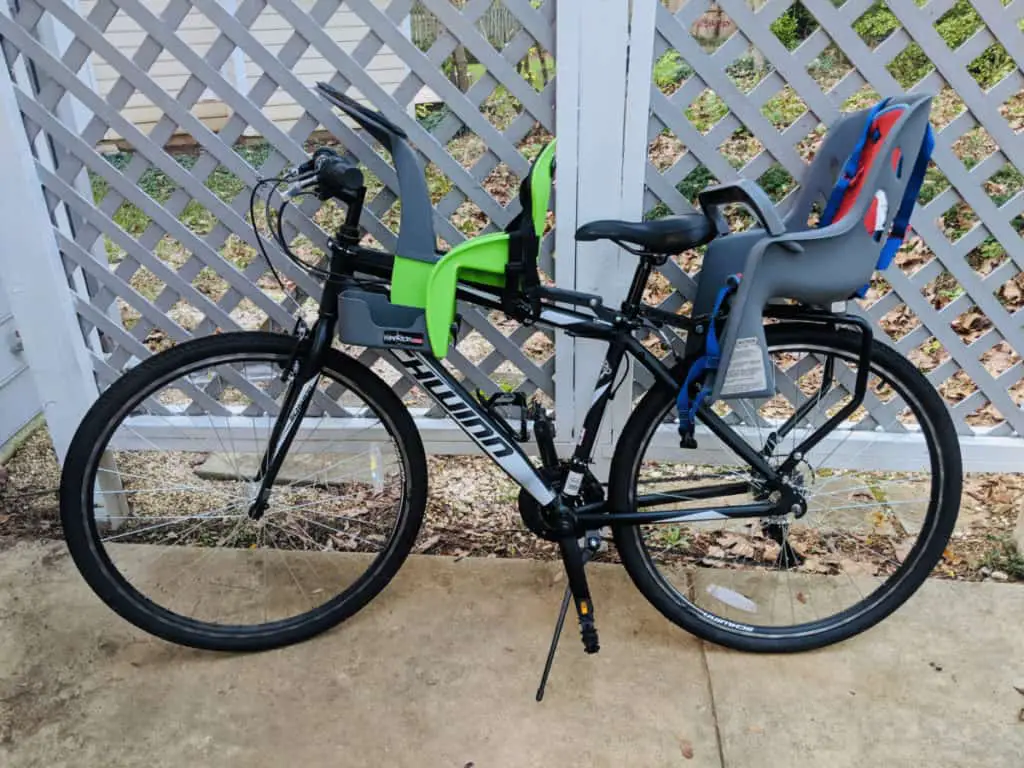 To determine where to place the seat, consider the following:
Rear-Mounted Seat: These are suitable for children at least one-year-old to 48 lbs (22 kg). They are larger and have more stability. 
Front-Mounted Seat: These are smaller and more suitable for babies as young as nine months. They go right in front of the parent. 
Until the baby gets a little bigger, it is better to keep an infant in the front seat.
My experience has been that both front and rear seats are similar in safety features, but the front seat adds slightly more security in the event of a crash.
I have personally never crashed with a child seat after more than 100 miles of total riding with my kids.
Although front-mount child seats are safer, the safest option to ride together with an infant is with a bike trailer. To read more about how to ride with an infant in a bike trailer, read this article.
---
Should an infant wear a helmet?
Your infant should wear a helmet any time they are riding in the bike with you. This can keep their heads safe and prevent potential brain injuries. Even the bumps on the road while driving can be dangerous to the baby so putting a helmet on can protect them. 
Finding a helmet small enough for an infant is the biggest challenge. There are not a lot of options that are small enough and can fit comfortably without hurting the baby. 
Parents should consider purchasing a helmet for their baby if they plan to ride bikes often with their infant. You should purchase one for yourself too. Never place your infant in the child bike seat without their helmet on first. 
The best helmet for infants: Giro Scamp
After using several bike helmets for my kids over the years, the best one out there is the Giro Scamp. It's a comfortable fit for a baby and comes in many colors.
Most importantly, the back is flat, so that a child can rest the back of their head comfortably in a child seat or bike trailer without their head being in an uncomfortable forward position.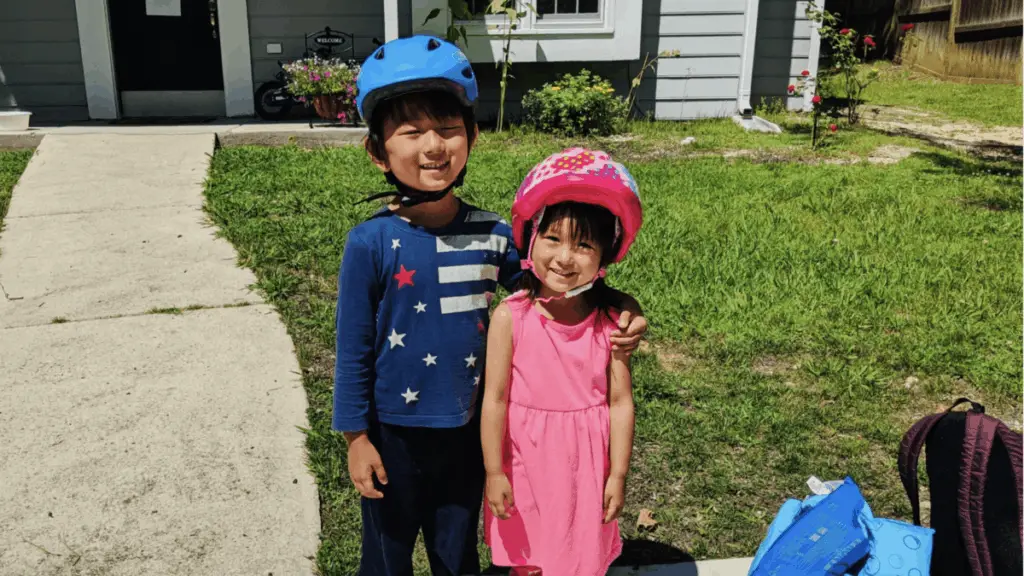 ---
Are there infant inserts for child bike seats?
There are a few inserts available for infants that can go into a child bike seat. These can help the infant fit more snugly into the bike seat without sliding around or getting hurt. 
Before using one of these inserts, consider:
Does it fit well with the child bike seat? Choose one specifically made for that child seat. 
Does it fit your child? Get one that is the right weight and height for your infant. 
Is it too loose? Even if your baby fits in it, if the seat is too loose, it is dangerous. 
Is there a risk of suffocation? Always check that there are no suffocation risks with the insert. 
Infant inserts can be a way to make sure your infant is safely placed when using a child bike seat, but the parents need to choose one that is comfortable and can keep the baby safe. Get an infant insert that is compatible with the specific child bike seat you want to purchase to ensure that it is safe. 
Read the recommendations on how to use the infant insert to see if it safe for your child. Some of these may have an age limit or they may have a weight and height requirement that your child must reach before they can use that insert. 
---
Keeping your infant safe in a child bike seat
No matter which child bike seat you decide to use, it is important to choose one that will keep your child safe while on the road. While an infant insert can help protect your child, it is best to wait until the recommended age of 9 months to ensure they are protected while you ride around with them. 
Riding your bike with your child is a great way to get outside and enjoy some fresh air while introducing them to the adventures and fun of bike riding. With the right child seat used properly, and a good helmet, you can help your infant enjoy the ride. 
Though rear child bike seats are generally considered safe, it really comes down to your confidence and comfort level while riding a bike. It's a good idea to practice riding with extra weight before buckling your child into the seat and always ask for help if you need it. And don't forget, always wear a helmet!
---
My Recommended Child Bike Seats
Affordable and sturdy, I recommend getting the following child bike seats for anyone looking for a seat to ride together with your child. I've been using these two seats for more than 6 years for both of my kids and they're still holding up great. If you want to see all the gear I recommend, check out my Gear page.
Recommended Front Child Seat: WeeRide
Recommended Rear Child Seat: Schwinn Deluxe