Biking as a family brings wonderful opportunities to interact with your child as you roll through the cities and countryside of the United Kingdom. However, different countries often have different laws and customs regarding riding a bike with a child. It's important to know what you can and can't do.  
I've been riding with my two kids in child seats and bike trailers since they were infants in several different countries, including the UK (my mum's Welsh), Tokyo, Seoul, and Montreal. Here's everything you need to know about riding with a child bike seat in the UK.
---
Is it legal to ride with a child bike seat in the UK?
It is legal in the United Kingdom to ride with a child in a front-mounted or rear-mounted child bike seat that meets the European Standard for Child's Seats for Bicycles. Children can ride comfortably in a child bike seat until they are around 6 years old or they can ride alone.
If your child is between the ages of 9-12 months and 5-6 years, the best way to ride together is to add a child bike seat to your bike or e-bike.
How early you start them out depends on their ability to sit unaided in the seat. There's no law about the minimum or maximum age for a child bike seat. In fact, how long they use a seat is based on the child's size—weight in particular. Most rear-mounted child bike seats max out at 48 lbs (22 kg), and front-mounted seats max out at around 33 lbs (15 kg).
Are child seats on e-bikes legal in the UK?
In the United Kingdom, the term "e-bike" can mean one of two types of electric-powered bikes. Each has different rules and regulations regarding use and safety:
Electrically Assisted Pedal Cycle
To be classified as an electrically assisted pedal cycle, or EAPC, the e-bike must meet specific requirements, including having a max power output of no more than 250 watts and pedals that can be used to power the bike. Electrical assistance must end at speeds greater than 15.5 mph.
If the bike meets these criteria, it's considered a regular pedal bicycle and is treated the same as one, meaning you can ride it anywhere a pedal bike is allowed and follow the same regulations that apply to a pedal bike.
Based on the highway code, child bike seats can legally be used on EAPC bikes because they are treated as a regular pedal bike.
Moped
The second type of e-bike is actually a moped. Any bike that doesn't meet the EAPC criteria is considered a motorcycle or moped. You must be at least 16 years old and have a license to ride it, and helmets are required. Passengers must be able to sit on a pillion behind the driver and reach footrests with their feet.
The design of a moped is such that it is not possible to attach a child bike seat behind the driver.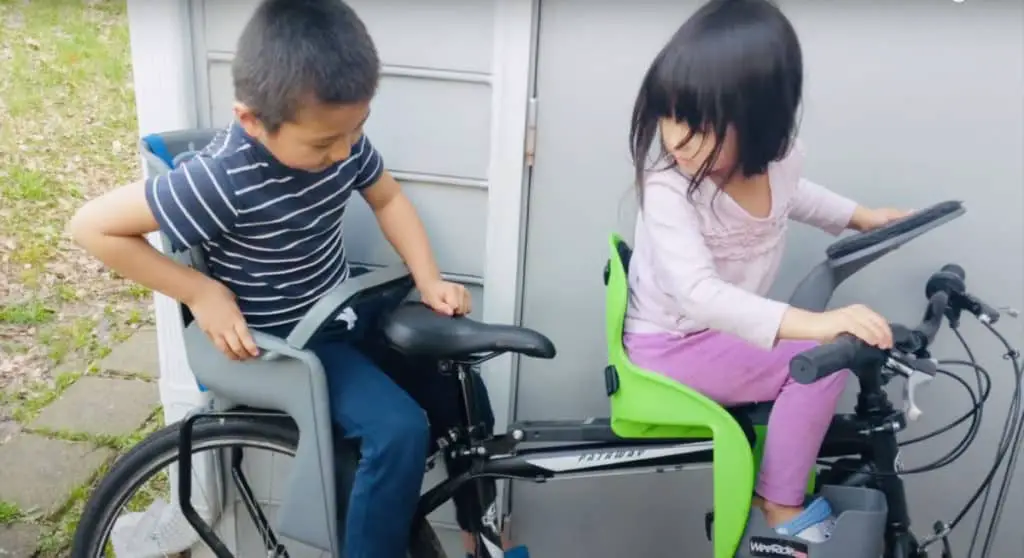 ---
Is it normal to see child seats in the UK?
Child seats on bicycles are seen regularly in the UK as a whole. In fact, Sustrans offers the National Cycle Network, a collection of routes and paths for cyclists and walkers. Use these two options to find quiet, off-the-main highway options where you can ride safely with your child:
Large cities like London or Edinburgh are not known for being safe places to ride, especially with children. The sheer volume of traffic, number of street crossings, and restrictions on taking cycles on the subway present daunting, although not insurmountable, challenges for urban riders.  
---
Are helmets required for children in the UK?
You would think that children would be required to wear protective headgear when riding in a bike seat or pedaling their own.
However, there is no law in the United Kingdom that requires cyclists of any age to wear a helmet when riding on pedal bikes or EAPC's. 
The Highway Code does suggest that using a properly fitting helmet is a good idea, even though it's not actually codified as a requirement. A child's bike helmet should meet the criteria outlined by the EN 1080 European Standard.
The debate on helmets for kids is a hot one, so be sure to check read both sides of the debate in this post here.
---
Bike safety tips when riding with a child in the UK
Safety is the top priority when planning to ride with a child in a bike seat. Adding the extra weight of another person, even a small one, can alter the bike's handling or the line of sight for the driver, making it dangerous for both.
Let's talk about things you can do to make your child's cycling experience as safe and enjoyable as possible.
Helmets
Even though helmets for children are not required in the UK, wearing a helmet while in a child seat is recommended to protect children from serious injury in the event of an incident.
On a few occasions, my bike toppled over while my son was in the child seat. This can be avoided if you are very careful when mounting the bike, but it's something that can happen. Luckily, he always wears a helmet while riding with me. For that reason, I would strongly recommend that children wear a helmet while riding in a child seat.
Foot guards and finger guards 
Most child seat injuries occur when a child's foot gets caught in the spokes. Be sure the bike seat has wraparound footrests and straps to keep the child's foot from slipping. Also, make sure that scarves or other long items are kept out of the way of the spokes.
Little ones like to explore and fiddle with stuff. It's important that the bike seat they ride in has wraparound construction and guards in place that will prevent little fingers from getting caught in the spokes.
Harness straps  
Child bike seats come with a harness system. At a minimum, you should use a 3-point system, but if you can find a seat with a 5-point harness, that's even better for your little one. A snug, but not tight, fit is important so your child can't accidentally slip out of the harness. 
Be sure the buckle is quick-release and child-proof so your child cannot release themselves out of the harness, but you can do it quickly if needed. 
Visibility
Often bikes are not very visible on the roads, and drivers sometimes don't give a lot of leeway as they pass. Using a flashing rear light or reflective, bright-colored sticker attached to a rear-mounted child seat draws attention to the fact that a little one is on board.
I would highly recommend having flashing lights on the rear and front of the bike. Here are a few that I recommend.
Know the law
Before you head out on your UK ride, be sure you know the laws around cycling and vehicular traffic. Cars drive on the left side of the road, for instance, which may be awkward for foreigners. Also, in the UK, it's illegal to ride on footways (AKA sidewalks).
The point is to be aware of what is expected of you as a cyclist and follow the law.
---
Child bike seat vs bike trailer: Which is safer?
Bike trailers are another good consideration to ride with for safety and functionality. My recommendation is to use a bike trailer if at all possible, for several reasons that I outline in this article.
The bottom line is that bike trailer is generally safer than a child seat in the event of a crash because it has a protective cage, is lower to the ground, and has a five-point harness. Additionally, it is easier to handle the bike with bike trailers than with child seats.
---
The Final Spin
In short, here's what you need to remember about riding with a child on a bike in the UK: 
Riding with a child bike seat in the United Kingdom is a legally accepted way of transporting children up to 48 lbs (22 kg) on a regular pedal bicycle and electrically powered pedal bike. 
Helmets are not required for children to ride in a bike seat (but are recommended).
Ultimately, riding your bike with a child on board can be a great experience for you both. Now that you know some of the basics about riding in the UK, it's time to hit the road and pedal off for great adventures! 
Ride on!
Though rear child bike seats are generally considered safe, it really comes down to your confidence and comfort level while riding a bike. It's a good idea to practice riding with extra weight before buckling your child into the seat and always ask for help if you need it. And don't forget, always wear a helmet!
---
My Recommended Child Bike Seats
Affordable and sturdy, I recommend getting the following child bike seats for anyone looking for a seat to ride together with your child. I've been using these two seats for more than 6 years for both of my kids and they're still holding up great. If you want to see all the gear I recommend, check out my Gear page.
Recommended Front Child Seat: WeeRide
Recommended Rear Child Seat: Schwinn Deluxe