Biking through the winter can be done safely and comfortably with the proper gear to keep you warm and safe.
But how can you comfortably ride a bike in freezing temperatures or even snow?
I commuted by bike to my job in NYC from New Jersey every day for years. Through trial and error, I learned the hard way how to stay warm and also enjoy the ride even in freezing temperatures.
This article has everything you need to know about biking in winter, including getting all the gear you need on a budget.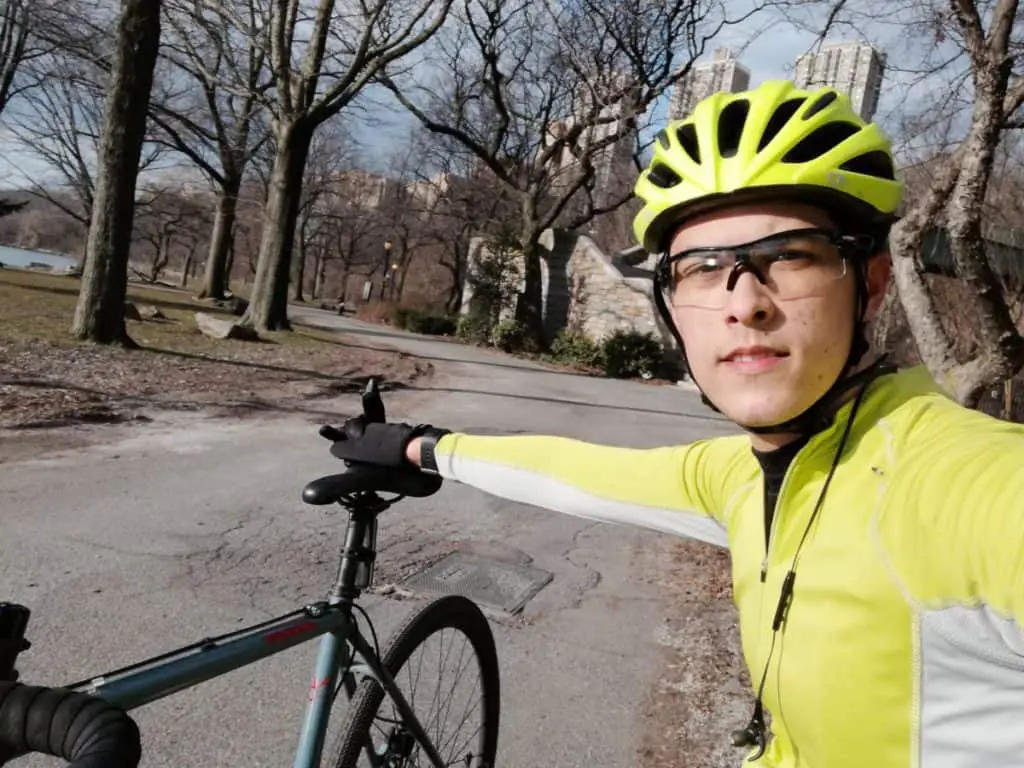 ---
How to stay warm when winter biking
Since you will be generating heat from your body very quickly while cycling, staying warm is not as difficult as it seems.
The most important things to do when biking in winter are:
Wear a ski mask to keep your face, mouth, nose, ears, and head warm
Layer your clothing with a base-layer and a cycling jacket
Keep your hands warm with ski gloves or cycling gloves
Keep your feet warm with shoe covers
Wear sunglasses to protect your eyes from cold winds
Below are specific recommended gear for each of these.
---
How to stay safe when winter biking
The winter months bring their own unique challenges that call for a few critical safety precautions.
The most important things to do when biking in the winter are:
Use flashing front and rear lights to increase visibility
Use wider treaded tires to avoid slipping on ice or snow
Use an insulated water bottle to avoid water freezing
Below are specific recommended gear for each of these.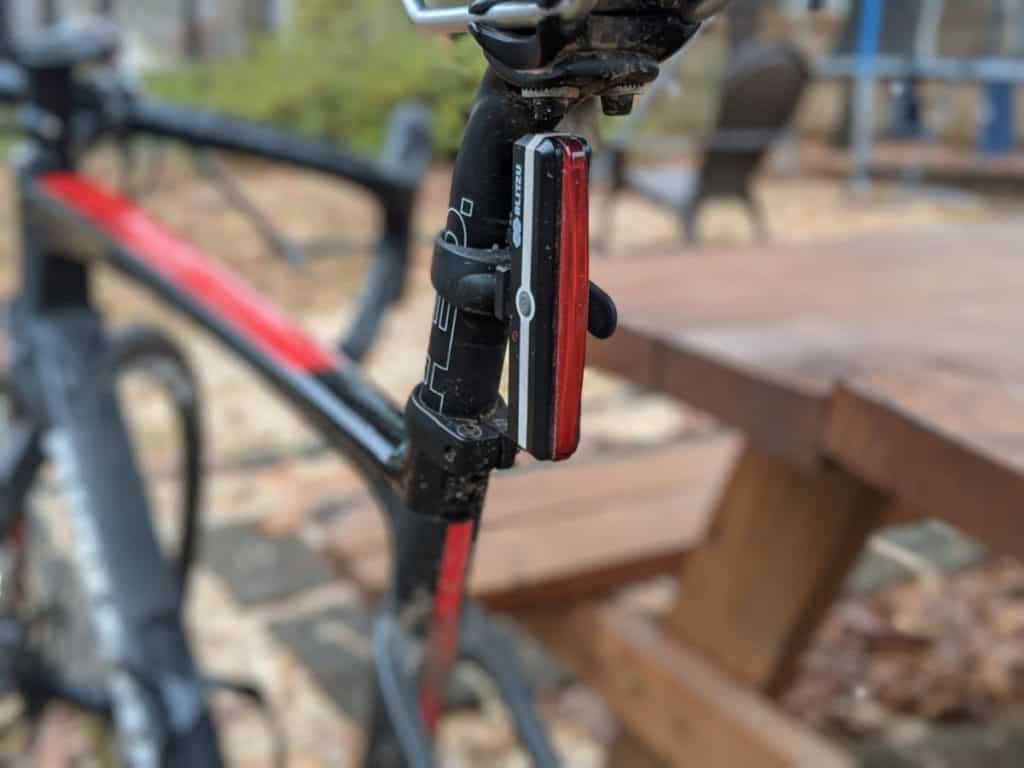 ---
All the gear you need to ride comfortably and safely in winter
Here I'll dive into each of the most important things to do when biking through freezing temperatures, snow, and brutal rain.
I personally use all of the gear here.
I assume that you want the best gear for your money, so all of these recommendations are budget-friendly options that I have personally bought and used through NYC winters.
---
Wear a ski mask
A ski mask will save your most vulnerable facial areas. It keeps your nose, mouth, ears, and head warm even in below-freezing temperatures.
You will even start to get a bit warm after cycling for just a few minutes.
Luckily, you can easily just pull down the mouth area to expose your mouth for better breathing.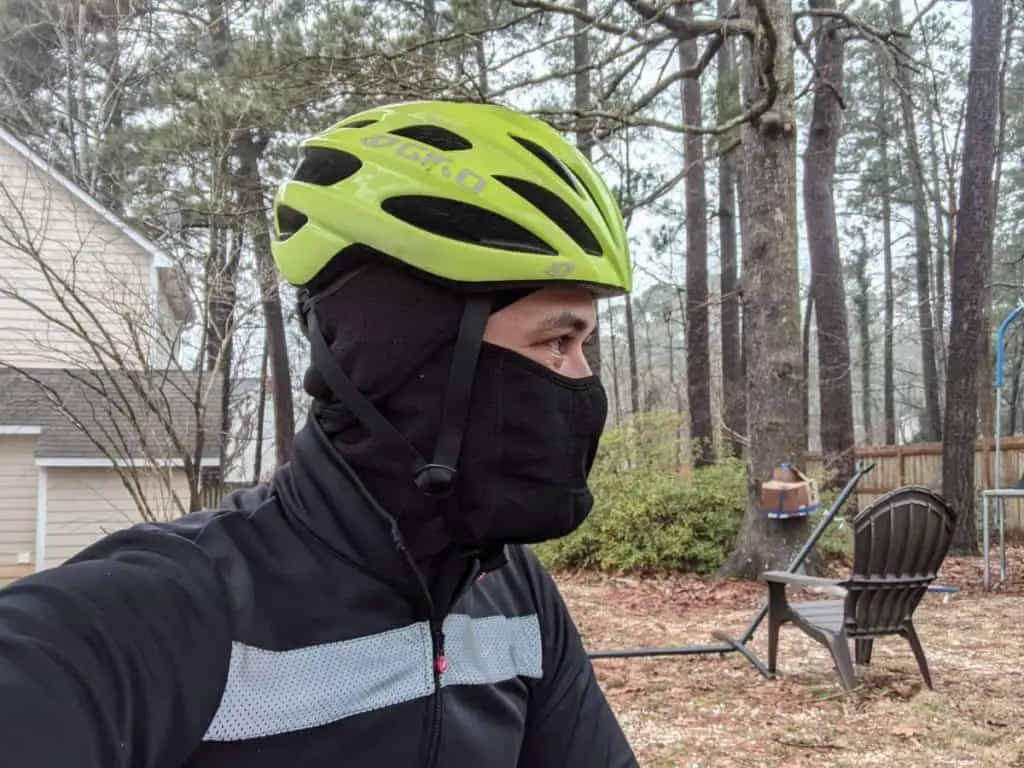 The ski mask that I recommend is by Balaclava on Amazon for around $19 and has a breathable mouth area that can easily be pulled down when you start to warm up. The mouth area also has holes, so that it is more breathable than other ski mask options.
For only about $19, I'd say that the ski mask is probably one of the most important pieces of gear to get right when riding in the winter.
---
Layer your clothing
If you have the right types of clothing, you don't need to layer too much. Actually, layering up too much will cause you to sweat and become uncomfortable very quickly because of the lack of breathability.
How warm should you feel?
When you first start riding, you will want to feel a little cold. If you feel too warm from the outset, then you'll end up burning up and becoming uncomfortable. You will warm up after just 5 minutes of riding.
The only two pieces of clothing that you will need for any winter riding will be:
Thermal base-layer shirt
Cycling jacket
1. Thermal base-layer shirt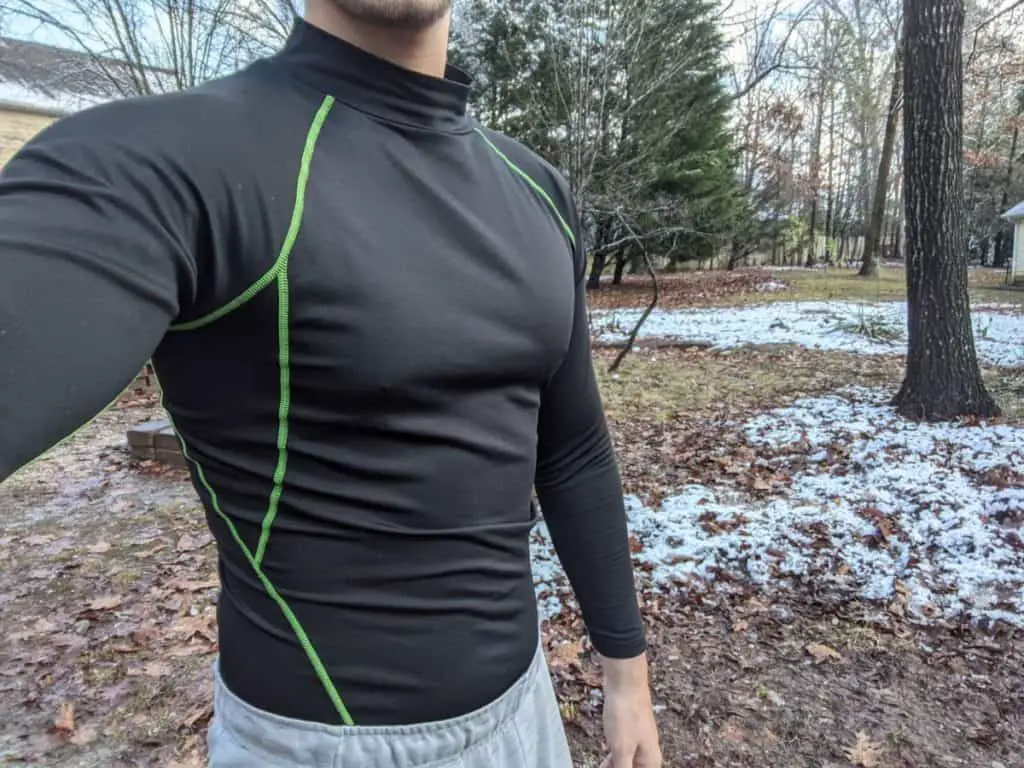 The thermal base-layer is the main piece of clothing that will keep you warm. I recommend this one from Under Armour, which is thermal, comfortable, affordable, and also has long enough sleeves to cover your wrists while riding.
2. Cycling jacket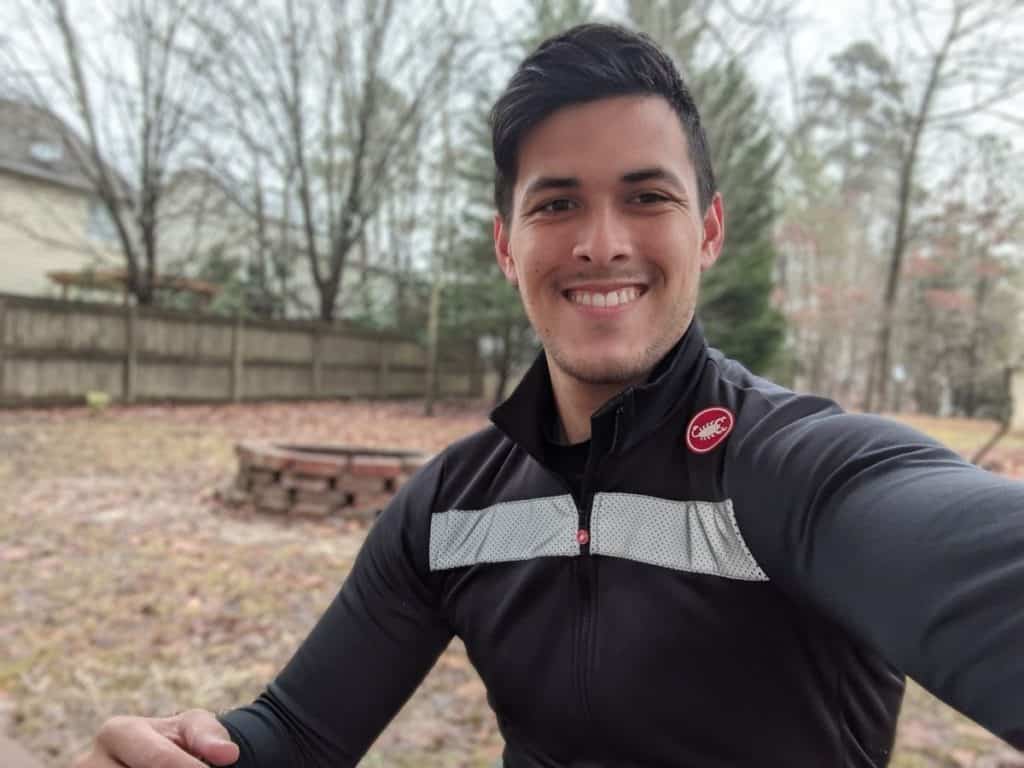 A cycling jacket is also essential to keep you warm, as well as protect you from getting wet from the rain or snow. Try to get a "softshell" jacket like the ones mentioned below, which means it will protect you from the elements while also being breathable enough to let air pass through comfortably. Hardshell jackets are completely waterproof, which means they do not allow for air to pass through.
You might be tempted to just use a regular jacket, but I highly recommend using a cycling jacket for three reasons:
1. Cycling jackets are fitted for cycling. The sleeves and back end are extra long to cover your vulnerable areas while riding your bike. The longer sleeves are especially important in covering your wrists from the cold wind.
2. Cycling jackets are weather-resistant. If you are riding in the snow or rain, a weather-resistant jacket will keep your base-layer and skin from getting wet, while also maintaining breathability.
3. Cycling jackets have back pockets. There's really no better place to safely keep your phone or other necessities than jersey back pocket. It's important to have your important things easily accessible when riding your bike.
---
Recommended winter cycling jackets
Depending on your budget, there are two specific cycling jackets that I recommend.
1. Budget-friendly jacket: Przewalski Jacket
Although Przewalski is in the more affordable price range, the company has produced some very warm clothing on a budget.
The men's version can be found on Amazon here for just around $45. There is not a women's version available currently, so for women I recommend the Baleaf cycling jacket here on Amazon for around $49.
Budget option for women
2. Pro-level jacket: Castelli jacket
If you can afford to spend around $170 for an excellent high-end cycling jacket, I highly recommend the Castelli Gocchia jacket for men, which is available on Amazon here. A women's jacket by Castelli for around $230 can be found on Amazon here.
Castelli is a premium cycling clothing brand that any avid cyclist would love to get their hands on. You might have seen many pros sporting Castelli's iconic red scorpion logo through the Tour de France.
High-end option for women
Should you get waterproof clothing?
I don't recommend getting any completely waterproof clothing because it will cause you to sweat and become very uncomfortable. Waterproof clothing sounds good in theory, but the problem is that they are not breathable.
You'll want to get a base-layer and cycling jacket that is weather-resistant, which means they are still breathable while also repelling enough water to keep you dry.
The only situation that might call for a fully waterproof jacket would be if it's pouring rain. In that case, you can bring along a "hardshell" rain jacket just to keep you dry. But if it's just raining slightly, then a softshell should do just fine to keep you dry.
---
Cycling pants
You will never feel cold again with a pair of cycling leggings. Cycling leggings offer a few huge benefits:
Made with very warm fleece material
Cover your ankles
Padding for extra saddle comfort
Bib straps add warmth and comfort
Aerodynamic tight-fitting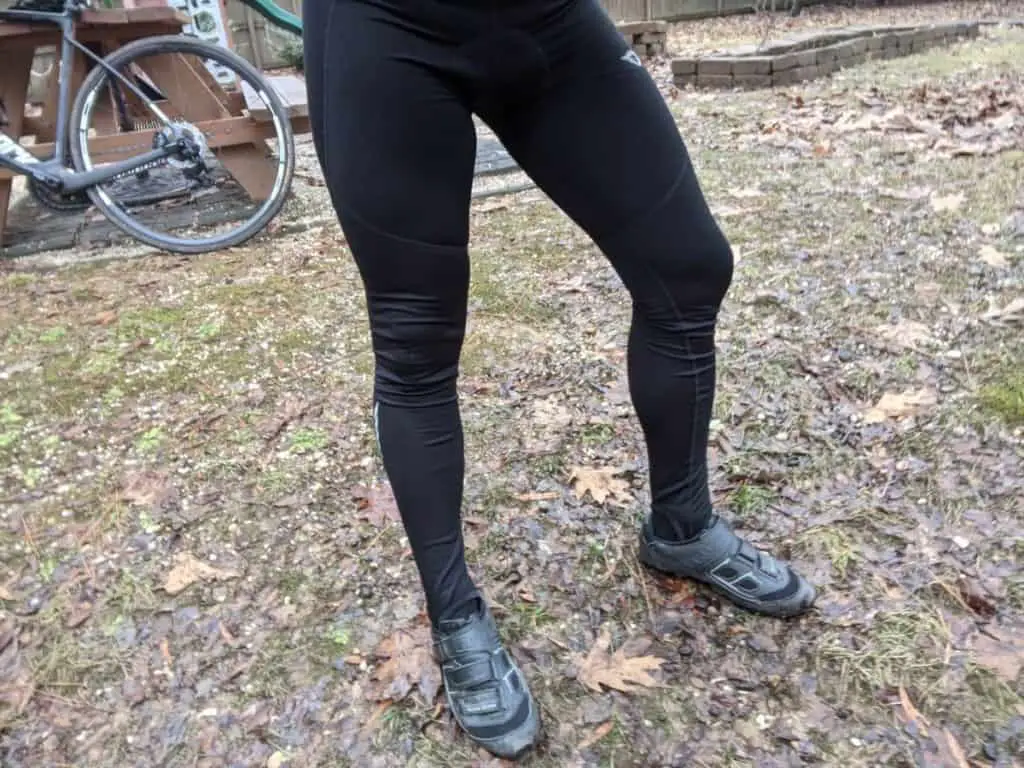 These cycling leggings from Baleaf on Amazon were the only pair of pants I needed to bike through brutal NYC winters and snowstorms.
They are truly warm, comfortable, and rather affordable for such an important piece of clothing.
These leggings come with bib straps that go over your shoulders. If you're new to bibs, then you might be wondering if those are necessary. The main benefit of bibs is that they cover your entire waist and backside without being tight around your waist. Especially if you have some fat around the waist, you will definitely want to get some bibs, as opposed to tights that squeeze your belly.
If you can't get past the idea of wearing tights to work, then just put on some shorts over your leggings to cover your bum. You'll get over it quickly.
---
Gloves
You will need to get two pairs of gloves: one pair for cold weather and another pair for brutally freezing weather.
Gloves for cold weather 30ºF~50ºF (0ºC~10ºC)
For cold weather, you can just use any winter gloves that have a longer wrist piece to cover your wrist. I recommend these cycling-specific gloves from Vbiger for commuting by bike because they have long wrists, they are nimble in the fingers, and you can use a phone (pretty well) while wearing them.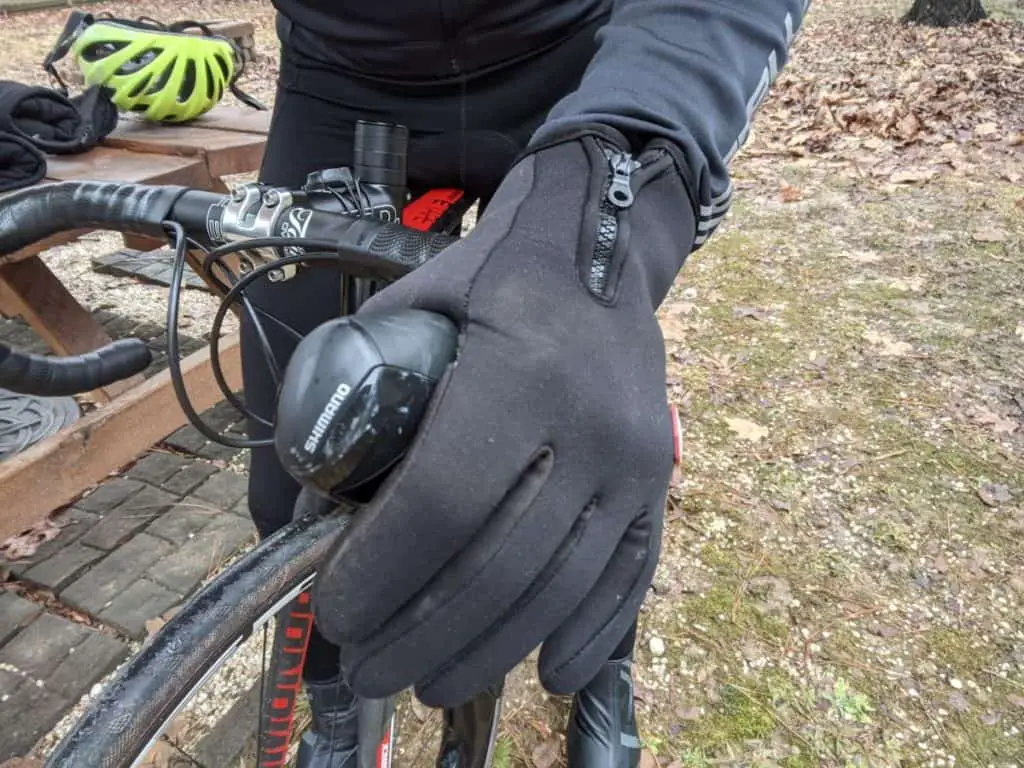 The ones that I personally use are no longer for sale, so I recommend these newer versions of them on Amazon here.
Gloves for below-freezing weather below 30ºF (below 0ºC)
For brutally freezing weather, ski gloves will be your best friends. Ski gloves are ideal for freezing temperatures because they are designed to keep you warm. With these ski gloves from MCTi, you will never experience cold hands, even if it's raining or snowing. They're on Amazon here for just about $17.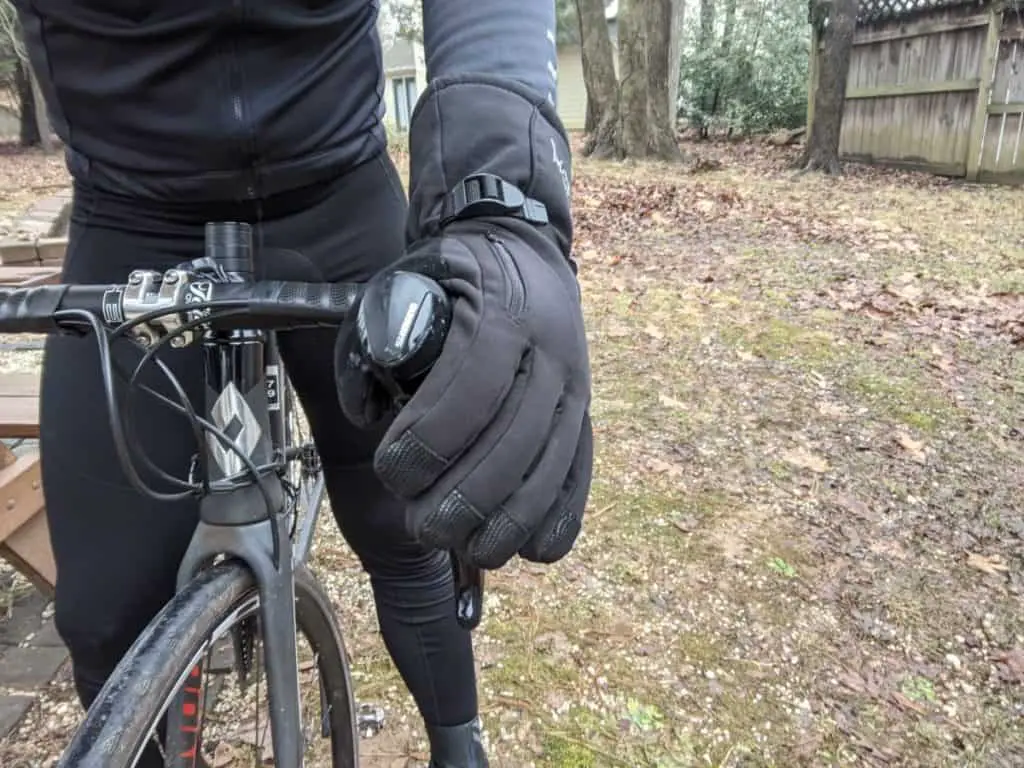 The only drawback to using ski gloves for cycling is that they are not very nimble in the fingers, so you will have to get used to pulling on the brakes and shifting gears while wearing them. After just a few days of wearing ski gloves, you will just get used to pulling a little hard on the brakes.
---
Shoe covers to keep your feet warm
If you don't do your feet right, you will dread biking in the winter. But luckily, there's a way to do it without wearing three pairs of socks and plastic bags over your shoes.
Overshoes (or shoe covers)
Overshoes are ingenious pieces of warm material that cover your shoes. They are weather-resistant and also warm.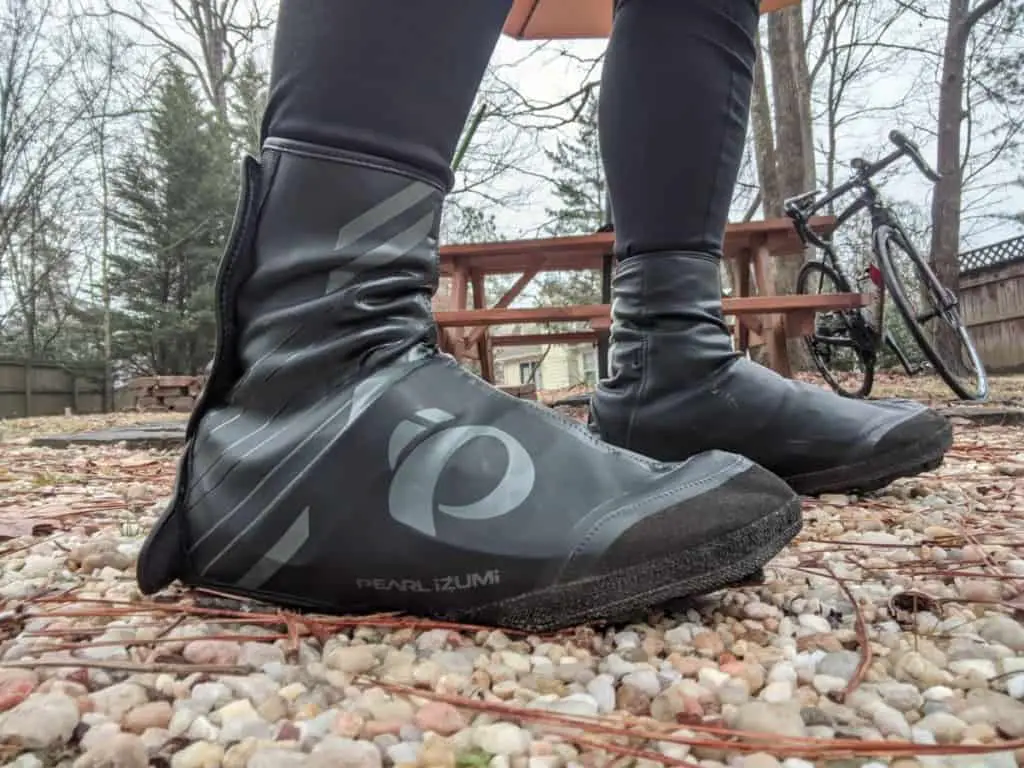 If you are riding in cold weather, these will keep your feet warm and dry. If you are riding in below-freezing temperatures, then you can wear a second pair of socks to keep your feet extra warm. You don't want to wear more than two pairs of socks because your feet will become uncomfortable after you start sweating due to the lack of breathability.
I have tried many different types of overshoes over the years, and these ones by Pearl Izumi are the only ones that were durable enough to walk in and are easy to put on and take off.
Other overshoes I have tried tore at the bottom when walking on concrete or were just too time-consuming to put on.
These guys from Pearl Izumi have very sturdy velcro straps on the back that make them super easy to put on and remove. They are also very thick and durable so that I can walk in them on the concrete ground of NYC.
You can wear overshoes with regular shoes or with cycling shoes
You don't need to wear cycling shoes with these overshoes. However, I highly recommend getting a pair of cycling shoes and pedals if you do a lot of commuting by bike.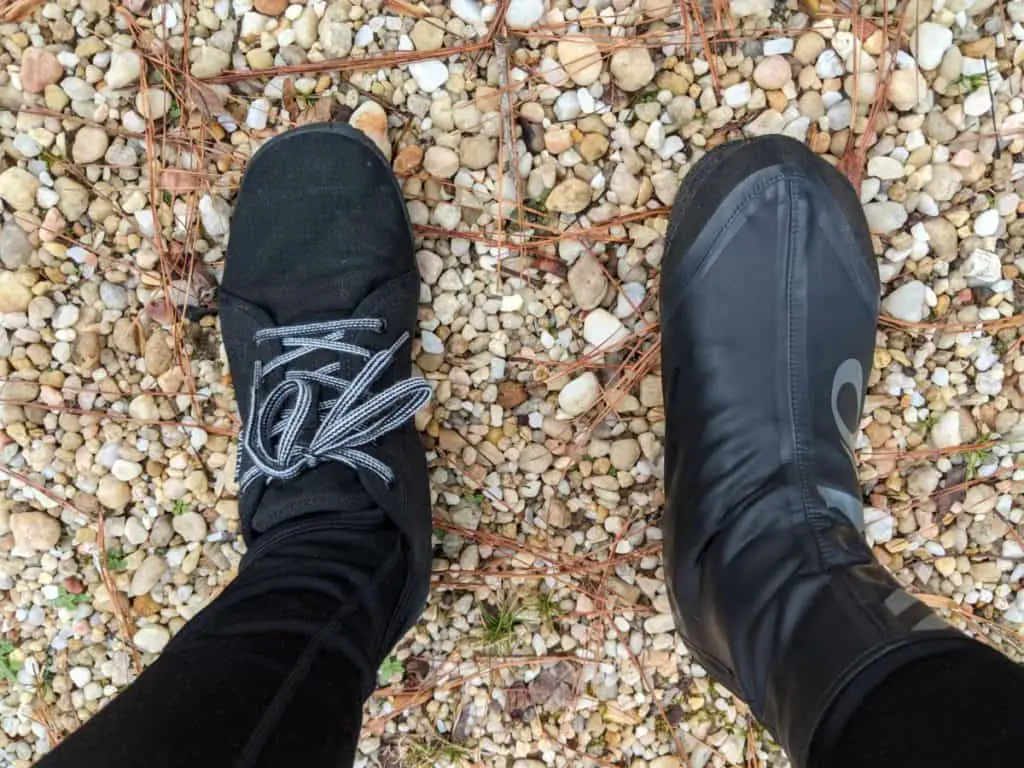 Cycling shoes attach to the pedals of your bike to give you more power with every pedal stroke. Imagine your foot grabbing onto the pedal while you're riding to give you extra momentum with every stroke.
My recommended cycling shoes are the Pearl Izumi MTB (mountain bike) cycling shoes. If you're going to be commuting to work by bike, then MTB shoes are much better than road cycling because you can actually walk in MTB shoes. Road cycling shoes are completely flat at the sole so that the clip at the bottom of the shoes comes in contact with the ground, which makes it almost impossible to walk in. You just cannot walk properly in road shoes. And you shouldn't.
Option for women
---
Gear to keep you safe in the winter
In addition to keeping you warm, I've outlined a few vital safety considerations for when you're riding in the winter months.
Front & rear lights
Flashing lights are a MUST when riding in the winter months. With the sun going down faster and the days shorter, you need to make sure you're seen at all times.
Even when riding during the day, it's important to have flashing lights at the front and back of your bike to make sure that cars and other cyclists see you. This is especially important if you are riding in a city with lots of cars and pedestrians.
Front light
A good front light has different options to either flash or stay on. When riding in the day or early evening, use the flashing function. When it's completely dark, just keep the light on without flashing.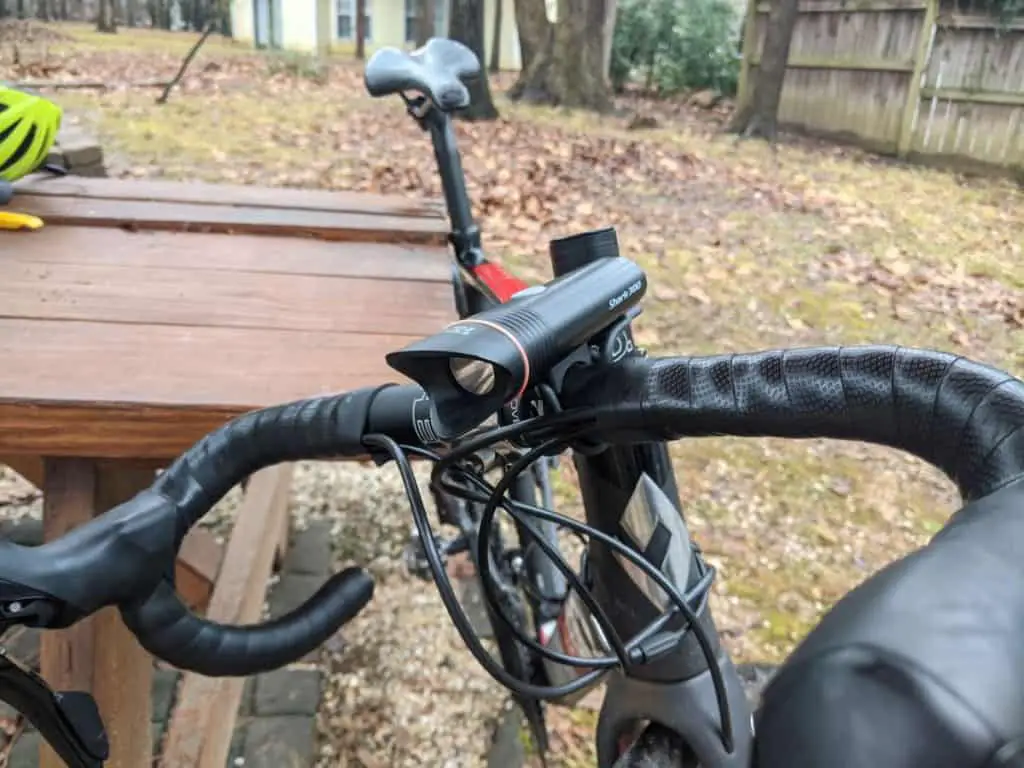 You will also want to make sure that your front light can be charged by USB, rather than powered by disposable batteries. You should be charging your lights at the end of every day, so USB charger is the way to go.
I have been using this front light from Cycle Torch for many years without any issues. It's super bright and has multiple flash frequency settings.
Rear light
The rear light should also have different flash options. You will definitely want to keep your rear lights on all the time in the winter, night or day. A good rear light will be powered by a USB-chargeable battery, rather than disposable batteries.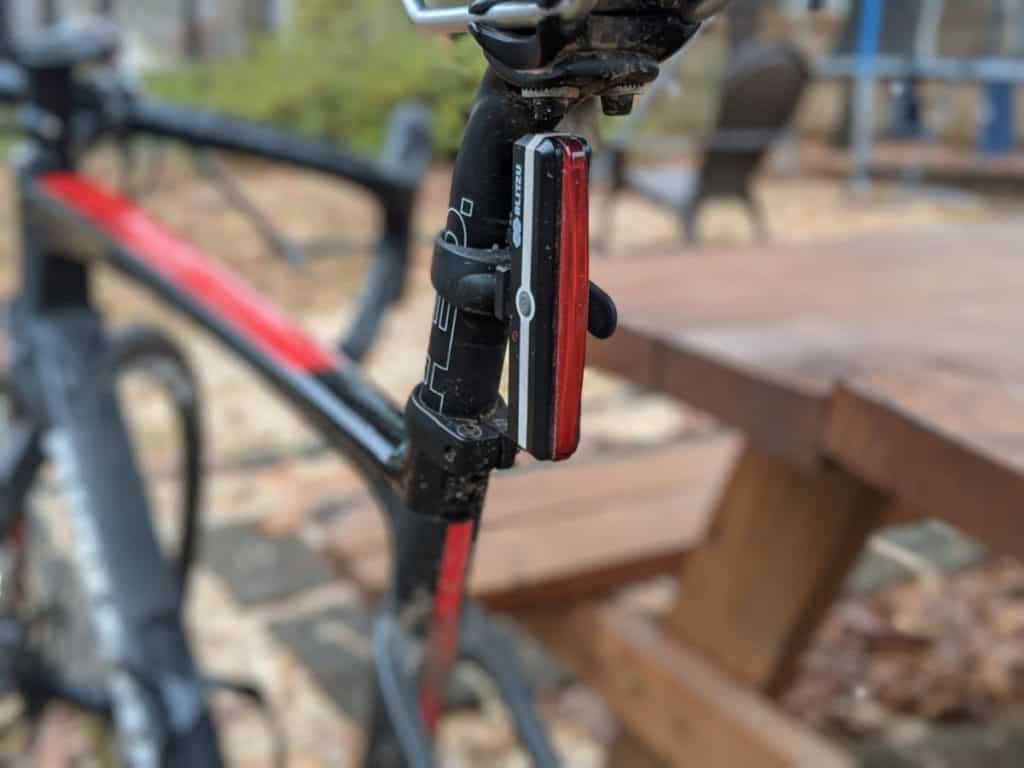 This rear light by Blitzu has never let me down through dark winters and freezing rain. It has different flash options, such as a rapid flash or a steady flash. It is also rather bright. Not dim at all for more than four years of constant use.
---
Bike tires
Regarding the bike that you use for winter riding, wider tires are recommended, especially when riding on snow or ice. Treaded tires are also ideal.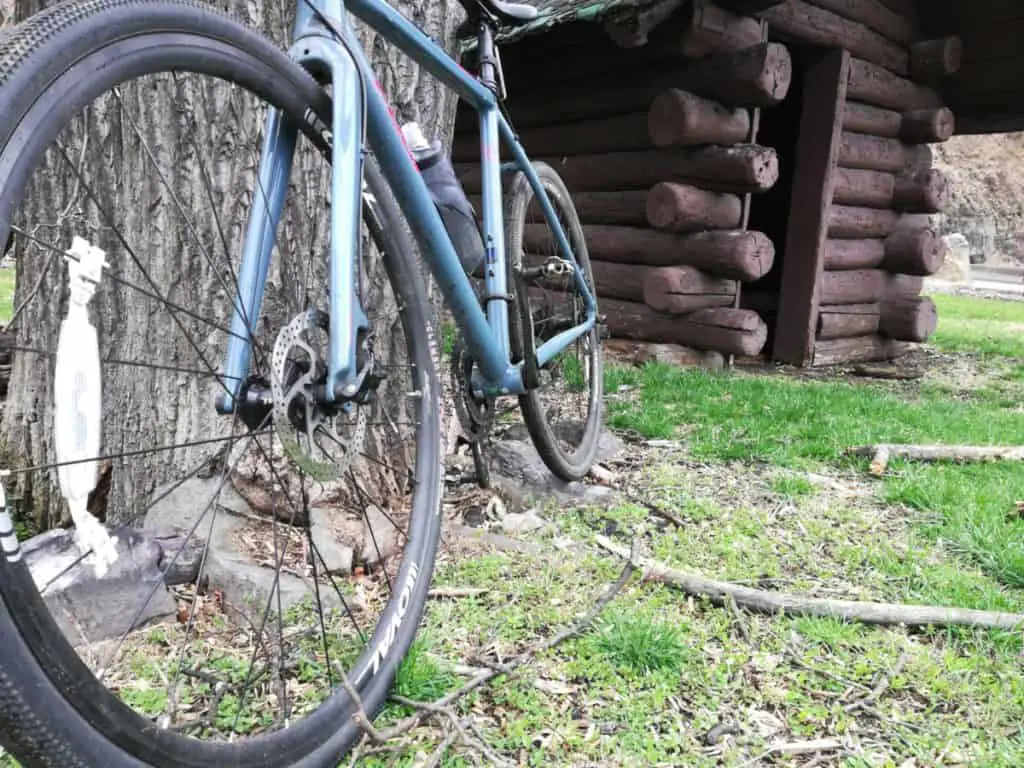 The best tire size for you depends on what kind of bike you have. Mountain bikes can run a much wider tire than road bikes. In general, try to go for a tire size of between 28mm to 40mm, depending on how wide you can go. If there's an option to get treaded tires for your bike, then go for those.
---
The best type of bike for winter riding
If you're planning on winter riding in snow or ice, you should really use treaded tires that are at least 35mm in width.
A mountain bike will usually have wider tires. Fat bikes are designed for snow riding, but are not so efficient on dry surfaces.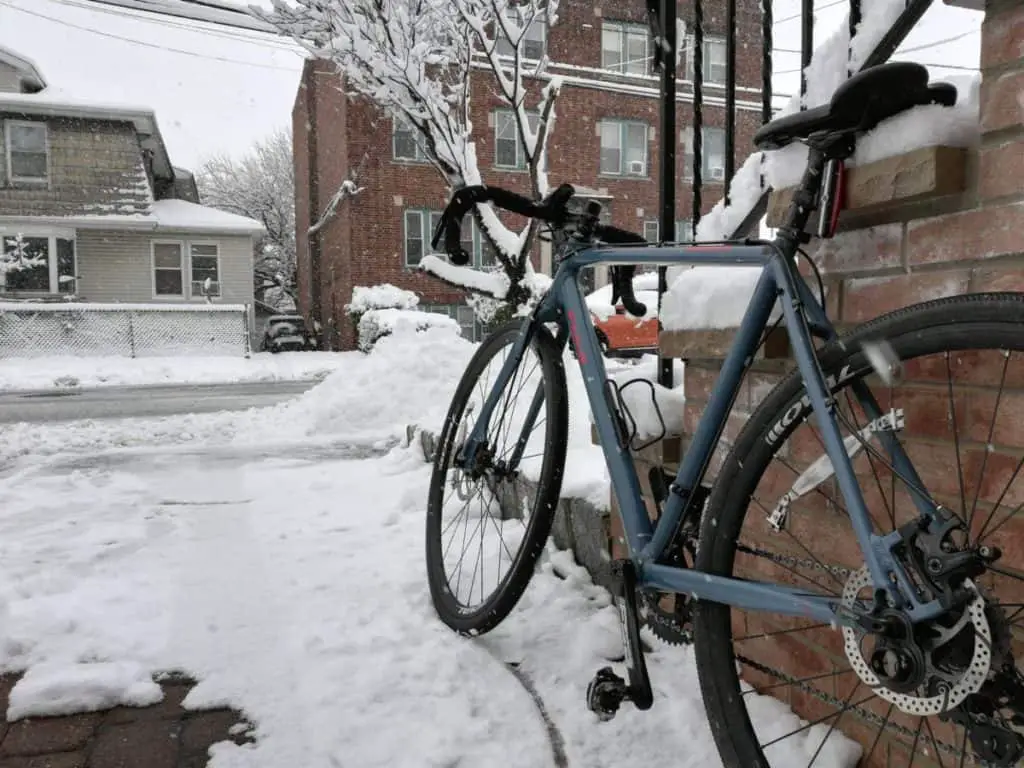 In my opinion, a gravel bike might be the perfect companion for winter riding because it has the aerodynamics of a road bike while also having enough clearance to fit wider tires.
I personally use 35mm tires on my gravel bike for winter riding over snow and ice and have never slipped or had any incidents.
---
Sunglasses
Sunglasses are essential for many people to ride through cold weather. The cold wind blowing against your eyes makes many people's eyes water and become uncomfortable while riding. The glasses will protect your eyes from the cold winds.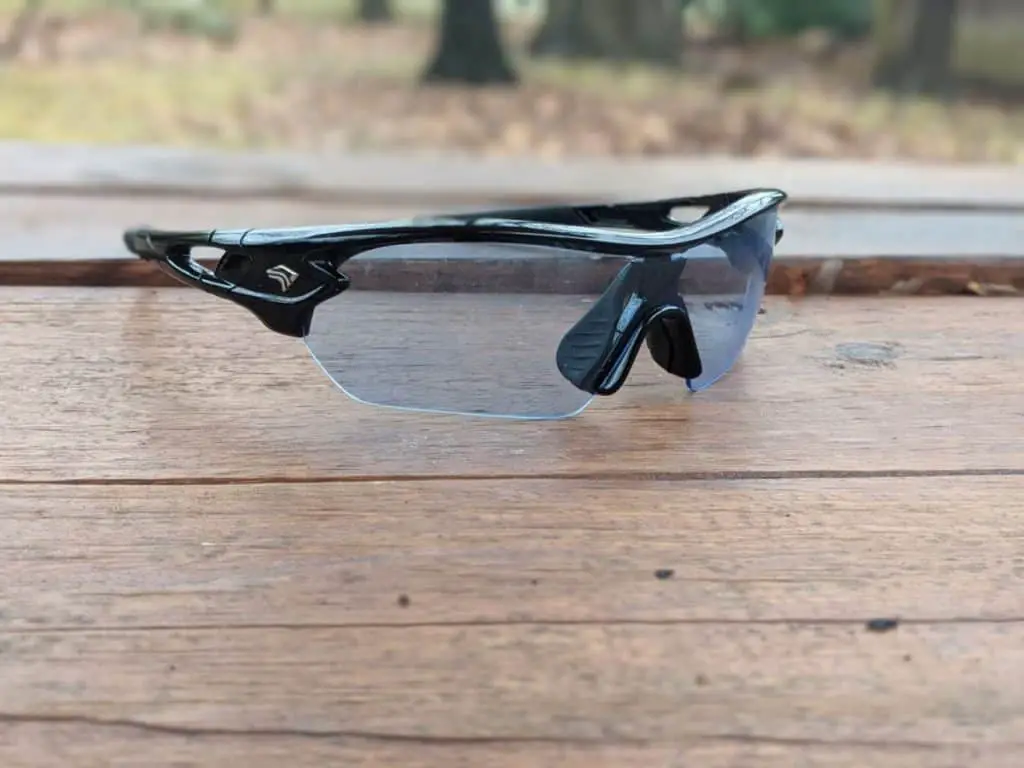 Especially if you plan to ride in snow or rain, sunglasses can be life-savers. The rain and snow will go directly into your eyes and cause your vision to be limited.
I recommend these affordable pairs from Amazon that come in many different shades of color. I like to use the see-through blue tint color because it allows others to see my eyes. It's important when riding in cities to make sure drivers and other cyclists can see your eyes in order to read you better. Just a personal preference.
---
Insulated water bottle
It should be mentioned that your water might freeze while riding in sub-zero temperature if you're using a regular water bottle.
Be sure to get an insulated water bottle, such as this one from CamelBak. This bottle has the added benefit of being much larger than most cycling water bottles. It comes in a 24-ounce size, which is larger than many other cycling water bottles.
Not to mention that CamelBak has an exceptional warranty policy that I have used many times for all of our CamelBak bottles. If you lose the cap or it breaks, you can just order a new one on their website completely for free.
---
Bike repair kit
The last thing you want is to be caught in the middle of a wintery day with no way to repair a punctured tire or other maintenance issues.
Here are some strongly recommended pieces of gear to keep with you during every ride.
Multi-tool
A cycling-specific multi-tool has just about everything you would need for basic repairs and maintenance of your bike. I personally do all of my own maintenance on my bikes and have rarely needed to use anything outside of a multi-tool.
I got this one from Amazon for just $10 years ago and still use it today!
This multi-tool also comes with tire levers, which are used to remove the tire from the wheel if you need to change the tube due to a puncture.
Hand pump
In the event of a tire puncture, you will need a hand pump to repair the flat. The hand pump that I got for around $22 from Amazon also comes with a puncture repair kit, which is needed in the event of a flat tire.
Spare tube
A spare tube is recommended for when you have a puncture and need to change the tube. It's good to keep one with you at all times when riding. They are very affordable and you'll need to get some eventually anyway. Just be sure to get the correct size tubes for your tires.
Here's the most helpful video I found on how to repair a puncture while on the road.
---
Conclusion
If you can figure out how to bike through the winter months, then you will very quickly see the benefits of making biking a daily choice even when it's freezing out.
This winter riding guide covered a lot of the most important things you need to keep you warm and safe in the winter.
I'm all about doing whatever it takes to make biking part of my daily life. If that means riding in below-freezing temperatures, then I'll just layer up and get my gear ready.
Make biking part of your daily life
If you want to make biking a lifestyle choice, then check out some of the other articles on the blog!