Bike commuters have different options for carrying their belongings to and from destinations, but what is the best option?
I've tried multiple backpacks and panniers for my daily commute from New Jersey to NYC and have learned a lot in the process. In this article, we'll consider what items you usually have with you, where you're going, and where you might leave your bike.  
Backpacks are generally better for bike commuting than panniers due to providing better balance and aerodynamics to the rider. Panniers increase a rider's accident risk and bike imbalance by adding width and potentially loading dual panniers unevenly.
Read on to discover different backpacks that are ideal for commuters and their advantages and disadvantages. We'll compare backpacks and panniers for commuters and discuss why backpacks are a perfect choice.
Why are backpacks ideal for bike commuters?  
After trying both panniers and a backpack, backpacks are my preferred choice for several reasons. In a nutshell, a backpack offers more versatility and security while on and off the bike. Apart from a potentially sweaty back (there are ways around that), a backpack provides better balance and aerodynamics to your ride that panniers don't offer.
Backpacks offer three main benefits that panniers don't always provide. These are three of the most essential features in a bag that bike commuters should look for:
1. Backpacks are better balanced
Backpacks offer a more comfortable and stable ride by evenly distributing the weight of the belongings you are carrying. In contrast, panniers distribute the weight on either side of your bike, often unevenly.
This is especially important when standing up and riding out of the saddle because the added weight of the panniers will throw the bike heavily from side to side. The more weight you have in the panniers, the more the weight distribution will be unbalanced. In addition, if you don't load the panniers with an even amount of weight on both sides, the uneven weight distribution can be quite noticeable when riding out of the saddle.
2. Backpacks are more secure
Backpacks offer additional shoulder, chest, and hip straps for added safety and security, while panniers are secured with straps or loops onto a mounted frame. 
If you're ever concerned that you'll lose items while riding, then a backpack is a better option because you will keep your things close to you. Security is especially important in areas that you might be afraid to leave your personal belongings attached to a bike in a pannier.
I personally always feel more comfortable riding with my things close to me, as opposed to in a pannier.
3. Backpacks are more aerodynamic
Wind resistance is a huge factor that impacts your speed on the bike. A backpack has very little wind resistance because it's attached to your back. Panniers, on the other hand, catch a lot more wind.
Aerodynamics might not seem to be an important factor to many, but it becomes particularly important on long rides, on windy days, and when riding fast. If you want to ride fast, then a backpack is the way to go!
Comfort, security, and carrying capacity features are superior in most backpacks on the market when compared to similar panniers.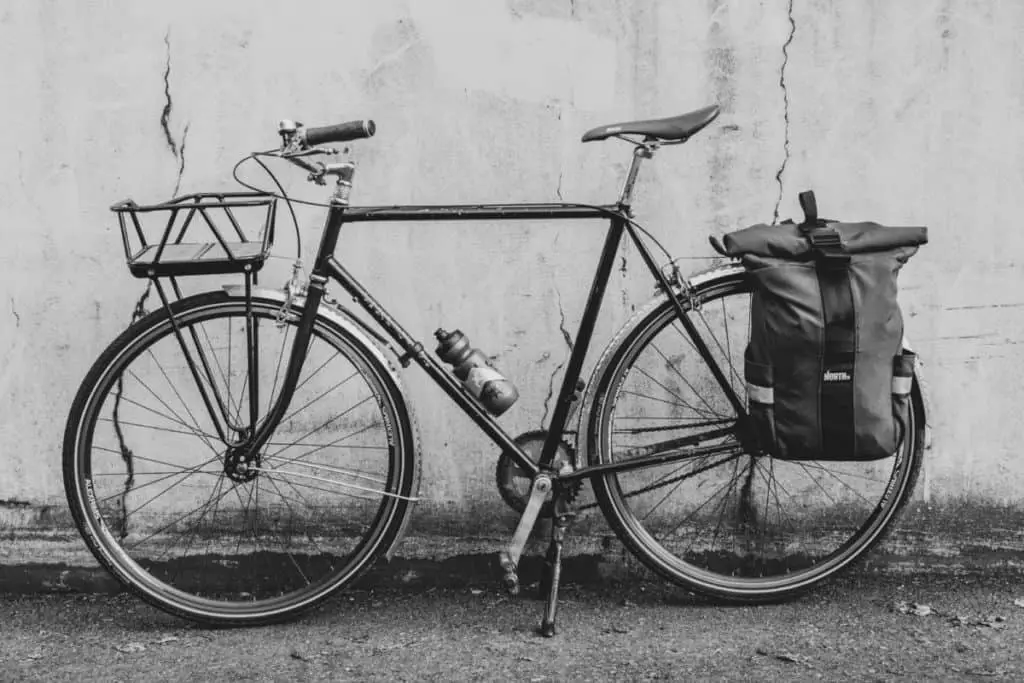 Comfort: Backpack vs. pannier for bike commuters
Most bike commuters make shorter trips to and from work, making a backpack the most comfortable option when riding through busy city streets. A pannier is a bag or similar container, typically carried in pairs either placed over the back of or attached to the sides of a bicycle. 
Though they come in different forms, they all must be tightly secured to the bike to avoid slipping. Panniers can add bulk to the back wheels of your bike, making navigation through a tight city street more difficult. 
Backpacks can offer comfortable, breathable straps and fabrics, but most importantly, provide for a more comfortable ride. The weight of your belongings is more evenly distributed in a backpack compared to a pannier which sits on either side of the back tire. 
Let's look at an example of a backpack on the market with ideal comfort for commuters and some of its advantages to similar panniers.
SwissGear ScanSmart 1900
The SwissGear ScanSmart 1900 is one of the best backpacks for bike commuters and proves why backpacks are a more comfortable option than panniers, especially for city commuters. 
Comfort advantages of a backpack like the SwissGear ScanSmart 1900
The ScanSmart has a laptop pocket that can serve double duty by holding writing utensils and documents. Also added is a pocket for keys and smaller items.
Contoured shoulder straps made with a mesh fabric give the ScanSmart added comfort. Adjustable side straps and a padded back panel made with breathable materials provide a more comfortable way to wear a backpack. 
One additional comfort feature of the ScanSmart is a pocket for your phone with a built-in headphone cord port.
Commuters rely on a comfortable backpack to make riding on uneven city surfaces as easy as possible. Contoured shoulder straps, breathable fabric, and back support provide a comfortable ride for commuters while avoiding the instability created by dual pannier bags. 
Security: Backpack vs. panner for bike commuters
The superior security aspect of a backpack vs. pannier is prominent. If the pannier on your bike is more complicated to remove or too bulky to take with you when locking your bike up at the office, you are more likely to leave it with your bike. 
Though some pannier options lock or offer ways to combine them with your bike chain, there is still no guarantee that your pannier won't become the target of theft. 
The security of bags for commuters can be interpreted differently: how they secure onto your bike or body. Backpacks offer superiority in this regard as well. Though some panniers are attached to a bike via hardware, many models are connected to racks with straps or clips, which can break or unravel with extensive use. 
Let's look at an example of a backpack on the market with optimal security for commuters and some of its advantages to similar panniers.
POV Spine VPD Air Backpack
The POV Spine VPD Air Backpack is one of the most secure backpacks for bike commuters and is an example of how backpacks can provide better security features than panniers.
Security advantages of a backpack like the POV Spine
The POV Spine offers a dual twin-strap shoulder strap closure system to keep the backpack secure on rough rides, as well as a back protector.
The POV Spine's breathable mesh straps bolster support while facilitating ventilation, so you can pedal comfortably for long distances without overheating.
The POV Spine comes with a low-profile fit and feel for riding without restriction.
Security is a top priority for commuters, whether it's the security features that prevent theft, like a backpack's portability, or the security of a back attaching to either your bike or your body. Either way, backpacks prove to be superior in respect to security.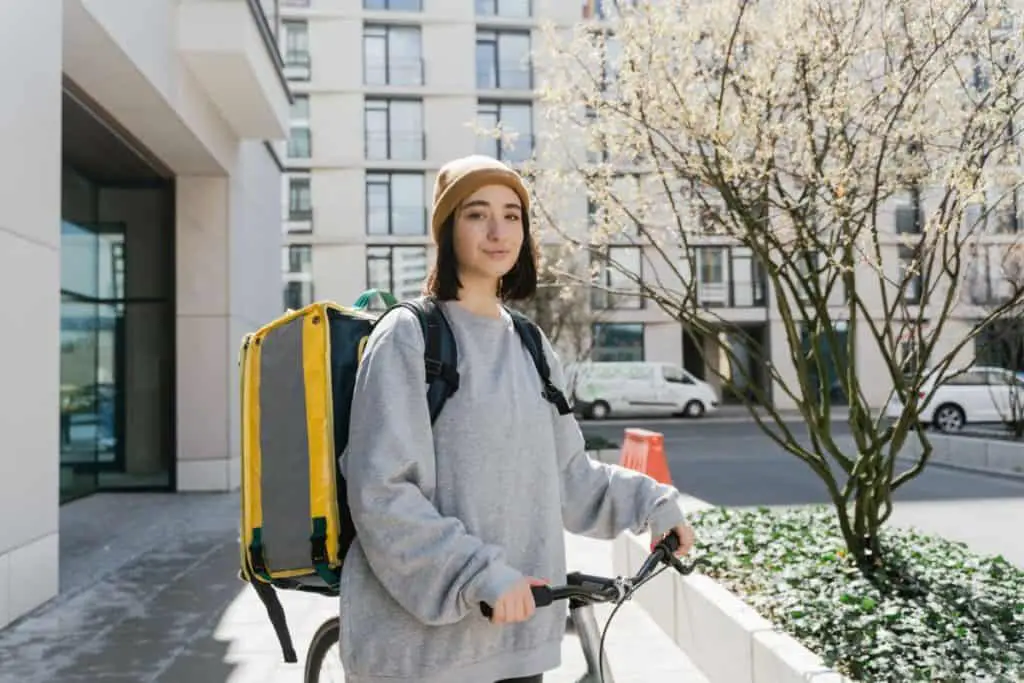 Carrying Capacity: Backpack vs. panner for bike commuters
When commuting to and from work, the carrying capacity of a bag can be one of its most essential aspects. Backpacks with larger carrying capacities can provide room for laptops, office supplies, and more. Though all these supplies can get heavy, carrying them in a pannier can offset the balance of your bike, making it harder to maneuver on your commute.
Panniers and backpacks offer similar carrying capacities; the difference comes in the safety of your belongings. If you happen to fall, there is less chance of your items being damaged. Items are more at risk in a pannier on the side of your bike, especially if your bike tips over. 
Let's look at an example of a backpack on the market with ideal carrying capacity for commuters and some of its advantages to similar panniers.
Chrome Industries Warsaw 2.0 Backpack
The Chrome Industries Warsaw 2.0 Backpack is a cycling backpack explicitly made for urban cyclists and commuters.
Capacity advantages of a backpack like the Warsaw 2.0
The Warsaw 2.0 comes with an oversized load management system to balance the heaviest loads.
The Warsaw 2.0 features a 55L Carrying capacity with document and u-lock pockets.
The Warsaw 2.0 is ergonomically designed for optimized comfort. It provides an EVA compression molded back panel.
Carrying capacity is an essential feature of any bag for bike commuters and goes hand in hand with safety and security. Commuters rely on bags with larger carrying capacities to transport all of their necessary items.
Why are panniers a less ideal option for bike commuting?
We've discussed why backpacks are the best option for those commuting to and from work or leisure in the city, but what is it about panniers that can make them a less ideal choice? Panniers provide plenty of carrying capacity, but their disadvantages lie in their security and ride safety.
The added weight to one or both sides of your bike can alter how it handles and behaves on rough road surfaces, and in cities, that can be the majority of surfaces you'll be riding on. The racks can also make your bike weigh more, which may make climbing hills harder than usual. 
Comfort and security matter
Whether you are commuting to work or for leisure, having a comfortable and secure ride is most important to you. Backpacks and panniers provide ways to carry your belongings with you, but backpacks offer the safest and most comfortable way to do so. 
Ride on!
---
My Recommended Gear for Year-Round Cycling on a Budget
It took me years of trial and error to figure out the best and most affordable setup for my daily bike commuting. I would only recommend the gear that is good quality for a good price. Here's my full year-round gear recommendation guide.
Want to know how much your cycling gear should cost? Check out my guide with different budget options here.
Ride on!
Also read: