If you're just getting into bike commuting, you're probably excited by the idea of getting fit, saving money, and having more energy throughout the day. But chances are you're living in an area that doesn't have beautiful weather all year round.
The vast majority of people who bike commute will have to ride through the extreme temperatures of all four seasons and climates, from cold winters to hot summers (and the rainy days in between).
I personally commuted to my job in NYC from New Jersey every single day for years through freezing temperatures and blistering summer days.
This is your ultimate guide to enjoying bike commuting through winter, spring, summer, and fall.
---
How to bike commute year-round and enjoy it
The essentials of bike commuting year-round are:
In the Winter, layer up clothing with a base layer, cycling jacket, legging tights, gloves, and a ski mask.
In the Summer, wear a breathable cycling jersey with a front zipper and cycling shorts.
In the Spring, bring a lightweight rain jacket for sudden rain showers.
In the Fall, put some treaded tires on your bike to avoid slipping on leaves.
Now let's dive deep into each of the four seasons. We will spend the most time on your winter set-up, since it's usually the hardest to get right. Then we'll get into summer, spring, and fall.
---
Bike Commuting in the Cold Winter
Biking through the winter can be done safely and comfortably with the proper gear to keep you warm and safe.
But how can you comfortably ride a bike in freezing temperatures or even snow?
I commuted by bike to my job in NYC from New Jersey every day for years. Through trial and error, I learned the hard way how to stay warm and also enjoy the ride even in freezing temperatures.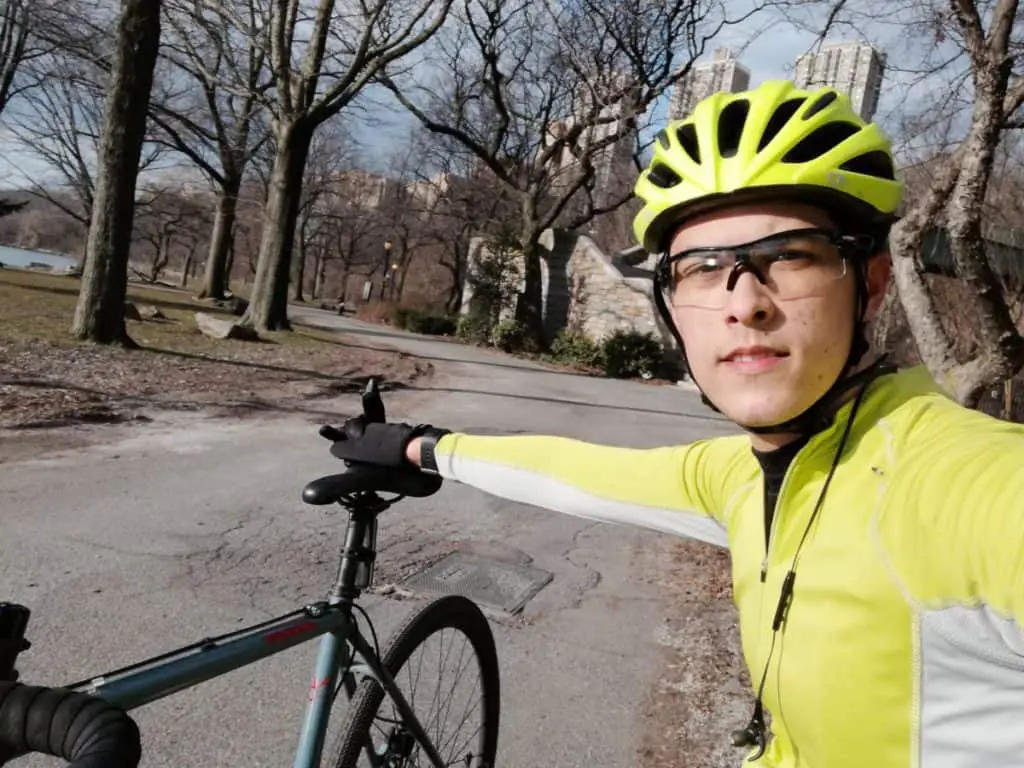 How to stay warm when winter biking
Since you will be generating heat from your body very quickly while cycling, staying warm is not as difficult as it seems.
The most important things to do when biking in winter are:
Wear a ski mask to keep your face, mouth, nose, ears, and head warm
Layer your clothing with a base-layer and a cycling jacket
Keep your hands warm with ski gloves or cycling gloves
Keep your feet warm with shoe covers
Wear sunglasses to protect your eyes from cold winds
Below are specific recommended gear for each of these.
How to stay safe when winter biking
The winter months bring their own unique challenges that call for a few critical safety precautions.
The most important things to do when biking in the winter are:
Use flashing front and rear lights to increase visibility
Use wider treaded tires to avoid slipping on ice or snow
Use an insulated water bottle to avoid water freezing
Below are specific recommended gear for each of these.
All the gear you need to ride comfortably and safely in winter
Here I'll dive into each of the most important things to do when biking through freezing temperatures, snow, and brutal rain.
1. Wear a ski mask
A ski mask will save your most vulnerable facial areas. It keeps your nose, mouth, ears, and head warm even in below-freezing temperatures.
You will even start to get a bit warm after cycling for just a few minutes.
Luckily, you can easily just pull down the mouth area to expose your mounth for better breathing.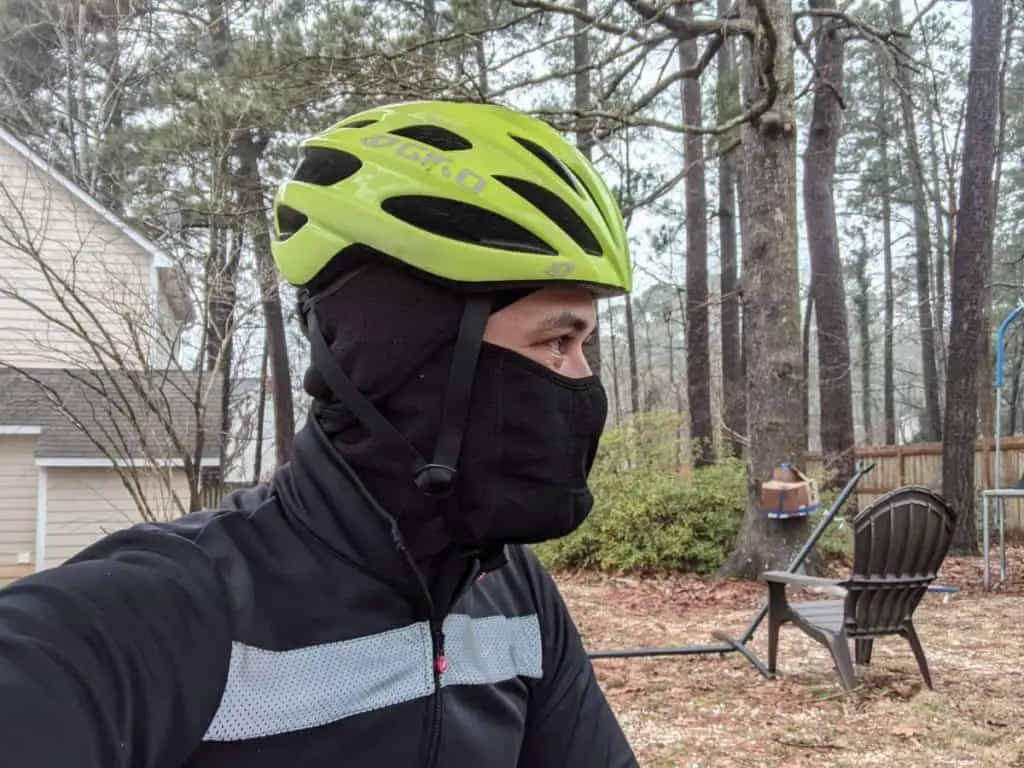 The ski mask that I recommend is by Balaclava on Amazon for around $19 and has a breathable mouth area that can easily be pulled down when you start to warm up. The mouth area also has holes, so that it is more breathable than other ski mask options.
For only about $19, I'd say that the ski mask is probably one of the most important pieces of gear to get right when riding in the winter.
2. Layer your clothing
If you have the right types of clothing, you don't need to layer too much. Actually, layering up too much will cause you to sweat and become uncomfortable very quickly because of the lack of breathability.
How warm should you feel?
When you first start riding, you will want to feel a little cold. If you feel too warm from the outset, then you'll end up burning up and becoming uncomfortable. You will warm up after just 5 minutes of riding.
The only two pieces of clothing that you will need for any winter riding will be:
Thermal base-layer shirt
Cycling jacket
Thermal base-layer shirt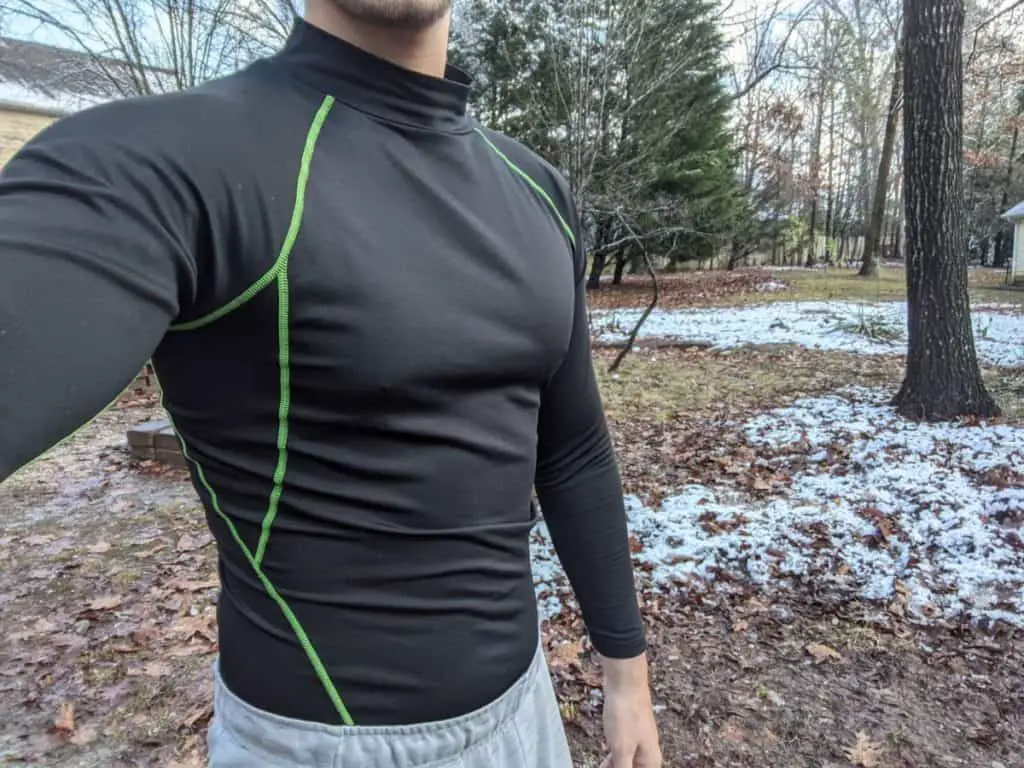 The thermal base-layer is the main piece of clothing that will keep you warm. I recommend this one from Under Armour, which is thermal, comfortable, affordable, and also has long enough sleeves to cover your wrists while riding.
Cycling jacket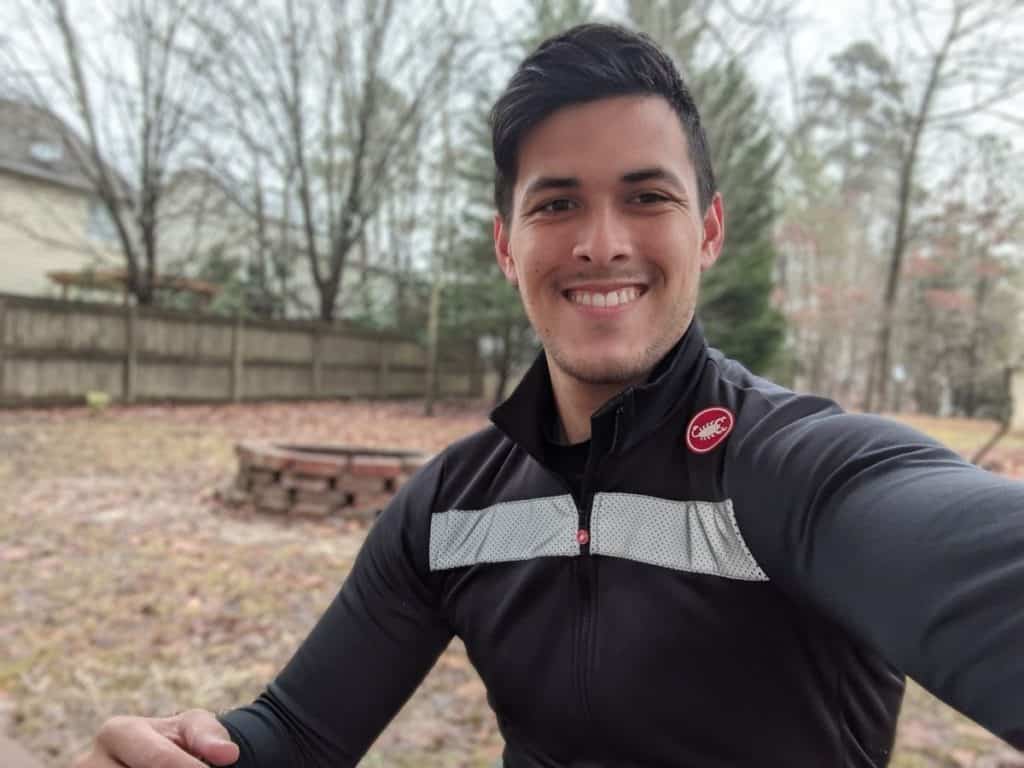 A cycling jacket is also essential to keep you warm, as well as protect you from getting wet from the rain or snow. Try to get a "softshell" jacket like the ones mentioned below, which means it will protect you from the elements while also being breathable enough to let air pass through comfortably. Hardshell jackets are completely waterproof, which means they do not allow for air to pass through.
You might be tempted to just use a regular jacket, but I highly recommend using a cycling jacket for three reasons:
1. Cycling jackets are fitted for cycling. The sleeves and back end are extra long to cover your vulnerable areas while riding your bike. The longer sleeves are especially important in covering your wrists from the cold wind.
2. Cycling jackets are weather-resistant. If you are riding in the snow or rain, a weather-resistant jacket will keep your base-layer and skin from getting wet, while also maintaining breathability.
3. Cycling jackets have back pockets. There's really no better place to safely keep your phone or other necessities than a jersey back pocket. It's important to have your important things easily accessible when riding your bike.
If you can afford to spend around $170 for an excellent high-end cycling jacket, I highly recommend the Castelli Gocchia jacket for men, which is available on Amazon here. A women's jacket by Castelli for around $230 can be found on Amazon here.
Castelli is a premium cycling clothing brand that any avid cyclist would love to get their hands on. You might have seen many pros sporting Castelli's iconic red scorpion logo through the Tour de France.
High-end option for women
If you want a budget-friendly cycling jacket, then Przewalski is in the more affordable price range. The company has produced some very warm clothing on a budget.
The men's version can be found on Amazon here for just around $45. There is not a women's version available currently, so for women I recommend the Baleaf cycling jacket here on Amazon for around $49.
Budget option for women
3. Cycling pants for winter
You will never feel cold again with a pair of cycling leggings. Cycling leggings offer a few huge benefits:
Made with very warm fleece material
Cover your ankles
Padding for extra saddle comfort
Bib straps add warmth and comfort
Aerodynamic tight-fitting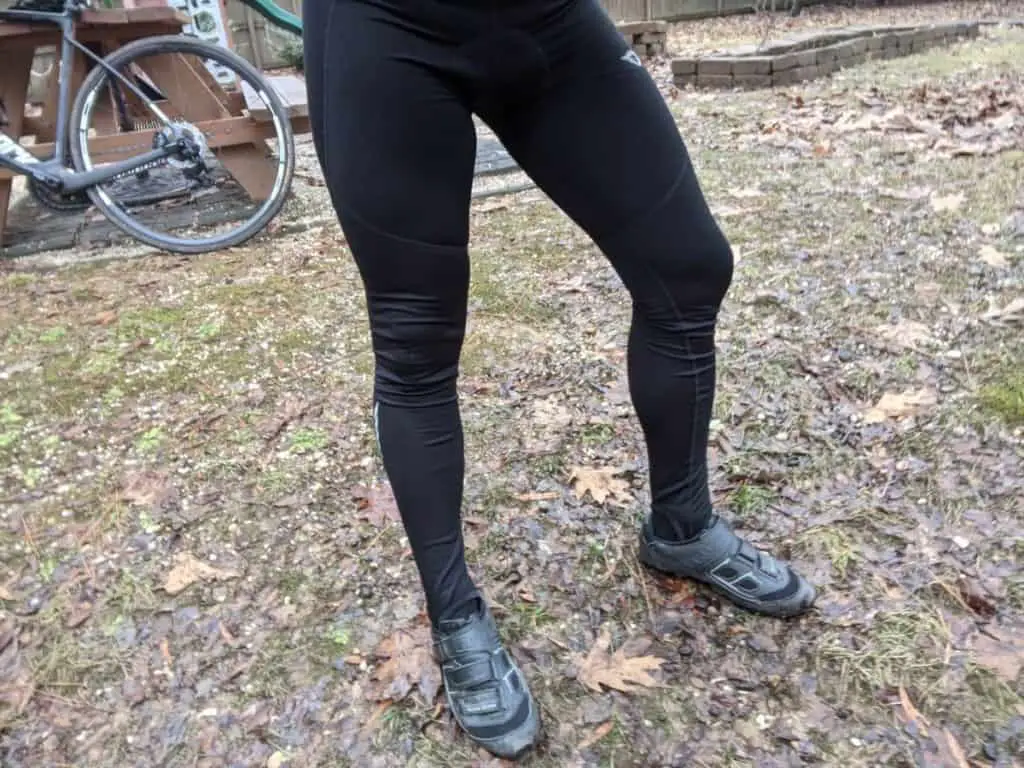 These cycling leggings from Baleaf on Amazon were the only pair of pants I needed to bike through brutal NYC winters and snowstorms.
They are truly warm, comfortable, and rather affordable for such an important piece of clothing.
These leggings come with bib straps that go over your shoulders. If you're new to bibs, then you might be wondering if those are necessary. The main benefit of bibs is that they cover your entire waist and backside without being tight around your waist. Especially if you have some fat around the waist, you will definitely want to get some bibs, as opposed to tights that squeeze your belly.
If you can't get past the idea of wearing tights to work, then just put on some shorts over your leggings to cover your bum. You'll get over it quickly.
4. Gloves for winter
You will need to get two pairs of gloves: one pair for cold weather and another pair for brutally freezing weather.
Gloves for cold weather 30ºF~50ºF (0ºC~10ºC)
For cold weather, you can just use any winter gloves that have a longer wrist piece to cover your wrist. I recommend these cycling-specific gloves from Vbiger for commuting by bike because they have long wrists, they are nimble in the fingers, and you can use a phone (pretty well) while wearing them.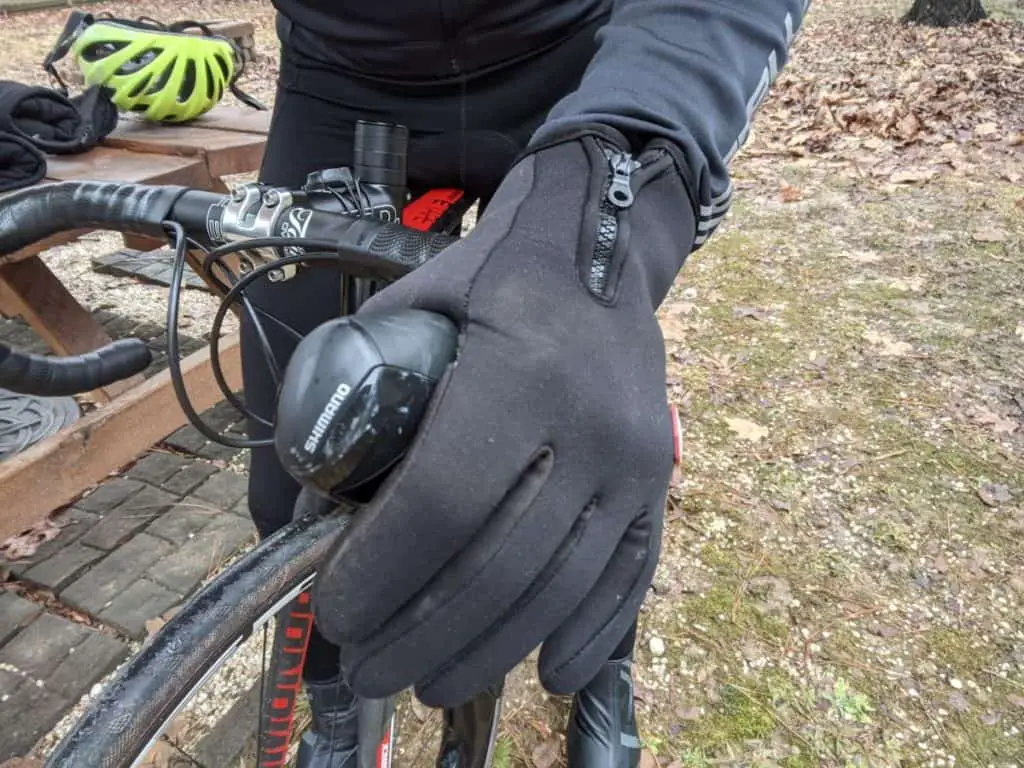 The ones that I personally use are no longer for sale, so I recommend these newer versions of them on Amazon here.
Gloves for below-freezing weather below 30ºF (below 0ºC)
For brutally freezing weather, ski gloves will be your best friends. Ski gloves are ideal for freezing temperatures because they are designed to keep you warm. With these ski gloves from MCTi, you will never experience cold hands, even if it's raining or snowing. They're on Amazon here for just about $17.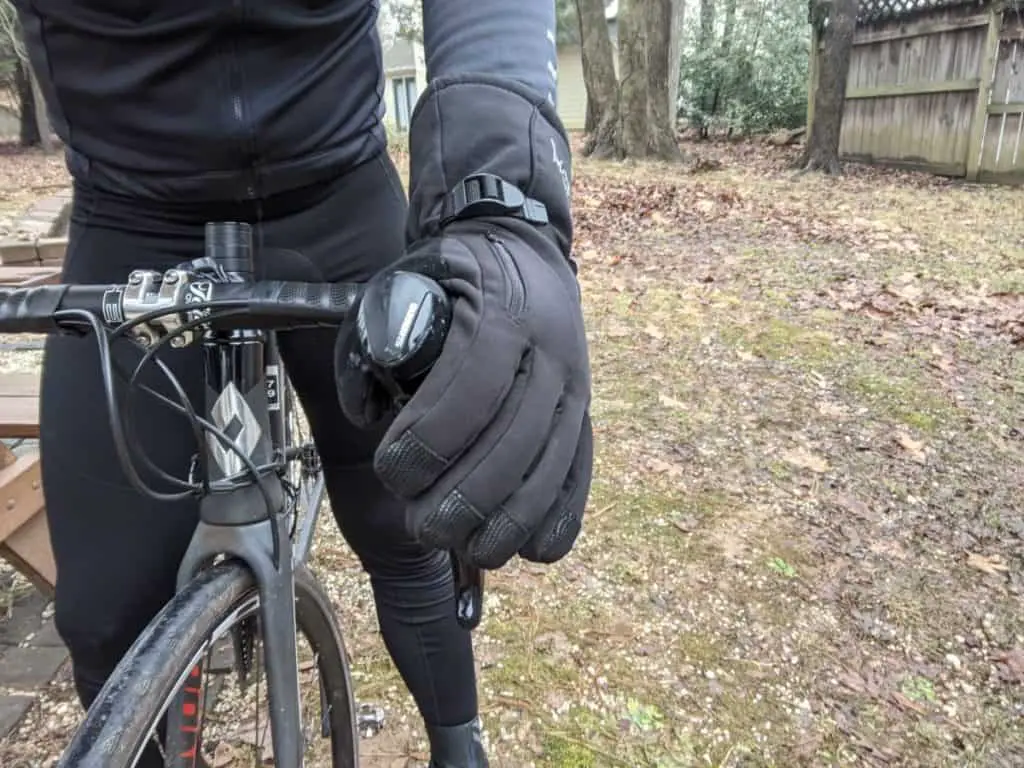 The only drawback to using ski gloves for cycling is that they are not very nimble in the fingers, so you will have to get used to pulling on the brakes and shifting gears while wearing them. After just a few days of wearing ski gloves, you will just get used to pulling a little hard on the brakes.
5. Shoe covers to keep your feet warm
If you don't do your feet right, you will dread biking in the winter. But luckily, there's a way to do it without wearing three pairs of socks and plastic bags over your shoes.
Overshoes (or shoe covers)
Overshoes are ingenious pieces of warm material that cover your shoes. They are weather-resistant and also warm.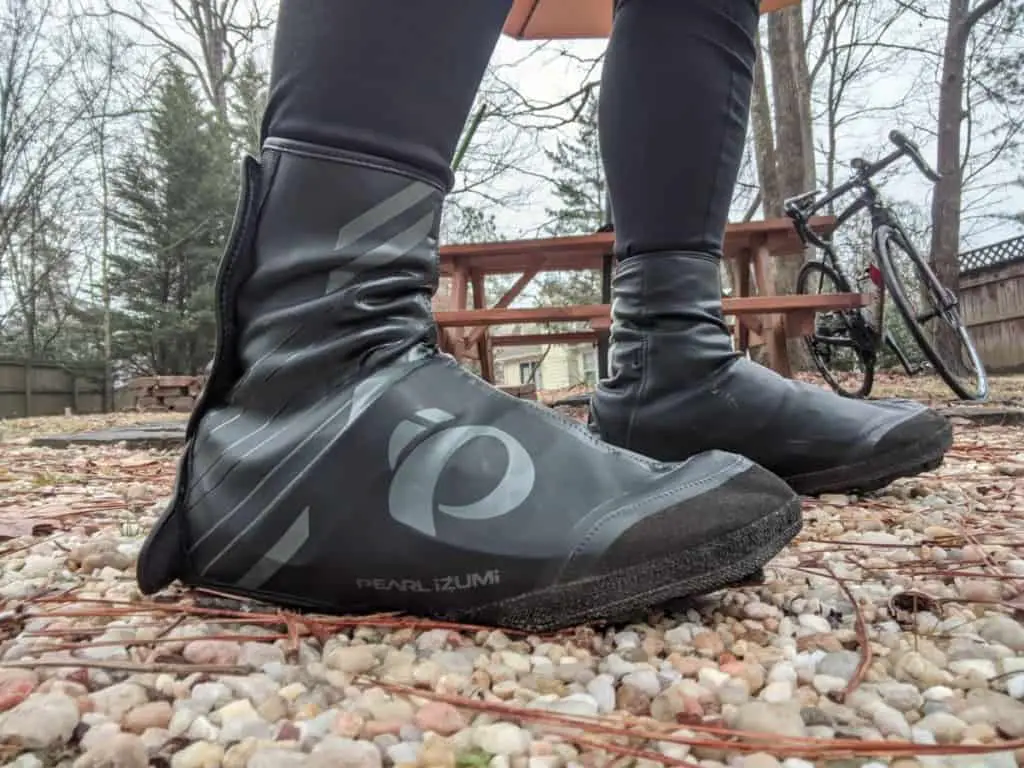 If you are riding in cold weather, these will keep your feet warm and dry. If you are riding in below-freezing temperatures, then you can wear a second pair of socks to keep your feet extra warm. You don't want to wear more than two pairs of socks because your feet will become uncomfortable after you start sweating due to the lack of breathability.
I have tried many different types of overshoes over the years, and these ones by Pearl Izumi are the only ones that were durable enough to walk in and are easy to put on and take off.
Other overshoes I have tried tore at the bottom when walking on concrete or were just too time-consuming to put on.
These guys from Pearl Izumi have very sturdy velcro straps on the back that make them super easy to put on and remove. They are also very thick and durable so that I can walk in them on the concrete ground of NYC.
You can wear overshoes with regular shoes or with cycling shoes
You don't need to wear cycling shoes with these overshoes. However, I highly recommend getting a pair of cycling shoes and pedals if you do a lot of commuting by bike.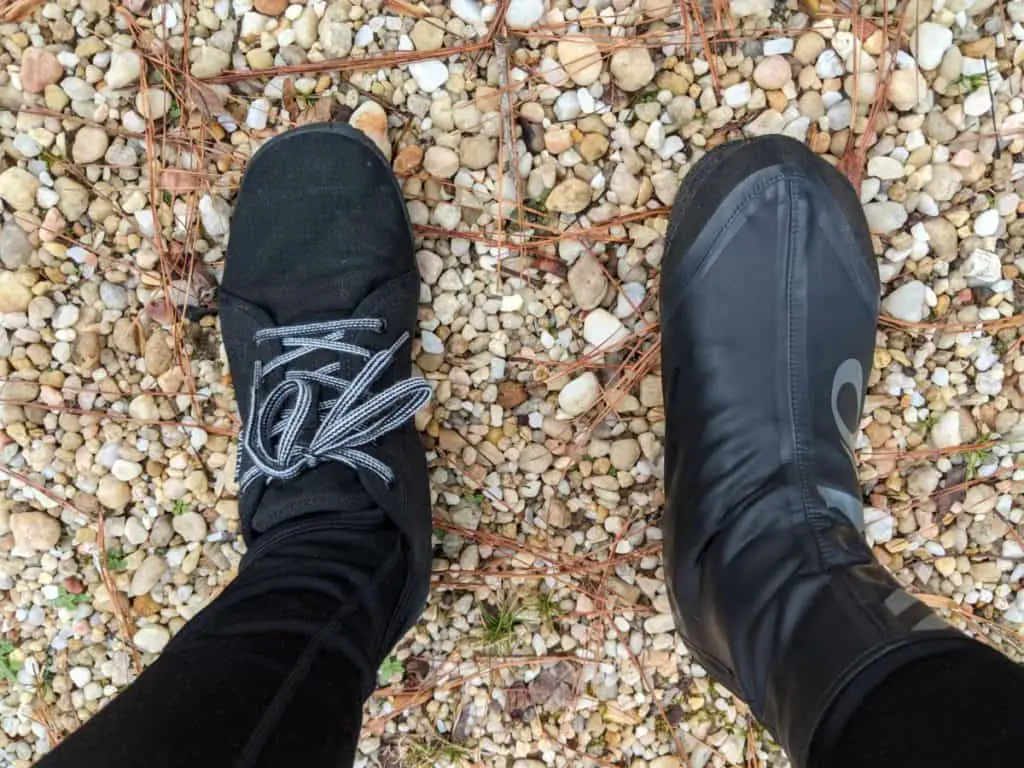 Cycling shoes attach to the pedals of your bike to give you more power with every pedal stroke. Imagine your foot grabbing onto the pedal while you're riding to give you extra momentum with every stroke.
My recommended cycling shoes are the Pearl Izumi MTB (mountain bike) cycling shoes. If you're going to be commuting to work by bike, then MTB shoes are much better than road cycling because you can actually walk in MTB shoes. Road cycling shoes are completely flat at the sole so that the clip at the bottom of the shoes comes in contact with the ground, which makes it almost impossible to walk in. You just cannot walk properly in road shoes. And you shouldn't.
Option for women
6. Bike tires for the winter
Regarding the bike that you use for winter riding, wider tires are recommended, especially when riding on snow or ice. Treaded tires are also ideal.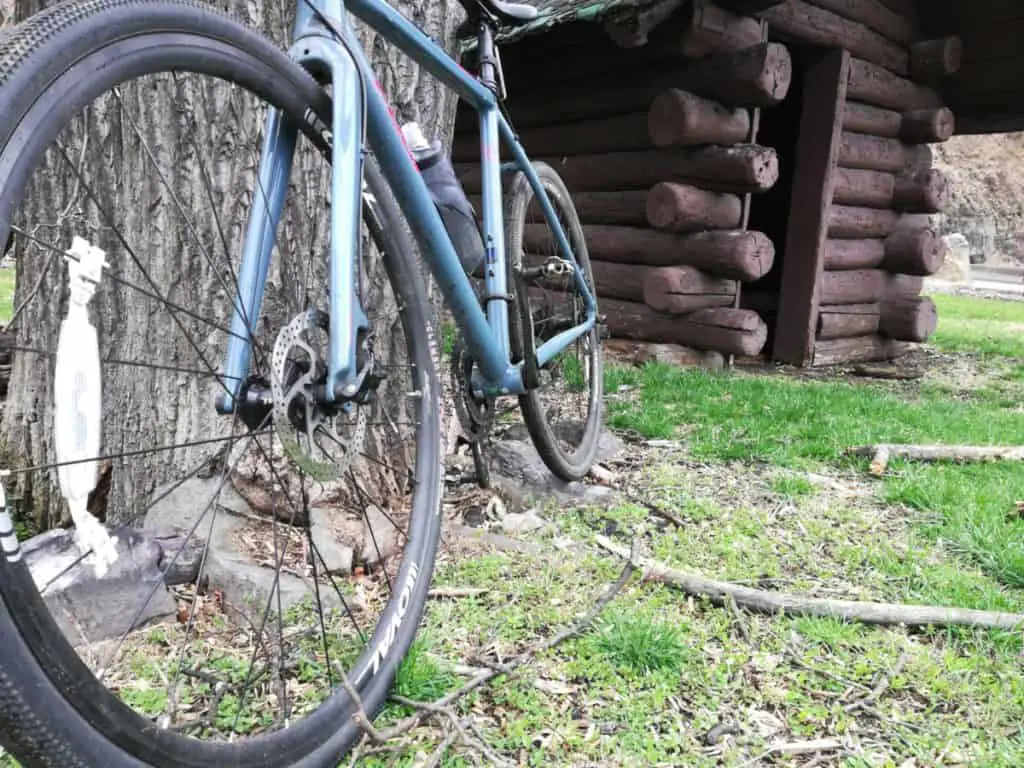 The best tire size for you depends on what kind of bike you have. Mountain bikes can run a much wider tire than road bikes. In general, try to go for a tire size of between 28mm to 40mm, depending on how wide you can go. If there's an option to get treaded tires for your bike, then go for those.
7. The best type of bike for winter riding
If you're planning on winter riding in snow or ice, you should really use treaded tires that are at least 35mm in width.
A mountain bike will usually have wider tires. Fat bikes are designed for snow riding, but are not so efficient on dry surfaces.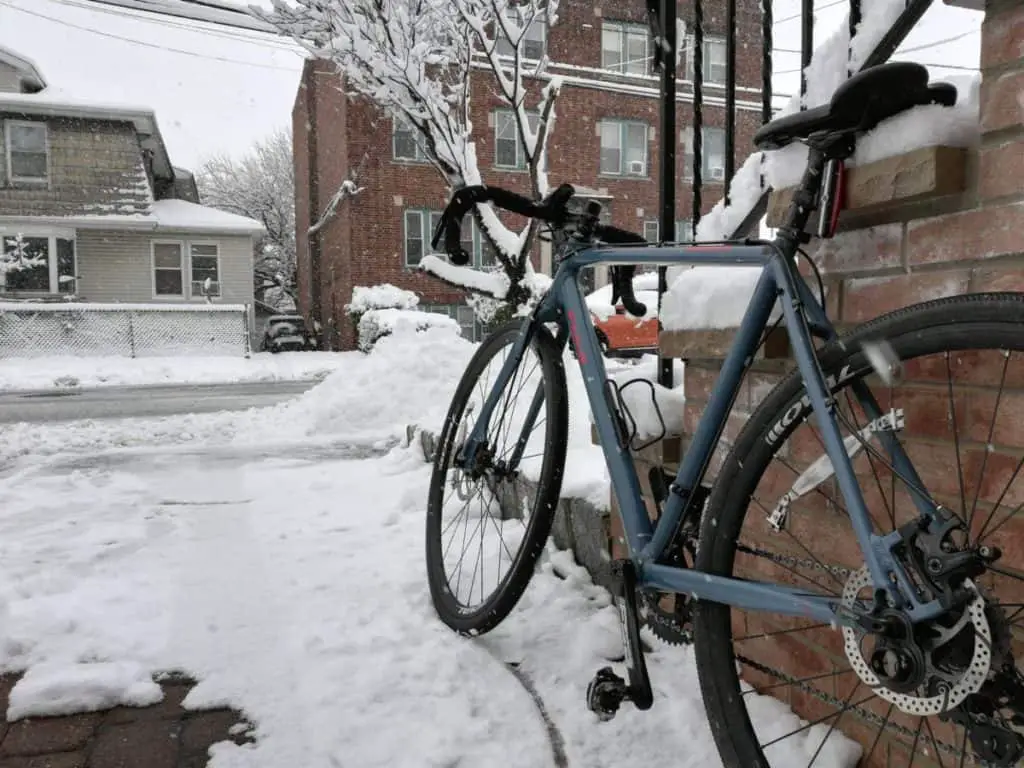 In my opinion, a gravel bike might be the perfect companion for winter riding because it has the aerodynamics of a road bike while also having enough clearance to fit wider tires.
I personally use 35mm tires on my gravel bike for winter riding over snow and ice and have never slipped or had any incidents.
Be sure to also read the full guide on riding in the winter here.
---
Bike Commuting in the Hot Summer
The key to bike commuting in the hot summer is to keep your body temperature cool by:
Wearing breathable clothing
Doing a 5-minute cooldown right before arriving at your workplace
Wiping yourself down with baby wipes upon arrival
Apart from the obvious tips, such as drink WAY more water than usual and wear sunglasses, here are three pro tips to cycling in the heat.
Most people don't have the luxury (or time) to shower after riding to work, so these will help you stay fresh on the ride and during work.
1. Wear breathable wicking clothes designed for cycling
Cycling clothes are designed to wick away sweat and keep you dry. It's basically the opposite of wearing your suit and tie on a bike.
Instead of wearing your work clothes while on the bike (which will get sweaty and dirty), it's best to invest in a cycling-specific shirt and pants to keep you cool during the ride.
At the very least, it's recommended to get a cycling jersey if you don't want to get the shorts as well.
Wear a cycling jersey
The good news is that cycling jerseys don't have to be that expensive. As a frugal cyclist, I would only recommend doing something if it will make your life better. And cyclist jerseys do that. They are breathable, maintain a good smell, and even have cool little pockets in the back for your phone and things!
As a bonus, cycling jerseys can unzip at the front to cool you down right before you arrive at work.
Wear cycling shorts
The real benefit of cycling shorts is the padding on the bum. If your commute is longer (more than 10 miles), then you will want to get a pair of cycling shorts. For shorter commutes, normal shorts will do just fine.
The added benefits of cycling shorts is that they are breathable and they are aerodynamic (due to the tight fit).
(Don't wear underwear under these shorts!)
Bike commuting in the winter: Be sure to read my guide to riding all winter.
2. Have a 5-minute cool-down ride right before arriving at the office
This pro tip comes from years of personal experience bike commuting in the hot (and freezing) streets of NYC.
Spend the last 5 minutes of your ride cooling down and riding slowly. If you're wearing a cycling jersey or jacket, then you can unzip the front to let the air cool you down even more.
It can be tempting to sprint the entire distance to your workplace and even beat your personal best. But it's actually unwise to exert yourself too much right before arriving at the office. As soon as you stop pedaling and go inside, your body will heat up and you will start sweating like crazy. Even if you're not panting heavily, your body will still sweat as soon as you stop pedaling and go indoors.
Even in the cold winters, you will find yourself quickly working up a sweat on your bike commute. That's why it's even important to cool down regardless of how hot or cold the temperature is outside.
3. Wipe down with baby wipes
Baby wipes are a bike commuter's best friend (and a parent's). Who would have thought? Baby wipes are cheap, soft on the skin, cleansing, and leave you feeling and smelling good.
If you don't have the luxury of a shower (or the time), then baby wipes are the best solution. In just 5 minutes, you can grab your wipes, head to the restroom, wipe down, get dressed, and be ready for the workday. It doesn't take very long at all, especially in comparison to taking a shower.
You don't have to bring your wipes with you!
Just leave a box of wipes at your workplace in your drawer or closet. Once you get to the office, take them with you to the restroom, wipe down your delicate areas (especially under the pits!), and change into your extra clothes.
If you happen to have small kids (like me), then you're in luck! If not, then you can get a cost-effective box of baby wipes from Amazon (I recommend these).
4. Leave your work clothes at the office
Having extra clothing to change into after getting to work is a no-brainer. But did you know you can leave almost ALL of your clothes at your workplace?
I can't emphasize this enough. Leave as MUCH of your work clothes as possible at your workplace. This includes shirts, pants, suits, shoes, ties, belts, and even underwear. This is important not only because it will make your cargo lighter when commuting every day, but it will also simplify the process of choosing an outfit.
This is especially important if you will be riding with a backpack, since a backpack can very quickly make your back heat up and sweat. So ditch the back pack and just leave everything at work.
When I was commuting daily from New Jersey to my job in NYC, I kept my entire wardrobe for a whole week in my office. Did I have a closet in my office? No. I just had a drawer in my desk for all of my clothes (including my suit).
"But I need lots of clothes for work!"
Well, do you really? I worked at a fancy NYC job for 4 years and managed just fine with baby wipes and all of my clothes in a drawer. A wardrobe doesn't have to be so complicated. You might need to give up the perfectly wrinkle-free shirt occasionally, but that's a sacrifice I think we can all afford.
I recommend leaving your work shoes at the office because shoes are particularly bulky to bring with you on a bike. Instead, if you can get some cycling shoes for the commute, I'd recommend checking those out there.
---
Bike Commuting in the Spring
After a long winter (for some of you), the spring weather is a truly welcome sight. But it's not all fun and games because with the spring weather comes lots of RAIN (in many parts of the world).
How to bike commute in the rain
The important things to do when bike commuting in the rain are:
Bring an emergency rain jacket
Have flashing lights on your bike
Be cautious of slippery surfaces.
1. Bring an emergency cycling rain jacket
Be sure to bring a lightweight rain jacket with you on your bike commute.
Benefits of cycling rain jackets include:
Super lightweight
Can easily fit in the back pocket of your jersey
Completely waterproof
It's the perfect companion for the rainy season!
If you want an affordable rain jacket, I would recommend getting this one by Baleaf on Amazon. It's an affordable brand that I have used for many years, so can personally recommend it. If you want a fancy and super high-quality brand, then get this Castelli rain jacket. There's nothing that says "pro" more than the Castelli brand.
2. Have flashing lights on your bike
Visibility goes way down when it is raining, which is why it's more difficult for drivers and other cyclists to see you. Having flashing front and rear lights on your bike dramatically increases your chances of being seen while riding. If you can get this right, then you will not have to worry about not being seen. In fact, it's best to keep front and rear lights on ALL YEAR for optimal visibility.
Even when riding during a sunny day, it's important to have flashing lights at the front and back of your bike to make sure that cars and other cyclists see you. This is especially important if you are riding in a city with lots of cars and pedestrians.
Recommended front light
A good front light has different options to either flash or stay on. When riding in the day or early evening, use the flashing function. When it's completely dark, just keep the light on without flashing.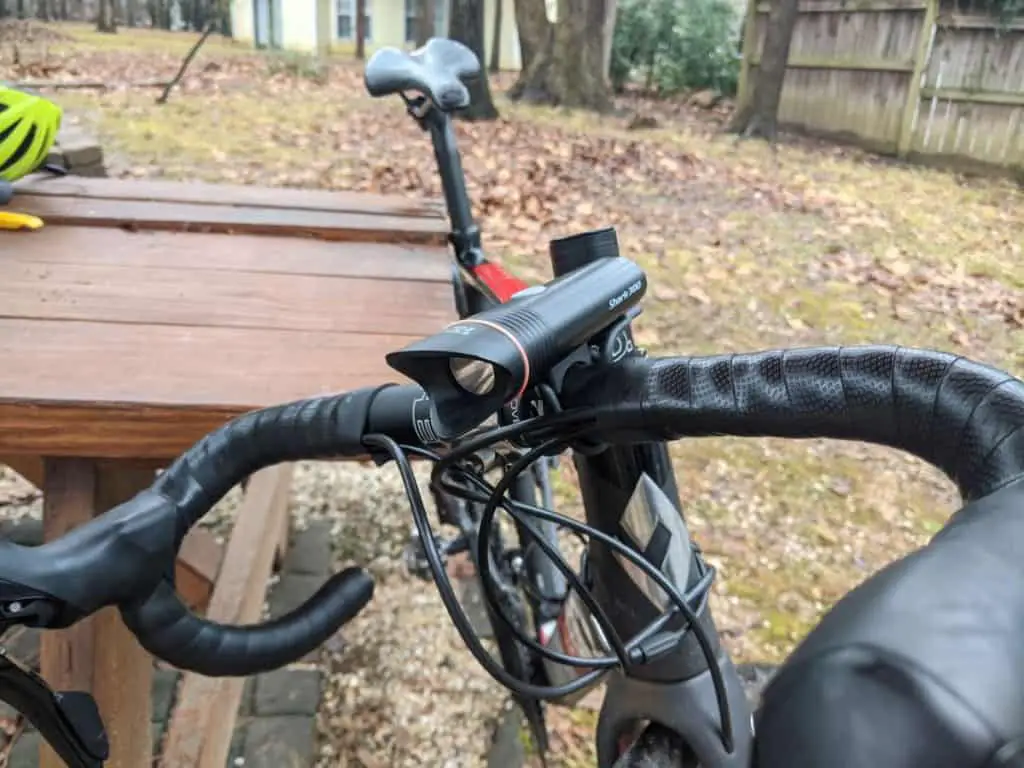 You will also want to make sure that your front light can be charged by USB, rather than powered by disposable batteries. You should be charging your lights at the end of every day, so USB charger is the way to go.
I have been using this front light from Cycle Torch for many years without any issues. It's super bright and has multiple flash frequency settings.
Recommended rear light
The rear light should also have different flash options. You will definitely want to keep your rear lights on all the time in the winter, night or day. A good rear light will be powered by a USB-chargeable battery, rather than disposable batteries.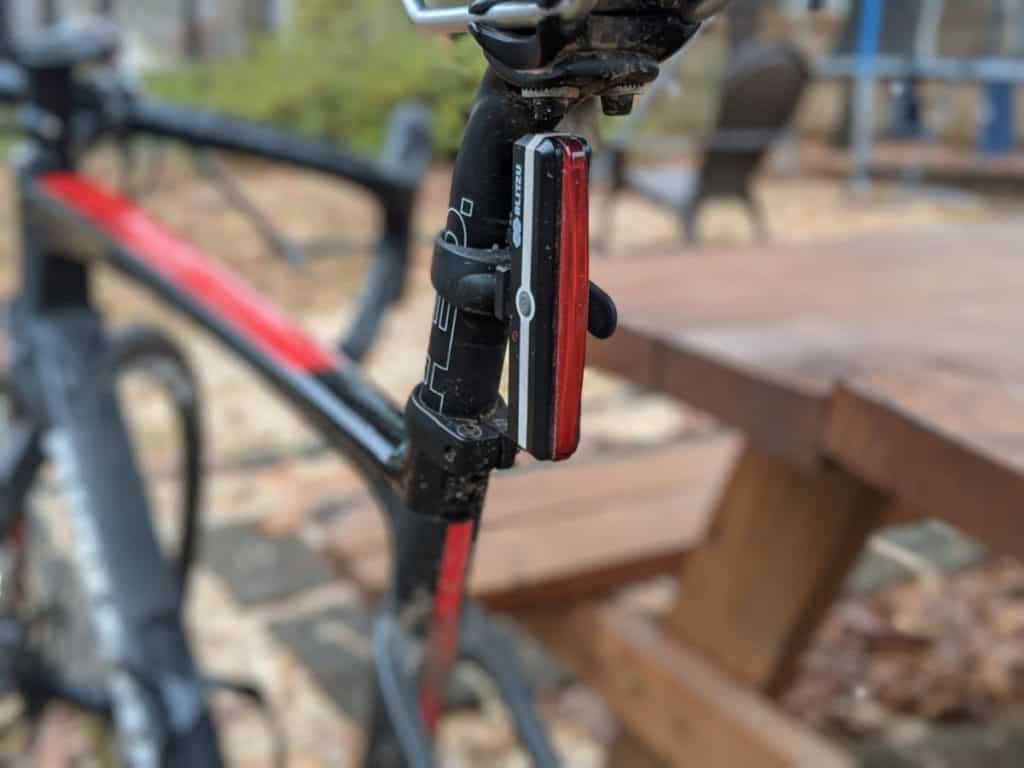 This rear light by Blitzu has never let me down through dark winters and freezing rain. It has different flash options, such as a rapid flash or a steady flash. It is also rather bright. Not dim at all for more than four years of constant use.
3. Be cautious of slipper surfaces when wet
Common surfaces that are very slippery when wet include:
Manhole covers
Road paint
Wooden bridges or planks
Just be careful when riding over these surfaces, and you'll be fine. It's fine to ride over them, but you will likely slip if you're accelerating or turning sharply while riding over these surfaces.
If you're prone to slipping on wet surfaces with your bike, then you should upgrade your tires to some treaded tires.
What bike is best for commuting in the rain?
Mountain bikes and gravel bikes are best for riding in the rain because their treaded tires offer better friction when riding over wet surfaces. However, any type of bike is generally safe to ride in the rain if the tires are a little treaded and the rider is careful when riding over slippery surfaces, such as manholes and wooden bridges.
---
Bike Commuting in the Fall
The main thing you should watch out for in the fall is slippery leaves and colder temperatures.
How to safely ride with fallen leaves
Leaves are surprisingly dangerous to ride over if you're not careful. They are slippery, wet, and can cause your bike to slip if you don't exercise caution.
The best way to avoid slipping on leaves is to ride directly over them and to avoid accelerating, turning, or braking while riding over them.
Dressing for fall weather
As the temperature begins to cool down, you might be more comfortable with cycling legging and a long-sleeve jersey, as opposed to cycling shorts and a short-sleeve jersey.
Just wearing a long-sleeve jersey and cycling leggings will keep you warm enough until winter hits. If your area is a little colder than that (like NYC), then get yourself a cycling jacket. I regret not getting a cycling jacket sooner! They're comfortable, practical, breathable, and look awesome.
If you prefer to wear shorts, then by all means, continue to wear shorts during the fall. However, many cyclists get uncomfortable quickly because of the cold air blowing on their bare legs. For that reason, breathable leggings are a good alternative. (Oh, and you can wear shorts over them if you don't want to show off your buns).
Personally, I like using these cycling leggings from Amazon as soon as the weather starts cooling down until winter ends.
Long-sleeve cycling jersey
Cycling leggings
Cycling Jacket
---
With the right preparation, bike commuting year-round can be enjoyable
Making a commitment to commute by bike year-round is the first step to making biking a serious priority in your life. If you can get past the discomfort of riding in the freezing winters and blistering summers, then you will inevitably benefit from all that bike commuting has to offer, including saving money.
Just layer up clothing in the Winter, minimize clothing in the Summer, be ready for rain in the Spring, and be cautious of leaves in the Fall, and you will enjoy bike commuting every single day of the year!
I've been bike commuting year-round for years (even in NYC), and I've never once regretted it.
Be sure to also read the full guide on riding in the winter here.
---
My Recommended Gear for Year-Round Cycling on a Budget
It took me years of trial and error to figure out the best and most affordable setup for my daily bike commuting. I would only recommend the gear that is good quality for a good price. Here's my full year-round gear recommendation guide.
Want to know how much your cycling gear should cost? Check out my guide with different budget options here.
Ride on!