If the idea of replacing driving with biking gets you excited, then getting your groceries or shopping with a bike trailer is a great way to exercise and reduce the need to drive.
Bike trailers are spacious and can hold an impressive amount of weight of up to 40–100 lbs, which is why they are perfect for doing your regular grocery shopping.
Even with a child in the trailer, bike trailers typically have extra storage space to hold groceries or other cargo.
---
What's the best bike trailer to carry groceries or cargo?
The best cargo bike trailer has a high weight capacity of 100 lbs (45 lbs) and costs under $200, such as the Schwinn Day Tripper. For people with kids, the best option is a regular bike trailer for kids.
Whether you're looking for a bike trailer for grocery shopping that also holds children, or you're just looking for a cargo-only trailer, this article outlines the best bike trailers for carrying cargo in the most common situations.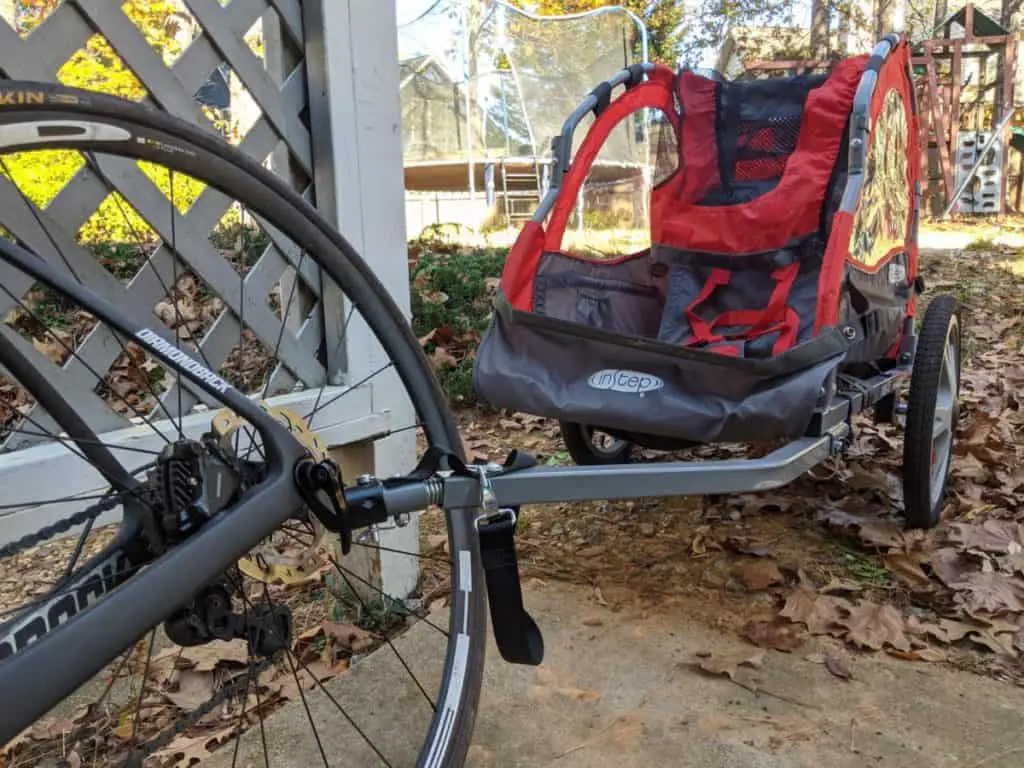 ---
Kid bike trailer that can also hold groceries
Not all bike trailers have ample room to store groceries or other cargo, so I would recommend the Schwinn Joyrider, which is a double-seated trailer that has plenty of storage space in the front, as well as the back.
Best kid bike trailer for groceries: Schwinn Joyrider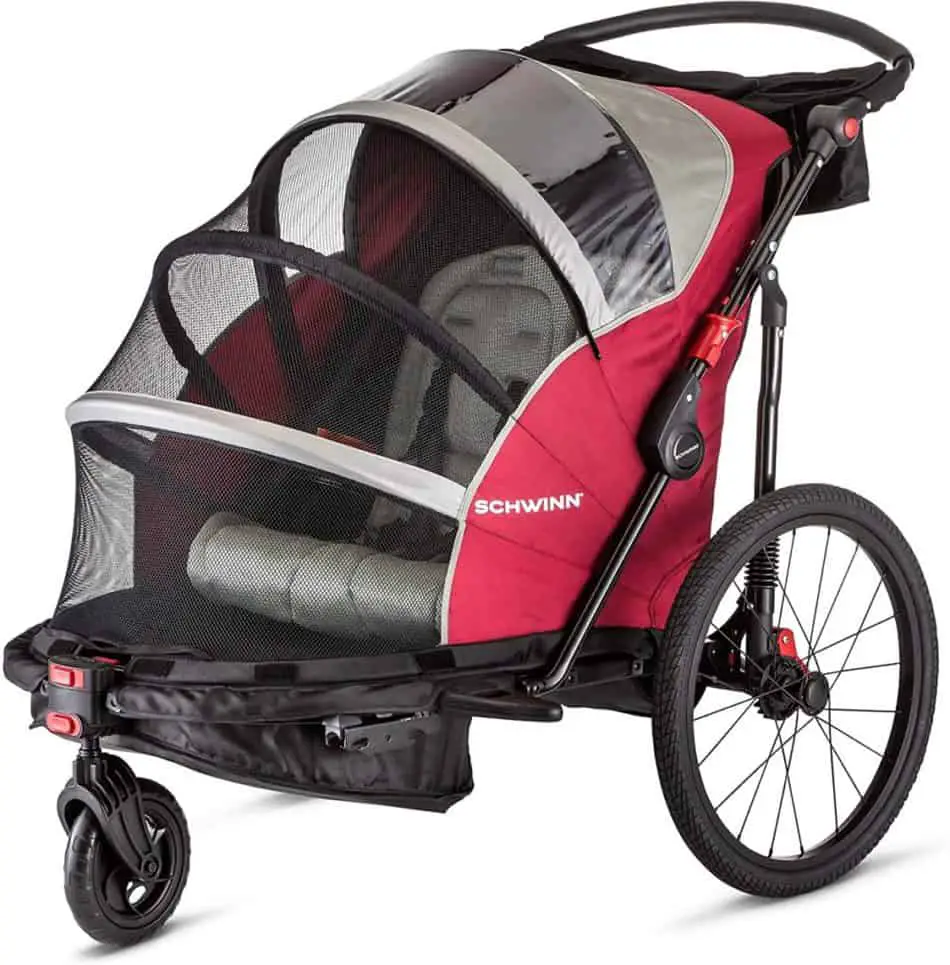 The Schwinn Joyrider is a steal of a deal for what you get. It has high-end features, such as easy stroller conversion out of the box, a solid protective cage, and large interior space.
You get all of that without breaking the bank at just around $360! It's also ideal for shopping because it has storage space in the front with the kids, as well as in the back. It even has some large pockets at the handlebar for some additional items.
Price: Around $360 (check on Amazon)
Pros
Affordable double-seat bike trailer/stroller
Storage space in front and back
Stroller conversion
Protective cage
Cons
Wide
Pretty heavy (40 lbs)
Check out my full review of the Schwinn Joyrider here. This is my personal favorite, so I wrote an in-depth review of everything you need to know about this trailer.
Think bike trailers are hard work? I wrote an entire article on how to make riding with a bike trailer easier. You can check that out here.
---
Cargo-only bike trailer
There's really no need to get a kid trailer if you don't plan to go shopping with a child.
However, it might be in your best interest to get a kid trailer anyway because they offer more interior space to hold cargo. If that sounds like a good idea to you, then I would recommend a lightweight, affordable kid trailer like the Schwinn Trailblazer. It's a minimalist bike trailer with large interior space at a good price point. You could even manage to go Costco shopping with this trailer!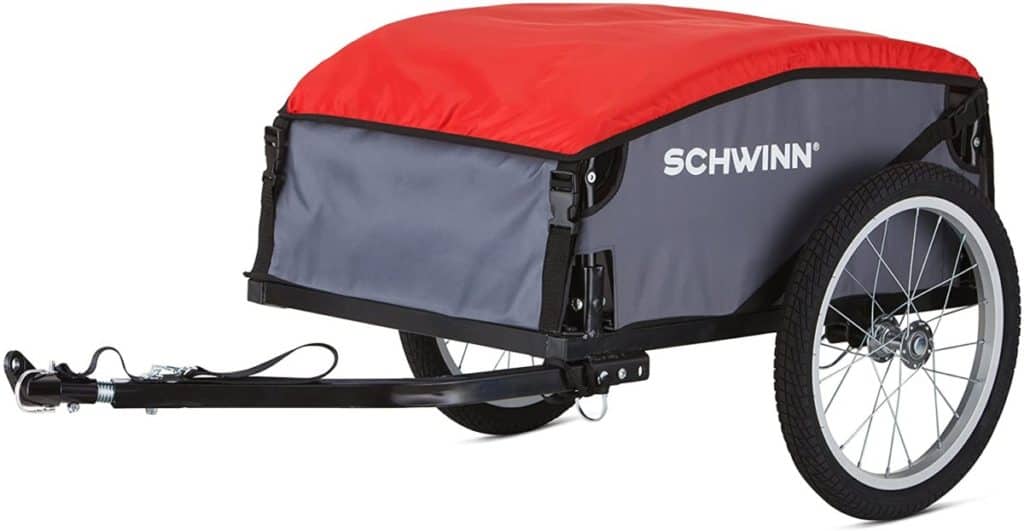 Although any bike trailer for kids will do just fine to hold groceries or tow cargo, you may just want a basic cargo trailer that gets the job done. In that case, the Schwinn Day Tripper Cargo trailer is an awesome choice. It can hold an impressive 100 lbs of cargo.
Price: Around $100 (check on Amazon)
Pros
Affordable
High weight limit—100 lbs
Large 20-inch wheels—Other cargo trailers only have 16-inch wheels
Cons
---
Dog bike trailers that can also hold groceries
Dog-specific bike trailers are a great way to get around with Fido. However, the unfortunate thing about dog trailers is that they do not come with much storage space for cargo.
Therefore, if you're looking for a dog trailer that will also have ample storage for groceries or cargo, you essentially have two options.
Option 1 is to use a kid bike trailer for your dog, such as the Schwinn Trailblazer mentioned above, which will have storage space for groceries. The drawback of this option is that a kid bike trailer might not be as comfortable as a dog trailer if your dog is larger. In addition, a kid trailer does not have the convenience of a doggy door like dog trailers do.
Option 2 is to just get a dog trailer and fit the groceries inside the trailer next to the dog. This would work for smaller dogs, but larger dogs might not feel comfortable sharing space with too much cargo. If your dog is larger, then you can go for the impressive PetSafe Happy Ride dog trailer.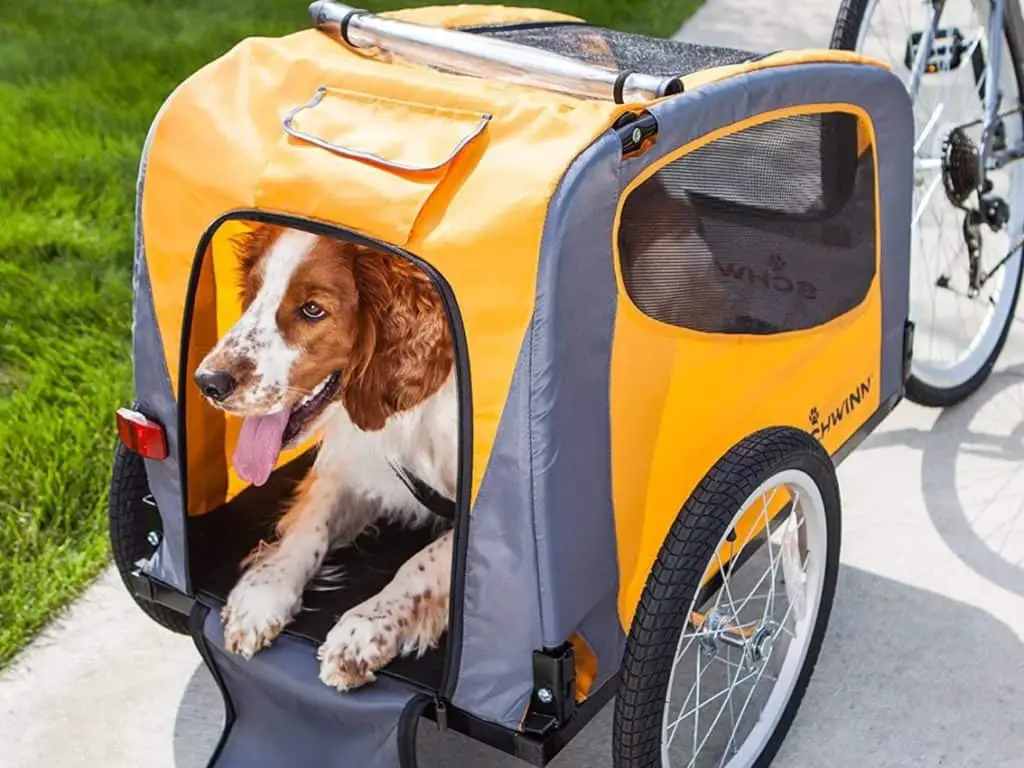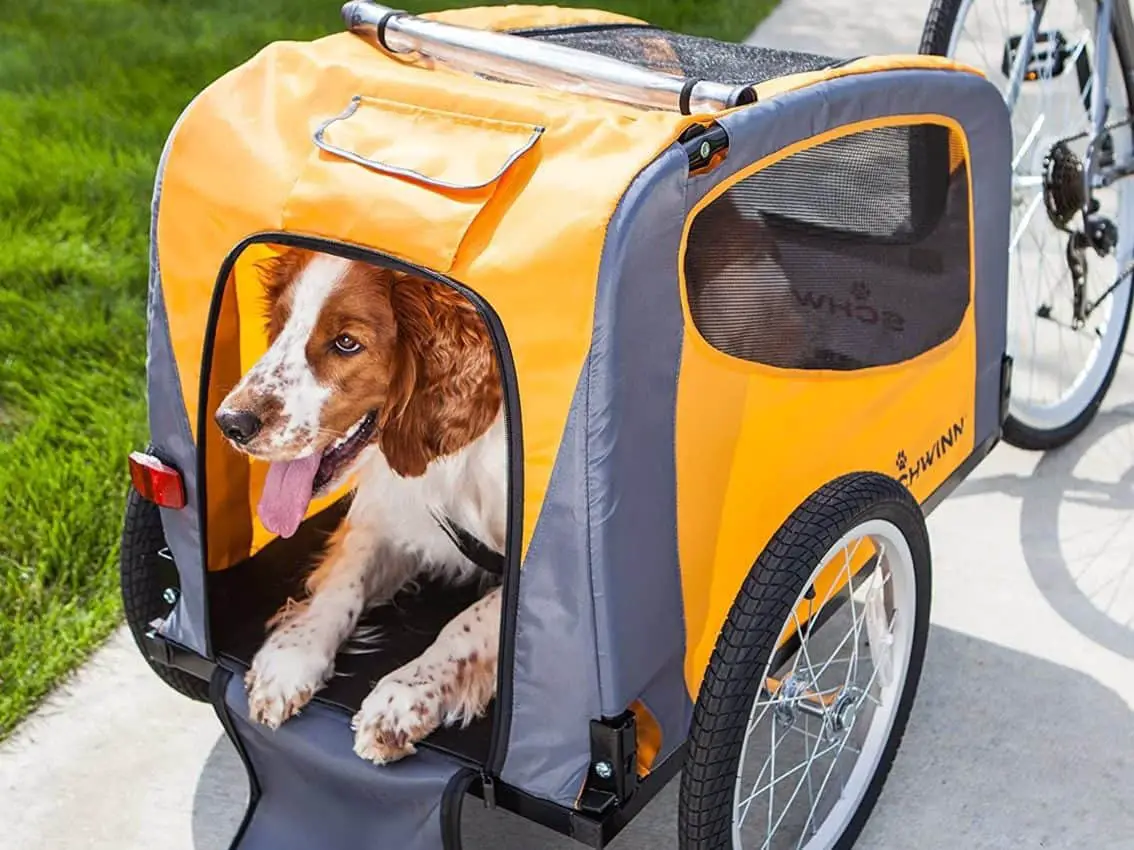 Price: Around $150 (check on Amazon)
The Schwinn Rascal is perfect for spending quality time outside with Buddy. It's lightweight, affordable, and even has a doggy door!
Pros
Affordable—A good price for a dog-specific bike trailer
Doggy door
Lightweight
Cons
Low weight limit (50 lbs)—This trailer also has a 100 lbs option for large dogs
I wrote an in-depth article about riding with dogs and how to help a dog get comfortable with riding in a trailer. You can check it out here.
There's also a great article by Mr. Money Mustache on how to get groceries with a bike trailer that I recommend reading. Check that out here.
---
Cargo Bottomline
Overall, getting groceries with a bike trailer is absolutely feasible! Regardless of how you plan to get your groceries or other cargo, there is a bike trailer that will do the trick.
It will boost your health, strengthen your legs, and save you from using the car unnecessarily.
Need help finding the right bike trailer?
If you need help finding the right bike trailer for you, my recommended trailer for most people is the Swhinn Joyrider, which is an affordable double-seater that converts beautifully to a stroller. Check out my full review with photos here.
Check out the Ultimate Guide to Buying a Bike Trailer for more help with choosing a trailer. I also have compiled a list of the top bike trailers for every common situation, which you can check out here.
Ride on!