Bike commuting is an ideal mode of transportation, especially to and from work in larger cities. But if you are wary of theft and prefer not to leave your bike locked outside the office, what options do you have?
Commuting with a folding bike is an easy way to bike commute. To make commuting to work with a folding bike possible, simply choose a bike size that allows for easy storage at the office. Consider how far you are commuting to select the correct folding bike. 
Read on to see some of the benefits of commuting to the office with a folding bike, some of the difficulties a folding bike can present, and places you may be able to store the folding bike. 
Benefits of commuting with a folding bike
Commuting with a folding bike can be an excellent way to get around, especially if you aren't a fan of locking your bike up outside the office. Some benefits of a folding bike vs. a traditional bike include:
Decreased chance of theft as foldable bikes can be brought inside.
Additional transportation options without leaving your bike behind during inclement weather. Foldable bikes will fit in most cabs, busses, trains, and car trunks.
Foldable bikes offer a similar ride and comfort to standard bikes but take up less room when stored.
Folding bikes like the Schwinn Loop Adult Folding Bike are excellent for commutes to and from the office, subway, or train station. 
The features of this Schwinn Loop Adult Folding Bike that make it ideal for commuters are:
It is a final folded size of just 32 x 11 inches, making it a perfect fit for under a desk, cubicle, or even some larger tote bags. 
A light alloy folding frame with front and rear brakes making your ride sturdy, safe, and stable.
A rear carrying rack perfect for a pannier or bag.
A nylon carrying bag comes with the folded bike.
The Schwinn offers 20-inch alloy wheels with smooth-rolling street tires, perfect for city commutes. 
Most folding bikes on the market offer full-size wheels, standard components, and a solid frame for rides as efficiently as traditional bikes. 
Decrease your chances of theft with a folding bike
Decreasing your chances of theft with a folding bike is not to say that standard bikes with appropriate chains and locks are more subject to theft than anything else. Still, folding bikes decrease that chance entirely. Your folding bike is small enough to store under your desk, keeping it the same and within view your entire workday.
One way bike commuters decrease the chances of having their locks or chains cut and their bikes stolen is to use a folding bike. Most folding bikes fold down in seconds to the size of a briefcase or small suitcase and can be transported into the office with them, where it is much less likely to be tampered with. 
Inclement weather options with a folding bike 
There is nothing worse than biking to the office in the morning, and by the time you leave to head home, the weather has turned on you. With a standard bike, your choices are to leave it locked up at the office and take a cab or bus home or bike home in the pouring rain or freezing snow. 
With a folding bike, you open yourself up to an additional option. Your folding bike will fit into the trunk or backseat of most sedans or next to you in a bus seat. You have the option to grab a cab, a ride home with a coworker, or a bus ride, and tuck your folding bike neatly in the trunk or the seat next to you.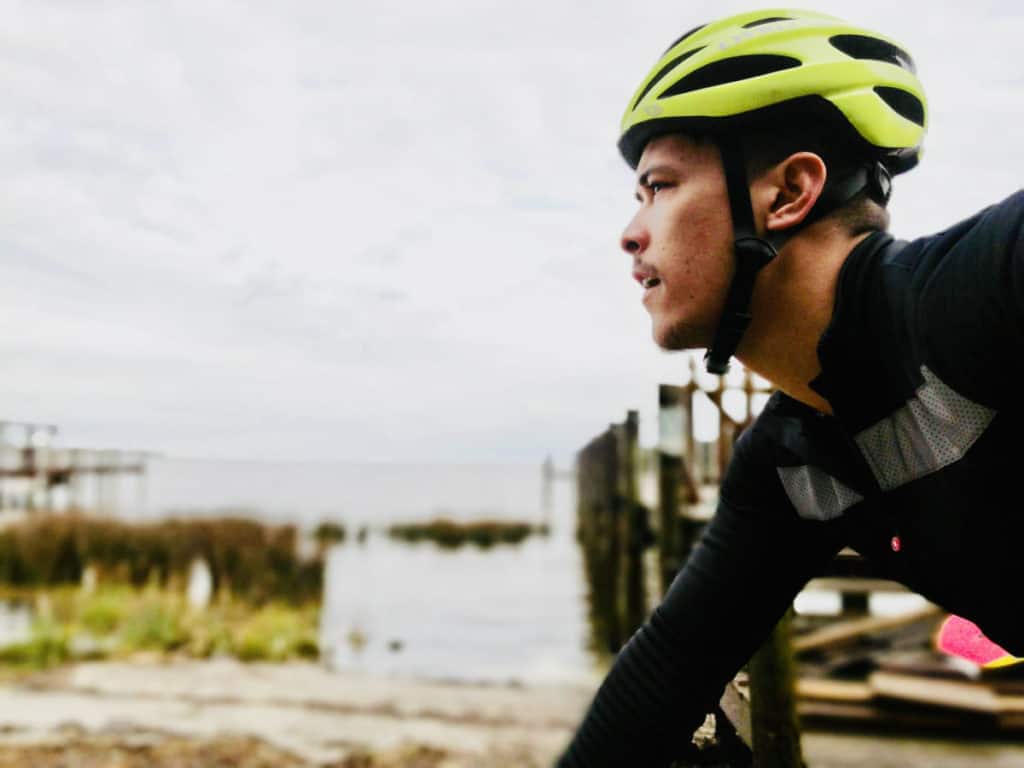 Is it difficult to commute with a folding bike?
Commuting with a folding bike may be slightly different from ordinary bike commuting, but nothing about it is inherently more difficult than commuting on a standard bike. If anything, commuting with a folding bike is more manageable and provides you more options for safety and security. 
Folding bikes are more practical for commuters
The practicality of a folding bike makes it inherently less difficult for bike commuters in inclement weather situations. Deciding whether to leave your standard bike locked at the office while it's pouring rain or to ride home in the rain is a difficulty that can be avoided with a folding bike. It can fold down to the size of a briefcase or small suitcase, meaning you can hop on the subway with it or throw it in the back of a cab if it starts to rain or snow.
Folding bikes can provide a similar ride to standard bikes while remaining lighter in weight and just as easy to navigate city streets. Folding bikes can also be a less complicated option when safety and security are concerned. Most folding bikes take just seconds to fold down and bring into the office, where you might spend a few minutes locking it to a bike rack just to leave it outside, more subject to theft. 
The foldability of your bike determines its convenience
Some folding bikes take just ten seconds to fold down into their final folded size, and some take around ten minutes. If convenience is key for you, look for a folding bike that requires no tools to fold down but simply operates with clamps that release when folding. 
Consider the gear ratios of your folding bike 
Whether you plan to use your folding bike to make up the last mile of your commute from the train to the office or to make a long trek through rough city streets, the gear ratio of the bike you choose should be selected carefully. 
Gear ratios of between 25 and 70 inches should cover most city terrains, but if you plan to use your folding bike on higher-performance terrains or settings, look for a folding bike higher than 70 inches.
In this video, I outline some not-so-obvious tips that will keep you even safer on your bike commute.
Where to store a folding bike at work
When commuting with a folding bike, there may be the question of where to put it once you get to the office, especially in cramped workspaces. 
The size of your folding bike determines where to store it.
The wheel is the largest part of the folding bike when it is collapsed, making the size of the wheels important to consider when thinking of storage. Folding bikes generally come with 16, 20, 24, 26, or 27.5-inch wheels.
| | |
| --- | --- |
| WHEEL SIZE | STORAGE AREAS |
| 16 Inches | Under desks, lockers, cubicles  |
| 20 Inches | Under desks, larger lockers, cubicles |
| 24 Inches | Under desks, cubicles, break rooms |
| 26 Inches | Break rooms, security or receptionist areas |
| 27.5 Inches | Break rooms, security or receptionist areas |
Choose the size of your bike with where you plan on storing it in mind. It is possible to keep bikes with 16, 20, and even 24-inch wheels directly under your desk at the office, but the larger the wheel size of your folding bike, the fewer storage options you have. 
The frame size of your folding bike is important to storage
Folding bikes come in few sizes with limited frame sizes and seat heights. If you are of average proportion, this may be largely irrelevant. Depending on how you plan to use your folding bike, the fit and seat height should be considered. 
Frame size or fit– If you plan to use your folding bike for the last leg of your commute, you may do well with just about any frame size or fit as long as it feels comfortable when riding. If you plan on using a folding bike for long commutes, make sure to test the fit for optimal comfort before committing.
Seat height– be sure to test the seat height of your folding bike to be sure it's not too high or too low. Look for folding bikes with multiple seat heights to fit your proportions.
If the right fit or seat height cannot be found for your specific proportions, a standard bike will offer more specific sizing for your commuting bike.
Common storage places for folding bikes in the office
There are several places to store your folding bike, some of which we've been through, and depend on the size of your bike in its collapsed form. Here are a few places to store your folding bike in the office.
Underneath your desk or cubicle
Lockers (for some smaller folding bikes)
Break rooms
Conference or communal office rooms
Closets
Receptionist or security desks
Most folding bikes are small enough to fit just about anywhere in the office. These bikes offer the most practical features for your commute.
Folding bikes are a great companion for commuting
Folding bikes are an ideal choice for bike commuters. They offer bike commuters:
Practical options in inclement weather
More opportunities for storage at the office
Similar ride as traditional bikes. 
Folding bikes decrease your chances for bike theft and give you an array of options for transportation when you aren't using the bike. 
---
My Recommended Gear for Year-Round Cycling on a Budget
It took me years of trial and error to figure out the best and most affordable setup for my daily bike commuting. I would only recommend the gear that is good quality for a good price. Here's my full year-round gear recommendation guide.
Want to know how much your cycling gear should cost? Check out my guide with different budget options here.
Ride on!