Bike trailer couplers are essential to operation of a bike trailer.
But what does it do exactly and where can you can the right one for your trailer?
Perhaps you don't have the coupler that came with the bike trailer. Or maybe your particular trailer is not compatible with your bike.
Regardless of the reason, here are the best couplers available for each of the major bike trailer brands, including Schwinn, Instep, Thule, and Burley.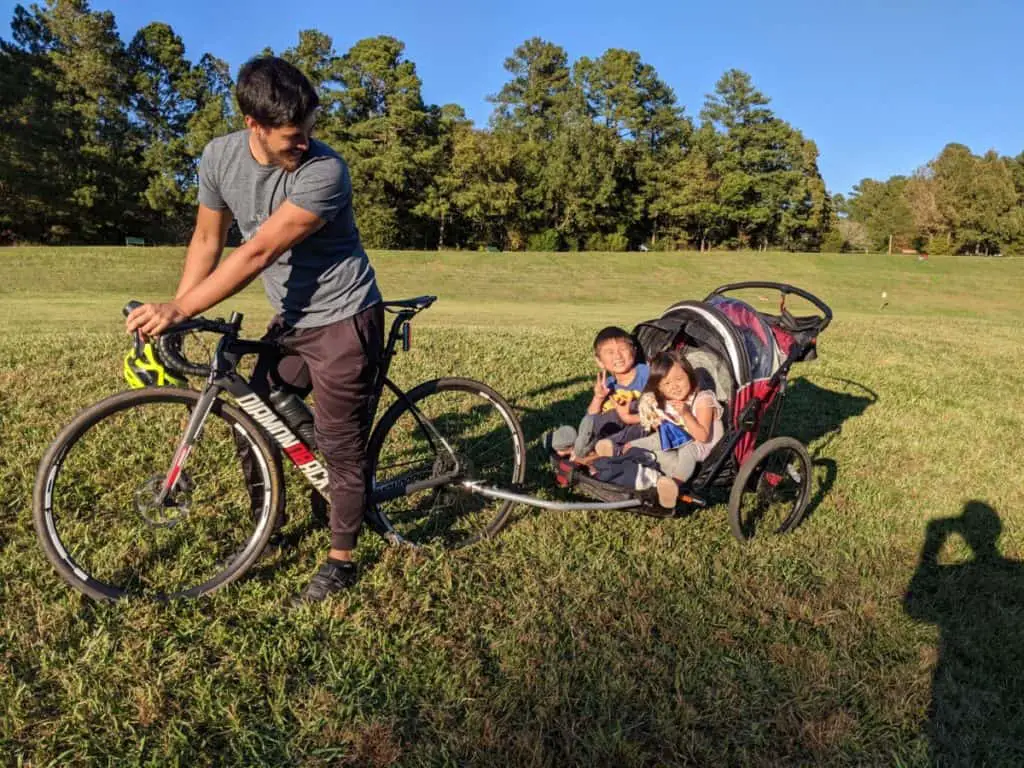 ---
A bike trailer coupler is a small attachment that connects the rear wheel of the bike to the hitch arm of the bike trailer. The coupler securely attaches the bike trailer using a security pin, which allows you to quickly attach and detach the bike trailer.
There are a few reasons you may need a new coupler:
Your coupler broke
You want one for another bike
Or you bought a used bike trailer that did not come with one
It can be a hassle to go out and get a new coupler, so below you can find some on Amazon for under $15 that will deliver right to your door. 
---
How do bike trailers attach?
Bike trailers either attach to the axle of the rear wheel or to your bike's seat post.
In most cases, you'll be able to easily attach your new bike trailer right out of the box, with all accessories included. Specifically, if your bike's rear wheel has a standard quick-release (skewer that goes through the center of the wheel), then most trailers will attach easily to your bike. 
Some types of bikes, however, may require a simple adapter in order to attach the trailer. Typically, bikes that have thru-axle wheels or hooded-style dropouts may require an adapter.
If you have disc brakes on your bike, be sure to read this article on attaching to disc brakes.
Also read: Can Any Bike Pull a Bike Trailer?
---
Can you DIY a bike trailer coupler?
Unless you are an extremely skilled welder, it is strongly recommended to just spend $10-$15 to get a new coupler. It's worth the investment! 
Although not recommended, it is possible to attach a bike trailer without a coupler, but only if you are a highly-skilled welder. Some individuals that prefer to DIY their coupler attachment
---
How to attach a coupler to a bike
Here are the basic steps to attach a coupler to a bike:
Remove the quick-release from the center of the rear wheel. If you have a bolted wheel, then use a wrench to remove the nut from the wheel. 
Place the coupler and accompanying washer onto the axle of the wheel. In most cases, the coupler goes on the left-hand side of the rear wheel.
Re-attach the quick-release nut over the coupler and tighten until secure. 
You're now ready to attach your bike trailer using the security pin provided with the coupler attachment. 
I wrote a detailed article on how to attach a bike trailer to any bike, which you can find here.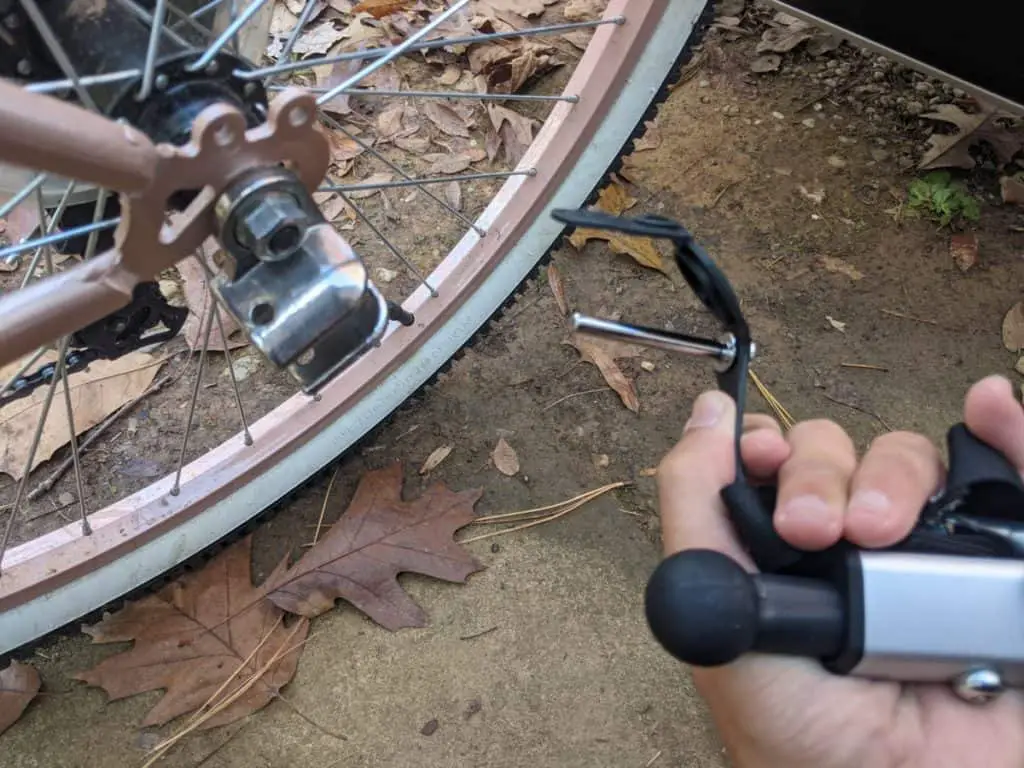 ---
3 different types of couplers
Picking the right coupler is straightforward. There are only three main types of coupler attachments. The type you need simply depends on the brand of your bike trailer. 
Coupler for Schwinn or InStep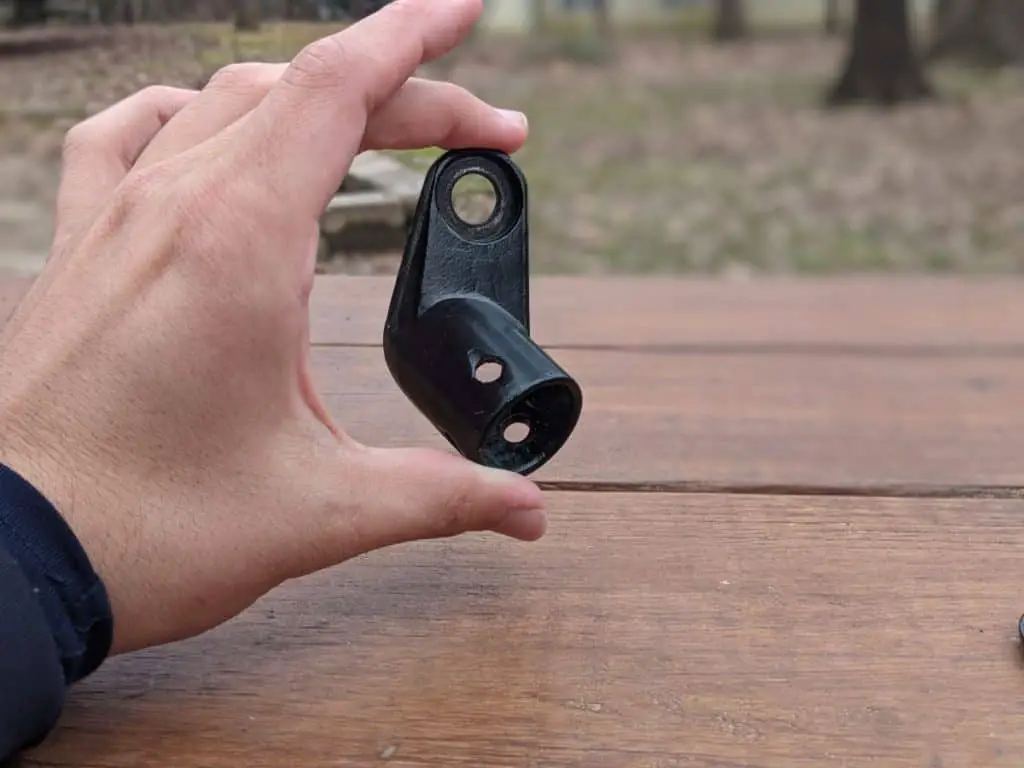 At just under $15, this standard attachment is compatible with all Schwinn and InStep bike trailers. 
Burley Steel Hitch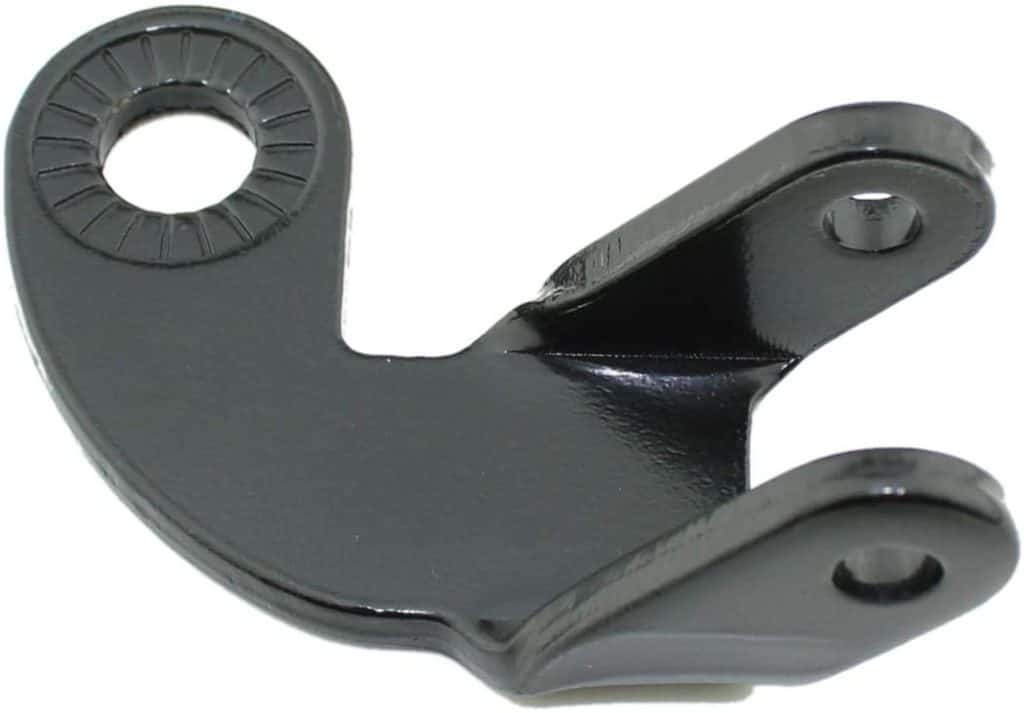 At just $10, the Steel Hitch is a sturdy steel coupler computable with any Burley bike trailers. 
Thule Hitch Cup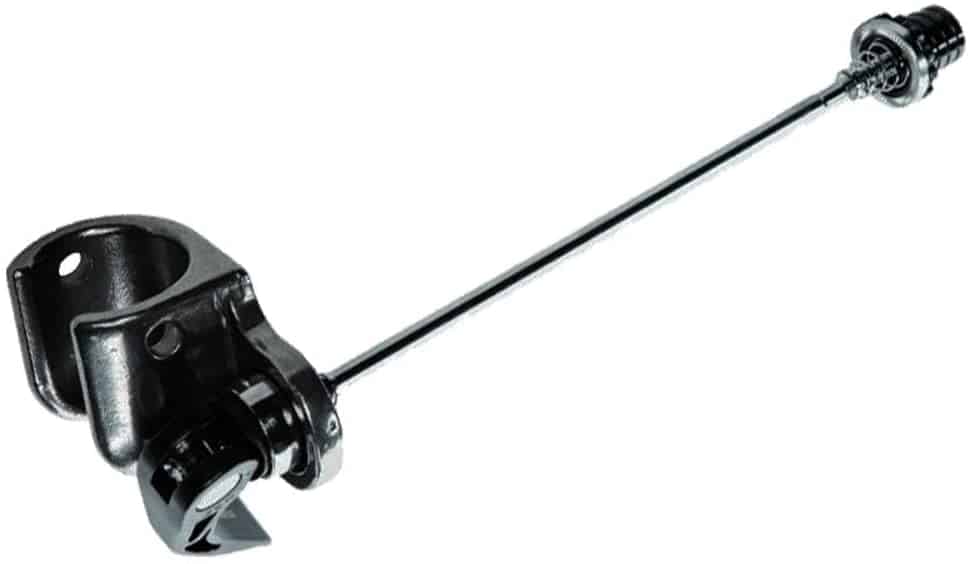 Thule is a high-end bike trailer manufacturer that offers high-ticket items. Therefore, the attachments and accessories are often pricey as well. At around $50, the Thule Hitch Cup is the available option for Thule owners. 
If you're not sure what kind of coupler attachment your bike trailer requires, just check the user manual that came with the trailer or on the product description page. 
---
3 top-rated bike trailer couplers under $15
These coupler attachments all have over 4.1-star ratings on Amazon and are under $15. Buying a coupler really isn't an expensive investment if it gives you access to a working bike trailer!
---
Coupler for InStep and Schwinn Bike Trailers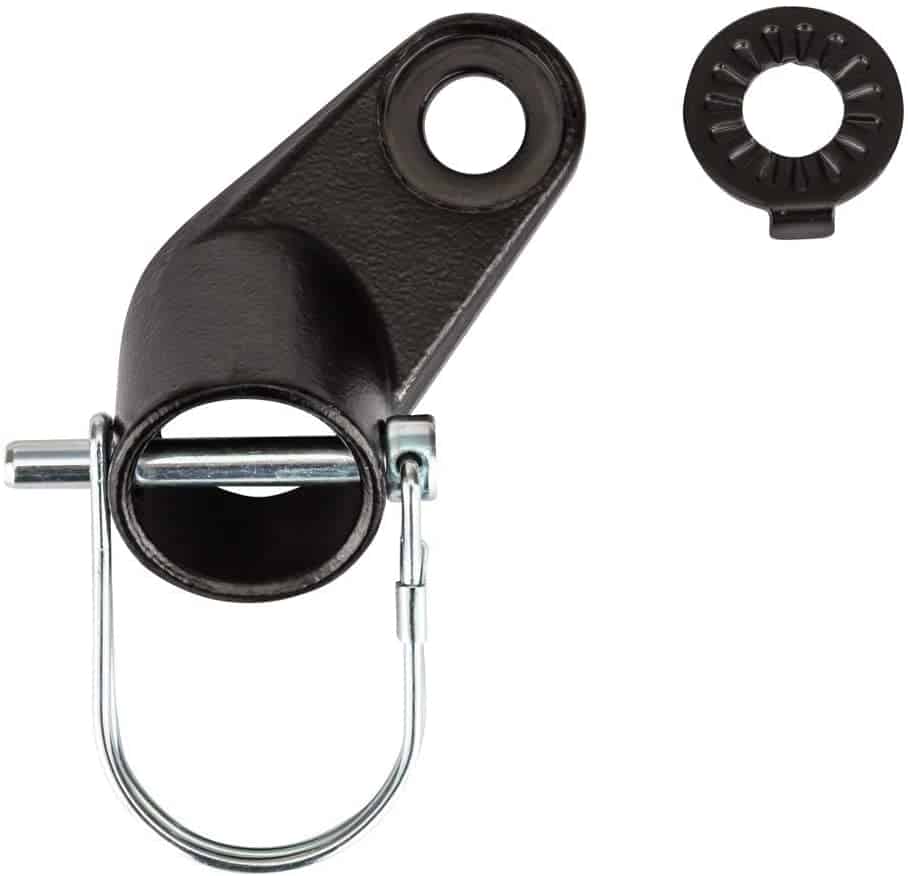 Compatible with: Schwinn and InStep bike trailers
Price: Under $15 (check price here)
Schwinn and InStep made updates to their bike trailers after November 2016 that use this newer style of coupler attachment. Most notably, this coupler will fit a thru-axle bike.
---
ODIER Steel Hitch for Burley Bike Trailers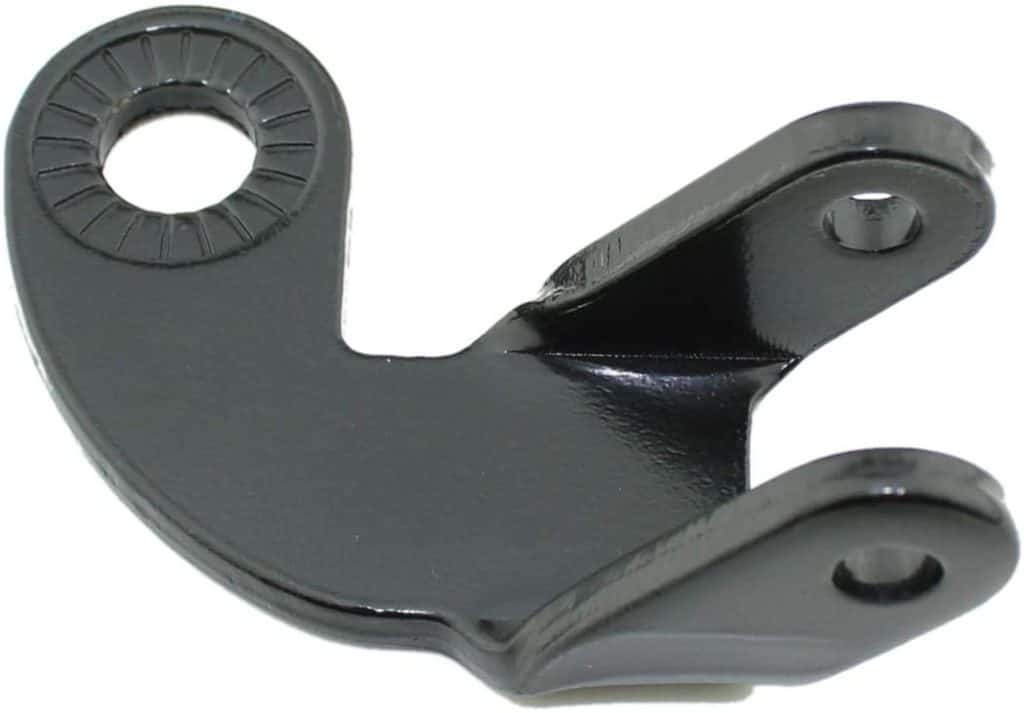 Compatible with: Burley bike trailers
Price: Under $10 (check price here)
---
Thule Bike Trailer EzHitch with Quick Release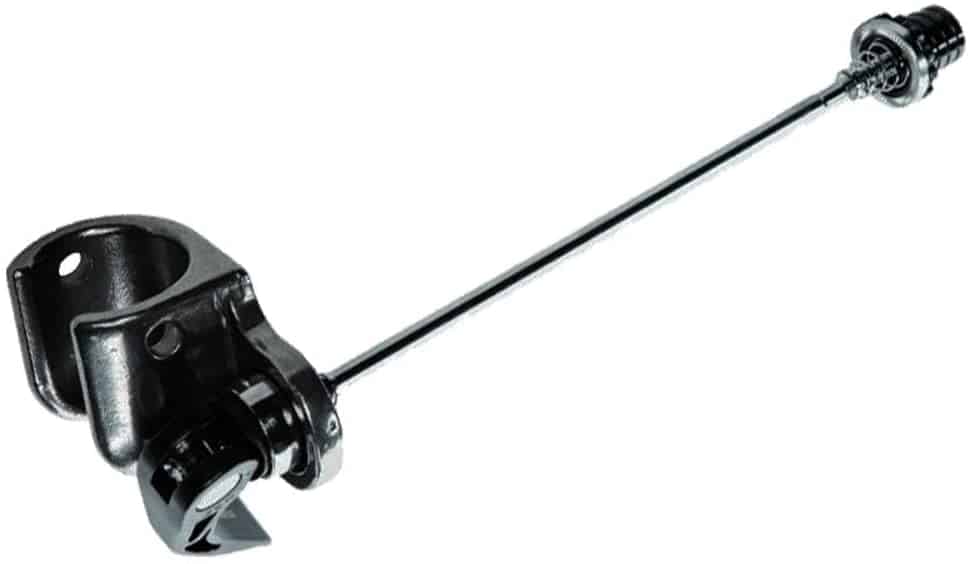 Compatible with: Thule bike trailers
Price: Around $50 (check price here)
---
Potential issues with disc brakes
Most bike trailer couplers are compatible with disc brake bikes right out of the box, unless you have a 12mm thru-axle. In particular, Burley and Thule bike trailers may require you to purchase an extra attachment in order to adapt the bike trailer hitch to work with a 12mm thru-axle.
Although it is possible to attach any bike trailer coupler with any style of disc brakes (with the right adapter), it is important to note that not all brands of bike trailers play nicely with the almighty disc brake.
Burley trailers and Thule trailers in particular are notorious for being incompatible with disc brakes.
If you have disc brakes, you must read this guide on disc brakes and bike trailers.
---
Conclusion
If you're thinking to just make do without getting a new coupler or make your own, don't do it!
Couplers are cheap and designed to ensure safety and security while pulling the bike trailer. They're just one of those things you need in order to pull a bike trailer properly, but sometimes they break or get misplaced.
I know, it's a hassle to get a new one, but for just $10–$15, it's worth the investment to experience the fulfillment of pulling a bike trailer and precious cargo with your own two legs. 
Need help finding the right bike trailer?
If you need help finding the right bike trailer for you, my recommended trailer for most people is the Swhinn Joyrider, which is an affordable double-seater that converts beautifully to a stroller. Check out my full review with photos here.
Check out the Ultimate Guide to Buying a Bike Trailer for more help with choosing a trailer. I also have compiled a list of the top bike trailers for every common situation, which you can check out here.
Ride on!