Biking is a fun sport for all sorts of people, even those with small children! Thanks to biking seats, you can take your little one with you wherever you choose to ride, making it a fun event that the entire family can enjoy together. The only question remaining is, can you attach a child's bike seat to a carbon frame, and why or why not?
A child bike seat can be attached to a carbon bike frame, but it is rare to find one that can withstand that kind of weight. It is never recommended to mount a carrier on a carbon bike frame simply because most carbon frames were not built to deal with that kind of weight and pressure.
If you have a carbon bike frame you can either take the risk, call your bike's manufacturer, or just play it safe and pick a different bike to attach the seat to. However, there are a few bikes out there that can hold a child carrier with no problem. Read on to learn about some reliable child carriers and a few safety tips to use before you go out biking!
Carbon Frames and Child Seats: Can My Bike Handle It?
As mentioned before, carbon frames are not generally designed to hold child carriers because they are not as strong as most metal frames. This is primarily because of a major difference in manufacturing methods. Metal frames are reinforced all the way around and made stronger than they might need to be. This is why they can support the weight of most child bike seats.
Carbon bike frames are manufactured in sheets or layers which make the frame only as strong as it needs to be to support the bike itself and the rider. Carbon bike frames do not usually take any extra or added weight into account when they are built. For this reason, they are not the best choice for those who want to mount carriers on the back of their bikes.
However, you should keep in mind that not all carbon frames are created equal. Some are made stronger and thicker than others, and these are most likely capable of withstanding a little extra pressure and weight in the back area. Again, if you want to know for sure, your best bet is to call the manufacturer of the bike to find out whether your specific bike frame can handle a child carrier or not.
Child Bike Seats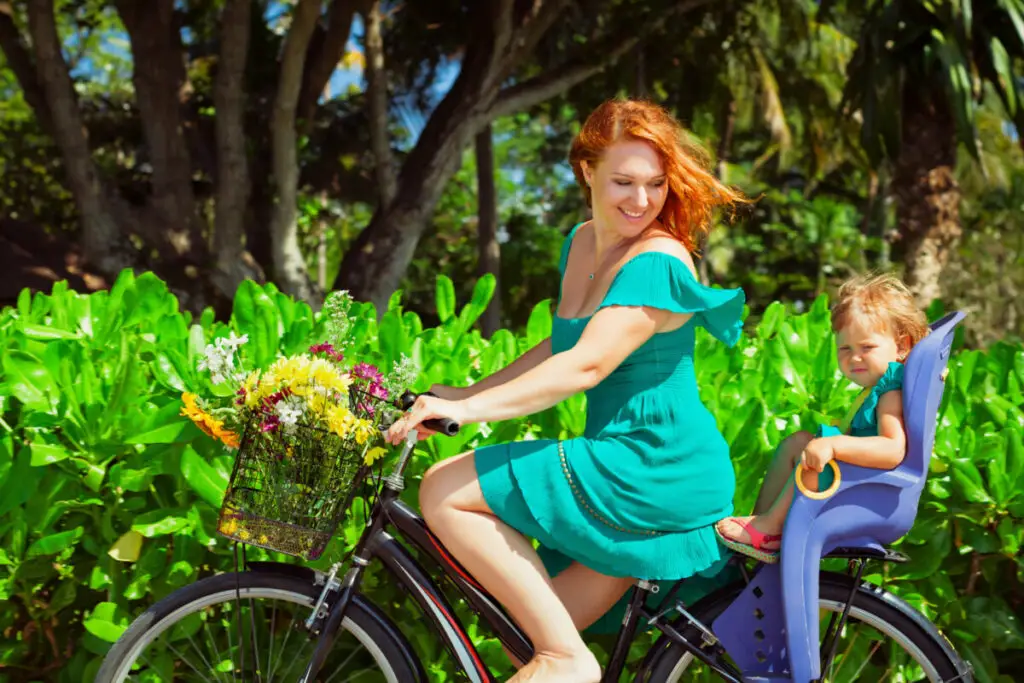 Once you have determined whether your bike can handle the child carrier, the next step is to find a carrier that works for you and your child. Here are a couple of reliable options that you may want to consider!
The Hamax Caress seat is always a great option because it is adjustable. This seat is flexible enough to accommodate pretty much any kind of bike frame so you will have a lot of options (just remember to call the manufacturer to make sure your bike can handle it). This seat has reclining options and good suspension which makes it easy for your kids to be comfortable and even take a nap if they want to!
The only downside to getting a Hamax is the fact that there is little to no padding around the neck and shoulders. You can fix this at home to a certain degree, but it would still be nicer to have some secure cushioning around your child's head so they wouldn't feel uncomfortable. On top of that, some of them are a tad complicated to install.
The Maxi is another carrier that is a great choice for cyclists. This one is easy to install and requires very little fuss to set up. On top of it all, the Maxi is water-resistant and very easy to clean so you don't even need to worry about anything spilling on it. Plus, it's padded and will add to your child's comfort wherever you ride.
The Maxi does have a couple of flaws, however, and one of those is the lack of adjustability. There are no options for reclining, which means it might be difficult for your child to be comfortable while riding. This also means you might have to forget about your little one being able to take a nap while you ride because they won't be able to lean back and relax.
If you are looking for a carrier on the smaller end of the spectrum, the Burley Dash is the thing for you! This carrier is more suited to babies and toddlers. You will have to be careful not to overload the carrier, but that is a small price to pay for this kind of security. There is even a little storage pocket on the back of the seat where you can stash snacks, diapers, or whatever else you may need.
The only drawback of this option is the size and weight limit. You will have to be very cautious about the size and height of the child you put in there because the carrier is small and can only handle so much weight and certain heights. Additionally, there is no ventilation in the back of the seat so your kid's back might get a little sweaty!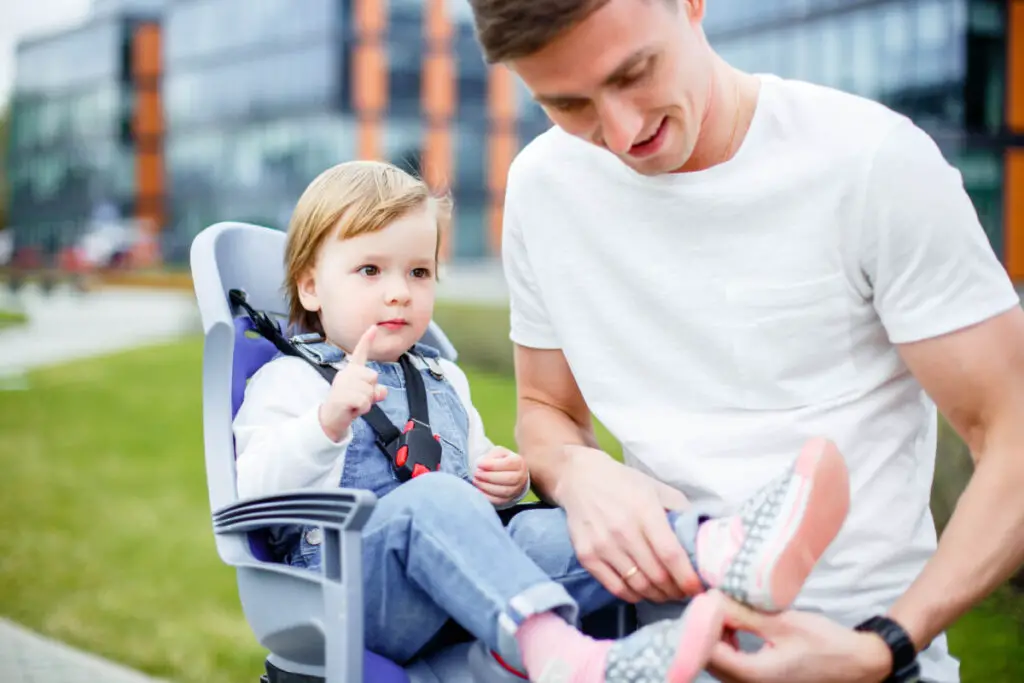 If you are going for comfort, then you should give the Blackburn CoPilot Limo a second look. This carrier has removable and washable padding that is thick and plush. This means you will not have to worry about your child being uncomfortable while on a bumpy ride. Plus, the seat can recline pretty far back. If you want to get a carrier that will put your child to sleep on a long bike ride, this is going to be one of your best bets.
The only thing you'll have to take into careful account is the fact that, while these pads are removable, they are not always replaceable. Blackburn's carrier parts have become somewhat limited as far as replacement is concerned, so the longevity of a Limo carrier might be somewhat questionable. However, if this is a risk you are willing to take, go for it!
---
My Recommended Gear for Year-Round Cycling on a Budget
It took me years of trial and error to figure out the best and most affordable setup for my daily bike commuting. I would only recommend the gear that is good quality for a good price. Here's my full year-round gear recommendation guide.
Want to know how much your cycling gear should cost? Check out my guide with different budget options here.
Ride on!