Most people consider bike trailers to be a luxury expense—something that only those with money, time, and health can afford.
I happen to think that bike trailers are an investment, rather than an expense. My experience with riding with my kids in a bike trailer regularly for the last 6 years has shown me that the benefits heavily outweigh the initial cost of the purchase.
---
How much do kid bike trailers cost?
Bike trailers cost from $100 on the lowest end to $1,000 on the higher end, and everywhere in between. The cost of a bike trailer varies depending on several factors, including safety features, frame materials, seat capacity (single or double), and stroller conversion capabilities.
Here's a breakdown of how much bike trailers cost for different features:
| | | |
| --- | --- | --- |
| TRAILER QUALITY | PRICE RANGE | NOTES |
| Budget | $100–$200 | A budget-friendly trailer gets the job done. It's barebones, no stroller conversion, no easy folding/unfolding. |
| Entry-level | $200–$500 | An entry-level trailer will typically have stroller conversion with better safety features, like a stronger canopy. |
| Mid-range | $500–$800 | Mid-range trailers are often a sweet spot for families. They offer the highest-quality features at a mid-range price, with excellent usability, durability, and safety. |
| High-end | $800–$1,000+ | High-end trailers are for the experienced, adventurous, or radical riders. They offer unbelievable quality and smoothness, with suspension, easy conversion to strollers/joggers, and easy storage. |
---
What exactly are you paying for?
If you're new to bike trailers and just want to get started immediately, it might be tempting to go for the $100 budget Allen bike trailer.
That might be the best option for you, but your budget and how you plan to use the trailer could benefit more by spending $300 for an entry-level Burley bike trailer.
As you climb the price ladder, you get better features and quality.
For a budget trailer, you typically won't get a stroller conversion kit, and you get lower-quality covers that are cumbersome to remove, as well as smaller wheels.
For an entry-level trailer, you'll find stroller conversion and a canopy cover with better safety features.
For a mid-range trailer, you start to see very high-quality materials and durability for an affordable price, as well as stroller conversion and solid safety features.
And at the highest-end, you get the bells and whistles, with suspension on the trailer for rough terrains, ultimate comfort, and unparalleled quality.
---
Comparing a cheap trailer to a more expensive trailer
Basically, as you climb the price bracket ladder, bike trailer manufacturers just add on functions and usability features.
At the lowest price point, such as with the Instep Bike Trailer, you get a very bare-bones design that is not easy to store, has smaller 16-inch wheels, does not have a protective cage, and does not convert to a stroller.
At the highest price point, such as with the Thule Chariot Cross, you get stroller conversion, large wheels and suspension for an extra smooth ride, and a protective cover that keeps the kids more enclosed.
In the mid-range price range, you often get a stroller and better quality safety features and materials.
Personally, I recommend the lower mid-range bike trailers, such as the Schwinn Joyrider or Burley Bee, as you get the main features of a high-end trailer without breaking the bank.
---
$120 Instep vs. $350 Schwinn Joyrider
To help illustrate the difference between the price ranges, here's a side-by-side comparison of a $120 Instep bike trailer and a $350 Schwinn Joyrider.
1. Canopy Cover
$120 Instep Trailer Cover: The cover on the Instep is plastic/mesh and uses a snapping system to cover the front of the frame. It can be cumbersome to attach, as you have to attach and detach the cover every time the kids ride. The cover snaps actually have come off while I was riding. This model does come with a rain cover.
$350 Schwinn Joyrider Cover: The cover on the Joyrider is more of a cage than a cover. It has strong metal bars that pull down to cover the frame. The care also locks into place so that it will not come off during a ride. In the event of a crash, I would be confident in the solid materials of the protective cage. This model also comes with a rain cover.
---
2. Wheels
$120 Instep Trailer Wheels: The wheels are plastic and 16 inches, which is rather small. The gold standard for bike trailer wheels is 20 inches, as they add more comfort and smoothness to the ride.
$350 Schwinn Joyrider Wheels: The wheels are 20 inches with metal spokes, which makes the ride much smoother, especially riding through rough terrain, mud, or puddles.
---
3. Folding & Unfolding
$120 Instep Trailer Folding: Folding and unfolding the Instep trailer is much more involved, as it is not a simple matter of folding it flat. You have to remove the canopy, and then fold the frame into itself.
$350 Schwinn Joyrider Folding: Folding up the Joyrider is much simpler, as it is more like folding a regular stroller. There are latches on the sides of the frame that you pull up to allow the trailer to fold in half.
---
4. Stroller Conversion
$120 Instep Trailer Stroller: The single-seat Instep trailer does not come with a stroller conversion kit. However, the double-seat version is able to convert to a stroller. The stroller on the double-seater uses a front wheel attached to the end of the arm hitch, which is not the best place to have a stroller front wheels because it may bump into things (and it looks a bit odd).
$350 Schwinn Joyrider Stroller: The Joyrider comes with a stroller conversion kit. The large 20-inch wheels and the double seats combined make this trailer an excellent stroller, as well as a bike trailer.
---
5. Seats
$120 Instep Trailer Seats: The Instep uses a "hammock-style" seat, which is less comfortable if you have two kids riding together, as they will be sliding into each other. It does have a 5-point harness.
$350 Schwinn Joyrider Seats: The Joyrider has a "bench-style" double seat, which is more sturdy and comfortable for kids riding together. It also has a 5-point harness.
I wrote an in-depth honest review of the Instep Bike Trailer after testing and riding with it, where I go over everything you need to know about that trailer. You can check out that review here.
I also wrote a comprehensive of the Schwinn Joyrider, which is my recommended choice for the best double bike trailer for kids. Check out that review here.
---
Top 4 Best Value Bike Trailers: The Exceptional Trailers
With bike trailers, you generally get what you pay for. However, there are certain exceptions to the bike trailer price brackets outlined in the table above.
This is where the magic happens and you start to find deals on bike trailers that have higher-quality features for a lower price.
Here is my list of the most exceptional trailers that are truly the best bang-for-buck investments:
---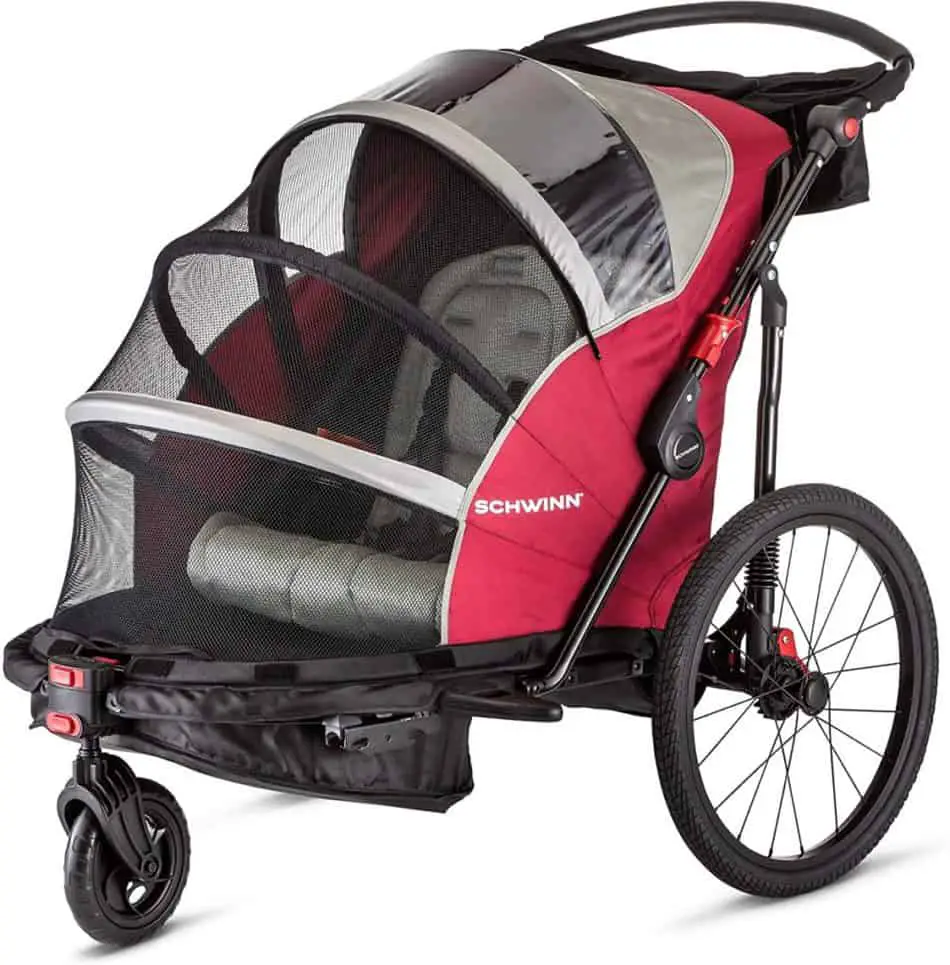 Price: Around $350 (check on Amazon)
My personal trailer of choice, the Schwinn Joyrider is a steal of a deal for what you get. It has high-end features, such as easy stroller conversion out of the box, a solid protective cage, and large interior space. You get all of that without breaking the bank at just around $350!
Best Features: Double seats, stroller conversion, strong protective cage
---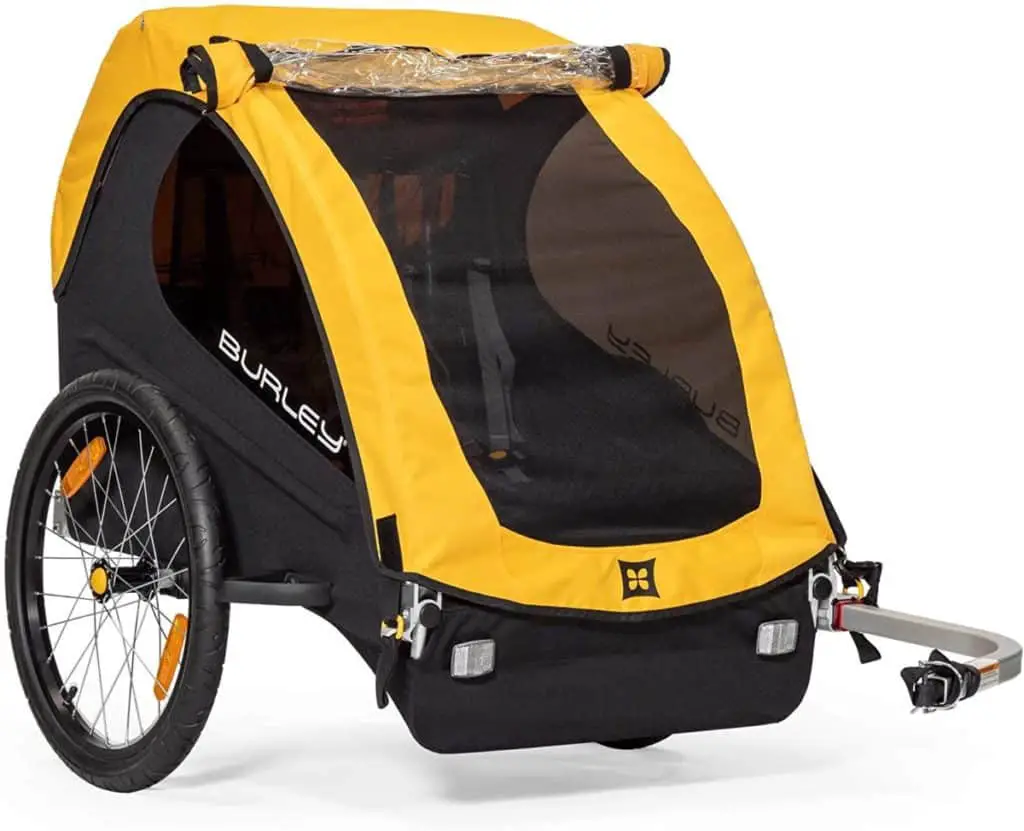 Price: Around $300 (check on Amazon)
A high-quality, lightweight, and budget-friendly bike trailer for frequent riders, the Burley Bee is one of the best bang-for-buck trailers on the market. Stroller conversion is not available.
Best Features: Great price for a quality double-seater, 20-inch wheels, large interior space
---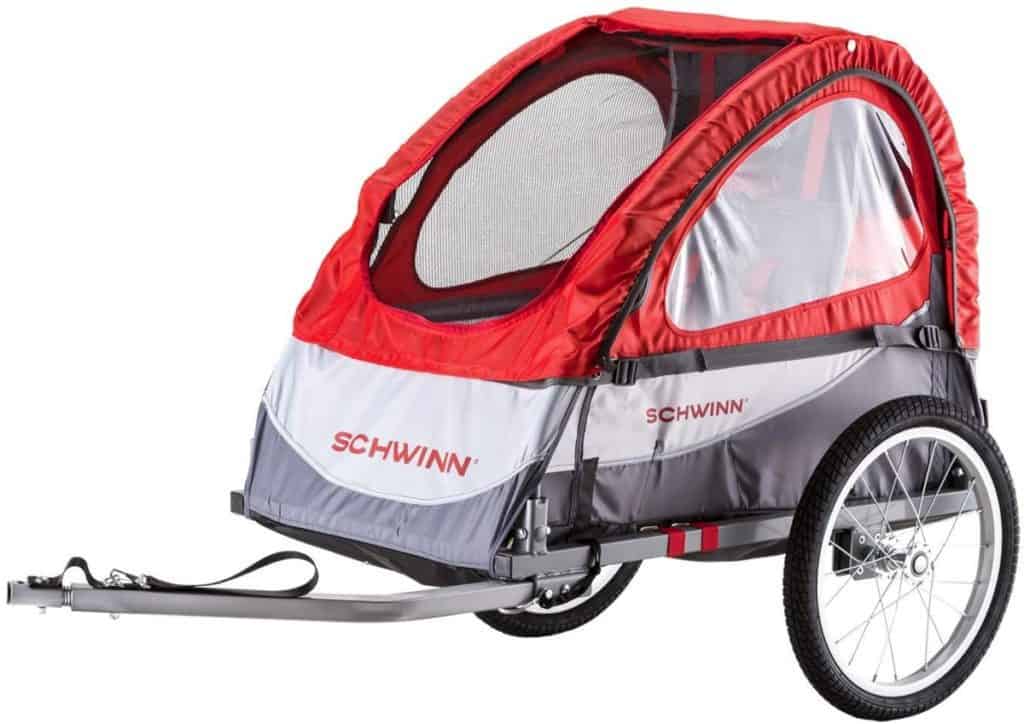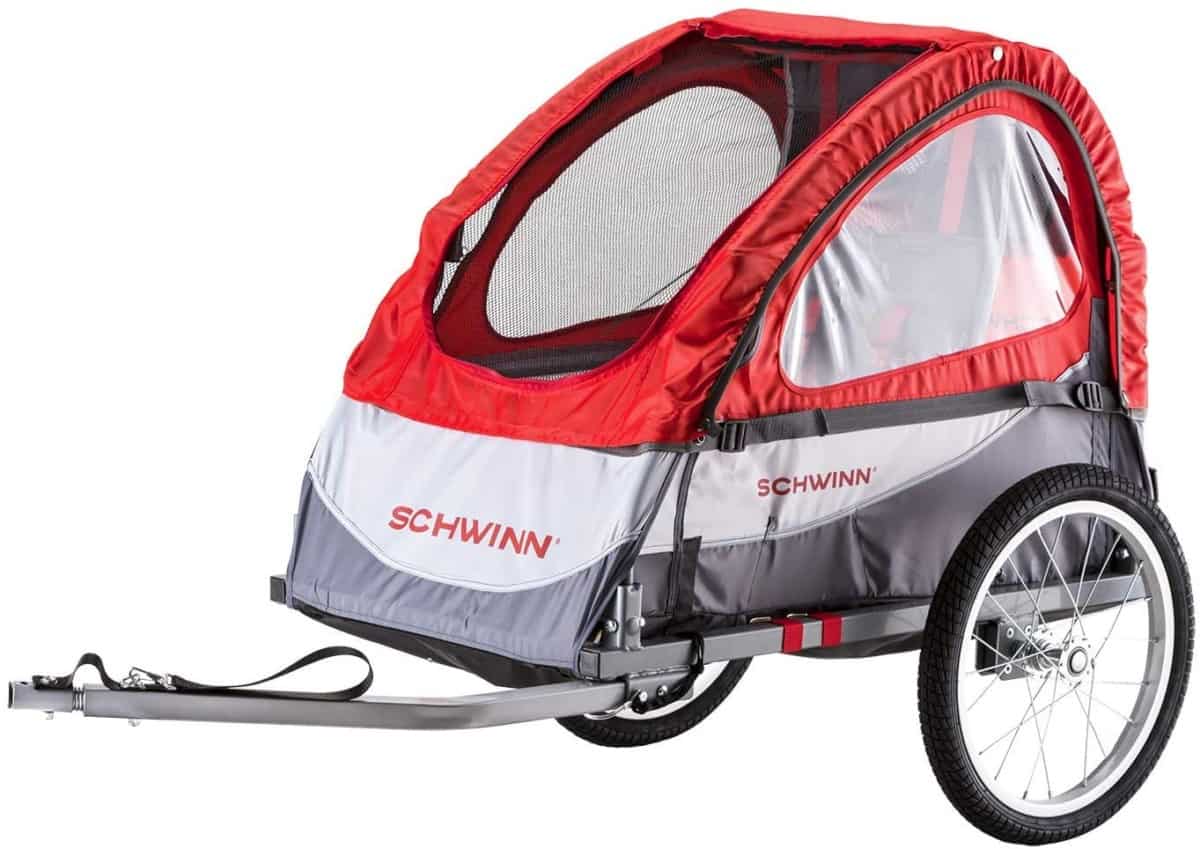 Price: Around $130 for single, (check on Amazon) or $200 for double (check on Amazon)
For budget-minded families that also want a bike trailer with great reviews, the Schwinn Trailblazer is hard to beat at under $150! There are two other noteworthy trailers that are in the same price range as the Trailblazer: the Instep and the Allen Deluxe. The reason I would recommend the Schwinn Trailblazer over those two options is simply because of the quality. They just don't have the same level of durability and safety features that the Trailblazer offers.
The Trailblazer also comes in a double-seat capacity and stroller conversion for around $200. You can check out that model on Amazon here.
Best Features: Acceptable quality for a budget trailer, double and single seats available, stroller conversion available on double
---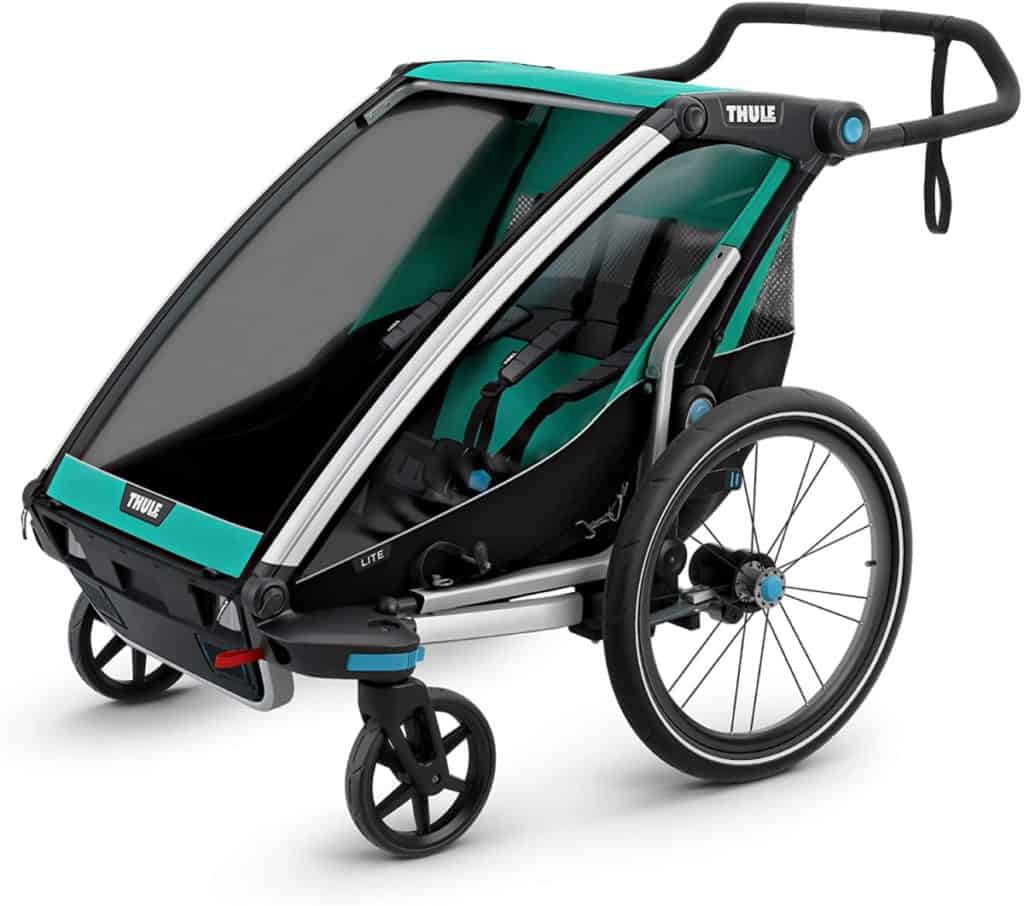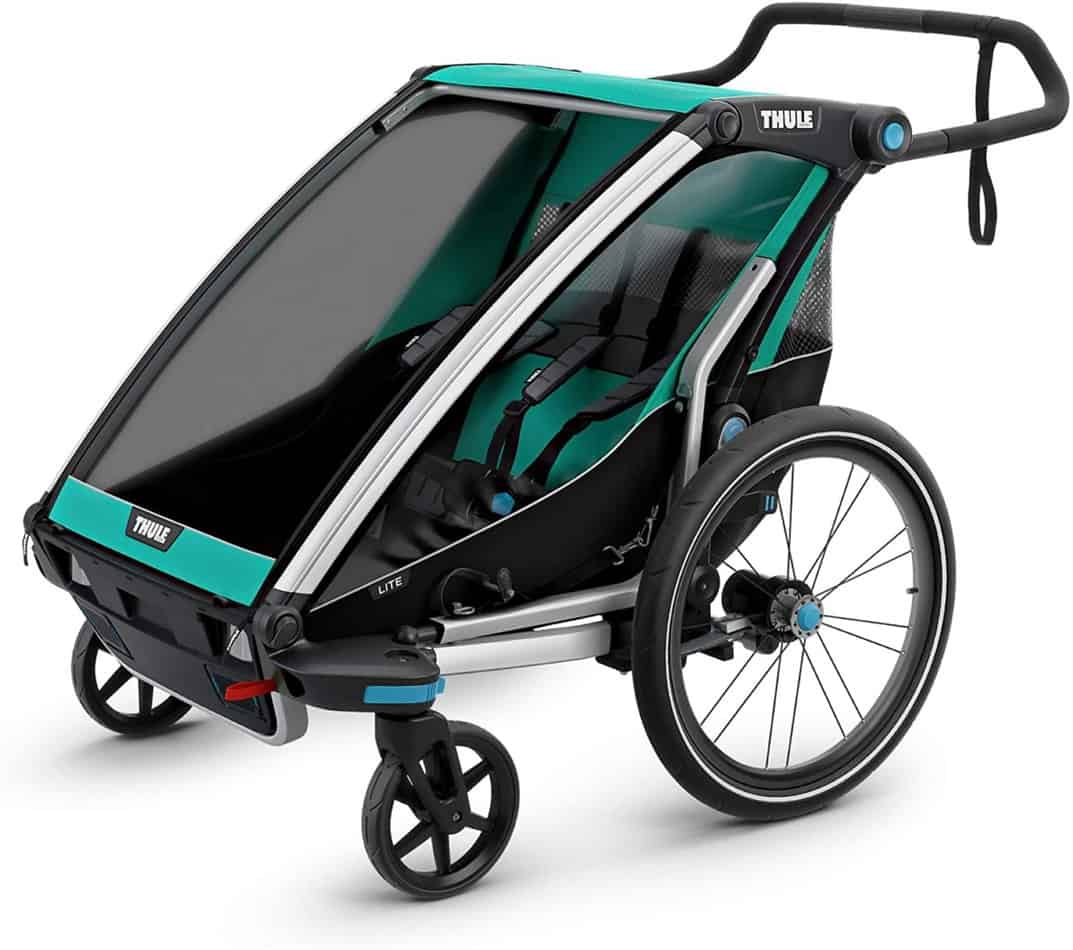 Price: Around $780 for double (check on Amazon) or $880 for single (check on Amazon)
Best for active families who want the most out of their bike trailer, the Thule Chariot Lite is a quality lightweight trailer that is worth every penny. Although on the higher end of the price spectrum, the Chariot Lite is actually a few hundred dollars cheaper than its older brother, the Thule Chariot Cross. For that reason, the Chariot Lite makes the list of exceptional trailers and I would recommend it to someone looking for a high-end trailer.
Best Features: Suspension for an ultra-smooth ride, exceptional stroller, comfortable bench-style seats
If you haven't seen the Top 5 Bike Trailers of 2021 yet, be sure to check that out! This is my on-going list of best-for-each-situation bike trailers.
---
How you use the trailer will determine your price range
Every situation calls for a different type of bike trailer in a different price range.
For example, a family that just plans on occasional outings on paved bike paths probably doesn't need to swing for a $1,000 Thule Chariot Cross. They might do just fine with a $300 Burley Bee (just trailer) or a $350 Schwinn Joyrider (stroller/trailer).
---
Why bike trailers are an investment—not an expense
In order to justify the cost of buying a bike trailer, it's important to first see the purchase as the investment that it is. It should not be seen as a luxury purchase time that will be used a few times and then stored in the garage for eternity.
Here are four not-so-obvious benefits of riding with a bike trailer:
1. It's good for your kids
This is probably the main reason families get into bike trailers—it's just all-around fun and healthy for the kids. From the age of 1 year old (or younger) to around 6 or 7, kids can enjoy the great benefits of being outdoors without having to know how to ride a bike themselves.
On top of that, something we don't often consider is that kids are constantly watching our behavior. If they see that we are choosing to bike instead of taking the car, then they will model that behavior throughout their lives.
Our family's rule is that if our destination is under 3 miles, then we must bike or walk. Many people write this off as impossible or dangerous because they are accustomed to driving and therefore don't know that there are perfectly safe and feasible roads/paths all around us.
I was living in New Jersey when we started riding with a bike trailer, which is arguably one of the most bike-unfriendly areas in America.
2. It's good for your health
What about you? Will you lose weight and have your heart become more efficient at pumping blood as a result of pulling a bike trailer? YOU BET.
With around 40 to 100 lbs of extra weight behind you, you're going to be putting down more power, burning more calories, and making your heart work harder.
If you just determine to ride with the bike trailer once per week for about 3-5 miles, you will get a killer workout just from that. The longer you go and the more hills you climb, the more efficient your body will become at pulling the extra weight.
So yes, bike trailers are an investment in your health. Not only physical health but mental health too. Driving is stressful. Driving with kids is outright the worst. The simple act of getting in the car with the kids is a huge task.
With bike trailers, on the other hand, every ride is an adventure and a huge stress relief.
3. You can save money
Depending on how determined you are to make biking a lifestyle as opposed to driving or taking public transit, you can save a significant amount of cash.
Just keep this mind-blowing statistic in mind, provided by the US Environmental Protection Agency (epa.gov):
"Car trips of under a mile add up to about 10 billion miles per year, according to the 2009 U.S. National Household Transportation Survey (NHTS).2 That's like the entire population of Chicago driving to Las Vegas and back!

If we all chose to power half of these short trips with our feet instead of petroleum, assuming an average fuel economy of 22 mpg and an average fuel price of $2.50/gallon, we would save about $575 million in fuel costs and about 2 million metric tons of CO2 emissions per year. That's like taking about 400,000 cars off the road each year. The total financial savings are even bigger — almost $900 million dollars — when you include savings on maintenance and tire replacement."
So if you have similar driving habits as the average American, you could cut your driving time and costs significantly by just biking instead of driving.
There are surely many reasons not to do that, such as safety concerns, fitness level, etc. But you never know until you try. I would suggest making a list of the most common destinations that you drive to from your house, and then take out Google Maps to see what the safest route would be to get there.
Now, the thing about bike trailers is that I do not recommend using them on the road. I only really feel comfortable riding on the sidewalk or on bike paths. This is mainly because the bike trailer is significantly wider than the bike, so it becomes difficult to ride on the shoulder of the road. In addition, the bike trailer is lower to the ground, so cars may not see it while they are passing you.
4. You can save the environment
As mentioned above, 10 billion miles worth of car trips every year are under 1 mile. Just think about the environmental impact it would have if we all decided to start biking all distances under 1 mile.
Not only would it have an impact on the environment, but it would have a significant impact on car safety (fewer cars), as well as our personal wealth (savings) and health (body performance). Of course, there would be a huge economic shift we would have to deal with! But after that settles, the end result would be a cleaner, healthier, happier, and wealthier world for everyone.
---
Conclusion
If you follow the advice outlined in this article and just get one of the bike trailers with exceptional value mentioned above, then you really can't go wrong.
First, identify your price range, and then identify how you plan to use the bike trailer:
If you're looking for a double-seater that converts to a stroller, then go for the Schwinn Joyrider.
If you're on a tight budget, then the Schwinn Trailblazer is a good option.
If you want an excellent trailer that gets the job done, then the Burley Bee is a solid choice.
For more adventurous or experienced riders, then the Thule Chariot Lite is a good deal for the amount of quality you get.
In the end, the important thing is to just get a bike trailer and get outside. In many cases, you can even return the trailer if it doesn't suit your needs.
Need help finding the right bike trailer?
If you need help finding the right bike trailer for you, my recommended trailer for most people is the Swhinn Joyrider, which is an affordable double-seater that converts beautifully to a stroller. Check out my full review with photos here.
Check out the Ultimate Guide to Buying a Bike Trailer for more help with choosing a trailer. I also have compiled a list of the top bike trailers for every common situation, which you can check out here.
Ride on!