Bicycling as a sport is growing in popularity. Whether you're testing the waters of mountain biking, experimenting with road biking, or you just need a reliable way to get around, there is a good bike out there for you. Some bikes can certainly be expensive, while others can be found for dirt-cheap prices at your local grocery store. How much do they cost?
The cheapest bikes can be purchased for $100-$300. These are fine for learning to ride and getting around town, but may not be the best option if you're interested in getting serious about biking. Enthusiast bikes can cost anywhere from $2,000 to $15,000, depending on the accessories and quality.
The price of the bike will also depend largely on the type of bike it is. The following breakdown will go through five main categories of bikes and explore their price ranges. Whether you're serious about starting a new hobby or are just looking for a bike for your child, read on to find out how much you should spend.
Be sure to also read my recommended gear after you find your bike!
Cost of Department Store Bikes
Most of us probably got our first bike from Walmart or another department store. If you learned to ride a bike as a kid, your parents probably didn't want to spend money on an expensive bike when you would just grow out of it a year later. That's what makes Walmart bikes so appealing: they're cheap! There are different types you can get from this store though.
Mountain Bikes
At Walmart, you can still technically buy a "mountain bike," but your enthusiast friends might laugh. The bike companies that supply Walmart do not make their bikes to be able to withstand rough terrain. They're also not built to provide a safe ride on a bumpy trail. These bikes are made to be easy on the budget, and that's it.
That said, you can find a Walmart mountain bike for as much as $2,100. Though they include all the necessary components of a mountain bike like the shocks and the travel fork, they are made by less reliable brands that are more at risk of cracking or breaking after a few rides.
If you're looking for a bike that will keep your bank account happy, the cheapest mountain bike on Walmart.com is $98, though you may not want to put too much faith in something this cheap. It's probably only suitable for a commute to school and back.
Road Bikes
Walmart road bikes seem to run slightly more expensive on average compared to their mountain bikes. You can find some for as much as $1,600, but you'll run into the same problem as the mountain bikes. Lower quality parts will lead to cracks, breaks, and chips that could be potentially dangerous.
If you're willing to sacrifice reliability even more, the cheaper Walmart road bikes can be around $200, though on average, Walmart road bikes cost about $400-$500.
Other Stores
Are these low-price, low-quality bikes the same across the board, or is Walmart the only one trying to do things cheaply? Costco, for instance, has a smaller selection of bikes than Walmart does, and none of them are categorized by mountain or road. Costco's cheapest bike is $250 and their most expensive is a cruiser that costs almost $2,000.
At Target, you can buy a mountain bike for $149, which is pretty standard compared to Walmart. The highest price of a mountain bike at Target is only $450. If a department store bike is what you're planning on buying, Walmart does seem like your best bet because they have the widest variety of bikes and prices.
Altogether, department store bikes are a good choice if you're not serious about biking. They work well enough for a commuter bike, or as toys for your kids, but shouldn't be used as intensely as more expensive and better quality bikes.
Cost of Road Bikes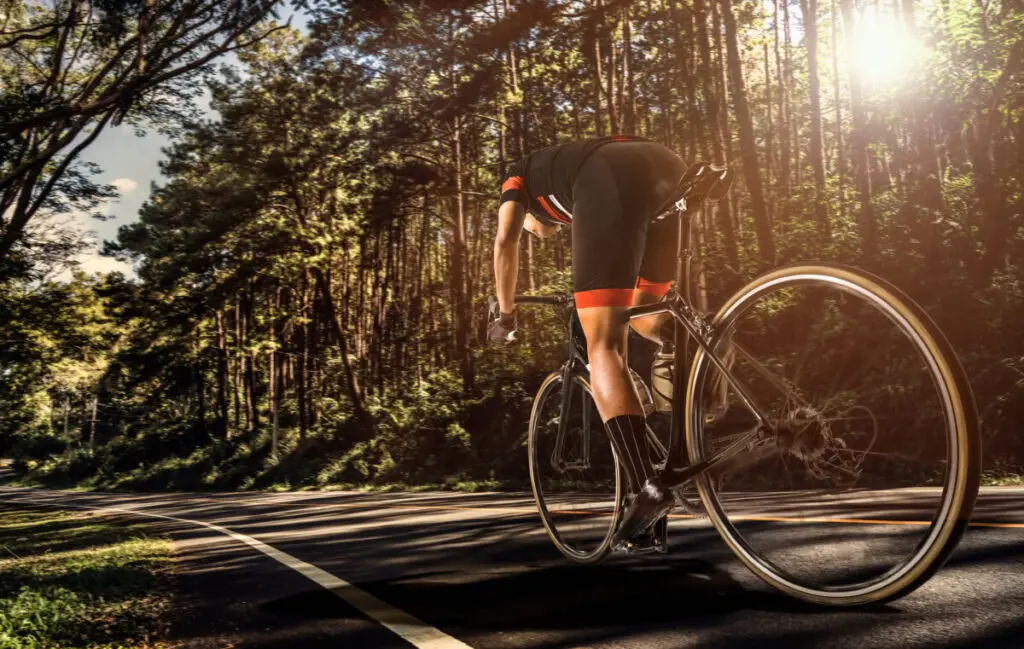 Road bikes are built for a very different purpose than mountain bikes. While mountain bikes need tires with good grip and powerful gears, road bikes are slimmer and built for riding on smooth surfaces like paved roads and sidewalks. Road bikes are among the lightest bike types and are not capable of carrying heavy loads.
There are many types of road bikes including cruiser bikes (which we'll discuss below) and tour bikes. Here, we'll be looking over racing bikes and what they cost online and at a local bike store we consulted. For more accurate information about what a racing road bike would cost in your area, search for a local shop and compare prices.
Competitive Cyclist
Listed by In the Know Cycling as the highest-ranking bike store, Competetive Cyclist is a US store that sells high-quality bikes for enthusiasts. You can buy a fantastic, long-lasting road bike for $9,700. This most expensive bike is a Cervelo Aspero. Bikeradar says,"Cervelo is one of the most prestigious brands in cycling". You can rest assured that a Cervelo will treat you right.
On the lower end of the scale, the All City Super Professional Apex Road Bike is only $1,800. This bike won't suit you so well in a race setting but is a great option for delivering newspapers or cruising around the city. In between these two ends of the spectrum are a plethora of road bikes that are outfitted with all sorts of gear to make your ride as smooth and comfortable as possible.
Bicycle Warehouse
As one of the more popular bike stores in the country, Bicycle Warehouse is cheaper than some other providers but still provides good quality rides. Their cheaper road bikes cost about $870, which isn't bad. However, these cheaper bikes could run into similar problems as your Walmart brand bikes because they're made with lower-quality parts.
The most expensive Bicycle Warehouse bike is the 2021 Niner RLT e9 RDO 4-STAR Shimano GRX600 Electric Gravel Road Bike. It costs $5,700 and sells out quite quickly. This means it's a popular bike! Shimano is another one of those prestigious bicycle brands that control the market. They are absolutely a good brand to buy from.
Hangar 15
This bike shop was personally recommended to us by a mountain biking enthusiast. Hangar 15, like most bike sellers, have all sorts of bikes in stock, including road bikes. The cheapest road bike (a Specialized Allez) at Hangar 15 costs $1,000. Specialized is a trusted bike brand according to Pro Bike Corner who said, "the quality of their products is high and you can definitely buy Specialized bikes without regrets."
Another Specialized brand bike also sits at the top of the Hangar 15 road bike price range. It is a 2021 Aethos Red eTap AXS that costs over $13,000. You can't go wrong with such a sturdy brand that gives you all the bells and whistles you could want for your road biking adventures.
Cost of Mountain Bikes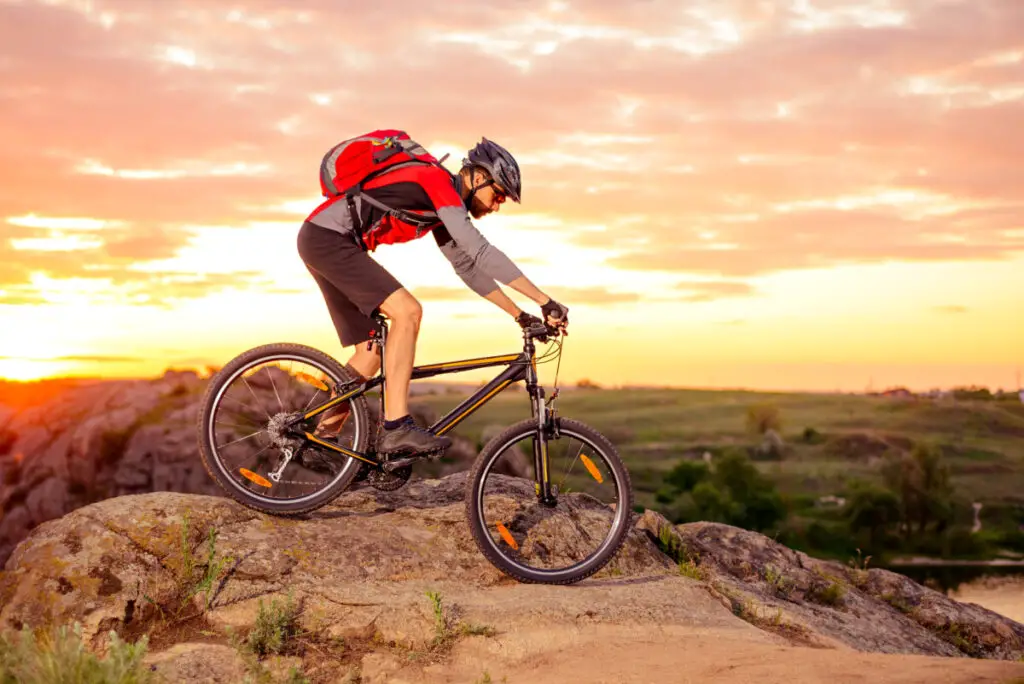 Because mountain bikes require all sorts of shocks and other accessories to keep the rider safe in rough mountainous terrain, they tend to be more expensive. Here's a look at the price range for each of the previously mentioned bike dealers:
Competetive Cyclist: $2,750 – $11,700

Even on the lower end of the price spectrum, a Niner Air 9 has the benefit of being made by a company that is specifically designed for enthusiasts.
On the higher end bike on Competetive Cyclist is an IBIS Ripmo. This bike model may be expensive, but the quality is definitely worth the price if you're serious about the sport.

Bicycle Warehouse: $500 – $8,400

The Head JRA 27 is usually closer to $600 in price, but it often costs less if the company is offering a sale. Head does not make mountain bikes designed for racing, but this bike is not a bad option for getting started.
For $8,400, a Santa Cruz Heckler is a steal. Bicycle Guider says, "Santa Cruz bikes are some of the best around. They're more expensive than what most of the competition has to offer, but the price is well-justified," (source).

Hangar 15: $600 – $13,000

A price that's lower than $600 is not much for a bike that is made by Trek, a company that has a proud history of designing high-quality bikes that can be used by bikers of all skills levels and experience (source).
We've already mentioned the fantastic quality of Specialized bikes. $13,000 at Hangar 15 can buy you a 2022 Specialized Epic Evo, which is sure to provide a great ride for years to come.
What makes a quality mountain bike? It really comes down to the parts. Some of the best brands for mountain bike parts include:
Shimano (XT, XTR/Dura-ACE)
FOX
ROCKSHOX (SRAM)
These brands make individual parts of bikes, and if you see their logos, it's a good sign that the bike you're looking at could be a high-quality choice.
Cost of Hybrid Bikes
As the name suggests, hybrid bikes are a combination of road bikes and mountain bikes. They're the sort of thing you get if you like biking anywhere. Hybrid bikes have large padded seats and upright handlebars for comfort but aren't as light as most road bikes. They can be ridden off paved roads, but shouldn't be taken on trails that are too rough or unwieldy.
How do hybrids compare with their more specialized ancestors? Competitive Cyclist doesn't offer any specifically hybrid options for bikes, so we'll be referencing only Bicycle Warehouse and Hangar 15 here. Again, for more accurate prices, you should refer to your own local bike shop.
The 2022 Trek FX 1 Disc sits at the lower end of the spectrum on Hangar 15. As mentioned earlier, Trek is a good brand for well-rounded cyclists. In fact, Trek is the most common brand for hybrids on Hangar 15. Another popular brand is Specialized, though there aren't a whole lot of options in general.
Buying a hybrid is probably something that's more commonly done at a department store. High-end bike stores don't seem to place much stock in the concept of riding on trails or on road with the same bike. The best bike Hangar 15 has to offer is the 2021 Specialized Roll Elite Low Entry at $1,100.
For Bicycle Warehouse, the lowest price for a hybrid is $325, and the highest is $3,500 for a motorized bike. They do have more options than Hangar 15 did, so you can check out their website to view their catalog.
Unless your biking interest is strictly entry-level, hybrid bikes are probably not the best option for you. Buying two bikes — one road and one mountain — would be better for those who plan on riding in both types of terrain. Hybrids might sound appealing because they're cheaper than buying just one road or mountain bike, but that cheaper price usually means they won't do as good of a job at either purpose.
Cost of Cruiser Bikes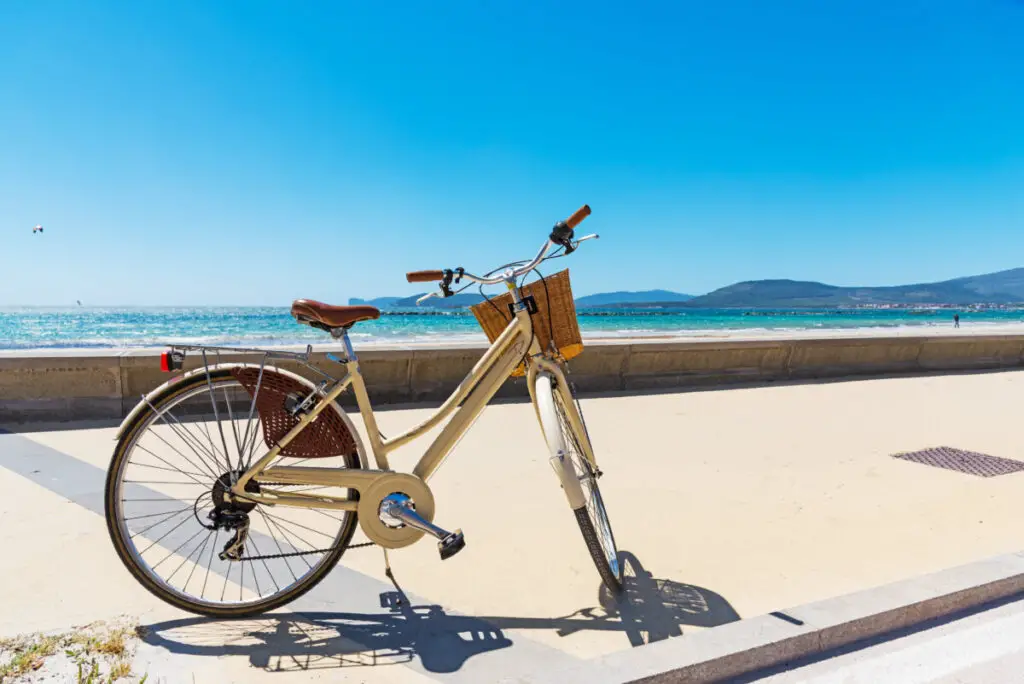 You may not recognize the name of cruiser bikes, but you've almost certainly seen them. Cruiser bikes are the classic casual-ride-through-a-small-town bike that you see in movies all the time. They are designed to be comfortable and are not made for any kind of strenuous type of riding. The handlebars are very upright and sometimes curved toward the rider. Cruisers also don't generally have more than 1-3 speeds.
At Bicycle Warehouse the cheapest cruiser bike is $325 and the most expensive is $1,300. And at Hangar 15, cruisers are just a little bit more expensive at $380-$899. Trek is a popular brand for cruiser bikes, as well as Manhattan. If you're looking for a higher-quality bike that can be used casually for the same price as a Walmart bike, cruisers are a great choice.
We haven't even begun to cover all the varieties of bikes you can buy. Road biking and mountain biking are increasingly popular, and if you're late to the game, it can be daunting to see those four-digit price tags. Hopefully, we've provided some basic price information as well as reliable websites to visit when purchasing quality bikes.
Again, if quality bikes aren't what you need right now, department store brands work just fine if you just need a functional mode of transportation. They won't hold up in a race or on any rugged trails, but they'll do alright with limited use.
---
My Recommended Gear for Year-Round Cycling on a Budget
It took me years of trial and error to figure out the best and most affordable setup for my daily bike commuting. I would only recommend the gear that is good quality for a good price. Here's my full year-round gear recommendation guide.
Want to know how much your cycling gear should cost? Check out my guide with different budget options here.
Ride on!