Cycling is easily one of the hardest pro sports out there, a fact even recreational riders can agree with. If you think the hill in your neighborhood is bad, you don't even want to know what these athletes face. But, for the money that they earn, it would be worth it, right?
Most pro cyclists earn anywhere from $15,000 per year to $100,000 per year. That said, domestiques, or cyclist team leaders, can earn even more, their wages ranging from $100,000 to $400,000 per year. The biggest names in cycling, Peter Sagan and Chris Froome, currently make over $6 million a year.
If you are wondering how pro cyclists make their money or what the biggest cycling events that occur every year are, keep reading.
Do All Cyclists Make Money?
Cyclists go through a lot when they compete and go through training. They race over 6,000 miles a year and can be away from home up to 220 days a year, sharing a hotel room with their teammates. Not to mention the fact that their races are anything but smooth sailing. They need to make a large amount of money to compensate for the work they have to do.
Not all cyclists are paid for the races that they compete in. There are several different classes of riders, all paid in various amounts. Too bad for some, one of those amounts is zero.
The superstars are at the top of the food chain and earn the most money per year, earning anything over $3 million. These big earners are the people that are the major team captains, the ones that are expected to finish in the top 3 in the big stage tours, which include the Tour de France and the Giro d'Italia.
Even though the lieutenants and note-worthy domestiques sacrifice their chances of winning to help their superstars cross the finish line, there's a large pay gap between the two groups. While the superstars earn upwards of $3 million, these lieutenants and domestiques are lucky to get $1 million annually.
Those riders that are further down the ranks than the lieutenants and domestiques have another large pay gap between them, earning only $40,000-$200,000. This is a great salary—some of us wish we were getting that much at our 9-5—but for a cyclist, it is pretty low.
How Do Pro Cyclists Make Money?
Of course, even cyclists that aren't paid large amounts, or paid a salary at all, can still earn money. There are many options for pro cyclists to make money.
One way that cyclists can increase their earning is by working their way up the ranks. If a cyclist makes it up to the UCI World Tour, their minimum wage increases automatically to $2.35 million annually. Sadly, it's hard for cyclists to figure out exactly what it takes to make it there. Even with results that seem to be more than enough to qualify, some riders can't seem to make the jump to the biggest of the big leagues.
A way that cyclists can earn money is by appearing at specific races, although this is only how well-known cyclists get paid. Sometimes, a group will pay them to be in the starting lineup of their race. Lance Armstrong was paid over $300,000 in 2009 to participate in the Tour Down Under. More recently, Chris Froome was paid over 1.5 million to line up at the 2018 Giro d'Italia.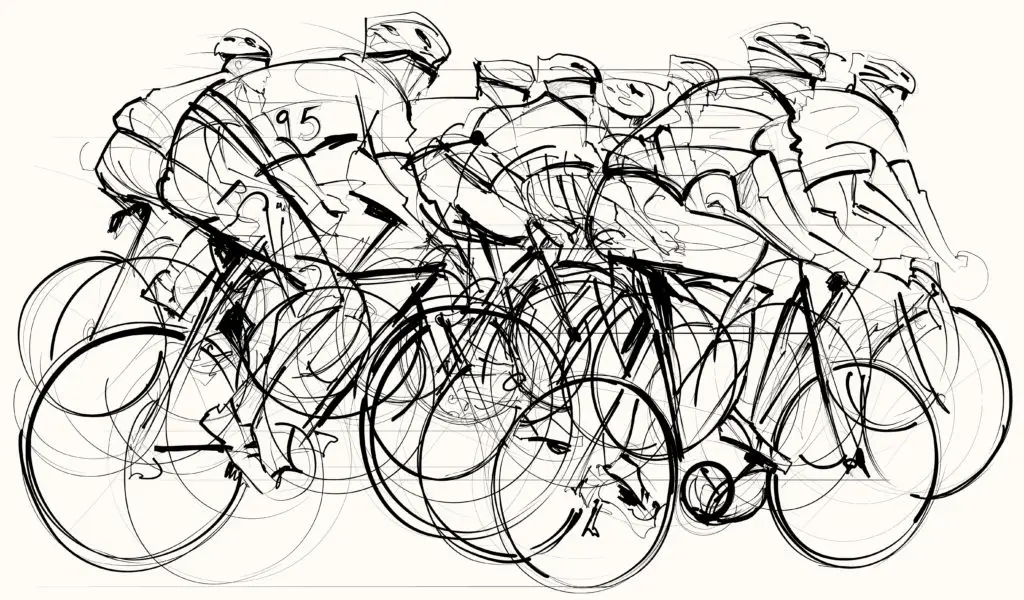 What are the Biggest Cycling Events?
If we told you to think about the biggest cycling events, the first one you would think of is likely the Tour de France, and this would be correct. Similar to the Tour de France are the Giro d'Italia and the Vuelta a España. Together, these three races are known as the Grand Tours and are some of the most prestigious cycling races.
The Tour de France is the crown jewel of cycling events. Though you'll find many riders just there for training at many races, this race is not one of them. Everybody wants to do well in the Tour de France. Winners of this race will earn about $600k just from winning. And after winning, they should probably expect a raise.
The Giro d'Italia is another one of the Grand Tours that is based primarily in Italy. This race was inspired by the success of the Tour de France. Though the winning prize isn't half as large as that of the Tour de France, the $9k is better than nothing. Winners of this race should also be expecting a pay raise. In earlier years, the Giro has put up prize money much closer to that of the Tour de France and the Vuelta.
The Vuelta a España is one of the Grand Tours, and it is the biggest race in Spain. Another popular race in Spain is the Vuelta a Catalonia. The Vuelta a España offers $170k to its overall winner. Interestingly, the Vuelta a España was started in Spain because of the success of the Tour de France and Giro d'Italia.
Do Cyclists Make Money from Sponsorships or Endorsements?
In addition to the many ways cyclists can earn a living, they can also make money from sponsorships or endorsements that they sign up for when they sign a contract with their specific team. This sponsor provides their bikes, uniforms, and more in return for the riders participating in their campaigns. Riders can also enter races individually.
Interestingly, the amount of money earned from these sponsorships is well-obscured. Peter Sagan's assumed deal with Specialized, though it's backed up by several campaigns he has done for them, is still a bit of a mystery. CyclingTips reports that Specialized denies answering their questions due to Sagan's athlete confidentiality. While it is possible to earn money from sponsorships, nobody is sure how much each cyclist earns. We can only assume that it's a large amount of money.
Do Cyclists Have Expenses that Come Out of Their Earnings?
Even though their salaries seem large, it's not all take-home pay. Taxes still apply, but some cyclists are required to give up more of their salary. A 2020 survey done by the Cyclist's Alliance reported that 43% of female riders have to reimburse their trade teams for equipment costs, medical costs, and travel costs.
Similarly, self-employed cyclists don't have any expenses covered, because they don't belong to a specific team. As such, they're expected to pay their own insurances, travel costs, equipment costs, and more. This is why most professional cyclists tend to air on the employed cyclist side, providing better job security and benefits. After all, the highest-paid cyclists in the world are all employed cyclists.
Are Male and Female Cyclists Paid the Same Salaries?
Although it's not the 20th century anymore, the question of whether or not men and women are getting the same salary is one that still needs to be asked. Unfortunately, the pay gap between male and female cyclists is astoundingly large.
There are two types of cyclists: employed and self-employed. While the whole idea of a self-employed cyclist may not make sense, let's clear the air. An employed cyclist is someone who has signed on to a specific team and gets all the benefits of being an employee. They get travel and medical insurance covered, and they don't have to work holidays.
Self-employed cyclists sign on to teams, but only for specific races, and only to the highest bidder. Because of this, self-employed cyclists will typically see higher salaries, but as you add in the extra costs that aren't covered by any team, it seems to balance out.
Male cyclists are paid more on average than female cyclists. Self-employed male cyclists have a reported minimum wage of $74,358, while employed ones will have a minimum salary of $45,341. A good domestique can earn that several times over in a single year, because their minimum wage is $113,213, and their salaries can range from that already large number to an even larger one: $452,850.
Interestingly, there are many more teams on the male side of cycling than the female. With 19 WorldTeams, 19 ProTeams, and 162 Continental teams, men's cycling gets much more exposure than women's cycling, which translates to more sponsorships and higher salaries.
Female cyclists typically get only half the salary of a male cyclist. Self-employed female cyclists have reported a minimum wage of $37,128 in 2021. Employed female cyclists have a minimum salary of $22,639 in 2021. In a stroke of good news, though, salaries for women's cycling are being raised as we speak.
In 2022, the projected salary for self-employed women cyclists is $51,050, which still isn't equivalent to that of men's cycling, but it does a lot to close the gap between the two. Employed female cyclists are projected to earn $30,562 in 2022.
The establishment of minimum wage in women's cycling created rules about holiday pay, sickness cover, and maternity cover. All of these rules were finally made and enforced in 2019. The objective of UCI's pay reforms like these is to have the women's WorldTeam riders earning the same minimum wage as men's second-tier ProTeam riders by 2023. Some teams, like BikeExchange and Trek-Segafredo, have voluntarily made adjustments to the minimum salaries for women, making their WorldTeam riders' minimum salaries equivalent to men's WorldTeam minimum wages.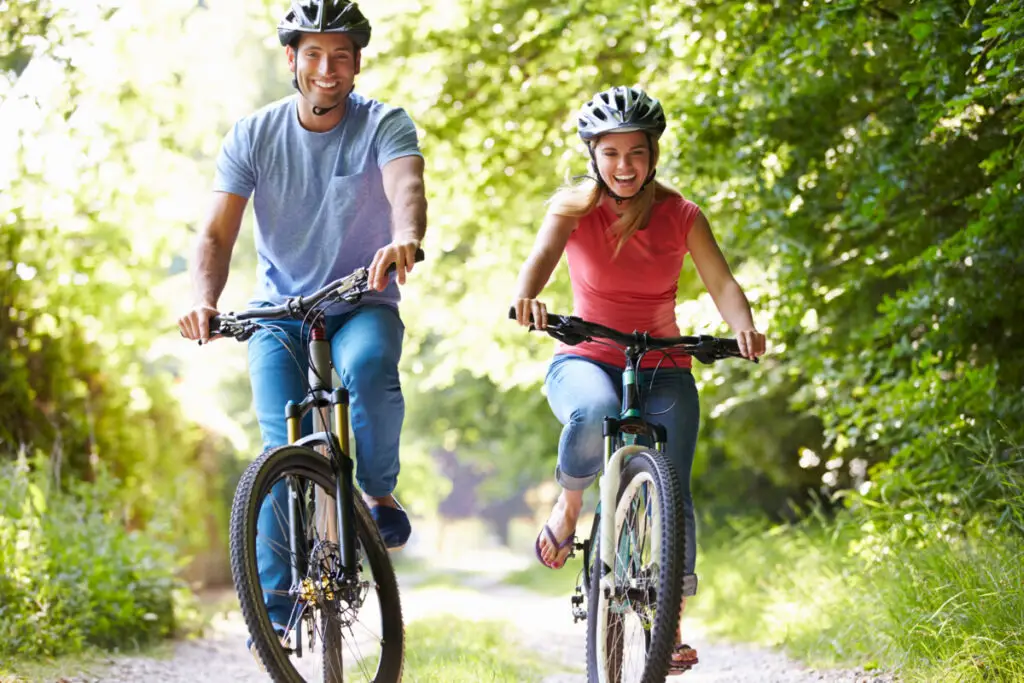 Who Are the Highest Paid Pro Cyclists?
Though there are many great pro cyclists out there, it remains indisputable that there are some cyclists' salaries that fly high above the rest. The highest-paid pro cyclists are those that have won the biggest races, the Tour de France, the Giro d'Italia, and the Vuelta a España, along with having several more professional wins on their resumé.
Chris Froome, the cycling superstar from Great Britain, is said to make over $6 million annually, possibly even reaching about $7 million. And as you look at his record, his gargantuan salary makes perfect sense. The 4-time Tour de France victor has also won the Vuelta a España twice, and the Giro d'Italia once. He's also a 2-time Olympic medalist, proving to the world multiple times that he is very deserving of the zeroes behind that 6.
Just like Froome, Peter Sagan, the legend from Slovakia, is said to make $7 million annually, and just like Froome, his record is incredibly impressive. Not only has he won 3 UCI World Championships in a row, but Sagan also has 113 professional wins under his belt, some of those including the Tour de France, Vuelta a España, and Giro d'Italia.
Tadej Pogacar is a 2-time Tour de France winner with a bright cycling future ahead of him. With plans to possibly compete in the Giro d'Italia in 2022 as well as the Tour de France, Pogacar has hit the ground running. The Slovenian rider also finished third at the Vuelta a España in 2019. He is said to earn about the same amount as Froome and Sagan, hitting in the $6-7 million range.
There is some dispute about which of the three (Froome, Sagan, or Pogacar) has the highest salary. In 2020 and 2021, Peter Sagan is said to be the highest-paid cyclist in the world. However, over the years, Sagan and Froome have risen and fallen, while Pogacar is a new addition to the highest-paid-cyclists scene, looking like he'll be a strong contender in upcoming years.
Other highly-paid pro cyclists include:
Geraint Thomas
Egan Bernal
Michal Kwiatkowski
Julian Alaphilippe
Wout van Aert
Alejandro Valverde
Richard Carapaz
Vincenzo Nibali
Mathieu van der Poel
Adam Yates
Primoz Roglic
Thibaut Pinot
Jacob Fuglsang
Romain Bardet
All of the above cyclists have annual salaries upwards of $2 million. Some more highly paid cyclists include Fernando Gaviria, Nairo Quintana, and Greg Van Avermaet.
After seeing numbers like these, it's a surprise that pro cycling doesn't even make the top three in the list of sports with the highest paycheck. As such, it's interesting to see how non-transparent cycling teams and sponsors are with what they're paying their team members. The highest paying sports include basketball (NBA), Major League Baseball (MLB), ice hockey (NHL), American football (NFL), and the FA Premier League (soccer).
---
My Recommended Gear for Year-Round Cycling on a Budget
It took me years of trial and error to figure out the best and most affordable set-up for my daily bike commuting. I would only recommend the gear that is good quality for a good price. Here's my full year-round gear recommendation guide.
Want to know how much your cycling gear should cost? Check out my guide with different budget options here.