Biking can be a fun hobby or a thrilling sport. If you are just getting into cycling, the fitting of the bike isn't as important, but if you are trying to optimize the comfort and watts of your bike, then you are going to want the perfect size and fit for your bike. You can either do this on your own or, you can have your bike professionally sized.
The cost of getting a bike professionally fitted costs anywhere from $40-$50 depending on the location of the store. In-depth fitting isn't always necessary unless the cyclist bikes daily or wants to optimize their biking experience. Stores will often offer a more simple bike sizing for free.
Serious cyclists know the difference between a standard fit and a customized fit can be crucial. If you want to learn more about what you can do to have a better-fitting bike, continue reading on.
Difference Between Sizing and Fitting a Bike
Although sizing and fitting a bike sound similar, they are two separate things. Sizing a bike is quite simple and is free in most stores. In order to size a bike, you simply account for your height to see how big the frame of your bike should be. Getting a bike that is too big or small will be uncomfortable and look kind of silly, which is why you might need help when sizing a bike. Whether you are just getting started in cycling or you are very into mountain or road biking, sizing is crucial.
Fitting, on the other hand, is often for cyclists that are very serious about the sport. If you are just riding your bike to commute or just for pure enjoyment, you don't really need to have a perfectly fitted bike. The reason that fitting is usually for biking fanatics is that the bike is perfectly customized so that cyclists can get the most watts out of their bike. If a bike is not fit perfectly fitted, you might not get the most watts of power that you need to beat your personal record.
Since bike fitting is so customized to the cyclist, stores will often charge $40-$50. Sizing often doesn't cost any money because sizes are standard (although each bike brand has its own standard measurements) and it doesn't take any personal customizations. Now that you understand how sizing and fitting works, let's go a little more in-depth into each subject.
How to Choose the Size of a Bike
The size of your bike is crucial so that you can have the most comfortable ride possible. Have you ever been riding on a bike and it seems like your arms are more sore than your legs? That could be because your bike is too small. A frame that is too small for your body will often make you sit more forward than you should, putting a lot of weight on your arms. Of course, you will be sore after riding a bike, but your arms shouldn't be doing the brunt of the work.
In order to find the right bike size for you, there is a calculation that you can do the ensure that you purchase a bike frame that is fit for your body. First of all, you will need to measure the inseam of your legs. To do this, you will measure the length of your inner leg. Once you have this measurement, you will have to decide whether you want a road, mountain, or city bike because the frames will all be a bit different. Take a look at the different bike categories below to learn how to calculate your size and why the sizes vary.
Road Bike
A road bike is designed to be speedy, so it will put the rider in a more forward position to be more aerodynamic and to get more watts from the pedals. In order to calculate your measurement for a road bike, you will take your leg inseam measurement (in centimeters) and multiply it by 0.70. After multiplying this number, you will get the bike frame size you need in centimeters.
Take a look at the table below to see which size frame might work best for you.
| | |
| --- | --- |
| Rider Height in feet and inches | Suggested Frame Size in centimeters |
| 4'10"-5'0″ | 47-48 cm |
| 5'0″-5'3″ | 49-50 cm |
| 5'3″-5'6″ | 51-53 cm |
| 5'6″-5'9″ | 54-55 cm |
| 5'9″-6'0″ | 56-58 cm |
| 6'0″-6'3″ | 58-60 cm |
| 6'3″-6'6″ | 61-63 cm |
In the table above, the sizes are a bit general. If you want to find a bike that fits you perfectly, be sure to use the measurements of your leg inseam to find your perfect size.
Mountain Bike
For better balance, a mountain bike will put the rider in a more upright position. The handles also look a bit flatter in comparison to a road bike so that the cyclist will have more control and balance while riding in rough terrain. If you feel like a mountain bike is more geared towards your preferences, then you should find a mountain bike frame that fits you well. In order to find the perfect size, you will take your leg inseam measurement (in centimeters) and multiply it by 0.685. The product of this formula will give you the size that you need in centimeters.
Take a look at this table below to find the suggested bike frame size for you.
| | |
| --- | --- |
| Rider Height in feet and inches | Suggested Frame Size in centimeters |
| 4'10"-5'2″ | 33-37 cm |
| 5'2″-5'6″ | 38-42 cm |
| 5'6″-5'10" | 43-47 cm |
| 5'10"-6'1″ | 48-52 cm |
| 6'1″-6'4″ | 53-57 cm |
| 6'4″-6'6″ | 58-61 cm |
As you can see, mountain bike frames are a little smaller than road bikes. Having a smaller frame gives the rider a more stable ride in rough terrain.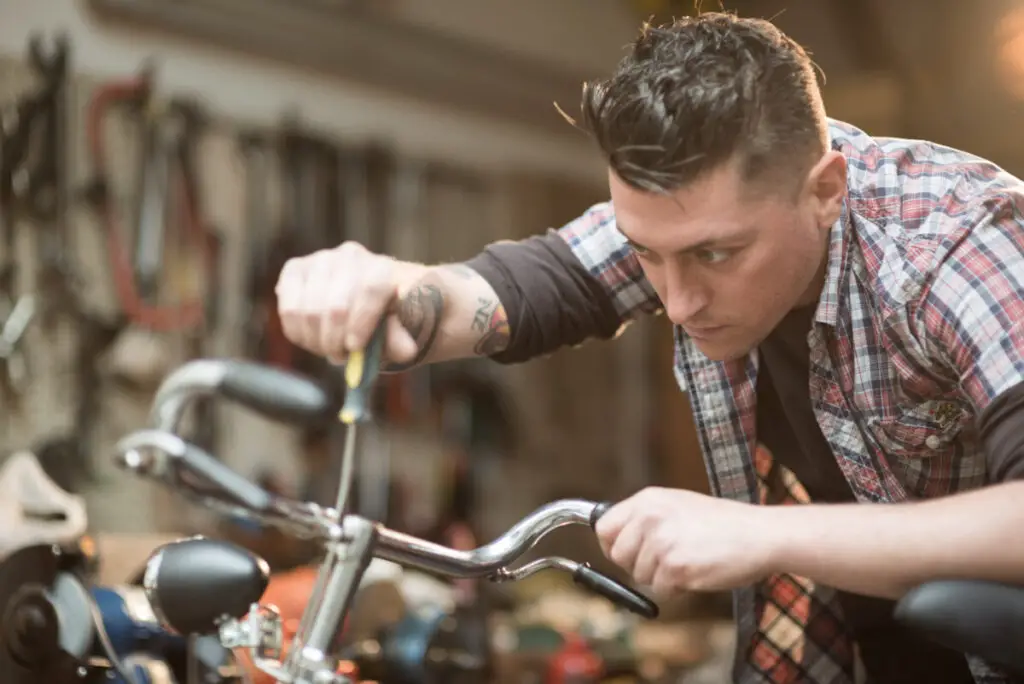 City Bike
City bikes are great if you are commuting in a town that is mostly flat. They offer a more upright sitting position so that the rider can get a good view of traffic. In order to find the right city bike for you, simply take your leg inseam measurement (in centimeters and divide it by 0.685. The number that you get is the bike frame size you need in centimeters.
Take a look at the table below to see what bike size frame is suggested for you.
| | |
| --- | --- |
| Rider Height in feet in inches | Suggested Frame Size in centimeters |
| 4'10"-5'1″ | 35-36 cm |
| 5'1″-5'5″ | 36-39 cm |
| 5'5″-5'9″ | 40-42 cm |
| 5'9″-6'0″ | 43-45 cm |
| 6'0″-6'3″ | 45-48 cm |
| 6'1″-6'6″ | 48-50 cm |
Kids Bikes
One of the greatest milestones for children is learning how to ride a bike. Finding the right size frame for a kid's bike is a little different than an adult-sized bike. Rather than finding a size that your child to grow into, you will want to find a size that fits them so that they can ride more comfortably. Children should also be able to touch the ground with both feet. The table below will be a bit different from the others because wheel size matters more than then frame size.
| | |
| --- | --- |
| Rider Height in feet and inches | Suggested Wheel Height in inches |
| 3′-3'5″ | 12″ |
| 3'5″-3'9″ | 14″-16″ |
| 3'9″-4'5″ | 18″-20″ |
| 4'5″-5′ | 24″ |
Each of the bike charts above are just generalized sizes that could work best for you. To ensure that you get the best-sized bike frame, go to a local bike shop and have a local merchant help you find a size that works best for you. This is especially important if you are in-between sizes. Just be sure to pick out the bike frame that feels the most comfortable to you.
How to Fit a Bike
Fitting a bike is much more in-depth than bike sizes. Rather than just accounting for your leg inseam measurement, you need to know your upper body position, bike seat height, and the bike seat fore/aft position. With all of these measurements combined, you will have a bike that will fit your body perfectly. However, it's important to note that you should pick out the proper bike frame before you fit the bike so that you won't have to make too many improvements.
One of the first things that you should do first (if you decide to fit the bike yourself) is setting the saddle or bike seat. You can adjust the seat height, angle, and position to make the saddle feel just right. The reason that this should be your first area of concern is that the length of your legs doesn't change. You might adjust the way that you hold onto the bike, but you can't change how you pedal on the bike.
To find out how high the saddle should go, put your leg on the pedal and put it in the bottom stroke position. Your leg should be slightly bent, but not too bent nor fully extended. This can cause unnecessary leg pain that can easily be avoided. Your leg should only be 80-90% extended, otherwise you may not be properly using your leg muscles. If you have to adjust the height of the saddle, make sure that you are not going past the "minimum insertion mark."
Another thing that you can adjust on the saddle is the tilt position. This helps so that you can get the best fore/aft position on the bike. If the saddle is tilted properly, your foot and knee will line up when the pedal stroke is in the 3 o'clock position. Most of the time, your seat tilt should be parallel to the ground, but if need be, you can tilt it more to the back or front so that you can have a better fore/aft position.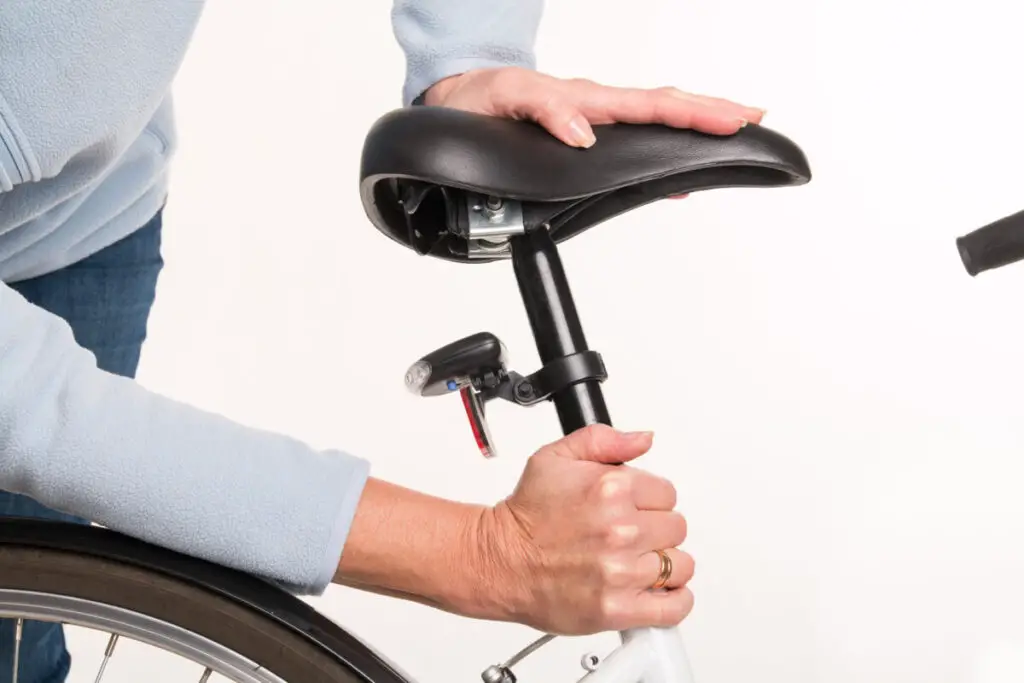 Once you get the saddle set, you are able to properly get everything else measured to the proper length. When you go to fit your bike, be sure to fit it depending on how you are currently riding the bike. You should take into account if you are riding the bike in a more upward or forward position because this is probably the most comfortable way for you to ride the bike. You can have a friend, sales associate, or bike tech help you while you decide which upper body position is most optimal.
You will want to be in an upper-body position that gives your enough bend in your arms. If you have to fully extend your arms, adjust the length so that you can have some bend while you ride. REI states that your arm position should feel like they are comfortable enough to play piano keys on your handlebar. There's a possibility that you might have to change out your handlebars so that they can fit more comfortably.
On a road bike, your position will be more forward-leaning, so fitting your bike properly will play a critical role. Your torso should form a 45-degree angle with your hips and a 90-degree angle with your arms. Mountain and road biking isn't as crucial since you will be spending more time off the seat and in an upright position.
One of the last things that you should check on your bike is if your cleats fit on the pedals. If they are not properly on the bike pedals, the cleats can cause shin, knee, and Achilles pain. Make sure that your cleats are properly positioned on the pedals to prevent these issues.
Why Should You Get Your Bike Professionally Fitted
Many cyclists do not ride bikes that are fitted for their body types. If you are extremely into biking and you are riding a bike that is not customized for your body, you are more likely to sustain injuries. Having a bike personalized just for you will make riding much more comfortable and you will be able to shave seconds off of your records.
Plus, bike fittings don't cost too much. For only $40-$50, you can have a bike that is perfect for you. Some bike merchants might even sell bikes with a bike fitting included in the price. Be sure to check on what local bike stores have to offer so that you can get a bike that is the best size and fit for you.
---
My Recommended Gear for Year-Round Cycling on a Budget
It took me years of trial and error to figure out the best and most affordable setup for my daily bike commuting. I would only recommend the gear that is good quality for a good price. Here's my full year-round gear recommendation guide.
Want to know how much your cycling gear should cost? Check out my guide with different budget options here.
Ride on!