Do you love cycling? Do you love your dog? Then bringing your dog along for the ride in a bike trailer just might be the solution for you!
Many dog owners have successfully managed to use a bike trailer to take their dog on bike rides and spend time together outdoors. (Just check out the cool video below by Jenna Marbles!)
But not all dogs acclimate so quickly to riding in a bike trailer.
With the end goal being for both of you to enjoy riding together, this article explains how to properly train your dog to enjoy riding in a bike trailer.
The key here is enjoyment. For both you and your bud.
---
How to help a dog enjoy riding in a bike trailer
A dog can be trained slowly to ride in a bike trailer by placing the trailer inside the house and filling the trailer with the dog's food and favorite things. Gradually, start pulling the bike trailer around the house and then eventually around the neighborhood at low speeds.
---
5 steps to train a dog to enjoy riding in a bike trailer
The key to introducing your bud to a new activity like riding in a bike trailer is to do it slowly. As you probably have guessed, dogs are highly sensitive to your emotions, so try to be patient and calm during the process.
It sometimes can take days or even weeks for a dog to get used to riding with you, but your dog will thank you later when you have a new outdoor activity to share together. 
The keyword here is enjoy. If you and your dog are not enjoying the process of learning to ride with the bike trailer, then there is little point in attempting to pull it off.
Here are the steps to make it enjoyable and fun for you both.
Step 1. Place bike trailer on the floor inside the house
Help your dog get used to the bike trailer. Remove the wheels from the trailer and place it on the floor to let your dog explore the inside of the trailer. Being inside your house or garage will also help him/her feel comfortable with the new trailer.
You can leave the bike trailer in the corner of a room or in the garage for a few days or until your dog feels comfortable enough to explore it alone.
Step 2. Place your dog's favorite things inside the trailer
Get some of your dog's favorite things and place them inside the trailer.
Only you know what your dog likes, but some ideas would be some favorite toys, a pillow, and some food of course! You could even place his/her food bowl inside the trailer for a few days. 
This is one of the most important steps in the acclimation process because you will also be placing treats and toys in the bike trailer when you start riding outside.
Step 3. Attach the trailer to your bike
Put the wheels back on the trailer and attach it to your bike. 
Just be sure to attach it to the bike before your dog gets in the bike trailer, as to not scare him/her with the sudden change of movements.
If you need help understanding how your specific bike trailer attaches to your bike, I wrote an in-depth article on how bike trailers attach and what you might need to know about your specific trailer.
Step 4. Walk the bike (not ride) around the neighborhood
Help your dog get used to the motion of the trailer by first walking the bike around the house or neighborhood. 
You can just push the bike and trailer up and down the driveway or around the neighborhood.
Pay attention to see if your dog is itching to jump out or feels relaxed.
At this point, it's best to tie a leash to the inside of the bike trailer to reduce the chances of your dog jumping out. Although all bike trailers have covered to limit the dog's ability to jump out, some trailers are easier to escape from than others.
Once you're confident that your dog feels comfortable and will not jump out, you can move on to the final step: starting to ride!
Step 5. Start riding slowly with the trailer
Once the dog has found a newfound enjoyment inside the trailer, jump on the bike and start pedaling slowly, no more than 5 mph (or 8 kph). Speed up to 10 mph once you and your dog feel comfortable and happy with your progress.
Be sure to ride consistently, taking your dog out for a ride ideally once a week at least.
Also Helpful: How Hard Is It to Pull a Bike Trailer? 7 Tips to Make It Easy
---
How long does it take to train a dog to ride in a bike trailer?
It usually takes days or sometimes a few weeks for a dog to trust the bike trailer enough to enjoy riding in one, so be sure to take the appropriate amount of time to slowly introduce the trailer.
The most important thing is that it is enjoyable for your dog. So be sure to not get frustrated or stressed if it is taking longer than expected. The end result is a fun and healthy activity that you can both enjoy doing together.
Some dogs are just a bit timid than others, just like some people are. It can be expected that any dog will be confused and maybe intimidated by the idea of being constrained inside a small space while moving at semi-fast speeds.
That's why it's important to introduce the trailer gradually by first letting your dog meet the trailer while inside the house and letting him/her play inside for a few days.
---
Are bike trailers safe for a dog to ride in?
Bike trailers offer a protective cage that helps protect the dog in the event of a crash. In comparison to alternative options, such as cargo bikes, bike trailers are the safest way to ride together with a dog.
Here are a few tips to safely acclimate your dog to a bike trailer. I also wrote an in-depth article on how to make riding with a bike trailer even safer.
1. Relax and stay calm
The best thing you can do to ensure that you and your dog are safe during the acclimation period is to relax and remain calm throughout the process.
Dogs are hypersensitive to your emotional state, especially stress and frustration. So try to relax when you're riding around and try not to get impatient if your dog is taking longer than you hoped to get used to the new activity.
2. Give it some time
It may take days or weeks for a dog to build trust with the trailer and feel comfortable. Be sure to follow the above steps to slowly introduce the bike trailer.
If you rush into it too quickly, your dog might be very uncomfortable and stressed during the ride. As a safety benchmark, before you go on your first ride together, make sure that you're confident he won't try to jump out mid-ride.
3. Attach a leash to the inside of the bike trailer
The leash is a safety precaution in the event that your dog is able to jump out of the trailer. However, most trailers will have a cover that prevents the dog from leaving.
Before you take your dog for a first ride, you should feel confident that he/she won't try to jump out of the trailer mid-ride. If he does jump out, the trailer might tip over.
---
Top 5 bike trailers to help acclimate your dog
There are several bike trailers on the market that are specifically designed with dogs in mind. Dog trailers uniquely offer an easy-access doggy door and are typically lighter and more minimalistic than traditional kid bike trailers.
The design and functionality will make the acclimation process easier for you and your dog easier.
These are all dog-specific bike trailers that have at least 4.4 star average reviews on Amazon.
I recommend these bike trailers based on affordability as an important factor for most dog owners. Considering that kid bike trailers can cost anywhere from $100 to $1,000, these dog-specific bike trailers offer excellent functionality and enjoyment for an affordable price.
---
Best Features: 
Highest quality of a trusted brand
High weight limit
Weather-resistant
If you want the best of the best for your dog, then Burley is the way to go. Burley is a top-of-the-line bike trailer manufacturer that always produces has excellent quality trailers at a mid-range price.
The Burley Tail Wagon dog trailer has high-quality materials, a sturdy frame, and a Burley-style hitch arm. This trailer also comes with a handlebar for easy stroller conversion (stroller conversion is sold separately here).
Regarding the stroller conversion, at that price point, I would expect Burley to provide the stroller conversion kit included with the trailer. I guess they can justify this decision with the fact that not many people use a bike trailer to stroll around with a dog (why not just walk?).
Price: Around $400 (see price on Amazon)
Weight Limit: 75 lbs
Doggy Door: Yes
---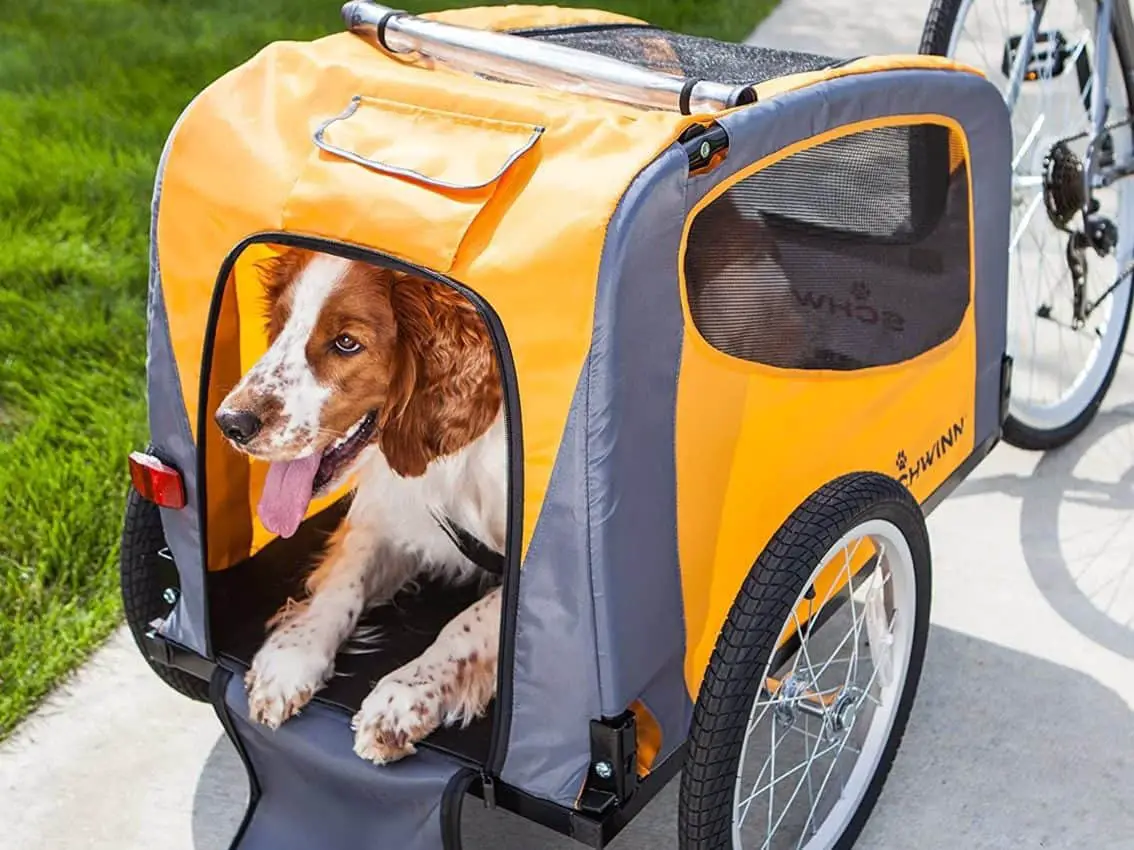 Best Features: 
Affordable
Lightweight
Large metal wheels
Striking orange color
The Schwinn Rascal is my recommend bike trailer for budget-minded dog owners. It has all of the features that a solid dog trailer should offer at an affordable price. A doggy door, large 20-inch wheels, and a bright-orange color for just around $150 make it a steal of a deal.
Schwinn is a popular and affordable bike manufacturer brand that makes entry-level products for everyday use. You will most likely find Schwinn products in Walmart and Target.
Price: Around $150 (see price on Amazon)
Weight Limit: 50 lbs
Doggy Door: Yes
---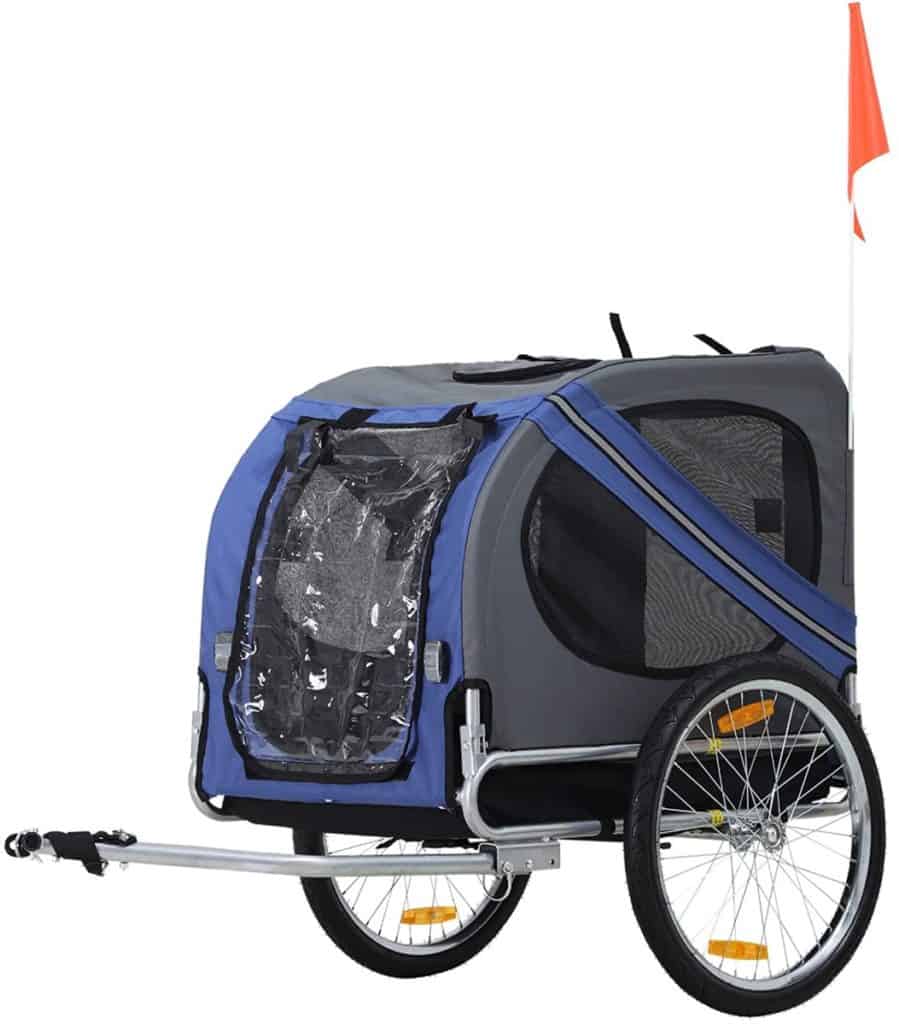 Best Features: 
Affordable
High weight limit
Safety flag for better visibility
The Aosom dog bike trailer is a great option for dogs that are above the 50-lbs limit on most bike trailers. With a weight capacity of up to 66 lbs and massive 20-inch wheels, the Aosom trailer is a great choice if your budget is under $200.
Price: Around $180 (see price on Amazon)
Weight Limit: 66 lbs
Doggy Door: Yes
---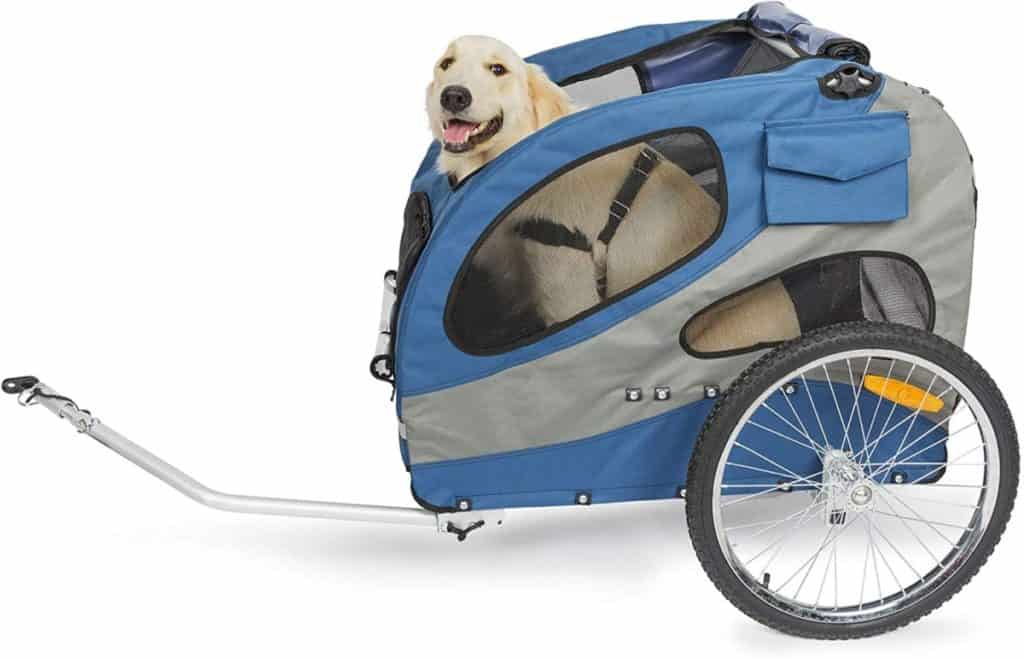 Best Features: 
Super high weight limit!
Durability
Wow, a 110-lbs weight capacity! Even kid bike trailers don't go that high!
If you have a large dog (or two dogs), then the PetSafe steel bike trailer is your best bet. Don't let the cheesy name fool you. This dog trailer has enormous treaded wheels that make it an extra comfortable ride for your dog, as opposed to smaller 16-inch wheels.
Not only does it have a high weight limit, this trailer also has plenty of interior room for your dog and even space for storage.
At around $210, it's surprising that it doesn't cost more, seeing as kid bike trailers of that size and weight capacity usually go up to $350 or more.
Price: Mid-Range, around $210 (see price on Amazon)
Weight Limit: 110 lbs
Doggy Door: Yes
---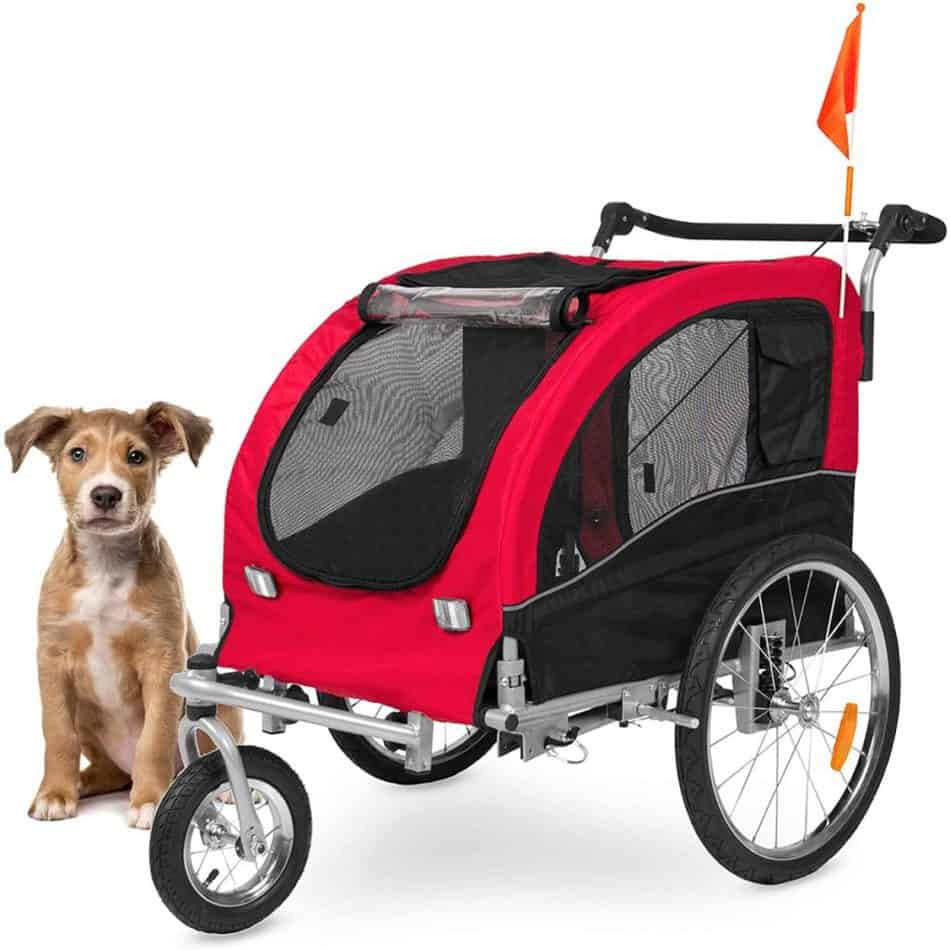 Best Features: 
2-in-1 convertible stroller
Safety flag for better visibility
If you're looking fora dog bike trailer that also converts to a stroller, then consider this trailer.
With affordability as an important consideration, there are not many dog trailers on the market that also convert to a stroller. The Burley Tail Wagon (mentioned above) does have a stroller conversion, but it has to be purchased separately for around $100.
Price: Entry-Level, around $180 (see price on Amazon)
Weight Limit: 66 lbs
Doggy Door: Yes
---
Conclusion
In this article, we've covered what you need to know when acclimating your dog to a bike trailer and how to do it properly.
We also covered and five recommended dog-specific bike trailers that will help a dog get used to the idea of riding in a bike trailer.
At the end of the day, the most important thing is making it enjoyable for you and for Fido. Try to relax and avoid getting frustrated throughout the training process.
Some dogs are more timid than others, but you never know until you try. And you never know, bike trailers just might be your new favorite mutual activity.
Need help finding the right bike trailer?
If you need help finding the right bike trailer for you, my recommended trailer for most people is the Swhinn Joyrider, which is an affordable double-seater that converts beautifully to a stroller. Check out my full review with photos here.
Check out the Ultimate Guide to Buying a Bike Trailer for more help with choosing a trailer. I also have compiled a list of the top bike trailers for every common situation, which you can check out here.
Ride on!