The Thule Chariot Cross has been dubbed by many the best overall bike trailer on the market—and for good reason.
It has top-of-the-line features on every square inch, including double seats, large wheels, excellent stroller conversion, and even suspension for an extra smooth ride.
But is it really the best of the best? Or are there better options on the market for a lower price tag?
I got the Thule Chariot Cross to figure out if a $1000+ bike trailer is worth the investment.
Here is my honest review of using the best features of the high-end $1,000 Thule Chariot Cross, and a few things that I don't particularly like about it.
---
What makes the Thule Chariot Cross the best overall bike trailer?
The Thule Chariot Cross bike trailer is best for active families looking for an all-around excellent trailer that has seamless stroller conversion, large wheels, and suspension for rough terrain riding. It is a high-end bike trailer for families that enjoy frequent riding and strolling in all situations.
| | | |
| --- | --- | --- |
| Price Range | Around $1080–$1180 (check on Amazon) | One of the priciest trailers on the market |
| Stroller Conversion | Yes | Converts beautifully to an excellent stroller |
| Seats | Double | Comfortably fits two passengers with a padded bench-style seat |
| Weight Limit | 100 lbs | High weight limit |
| Wheels | 20-inch spoke wheels | Large wheels for extra smooth rides |
| Products Weight | 32 lbs | On the heavy side, but that's normal for trailers with this many features |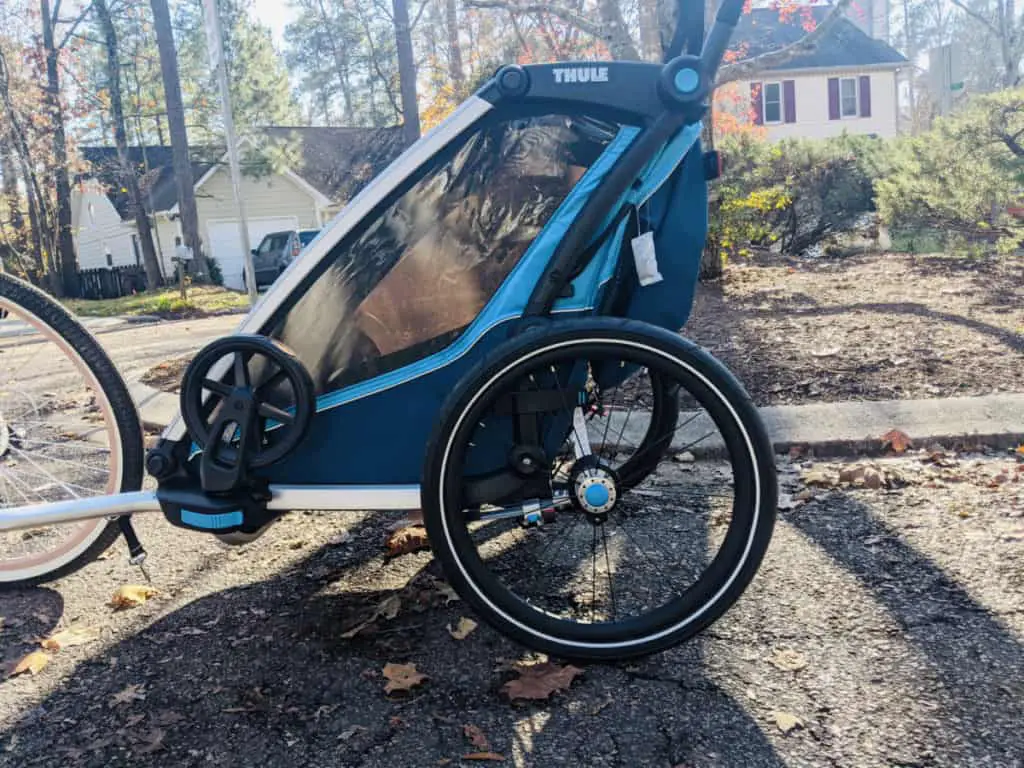 Pros
Highest-quality materials—Truly the best components on the market
Suspension—Added comfort on rough terrain
Double front wheels—Makes for an excellent stroller
Lots of storage—It even comes with a pannier bag attached to the back
Cons
Cost—It's a top-of-the-line bike trailer and has suspension
Difficult to assemble—It comes with a lot of attachments that are hard to understand at first
Keep reading to find out everything you need to know about the Thule Chariot Cross.
In this article, we will cover a few important factors to consider when purchasing a bike trailer. They are:
Design
Weight Limit
Comfort
Attaching to a bike
Price & Affordability
(Plus 3 things I don't like)
---
The Design
The most important factor that affects the safety, function, and comfort of the bike trailer is how it's designed.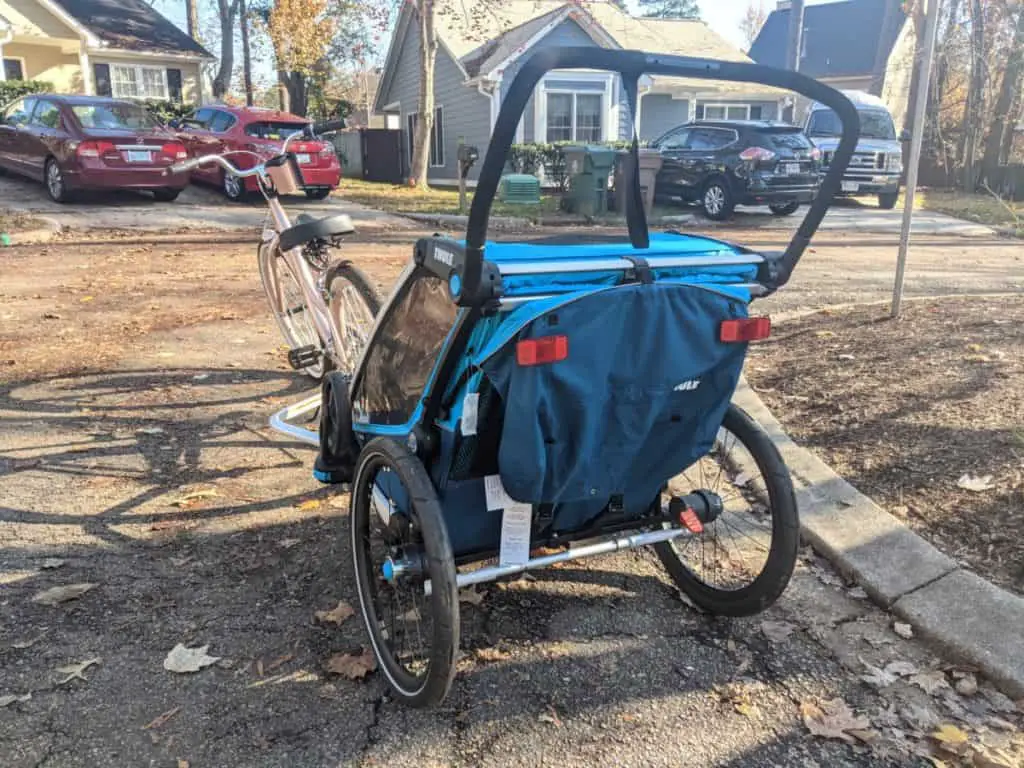 ---
1. Let's talk about that superb stroller!
What makes the Chariot Cross stand out amongst other high-end trailers are the double front wheels. Most trailers/strollers will just have one centered wheel, which can easily get stuck in mud or a pothole while strolling.
With the double wheels on this model, however, strolling becomes much easier than even some high-end strollers.
In addition, the massive 20-inch wheels make it a smooth stroller ride and are excellent for getting over curbs or getting through puddles.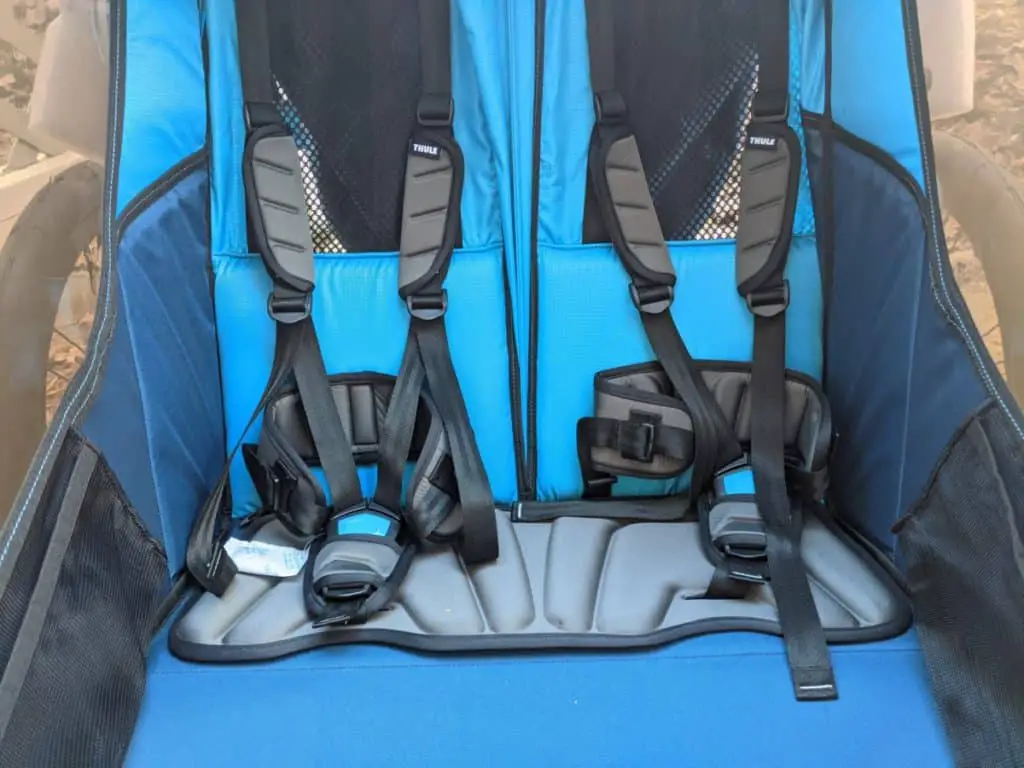 ---
2. Large 20-inch spoke wheels
There is really nothing to complain about the wheels on the Chariot Cross—they are an impressive 20 inches, which is the gold standard for bike trailer wheels. Any smaller becomes less comfortable for the kids.
However, I had a very difficult time trying to figure out how to put them on properly and remove them. There is a blue button at the center of each of the wheels that you must press in order to attach and detach the wheels. As it turns out, reading the instructions does help sometimes🙂
The tires on the wheels are not treaded, which was surprising to me. More on that below.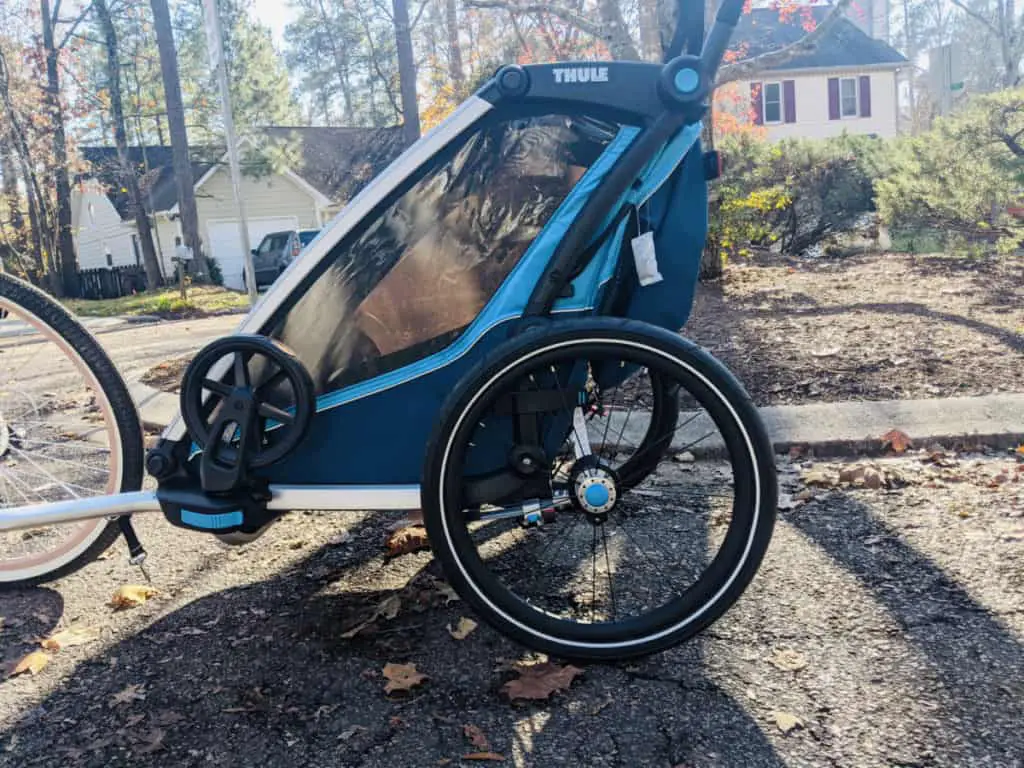 ---
3. Sturdy zipper cover
The cover is sturdy and zips over the front of the trailer to enclose the precious cargo. The only concern I have with the zipper-style cover is that zippers are very hard to fix if they break. If the zipper on this cover were to break, I wouldn't know where to go to get it fixed. For that reason, I personally prefer a cage-style cover as seen on the Schwinn Joyrider. However, the zipper is very high quality, so I don't worry too much that it will break.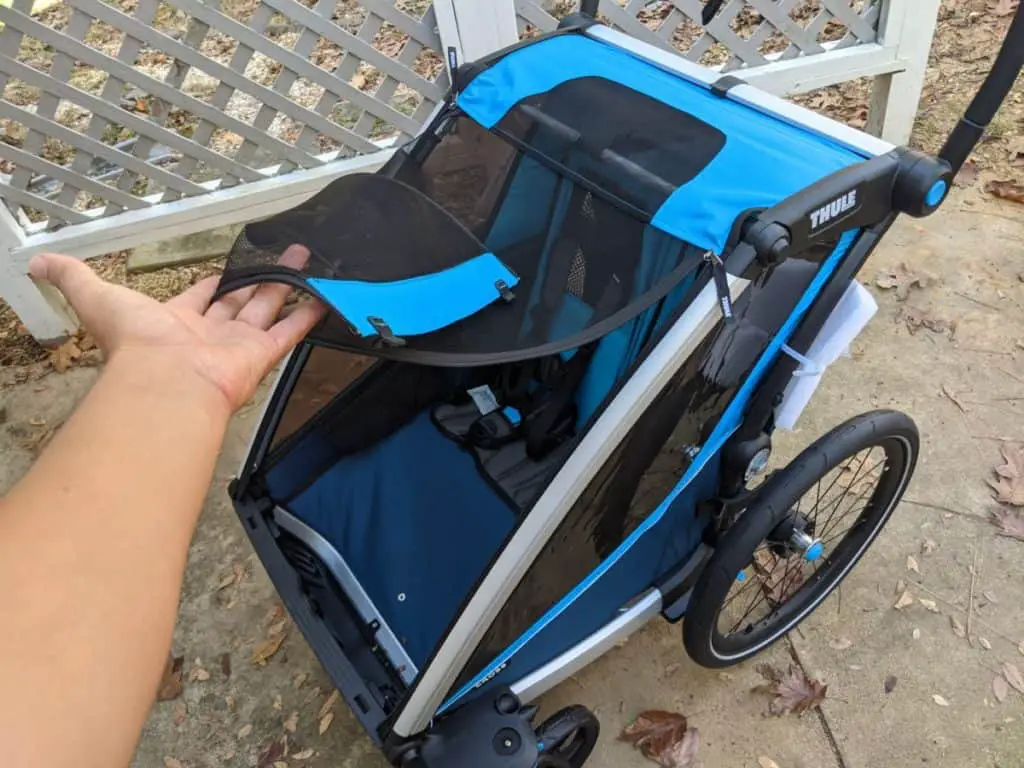 ---
4. Amble storage space
The Chariot Cross has an impressive amount of space on the rear side of the trailer. There is a pannier bag located under the handlebar that can comfortably fit cargo for the kids or even groceries. In addition, the interior space of the trailer is large enough to also hold items for the kids, such as toys, snacks, water, or a bag.
---
5. Compact fit
The Chariot Cross folds up nicely when storing away in the garage or in the trunk of a car. All of the necessary equipment can fit nicely inside the trailer frame while folded up, including the front and rear wheels. This is a nice touch because some other bike trailers are rather large and don't fit quite as nicely into storage or the car.
---
How much weight can the Chariot Cross hold?
This trailer can hold an impressive 100 lbs. It has no issue holding two children comfortably on its sturdy bench-style seat. In addition, the extra interior room that this trailer offers makes it perfect for growing children. The Chariot Cross can theoretically hold children until they are 7 or 8 years old, which makes it a great investment.
---
How does the suspension work on a bike trailer?
The Chariot Cross is one of the few bike trailers that have a suspension feature.
The suspension is an adjustable latch placed behind the wheels that allow for the wheels to move slightly up and down when going over rough terrain. The suspension levels are adjusted by moving a blue latch forward and backward, which will either reduce or increase the amount of suspension.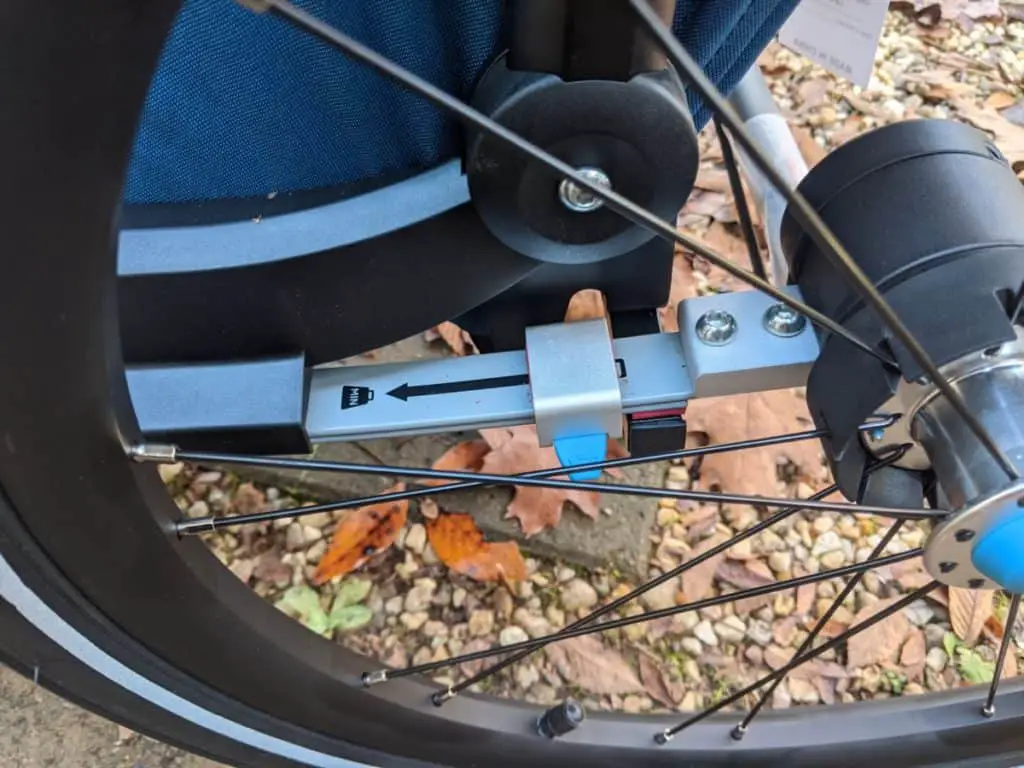 ---
Comfort: How does it feel to pull?
As expected, the feel of the trailer is topnotch. The large 20-inch wheels and suspension combine to make a very smooth ride while pulling the trailer behind you. The only thing you may notice to be an inconvenience is the weight of the trailer. At 32 lbs, this trailer is on the higher end of bike trailer weights.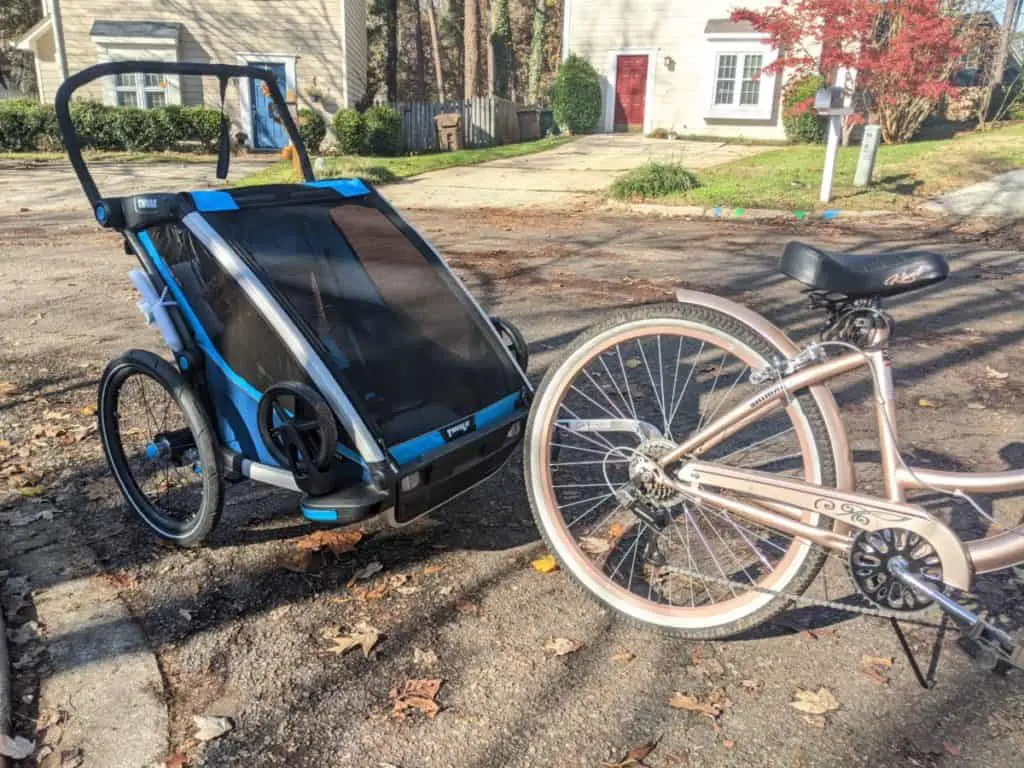 There are some instances where the weight of the trailer should be considered. For example, if you plan to do a lot of hill climbs or long-distance riding (more than 10 miles), then you could go for a more lightweight bike trailer, like the Thule Chariot Lite (28 lbs) or the Burley Bee (no stroller conversion).
Although the weight of the trailer might be an important consideration, you will actually not really notice the trailer weight as you get used to the feel of the trailer.
Here are my recommended top lightweight bike trailers.
Here are 7 tips to make pulling a bike trailer easier.
---
Attaching the trailer and stroller conversion
The Chariot Cross bike trailer comes already assembled out of the box, so all you have to do is hitch it to a bike and get going.
Thule trailers use a unique attachment system that is not found on any other bike trailer brands. The Chariot Cross comes with a steel coupler attachment that attaches to the axle of the rear wheel of your bike. Then, using a security pin, just slide in the hitch arm and latch it closed with the pin.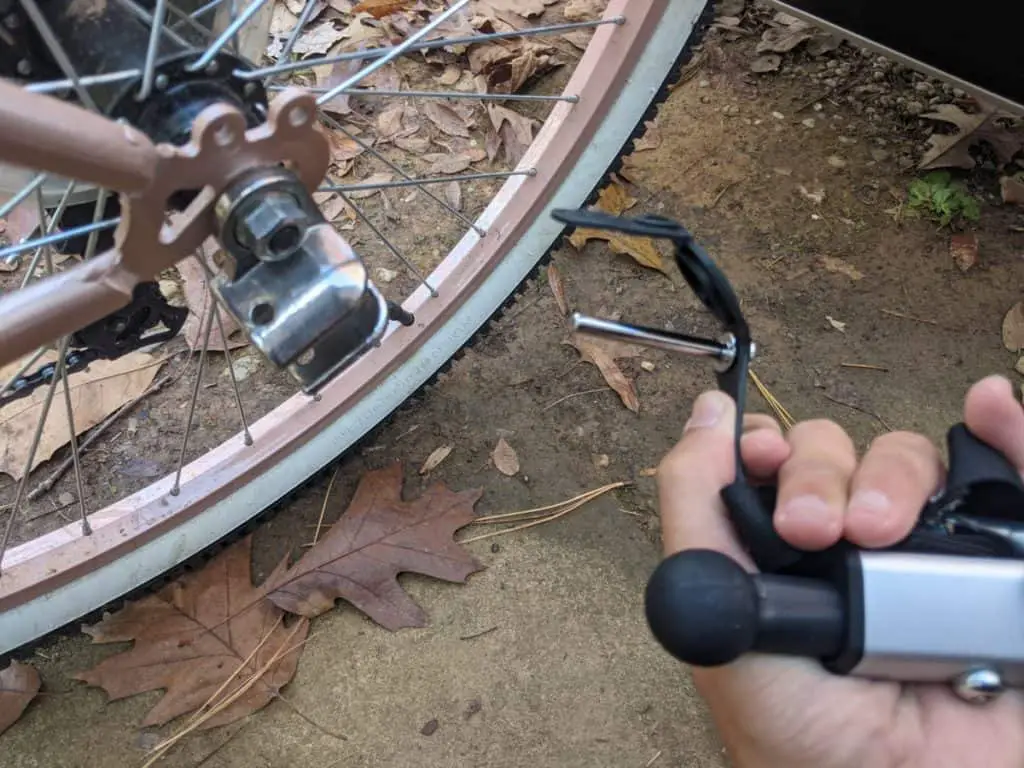 Why your Thule trailer might not attach: Disc Brakes
Thule bike trailers generally play nicely with disc brakes. However, if you have a 12mm thru-axle (the skewer that goes through the wheel axle), then you will need to purchase a thru-axle adapter designed for bike trailers. You can get Thule's adapter for around $60 on Amazon. Or, you could get the Burley Thru Axle, which is slightly cheaper and does the same thing for around $55 on Amazon.
How to attach a Thule bike trailer to a bike
When using as a bike trailer: 
Attach the coupler to your bike's rear wheel
Flip the hitch arm forward
Attach the hitch arm to the coupler using the security pin
Hit the road!
When using as a stroller: 
Remove the hitch arm and place it behind the left wheel
Attach the provided front wheels to the trailer
Adjust the handlebar height to your liking
Now you have a stroller!
Some types of bikes are not compatible out of the box. If you're not sure if your bike is compatible, check out this post.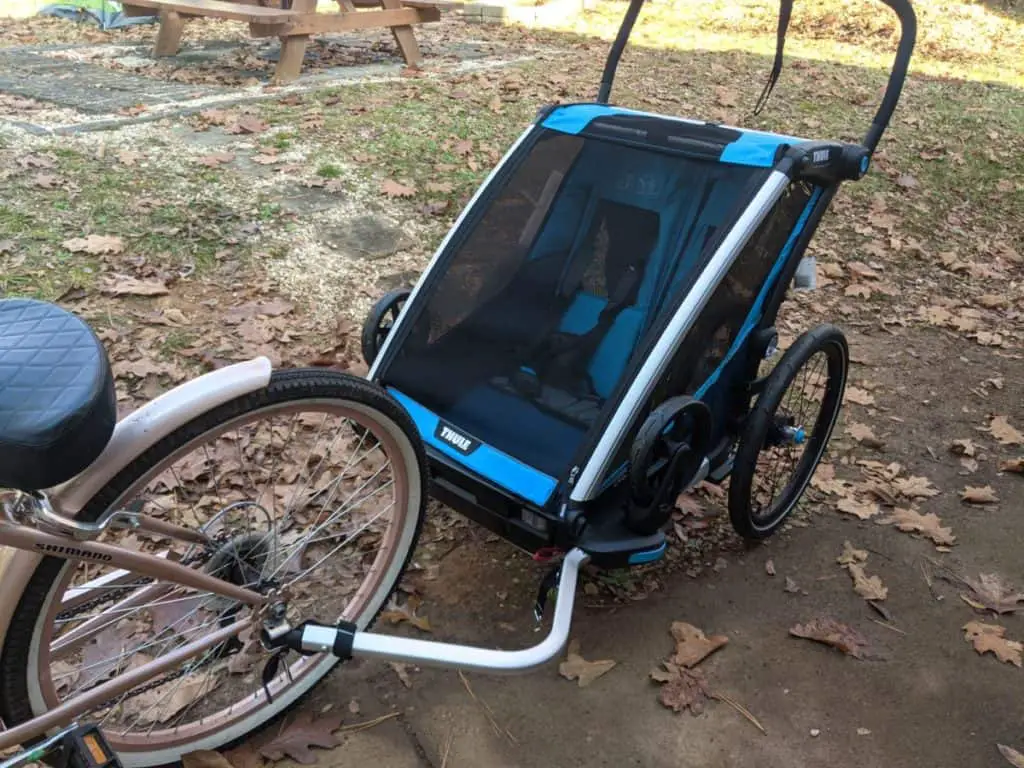 ---
Price & Affordability
At around $1,000–$1,200, what exactly makes this trailer one of the priciest on the market?
The short answer is: quality and suspension.
Thule really invested in making this a flagship bike trailer, with high-quality features covering every square inch. Some of the stand-out quality materials include the wheels (front and rear), the frame, and the seats. On top of all that, the Chariot Cross is one of the few bike trailers that offer suspension for added comfort.
But is it worth the $1,000 price tag? This brings us to the main drawbacks of the Thule Chariot Cross outlined below.
Note: At the time of this writing, I've noticed that Thule has raised the prices on their bike trailers by a few hundred dollars for the Christmas season. I wish they didn't do that since it's already a high-ticket item. Other bike trailer brands, like Schwinn, are not raising prices to my knowledge.
---
3 main drawbacks of the Thule Chariot Cross
The Thule Chariot Cross is a fantastic bike trailer, no doubt. However, there are three main reasons I would have some hesitation to recommend it to someone.
1. It's expensive
For about $1,000, you get all the bells and whistles from what the bike trailer industry has to offer. But, there are perfectly good bike trailers with very similar features at a much more affordable price point.
For example, the Thule Chariot Lite has almost all of the exact same features (stroller, suspension), but it's a few hundred dollars cheaper on Amazon. I would actually recommend that checking that trailer out as opposed to the Chariot Cross.
Is there an even more affordable bike trailer with similar features? Yes! The Schwinn Joyrider has double seats, smooth stroller conversion, a massive protective cage, and large 20-inch wheels. The best part is it only costs around $350 on Amazon! It doesn't have suspension like the Chariot Cross, but that's what you pay for.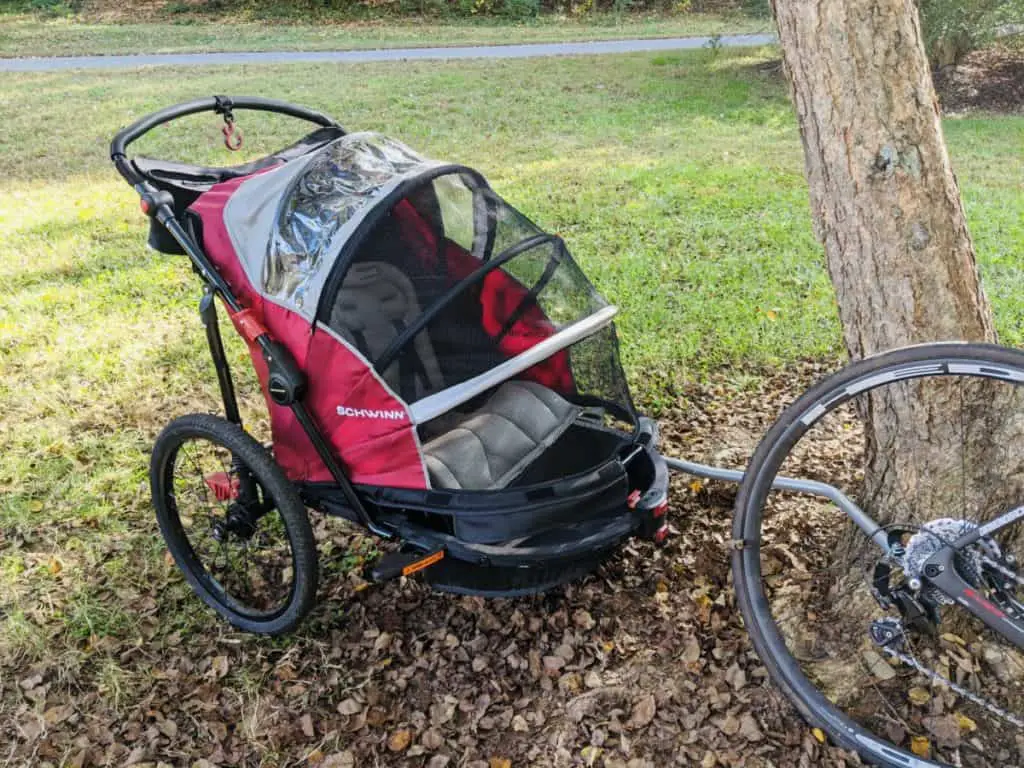 Here's a table breakdown of all the highest-end bike trailers from other manufacturers:
| | | | | |
| --- | --- | --- | --- | --- |
| BRAND NAME | PRICE | STROLLER CONVERSION | SEATS | SUSPENSION |
| Thule Chariot Cross | Around $1,000–$1,200 (check on Amazon) | Yes | Double or Single | Yes |
| Thule Chariot Lite | Around $780–$880 (check on Amazon) | Yes | Double or Single | Yes |
| Schwinn Joyrider | Around $360 (check on Amazon) | Yes | Double | No |
| Burley D'Lite X | Around $800 (check on Amazon) | Yes | Double | Yes |
| WIKE Premium Double Trailer | Around $550 (check on Amazon) | Yes | Double | No |
2. It was hard to put together
For the life of me, I could not figure out how to put it together! Generally, I don't need to look at the instructions to know intuitively how to assemble a bike trailer.
But with the Chariot Cross, it took me a good 30 minutes to figure out how all the attachments work, how to put the wheels on, and even how to unfold it. Once you figure it out, it's pretty easy, but if you're someone who likes simplicity, then it might be a bit overwhelming at first.
In all fairness to Thule, they do a good job at providing instructions and many attachments you will need (including a flag and a rear light).
3. The tires are not treaded!
For a bike trailer that boasts being "4 seasons", I was surprised to find that the tires on the Chariot Cross are not treaded and are rather smooth.
Especially for winter riding or dirt riding, treaded tires are essential to ensure traction and to reduce the risk of sliding. So if you're planning on winter riding or dirt riding, I would recommend swapping out the tires for some treaded ones, like these ones from Amazon.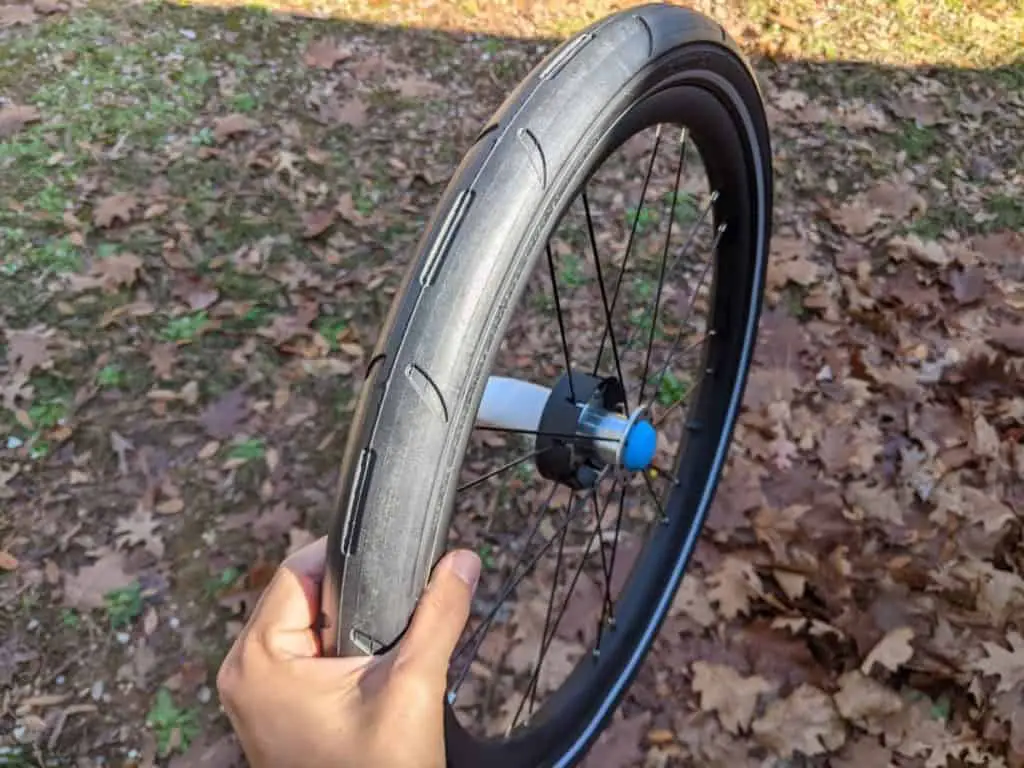 In all honesty, the lack of treads seems like an oversight or a design flaw. But on the other hand, if you're riding at the recommended speeds of under 10 mph, then it's probably not something to be concerned about. I have not had any issues myself nor have I heard of anyone having issues with the treadless tires.
---
What do other parents say about the Thule Chariot Cross?
Before I bought this bike trailer, I made sure to comb through all of the most helpful comments on Amazon so that I could make an informed decision. 
Here's what most users say: 
Pros from Customers
"We were debating for awhile to buy it or not because of the price but now when we did it we are regretting we didn't do it earlier when our child was younger."
"Super light and agile, best double stroller out. It just fits through a single doorway which was a nice surprise"
"The kids love it, they like that they can sit up right or the baby can recline and sleep. Better shock absorb than most and light to jog/push compared to Bob stroller."
"Firstly this is not your average stroller – this is a heavy duty, large sports stroller that is built like a tank. It is somewhat heavy and large even folded. The stroller itself is fairly wide, and is designed for activities such as cycling, jogging, skiing and strolling. Assembling is really easy, and The jogging wheel or skis are not included – it must be purchased separately."
Cons from Customers
"It is great overall. One minor thing, when jogging with front wheel attached I find it harder to maneuver. Harder but not impossible."
"We love this stroller!! The only complaint that is that there isn't any side ventilation so it can get really hot inside."
"Only con is it is not great at turning when jogging"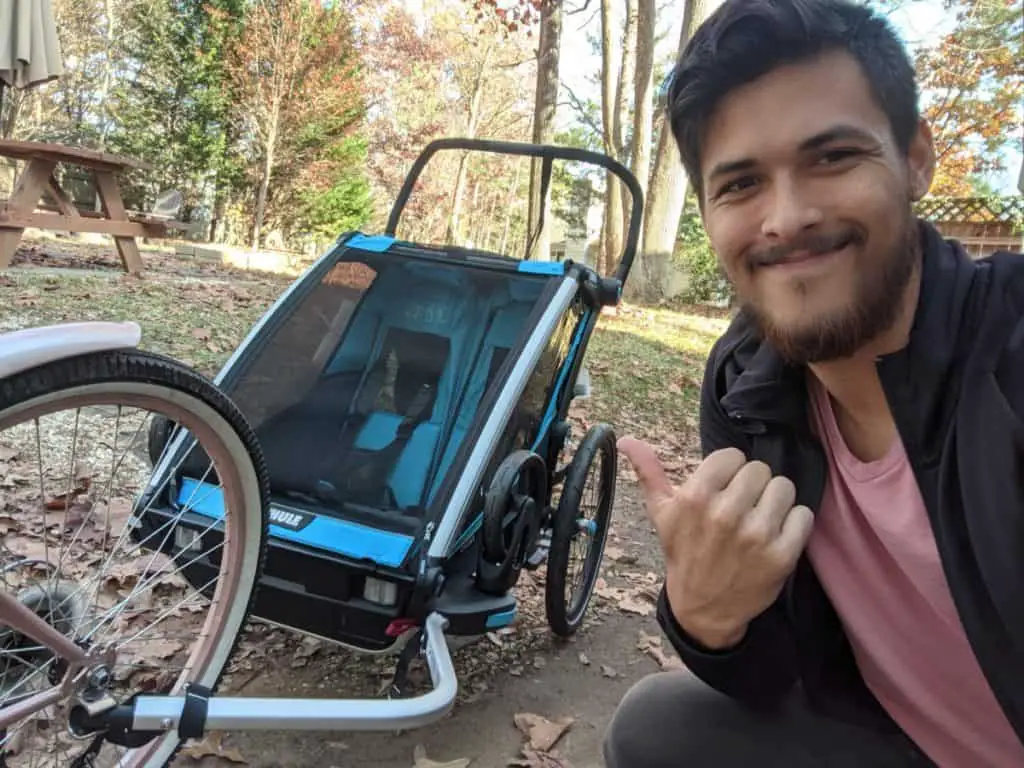 ---
The Chariot Cross Bottomline
For an adventurous family that has the budget for a top-of-the-line bike trailer that looks amazing, the Thule Chariot Cross is a great choice.
If you're new to bike trailers and what quality without breaking the bank, then there are several excellent trailers that offer the same main features at a better price point. Any of the bike trailers mentioned in the above trailer will be a fantastic cheaper alternative to the Chariot Cross.
After purchasing and using the Thule Chariot Cross for our regular family outings, I've come to love its quality and usability.
Need help finding the right bike trailer?
If you need help finding the right bike trailer for you, my recommended trailer for most people is the Swhinn Joyrider, which is an affordable double-seater that converts beautifully to a stroller. Check out my full review with photos here.
Check out the Ultimate Guide to Buying a Bike Trailer for more help with choosing a trailer. I also have compiled a list of the top bike trailers for every common situation, which you can check out here.
Ride on!