So you've broken, lost, or misplaced the hitch coupler attachment for your Thule bike trailer… Bummer!
Whatever the reason, getting a new hitch attachment can be a hassle. But trust me, as soon as you get your bike trailer up and running again, you'll be so glad you went through the trouble. 
Here's everything you need to know about what the Thule bike trailer coupler is and where you can get one.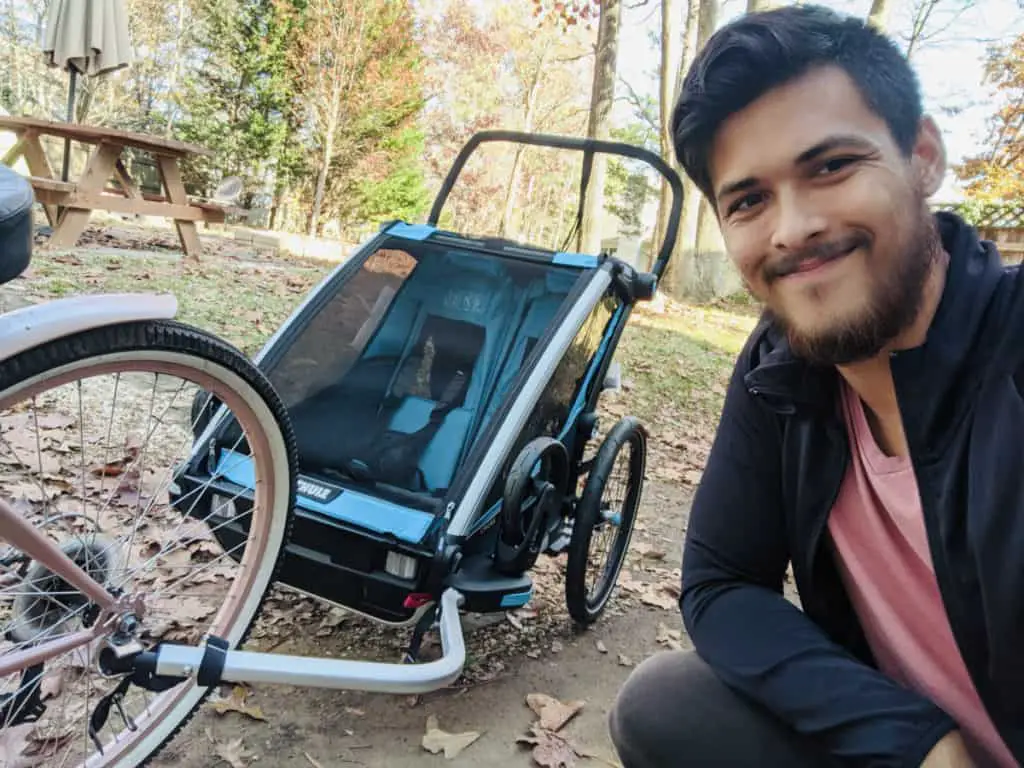 ---
What is a Thule bike trailer coupler attachment?
The Thule Axle Mount ezHitch Cup is an essential small attachment that connects the rear wheel of your bike to the hitch arm of a Thule bike trailer. The Thule coupler attachment can be simply bought on Amazon for around $50.
If you're wondering if it's possible to pull a bike trailer without the hitch attachment, then keep reading! 
Click here to get it on Amazon
---
Will a generic coupler attachment work on a Thule bike trailer?
As mentioned above, Thule bike trailers have a unique systematic way of attaching to the bike. Therefore, standard coupler attachments for other brands will not work on a Thule bike trailer.
---
Can I pull a bike trailer without the coupler attachment?
Some riders do attempt to make their own coupler to attach to their bike out of a desire to do it themselves (DIY) and save a bit of money.
Unless you are an extremely skilled welder, it is strongly recommended to just spend $50 to get a new coupler. It's worth the investment! 
---
How do hitch couplers attach to the bike? 
The hitch coupler securely attaches the bike trailer using a security pin, which allows you to quickly attach and detach the bike trailer. Because the coupler is designed to keep the bike trailer from detaching while riding, it is absolutely essential to have a coupler attachment when pulling a bike trailer.
Most bike trailers attach at the axle of the rear wheel of your bike, and a few trailers attach to the seat post of the bike.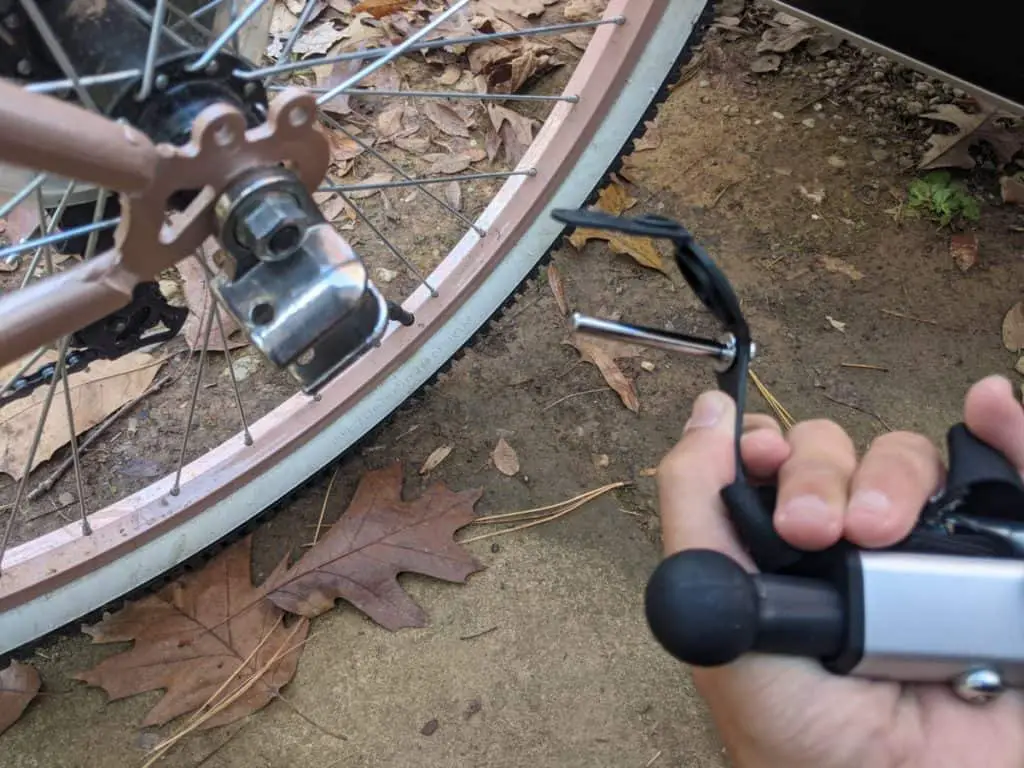 In most cases, you'll be able to easily attach your new bike trailer right out of the box, with all accessories included. Specifically, if your bike's rear wheel has a standard quick-release (skewer that goes through the center of the wheel), then most trailers will attach easily to your bike. 
Some types of bikes, however, may require a simple adapter in order to attach the trailer. Typically, bikes that have thru-axle wheels or hooded-style dropouts may require an adapter.
If you have disc brakes on your bike, be sure to read this article on attaching to disc brakes.
Also read: Can Any Bike Pull a Bike Trailer?
---
How to attach a coupler to a bike
Here are the basic steps to attach a coupler to a bike:
Remove the quick-release from the center of the rear wheel. If you have a bolted wheel, then use a wrench to remove the nut from the wheel. 
Place the coupler and accompanying washer onto the axle of the wheel. In most cases, the coupler goes on the left-hand side of the rear wheel.
Re-attach the quick-release nut over the coupler and tighten until secure. 
You're now ready to attach your bike trailer using the security pin provided with the coupler attachment. 
I wrote a detailed article on how to attach a bike trailer to any bike, which you can find here.
---
Why is the Thule attachment more expensive than other brands?
Thule is a high-end bike trailer brand that uses high-quality materials and technologies to ensure safety and comfort.
The Thule Hitch Attachment is more expensive than standard coupler attachments for other brands because Thule uses a hitching system that is unique to their brand and quality. That gives Thule a lot of leverage to justify a higher price point for their accessories.
---
Conclusion
If spending $50 on a little attachment means you get to have endless fun outdoors with your bike trailer, then I'd say it's completely worth the investment. As soon as you purchase one and get it in the mail, you'll be glad you went through the small hassle!
If you're thinking to just make do without getting a new coupler or make your own, don't do it! The attachment is relatively cheap and designed to ensure safety and security while pulling the bike trailer. They're just one of those things you need in order to pull a bike trailer properly, but sometimes they break or get misplaced.
I know, it's a hassle to get a new one, but for $50 it's worth the investment to experience the fulfillment of pulling a bike trailer and precious cargo with your own two legs.
Need help finding the right bike trailer?
If you need help finding the right bike trailer for you, my recommended trailer for most people is the Swhinn Joyrider, which is an affordable double-seater that converts beautifully to a stroller. Check out my full review with photos here.
Check out the Ultimate Guide to Buying a Bike Trailer for more help with choosing a trailer. I also have compiled a list of the top bike trailers for every common situation, which you can check out here.
Ride on!