After using many bike trailers over the years, I am convinced that the Burley Bee bike trailer is the best bang-for-buck trailer on the market for just around $300.
It's a lightweight, double-seat (or single) bike trailer with large 20-inch wheels and plenty of interior space for an affordable price.
But there are a few reasons I would hesitate to recommend this bike trailer to some people.
Here are four of the best things about the Burley Bee, as well as the three of the worst things about it.
---
What makes the Burley Bee the best bike trailer under $300?
The Burley Bee is a high-quality kid bike trailer for just around $300, which is cheaper than other Burley trailers of this quality. It comes with the highest-quality materials that Burley has to offer, while also being extremely lightweight and comfortable for kids.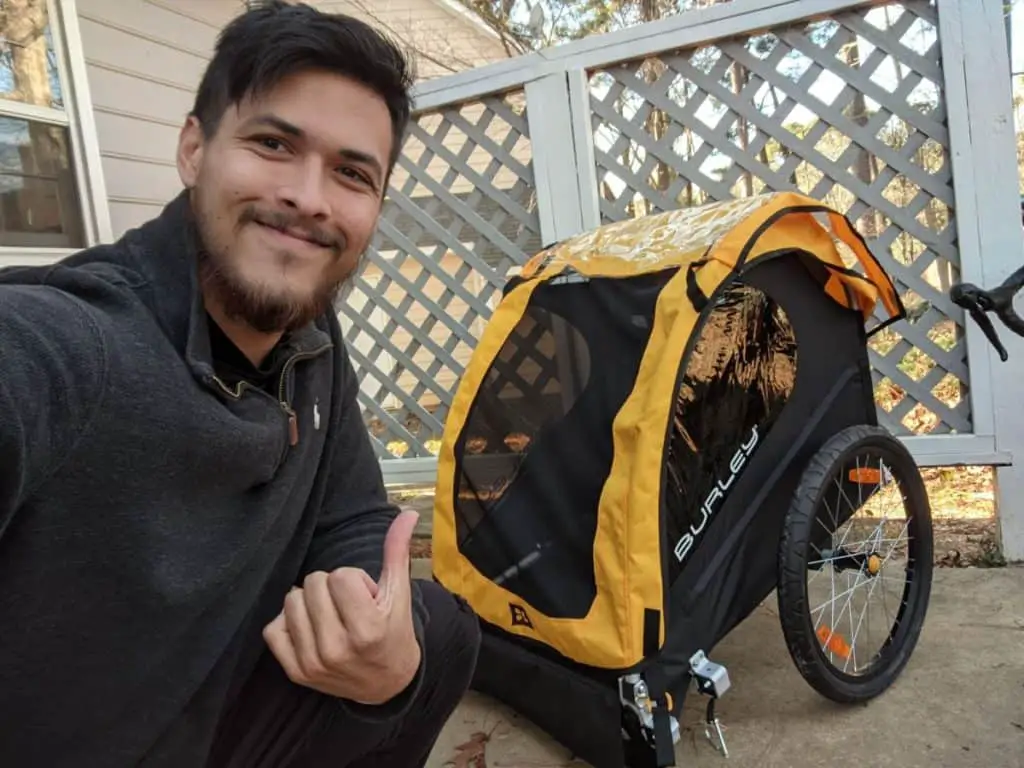 However, there are a few reasons I would hesitate to recommend the Burley Bee to some people. Namely, if you are looking for a bike trailer that converts to a stroller, then you would be better off getting the Schwinn Joyrider, which is in the same price range.
Also, if you are planning to pull the Burley Bee with a disc brake bike that has a thru-axle, then there are some things you should consider before getting the Burley Bee. I'll explain below why disc brakes might cause you some issues.
Here's an overview of the Burley Bee specs.
| | | |
| --- | --- | --- |
| Price Range | Around $300 (check on Amazon) | Affordable price for high-end quality |
| Stroller Conversion | No | This is a minimalist trailer-only model |
| Seats | Double or Single | Comfortable double (or single) seats |
| Weight Limit | 80 lbs (36 kg) | 40 lbs per child, high weight limit |
| Wheels | 20-inch spoke wheels | Large wheels for extra smooth rides |
| Product Weight | 20 lbs (9 kg) | Extremely lightweight for the size and quality |
Pros
High-quality materials for an entry-level price
Large 20-inch wheels
Comfortable bench-style seats
Lightweight (20 lbs)
Cons
Complicated attachment system
No stroller conversion available
Keep reading to find out everything you need to know about the Burley Bee.
Below we will outline the best things and the worst things about the Burley Bee.  
Click here to view it on Amazon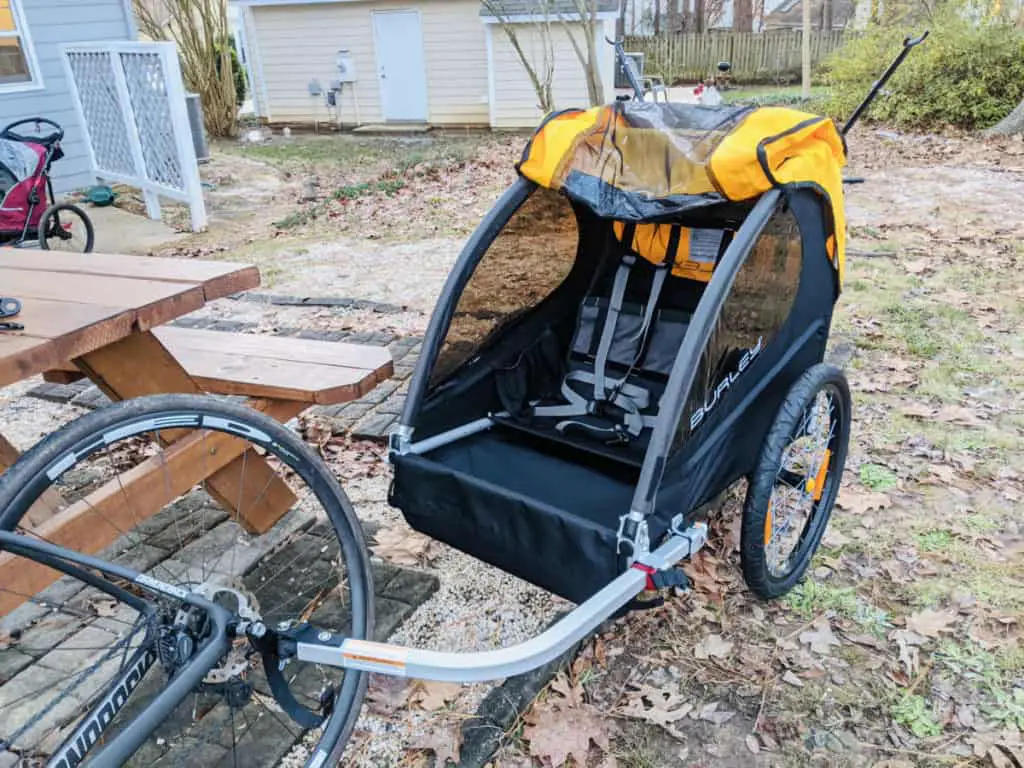 ---
The 4 best things about the Burley Bee
The Burley Bee does almost everything perfectly for such an affordable bike trailer.
Apart from being one of the coolest-looking bike trailers around, the Burley Bee functions beautifully with large wheels, a lightweight frame, and very comfortable bench-style seats.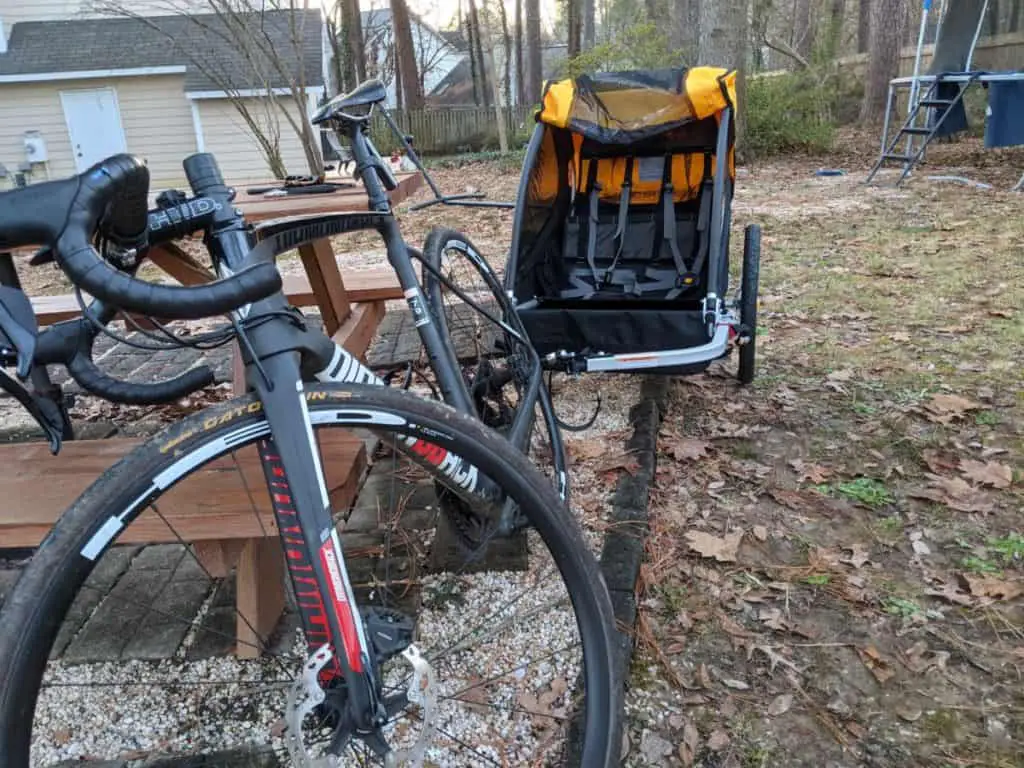 ---
1. Price & Affordability
The price tag of the Burley Bee makes it one of the most bang-for-buck bike trailers on the market. At just around $300, the Burley Bee is much more affordable than other trailers by the Burley brand. Burley is a high-end bike trailer manufacturer that is known for having high-quality trailers, which makes this trailer a steal of a deal.
With that said, if you can swing for another $50, then I would highly recommend that you also check out the Schwinn Joyrider for around $350. The Joyrider has many of the same features as the Burley Bee, and also comes with a stroller conversion and a protective easy-to-open cover.
Here's my in-depth review of using the Schwinn Joyrider for many years.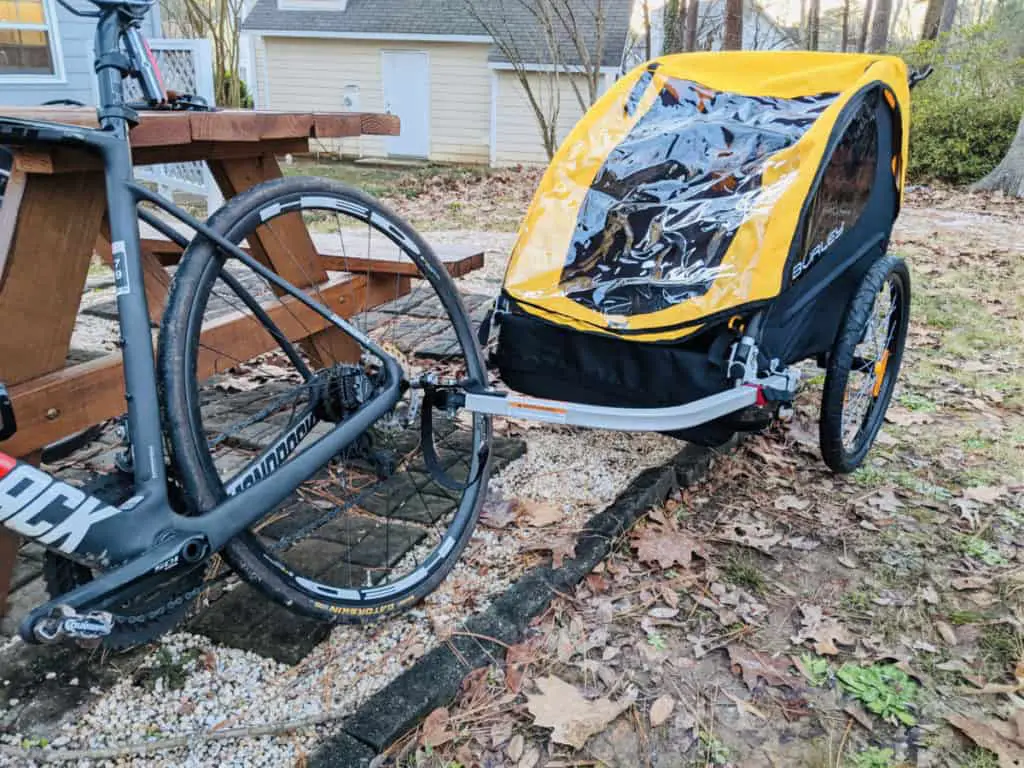 ---
2. Sturdy 20-inch wheels
The gold standard for bike trailer wheels is 20 inches. Many of the high-end bike trailers have 20-inch wheels because they make the riding experience much smoother for you and for your precious cargo.
The Burley Bee wheels in particular are extremely sturdy! They are substantial and just feel ultra-stiff. These wheels are even more sturdy than those found on the most expensive Thule bike trailer, the Chariot Cross.
I especially love the yellow buttons at the center of the wheel that let you easily attach and detach the wheels.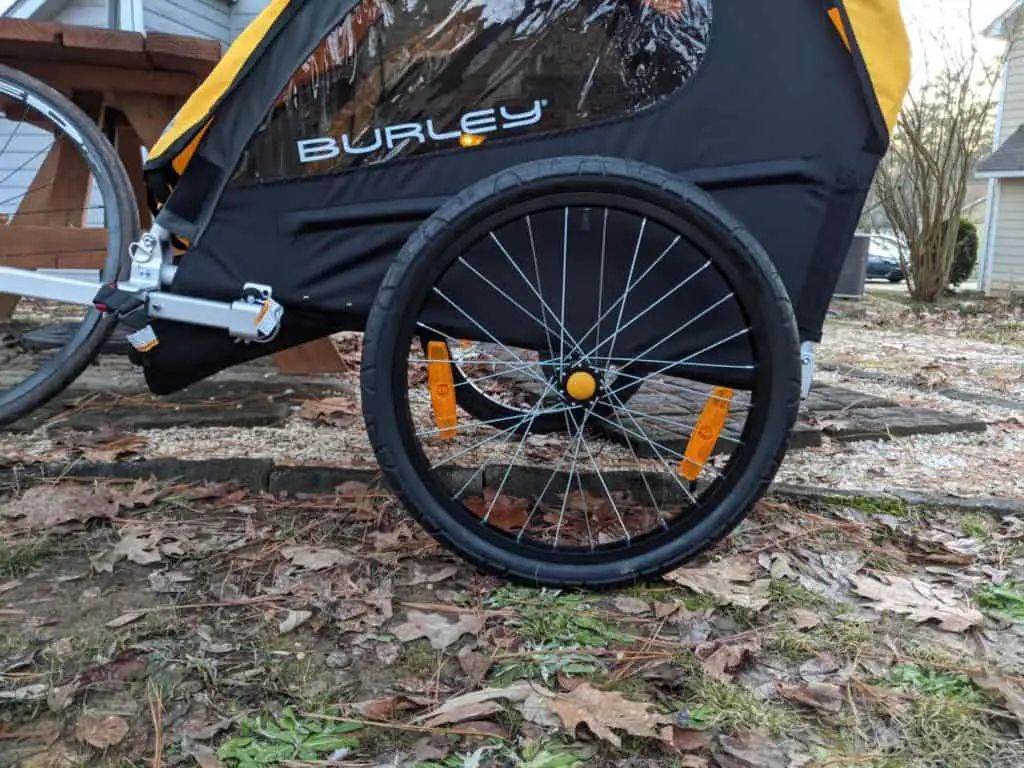 ---
3. Impressively lightweight frame
When the Burley Bee first arrived in its massive cardboard box from Amazon, I was immediately impressed with how lightweight it is!
Seriously, at just 20 lbs, it is hard to find a bike trailer of this quality and size at such a low weight. I can even lift it up with one arm (see photo below).
But why does the trailer weight even matter?
When it comes to the act of pulling a bike trailer, the lighter the better. You will especially notice the trailer weight when climbing hills and going on long rides. Some bike trailers are even twice as heavy as the Burley Bee, so you can imagine how much easier the weight savings make pulling this trailer.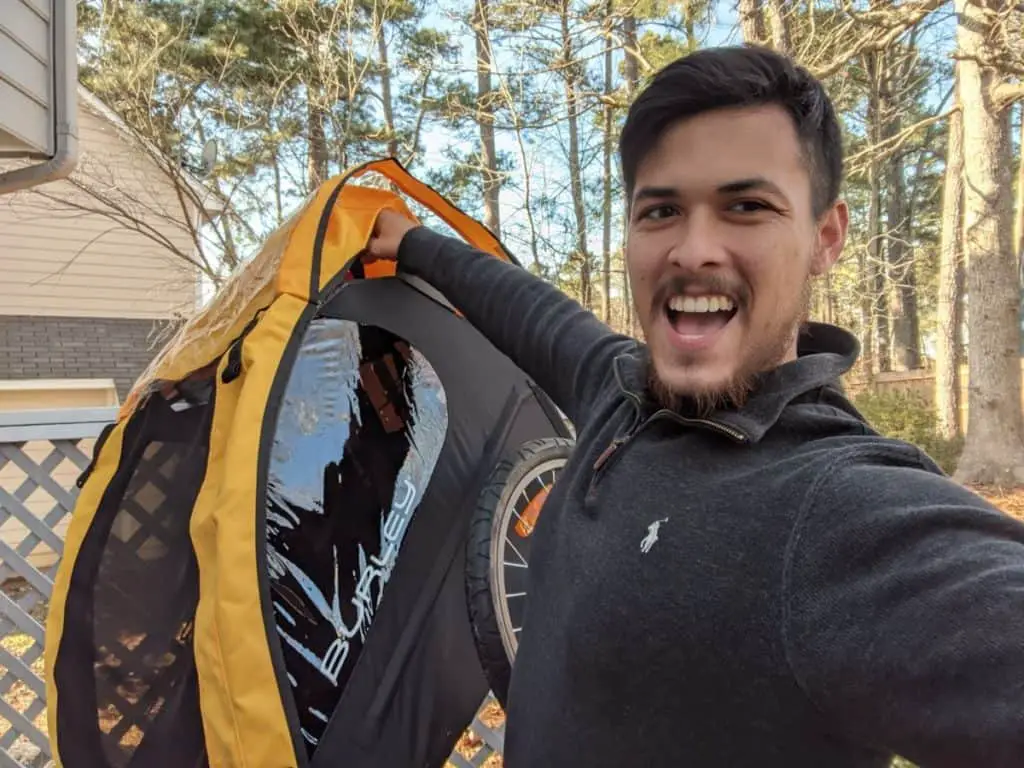 ---
4. Comfortable bench-style seats
The seats on the Burley Bee are bench-style, which means they are sturdy enough to hold children without sinking in the middle. Bench-style seats are preferable over hammock-style seats found on budget trailers because they are more comfortable.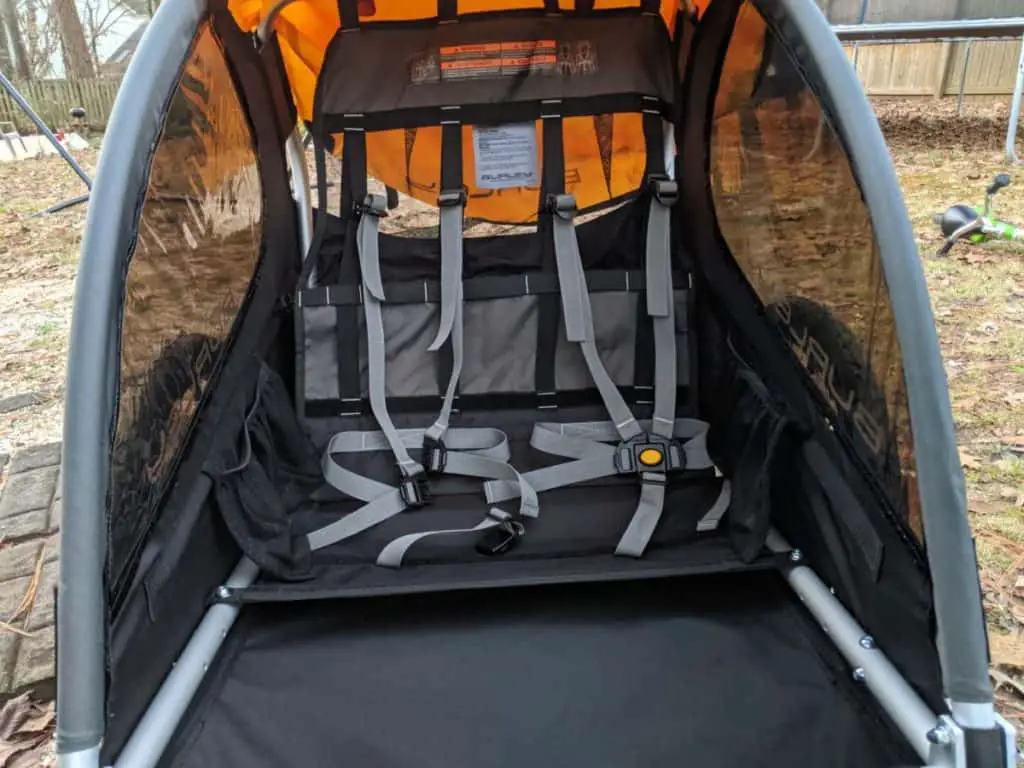 Other noteworthy features of the Burley Bee
Good-quality mesh covers
Most mesh covers on bike trailers are not great quality. They come off while riding and are difficult to get over the frame. The Burley Bee, on the other hand, has very strong covers that don't come off while riding and will stand the test of time.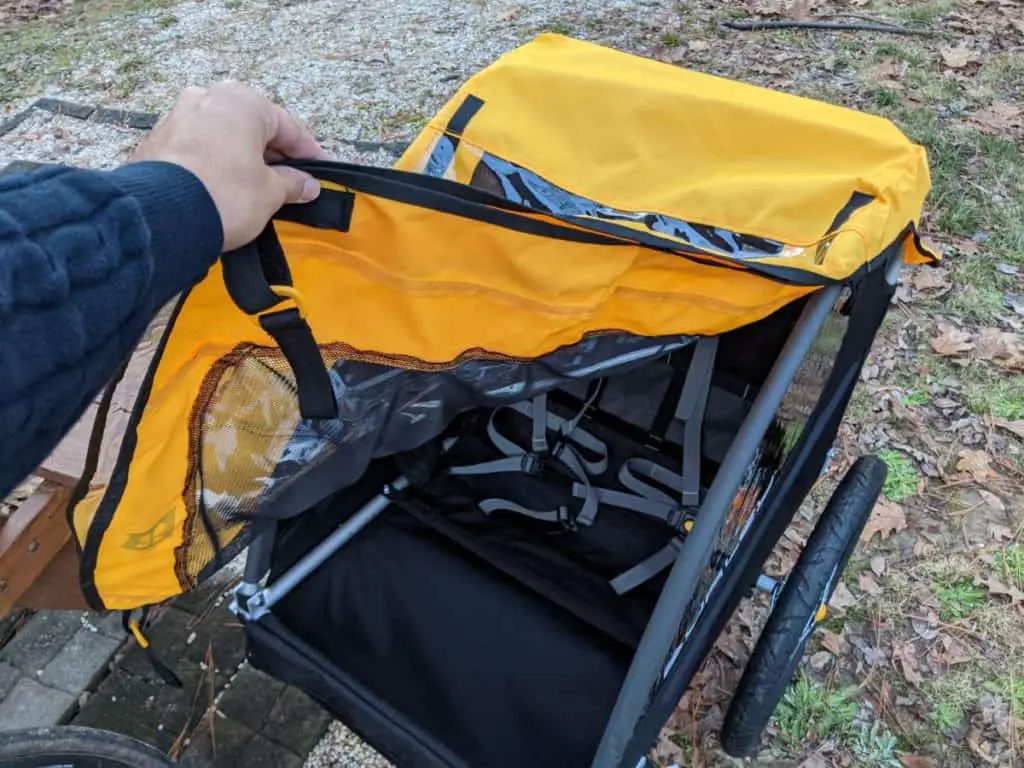 Ample storage space
If you lift up the cover to reveal the back of the trailer, there is enough storage room for anything you might need to bring with you. The ample storage space makes the Burley Bee a great trailer for grocery shopping.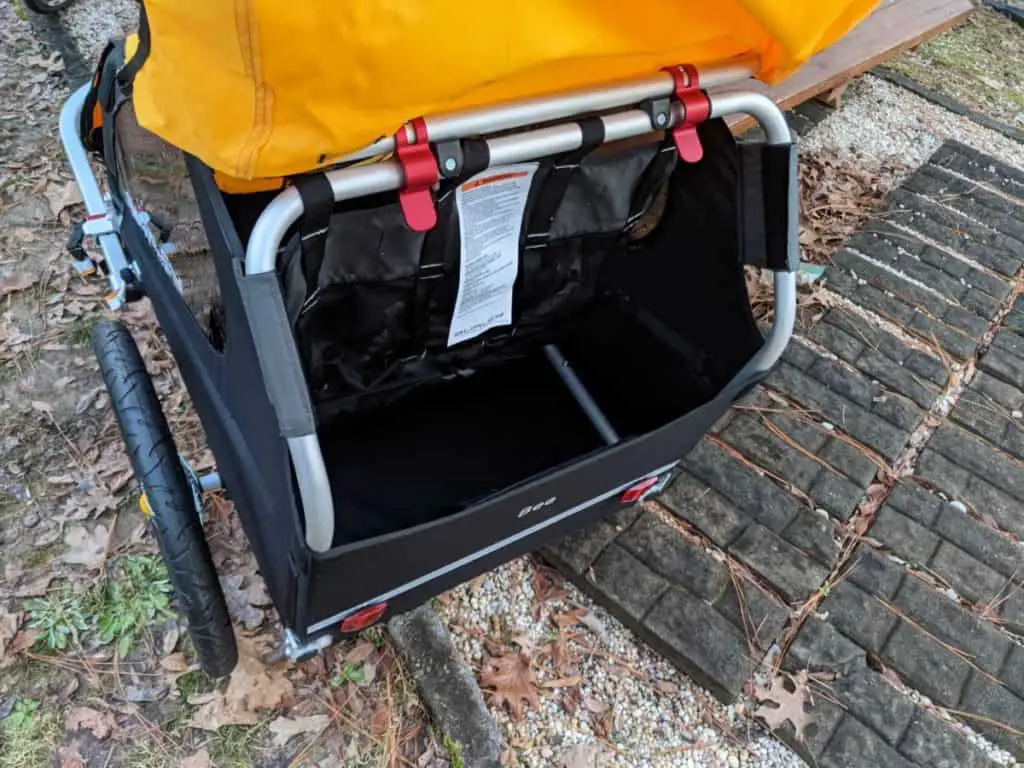 ---
The 3 worst things about the Burley Bee
Apart from not coming with stroller conversion, there is only one thing that the Burley Bee almost gets right: the attachment system.
I have attached every major bike trailer to various different types of bikes, and the Burley attachment system is the most confusing and non-universal of all.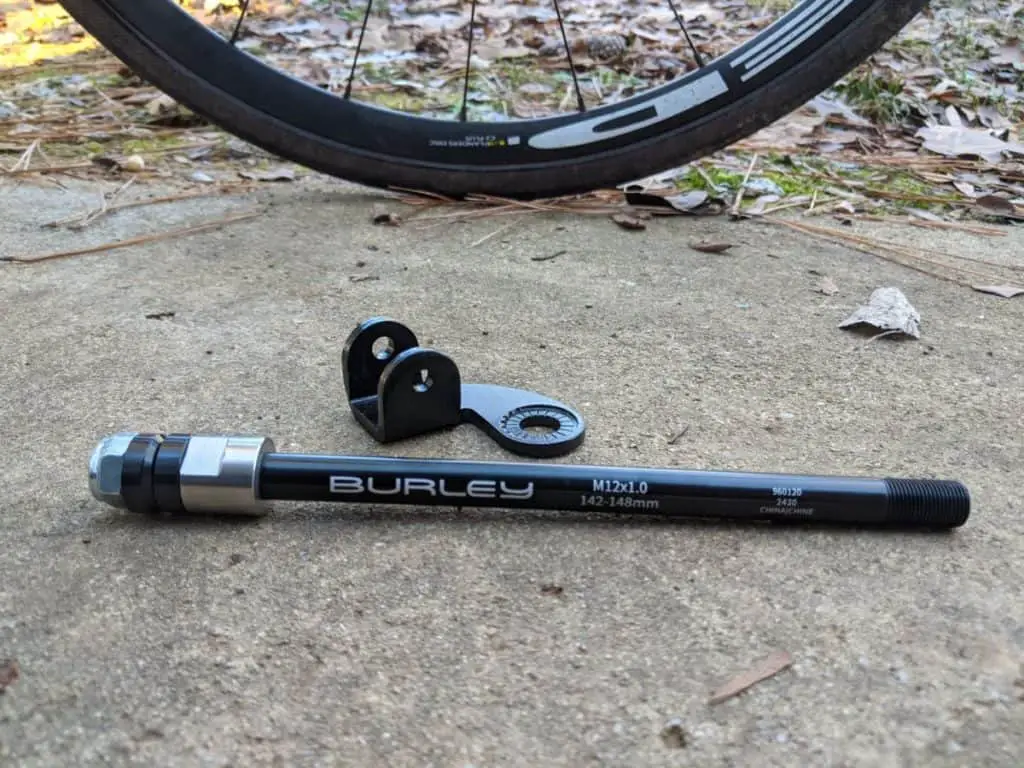 ---
1. Attaching to disc brakes can be expensive
Attaching a Burley bike trailer to a disc brake bike is a topic of much confusion. In fact, I even wrote an entire guide on how to do it!
(Sigh…) I wish I could say that attaching the Burley trailer to disc brakes were as straightforward as Burley's website states. But it isn't, because there are so many variations of disc brakes thru-axle sizes, thread sizes, and axle lengths.
The Burley website gives instructions that don't work for every disc brake owner, and in some cases, the attachments they recommend are not even needed.
But I have a solution for you: just get the bike trailer you want and see if it fits.
The reason I say this is based on personal experience. I initially bought all three of the attachments that Burley recommends for thru-axle disc brakes (about $90 in total). After I got the attachments from Amazon and used them with my Burley trailer, I noticed that my Burley trailer worked just fine with a standard Schwinn coupler attachment!
So I felt a bit ripped off.
So my best advice when it comes to attachments and bike trailers is to just get the bike trailer you want and see if it attaches to your bike. If it doesn't fit, then visit this guide on how to attach any bike trailer to any bike.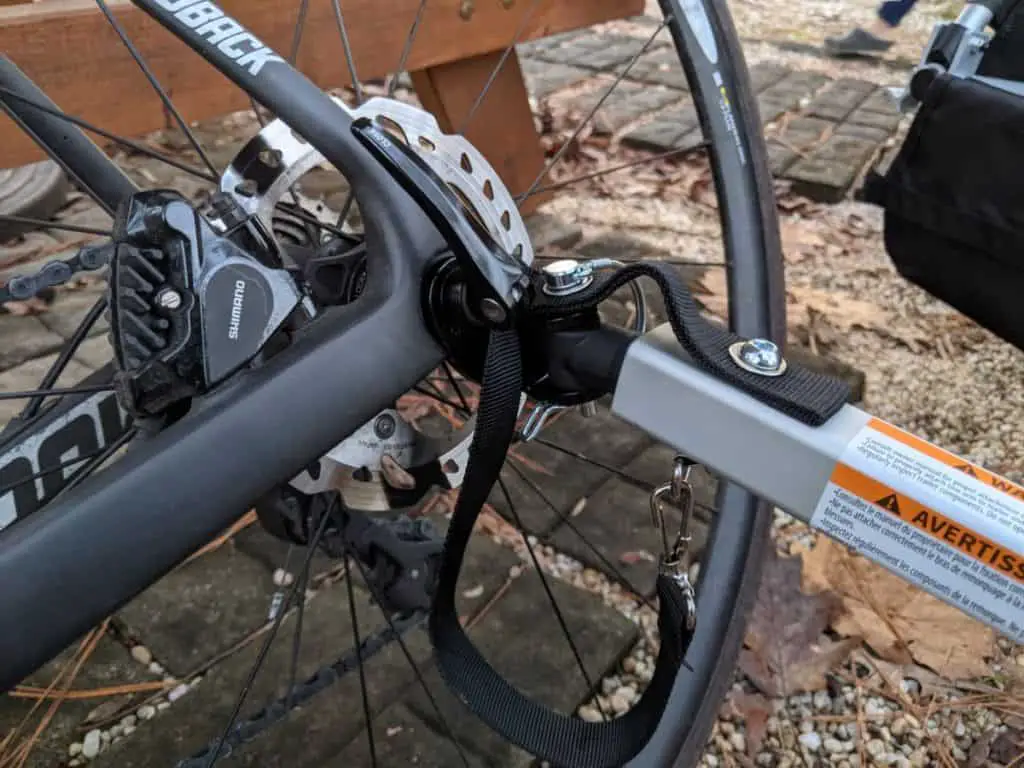 ---
2. The Burley bike trailer could tip over
This one seems like an oversight or design flaw.
There is a chance that Burley bike trailers tip over if the bike falls over. Let me explain.
All bike trailer manufacturers other than Burley use a flexible connection spring system that keeps the trailer from tipping over in the event of a crash or your bike falls over.
The Burley connector, however, uses a rubber connection point to attach to the coupler hitch. The main drawback of using this rubber system is that there is a chance that the bike trailer will tip over if the bike falls over in a certain way (see photo below).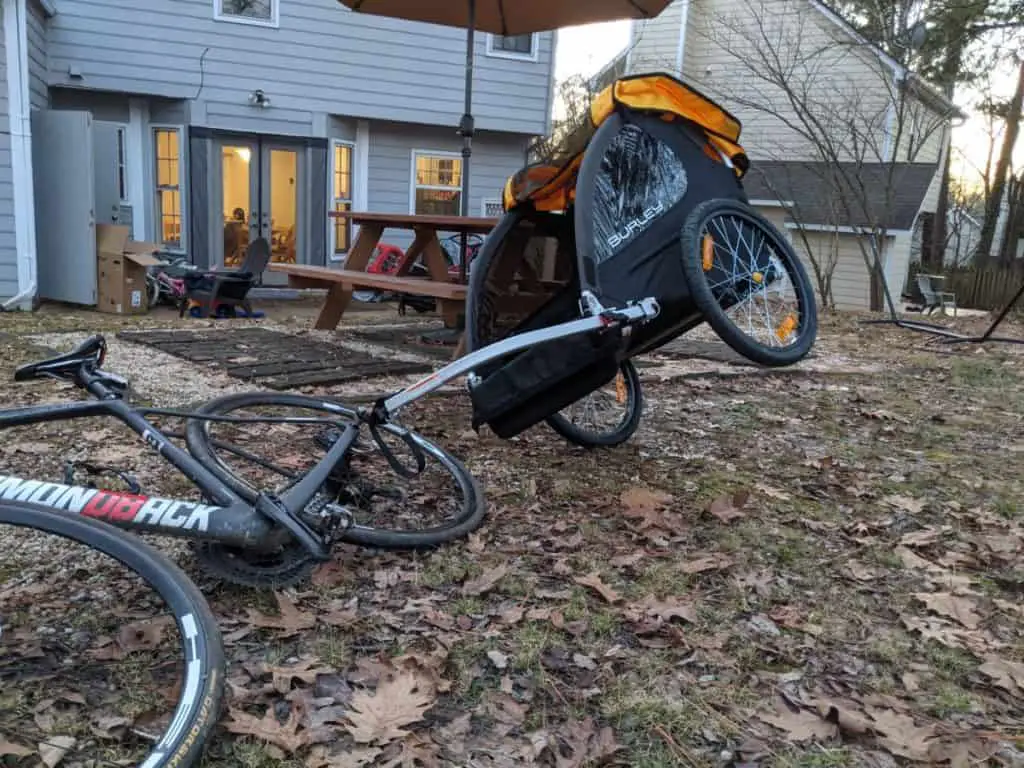 ---
3. Folding the frame is a hassle
An important feature for many people is the ability to quickly and easily fold up the frame to store in the car trunk or garage.
But the frame on the Burley Bee is quite tedious to fold up and unfold. I would prefer a folding system as seen on the Schwinn Joyrider.
In all fairness, this is expected on any bike trailer that does not convert to a stroller.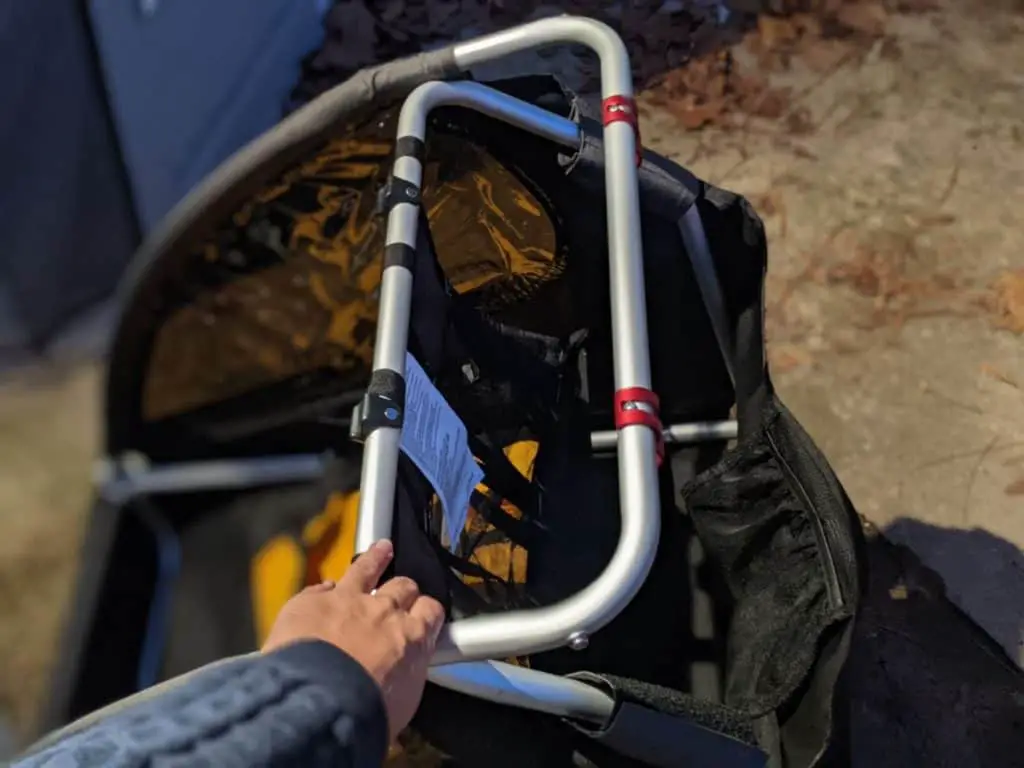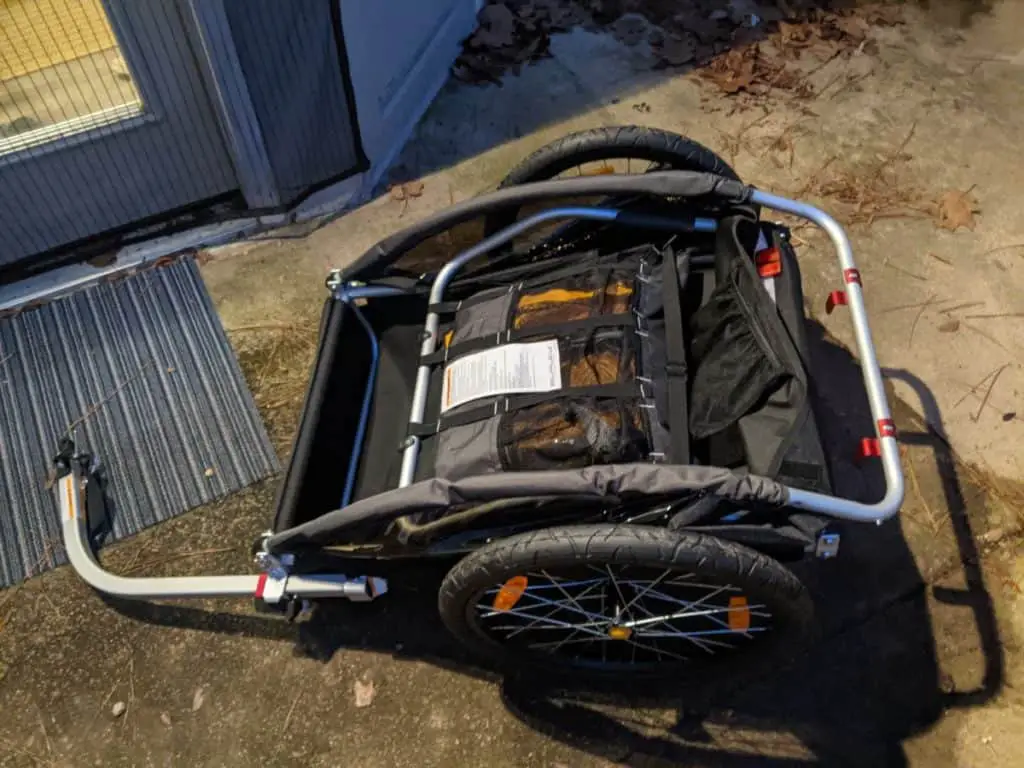 ---
Conclusion
Is the Burley Bee worth your $300? Absolutely yes! It is substantially better than other bike trailers in the same price range.
If you're looking for a minimalist bike trailer that gets the job done well, then the Burley Bee is the trailer for you. If you want a trailer that does have stroller conversion, then the Schwinn Joyrider is my best recommendation.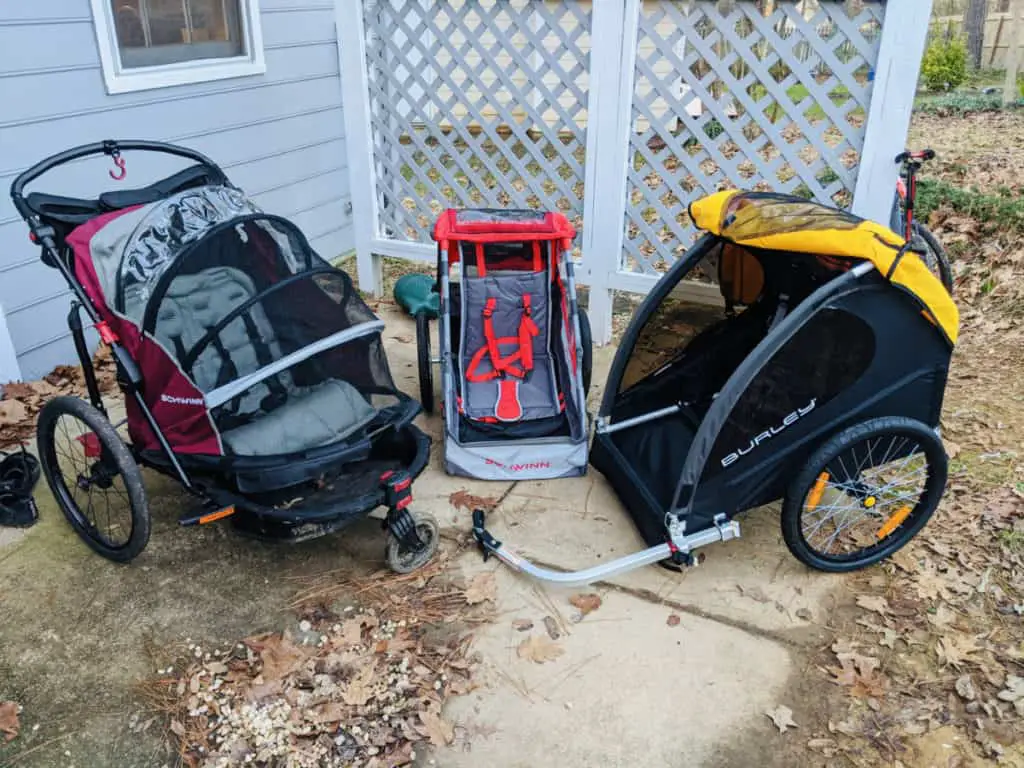 Need help finding the right bike trailer?
If you need help finding the right bike trailer for you, my recommended trailer for most people is the Swhinn Joyrider, which is an affordable double-seater (or single) that converts beautifully to a stroller. Check out my full review with photos here.
Check out the Ultimate Guide to Buying a Bike Trailer for more help with choosing a trailer. I also have compiled a list of the top bike trailers for every common situation, which you can check out here.
Click here to view it on Amazon
Ride on!