Is it possible to bike to NYC from New Jersey? —Yes! In fact, hundreds of people do it every single day and it's even safer and more enjoyable than you might think (even in winter).
No matter where you live in New Jersey, this article covers everything you need to know about bike commuting safely from New Jersey to NYC using the 4 most common routes.
I lived in Palisades Park, NJ for 4 years and commuted daily to Manhattan via the George Washington Bridge. I found it to be much more enjoyable and healthy than the alternative option of taking the dreadful bus to work every day.
Benefits of biking to NYC from New Jersey include:
It's free (save money on transportation)
It's extremely healthy and gives you more energy
It can be faster than taking public transportation (it's true, the bus commute for me took 1 hour or more and biking took only 55 minutes)
---
How to bike from New Jersey to NYC
The best way to bike from New Jersey to NYC is over the George Washington Bridge via the pedestrian-only pathway. Once you get into NYC, get on the Hudson River Greenway from West 181st St and ride along the Greenway as far as you can before you need to get off.
Although the George Washington Bridge is the fastest and most reliable way to bike from New Jersey to NYC, there are a few other options. In addition, there are some important laws and tips that I'll cover in this article.
Here's a screenshot of my 13-mile daily commute: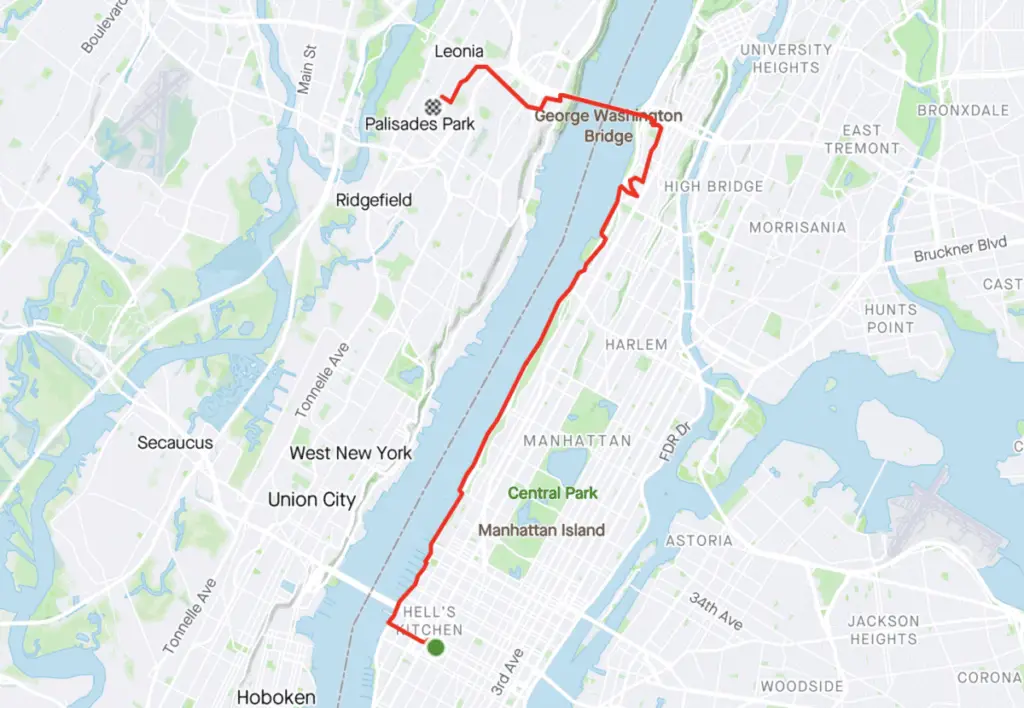 ---
Four ways to bike from New Jersey to NYC
It's a little-known fact that there are multiple ways to bike from New Jersey to NYC. Here are the options, in order of preference.
1. George Washington Bridge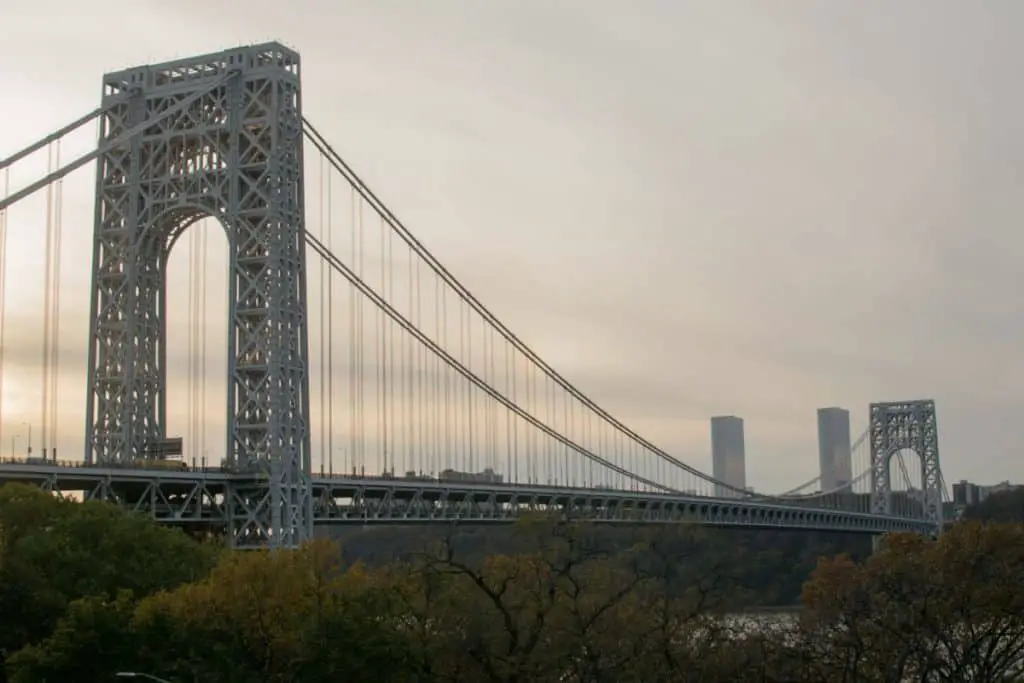 The GWB is the best route to bike from NJ to the City.
It's free
It only takes 10 minutes to bike cross
It has a pedestrian-only path (no cars)
It offers beautiful scenery of NYC
The Hudson River Greenway bike path entrance is very close to the bridge
Occasional closing of the GWB
The only thing you should watch out for is when they occasionally close the bridge due to any of these reasons:
Very strong winds
Frozen surfaces
The last thing you want is to bike all the way to the bridge just to find out that it's closed for the day. They don't close it very often (maybe once per month in my experience), but when they do, they generally do a very good job at updating commuters via their Twitter account(@PANYNJ_GWB).
So just make sure to check their Twitter for any bridge closures before heading out on a particularly windy or freezing day. You can also call the bridge office at (201) 346-4100.
Biking the GWB: Pro tips
Here are some pro tips that only experienced GWB commuters can tell you:
Memorize the open and close times of the bridge
The bridge can be very windy, so wear shades to protect your eyes (especially when it's raining)
On windy or freezing days, check that the GWB is not closed by going to the Twitter page
Before you decide that you live too far from the GWB to make it work, keep in mind that there are other ways to get there, including the methods listed below. I have a close friend who biked every day from Bloomfield, NJ to Manhattan, which is about 26 miles one way. The health and monetary benefit speaks for itself.
2. Tappan Zee Bridge (Gov. Mario M. Cuomo Bridge)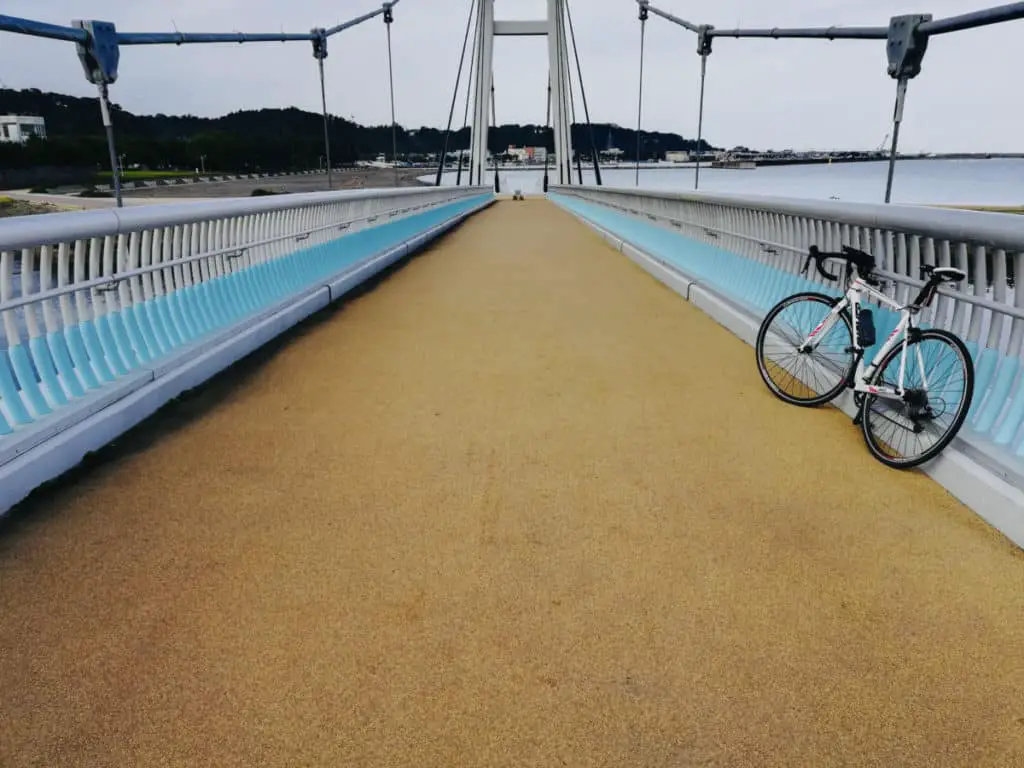 The Tappan Zee Bridge opened its beautiful pedestrian pathway in 2020 after years of anticipation. This was huge news for the cycling community because it meant another access point from New Jersey to New York.
In the case of bike commuters who are living in New Jersey and working in NYC, this opens an opportunity to bike from the Tappan Zee all the way down to NYC via the beautiful South Country Trailway that starts near Tarrytown, NY and leads you down a peaceful commute all the way to Van Cortlandt Park in the Bronx.
From there, you can get anywhere in NYC via the Hudson River Greenway or just taking the local streets.
It might seem like a serious commitment to bike from the Tappan Zee Bridge to NYC, but it's only 18 miles from the beginning of the Tappan Zee to the Bronx, and 28 miles down to Central Park.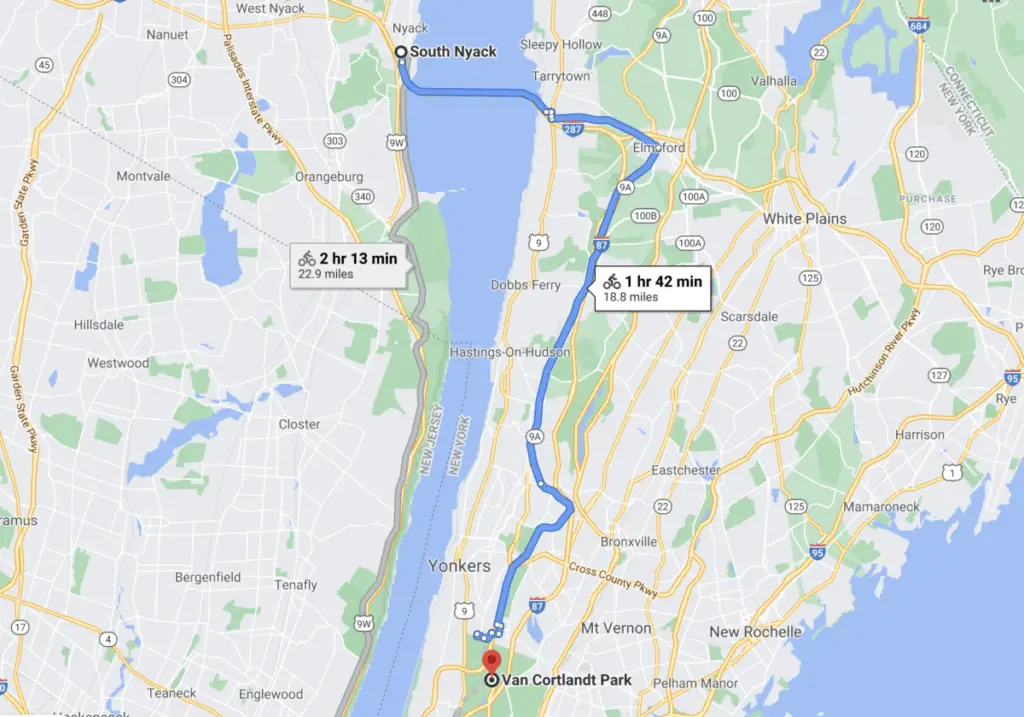 That's actually not that bad, considering you'll be taking beautiful greenways most of the way! It's really important that you view it as a healthy habit and enjoy the ride. Once you get used to it, it'll just become more and more enjoyable. Not to mention, you'll get faster and save a ton of money!
3. Hybrid option: Drive & bike
If you live somewhere in New Jersey that is not close to any of the above two options, then you should definitely consider taking a hybrid approach. Drive or bus part-way to the George Washington Bridge, and then bike the rest of the way.
The benefits of doing a hybrid option include:
Saving money on bus or train
Saving time by beating traffic
Flexibility of having a bike in NYC
I recommend taking a bus or train to Fort Lee and then biking across the George Washington Bridge. If you prefer to drive, you can find daily parking for free in the residential neighborhoods around Fort Lee. Just pay attention to the parking signs and follow the local code. The entrance to the GWB starts in Fort Lee.
4. Ferry from NJ to NYC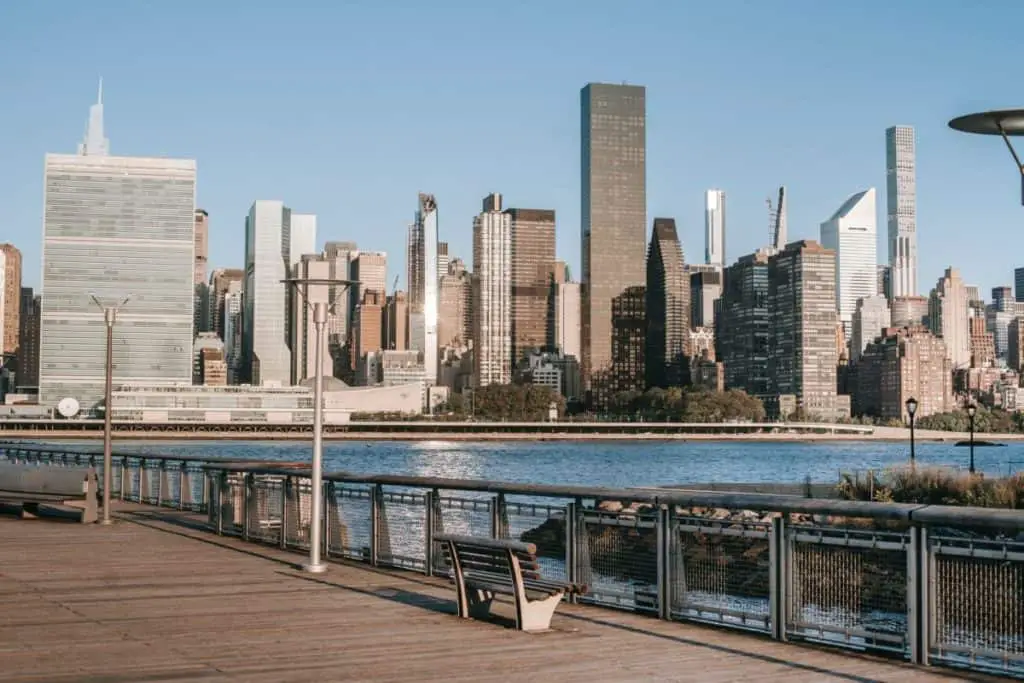 Another way to bike from New Jersey to NYC is by ferry. This is a good option if you can easily get to one of the many ports along the New Jersey shore of the Hudson River. Ports are located in Edgewater, Weehawken, Hoboken, Jersey City, and a few other places.
Benefits of taking the ferry:
It's fast (only 8 minutes)
It's enjoyable (beats taking the bus!)
Ferries depart all day
The drawback of the ferry is that it costs around $9 one-way for adults, but the cost is reduced if you get a monthly pass or weekly pass. All the information you need can be found at the website: nywaterway.com.
---
Laws & safety when biking in New Jersey and NYC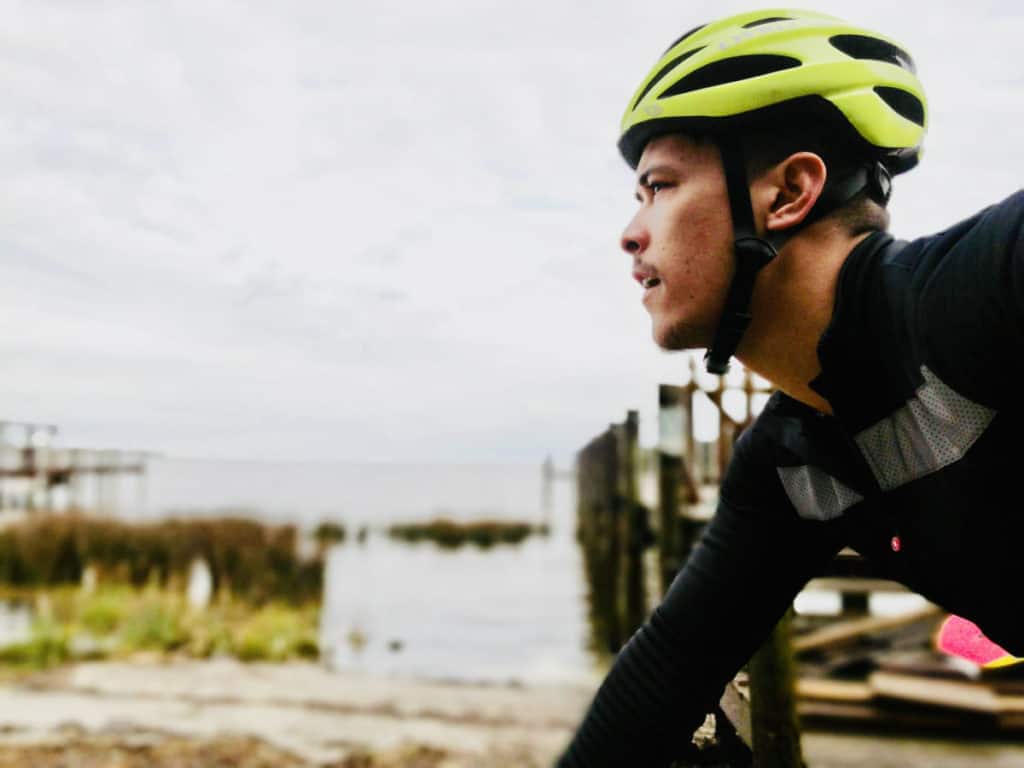 There are several important laws, tips, and tricks to be aware of when biking in both New Jersey and NYC. Since biking in New Jersey and biking in NYC are completely different experiences, I'll be covering both areas separately.
Be sure to also check out my article on how much money you can save through biking.
How to bike safely from New Jersey to NYC
1. Use Google Maps to find the safest route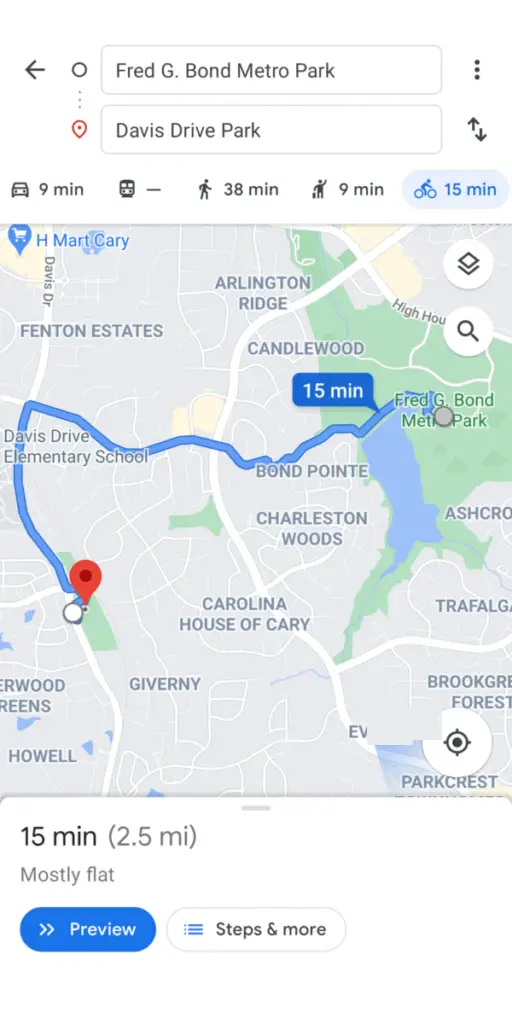 Always, always use Google Maps to map out your ride before you head out. Google Maps even has a handy biking option that will recommend the safest route using less trafficked roads. This is the perfect way to find the local roads that will keep you feeling safe.
When you first start commuting by bike, make sure you take every possible route to your destination to decide which one you prefer. Sometimes the fastest route is not always the safest route. I always prefer to take the safer route, even if it means adding 5 minutes to my commute. More exercise for me!
2. Use flashing front and rear lights
Flashing lights are a MUST when riding in the City around cars and other pedestrians, especially at night! With the sun going down in the evening, you need to make sure you're seen at all times.
Even when riding during the day, it's important to have flashing lights at the front and back of your bike to make sure that cars and other cyclists see you. This is especially important if you are riding in a city with lots of cars and pedestrians.
I also wrote a full article on bike commuting at night, which you can check out here.
Front light
A good front light has different options to either flash or stay on. When riding in the day or early evening, use the flashing function. When it's completely dark, just keep the light on without flashing.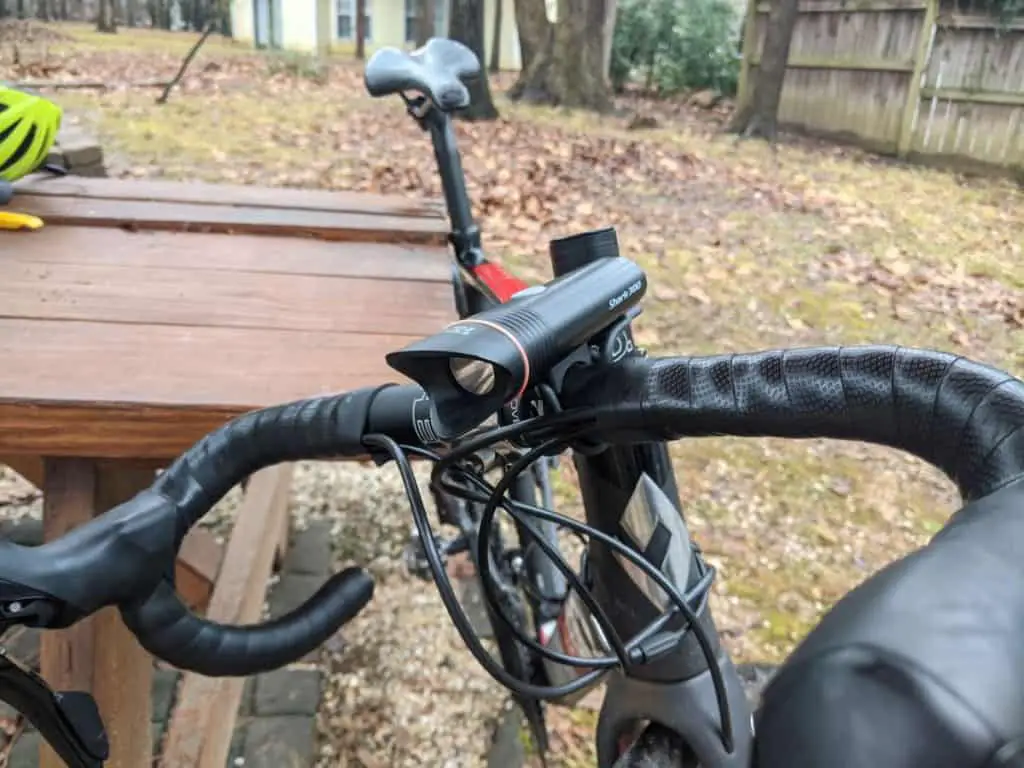 You will also want to make sure that your front light can be charged by USB, rather than powered by disposable batteries. You should be charging your lights at the end of every day, so a USB charger is the way to go.
I have been using this front light from Cycle Torch for many years without any issues. It's super bright and has multiple flash frequency settings.
Rear light
The rear light should also have different flash options. You will definitely want to keep your rear lights on all the time in the winter, night or day. A good rear light will be powered by a USB-chargeable battery, rather than disposable batteries.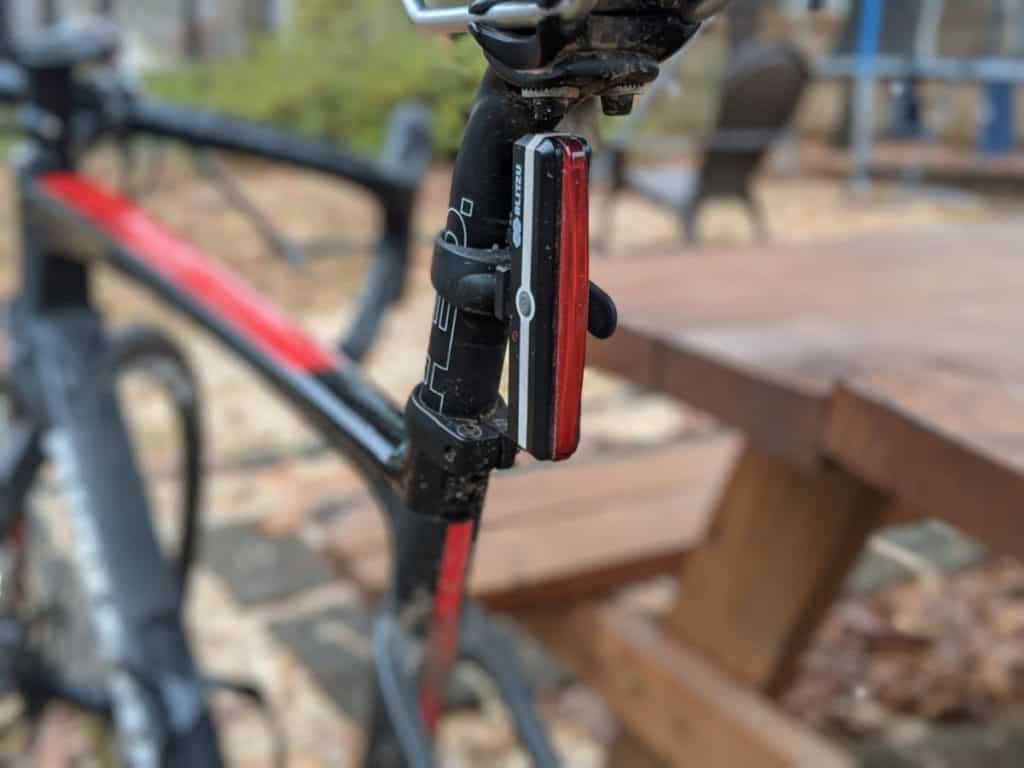 This rear light by Blitzu has never let me down through dark winters and freezing rain. It has different flash options, such as a rapid flash or a steady flash. It is also rather bright. Not dim at all for more than four years of constant use.
3. Never assume people see you
Just because you have the right of way at an intersection and having flashing lights, it doesn't mean drivers can see you. In fact, they probably can't see you because they might not be looking for you. Meaning, drivers generally have what is called "tunnel vision", which means they cannot see what they are not looking for. Since they are just looking out for other cars (not cyclists), they generally don't see cyclists.
This is precisely why it's so important that you assume no one sees you. Better yet, just pretend that you are completely invisible. I know, we don't want to live in a world where cyclists are invisible to drivers, but the reality is that being invisible will keep you SAFE.
After years of biking from New Jersey to NYC every single day, I never once had a crash or even came close to it. How? By simply pretending no one saw me. If a car is pulling out of a driveway or going a little too fast through a stop sign, I just stop and let them go.
In this video, I outline some not-so-obvious tips that will keep you even safer on your bike commute.
4. Bike home before dark
When the winter months come around, the days get shorter and biking home at night becomes more dangerous. Biking at night adds another layer of potential dangers, such as being less visible and having less visibility. Even with bright lights, it's still better to come home before it gets dark.
If your job allows for you to leave home a little earlier, then I recommend taking advantage of that option. An added bonus is that you won't have to ride with so much rush hour traffic!
Negotiate to finish work early
If you can't leave your job early, then try to negotiate with your supervisor. You can offer to come to work one hour earlier in order to leave one hour earlier. I made this exact negotiation with my boss and I was surprised at how receptive she was to the idea. I explained to her that biking in the dark is much more dangerous and she totally was understanding. People develop an interesting sympathy for you when you start biking to work!
---
Bicycle laws in New Jersey that you should know
Bicycle laws in New Jersey are not as stringent as in NYC, but riding in NJ can be considerably more dangerous if you don't follow a few important tips. The reason New Jersey can be more dangerous is because of that lack of biking infrastructure and the fact that drivers generally are less unaware of cyclists than in NYC.
In New Jersey, it is very rare to find bike paths or bike lanes (or even sidewalks) in areas close to the Hudson River. Therefore, the only reasonable option is to ride on the road with traffic, which some people aren't very comfortable with.
It's normal at first to not feel comfortable riding next to cars, but there are ways to help you feel at ease.
As a rule of thumb, if you don't feel comfortable on any particular road, then find another road. New Jersey is filled with small backroads that can take you in the same direction in a safer manner.
What are the New Jersey bicycle laws?
According to the New Jersey state website, every cyclist must obey all New Jersey state and local driving laws. In other words, cyclists in New Jersey have the same responsibilities and privileges that drivers do.
Cyclists must also stops at red lights and stop signs.
Do cyclists need to wear a helmet in New Jersey?
All cyclists under the age of 17 must wear a helmet in the state of New Jersey, according to the Department of Transportation. This includes children being towed by a bike trailer.
Are lights required on bikes in New Jersey?
A front white light and a rear red light are required at nighttime according to the New Jersey Department of Transportation. They state that the front and rear light should both be seen from at least 600 feet away. In addition, a red reflector should be mounted on the back of the bike.
---
Bicycle laws in NYC that you should know
Biking in NYC is actually much safer than you would think. The image most people have is of zooming mopeds and bumper-to-bumper traffic at all times. In actuality, NYC has a beautiful greenway called the Hudson River Greenway that connects the entire city and wraps all the way around the peninsula. You can actually bike comfortably from the George Washington Bridge all the way around Manhattan to the East River.
The actual experience of biking in NYC looks more like this (this is actual footage of my commute from New Jersey to NYC):
What are the New York bicycle laws?
Every cyclist must obey all New York state and local automobile driving laws. In other words, cyclists in New York have the same responsibilities and privileges that drivers do.
Cyclists must also stop at red lights and stop signs. In fact, many NYC cyclists have received tickets for running through stoplights. Since cyclists are more common in NYC, police are on the lookout for cyclists who are skipping stoplights and not following the rules of the road.
Since there are as many as 48,800 daily bike commuters in NYC, the New York Department of Transportation has outlined several important laws and regulations that are important to know about.
1. If there is a bike lane, you must use it
If there is a bike lane, NYC law states that it must be used. If there is no bike lane, then cyclists must share the lane with cars. There have been many reports of cyclists getting fined for riding on roads with designated bike lanes.
It is illegal for cyclists to ride on the sidewalk due to the high foot traffic at any given time.
In other words, cyclists in NYC can only ride in designated bike lanes. If there are no bike lanes, then cyclists must share the lane with cars.
2. Are bicycle helmets required in New York?
All cyclists under the age of 13 must wear a helmet in the state of New York, according to the Department of Transportation.
3. Are lights required on bikes in New York?
A front white light and a rear red light are required at nighttime according to the New York Department of Transportation. Not only are lights required at night, but it can be extremely dangerous to not ride with lights at night. Lights help you be seen by drivers and other pedestrians, as well as help you see better in the dark. Refer to the above-recommended lights for your bike.
4. Are e-bikes (electric bikes) legal in NYC?
Pedal-assisted e-bikes are okay in NYC, but throttle-controlled e-bikes are banned. After years of debate, NYC finally settled on a regulation regarding e-bikes. Some types of e-bikes are legal and some types are banned, depending on if you are using a pedal-assisted e-bike or a throttle-controlled bike.
5. Is it legal to wear earphones while biking in New York?
NYC law states that it is legal to bike with one earbud in. However, riding with two earbuds in is illegal and also dangerous. With so many cars around night and day, it is dangerous to have your hearing fully obstructed by any audio. Therefore, just play it safe with one earbud and you'll be just fine.
---
Winter biking in New Jersey and NYC
I somehow managed to bike every day through two brutally cold winters in NYC. There are a few untold truths about biking in the winter in New Jersey and NYC that only experienced NYC commuters could tell you.
Here are some important winter biking tips in NYC:
1. The George Washington Bridge sometimes freezes over
You can expect that there will be some frozen patches on the George Washington Bridge during the winter months. If the bridge is too frozen over, the GWB authorities will send out a notice via their Twitter account (@PANYNJ_GWB).
Even if they do not close the bridge due to ice, always be cautious of slippery patches of ice on the bridge. In addition, you can expect there to be stronger winds on the bridge during the winter.
2. The Hudson River Greenway is extra windy in the winter
Since the Greenway is by the river, it's always pretty windy down there. But in the winter, the wind does become stronger because of the cloudy and unpredictable weather. So just be prepared for a brutal headwind or a pleasant tailwind.
3. There are very few people bike commuting in the winter in NYC
The really good news about biking in the winter in NYC is that there are VERY few people doing it! The Hudson River Greenway is almost completely empty during the colder days of the year, so you can just blaze through the Greenway on your way to work.
But as soon as Spring comes around, the cyclists and pedestrians are back in action.
4. You might have to wear your winter gear until April
Winters in NYC can be long and brutal, so be prepared to wear your full winter gear well into April. During the winter of 2018, I wore all my winter gear from November all the way until May. That's 6 whole months!
Also, be sure to read the article on getting the right winter gear for your bike commute, which you can find here.
---
Biking from New Jersey to NYC changes everything
Once you discover the joys, savings, and health benefits of biking to and from NYC, you'll never go back to the dreadful public transportation options. After years of biking daily from my house in New Jersey to my job in NYC, I have never once regretted taking the bike, even riding through the below-freezing winters.
Be sure to also read my FULL how-to guide on winter riding, including all the gear you'll need. Check it out here!
---
My Recommended Gear for Year-Round Cycling on a Budget
It took me years of trial and error to figure out the best and most affordable setup for my daily bike commuting. I would only recommend the gear that is good quality for a good price. Here's my full year-round gear recommendation guide.
Want to know how much your cycling gear should cost? Check out my guide with different budget options here.
Ride on!