Commuting by bike to and from work every day could get tiring, especially if you are not used to regularly doing so. There are several tricks and tips you could take to make bike commuting daily a fun activity instead of burning out. 
I commute daily from New Jersey to NYC (which is 13 miles one-way) and managed to enjoy it even through brutally cold winters.
Here are my best tips for you to discover how to commute by bike every day without burning out. We will discuss some changes you can make to your daily routine and some activities you can do to challenge yourself on your daily commute. 
Is it okay to bike every day?
It is safe and possible to bike every day without burning out. In fact, hundreds of people in large cities commute by bike daily. For those of an average fitness level, a daily commute of up to ten miles is possible daily, and those in exceptional shape can manage a daily commute even further than 15 miles.
Work slowly to find your threshold for daily commuting. No matter your fitness level, you can work up to a longer commute or split your commute into smaller portions, using another mode of transportation for part of your commute. 
The key to commuting by bike every day without burning out is to make your ride as comfortable as possible and to find the routes and methods that work best for you. Add some fun activities or challenges to your ride when you are feeling close to burning out. 
Here's my full guide on how to commute far distance (more than 15 miles!).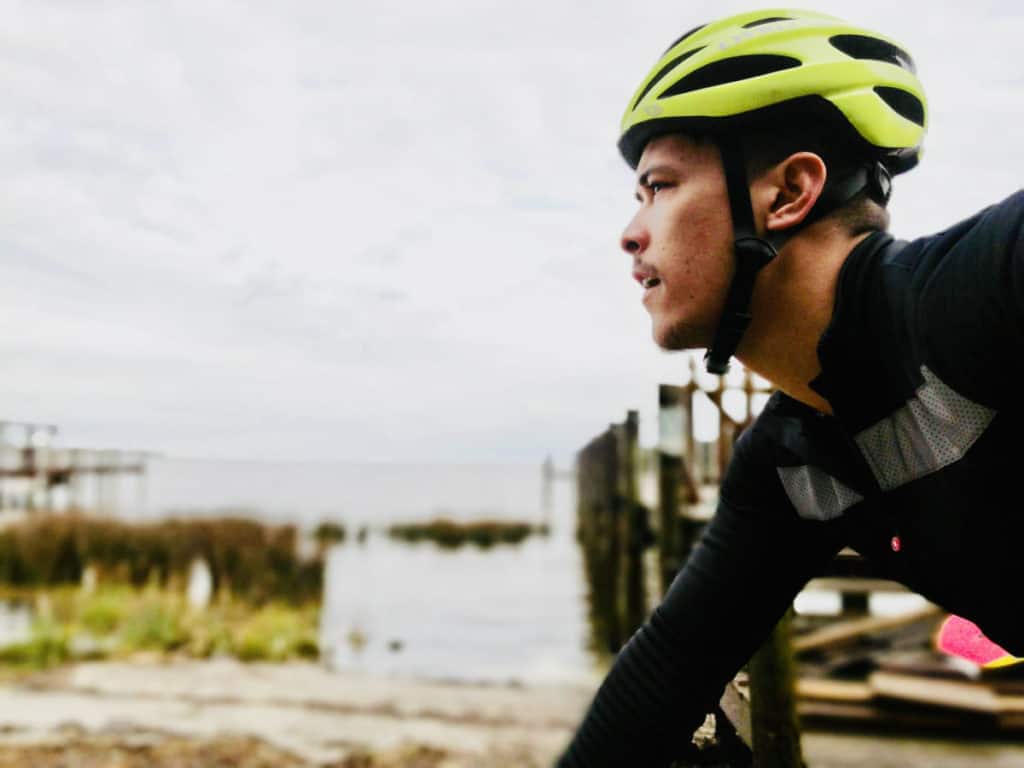 Tips for daily commuting to avoid burning out
There are plenty of things you can do on your daily bike commute to avoid burning out. From taking extra time to choose the correct gear and bike, making your ride comfortable and enjoyable is key to staying interested and motivated.
Here are some tips and tricks you can use to get a more comfortable and varied ride to avoid burning out when commuting. 
1. Take more time than you need when biking daily
A rule of thumb when commuting daily is to give yourself more time than you will need. If your typical commute takes you around an hour, give yourself an hour and twenty minutes. This method will make your commute seem far more laid back, and you won't find yourself rushing to make it on time. 
Giving yourself additional time will allow you to bike at your own pace and avoid straining yourself by rushing. You may find yourself getting to work early and having more time to get things done, or even being able to leave the office a little early. 
If you're worried about getting to your workplace all sweaty, be sure to read my guide on how to clean up after a bike commute!
2. Change up your route on certain days of the week
Burning out can be a common occurrence if you are consistently taking the same route on your daily bike commute, but by changing up your route on specific days of the week, you can prevent burnout before it sets in. You will be less likely to keep riding if you are struggling to enjoy the route. 
If adjusting your route a few times a week is not enough for you, take advantage of your ride home, as most people usually have more time on the way home from work rather than the way to. Deviate from your route on your way home and find some new scenery to enjoy. If you are planning on taking a completely different route, be sure to test out your ride on a day you are not strapped for time. 
3. Choose the right gear for daily commuting
Trust me, it's worth spending a little extra on a piece of clothing that could make your riding experience more enjoyable! My one regret from my daily commuting days is that I wish I bought a nice thermal cycling jacket to keep me warm. It would have saved me from so many brutal winter rides.
The winter months can be less enjoyable for commuting daily, but you still can make them as comfortable as possible by outfitting yourself in the right gear to stay warm. Check the weather daily and always pack extra clothing just in case. If you end up not needing it, you can always leave it in the office or bring it back in your backpack or pannier. 
I have literally written an entire guide on how to stay warm during the winter, so be sure to also read that here.
For a shortened version, here are some options that may keep you more comfortable in the warmer months and keep you from freezing in the winter. Staying comfortable on your ride is one of the number one rules to avoiding burnout.
Choose a pair of comfortable bike shorts
These BALEAF Padded Bike Shorts can keep you comfortable, especially on longer rides. These shorts feature an elastic enclosure and a breathable, lightweight fabric with moisture management to keep you cool and dry. 
A waterproof jacket to stay dry on rainy days
This BALEAF Waterproof Cycling Jacket is made of a lightweight material that can be easily stored when not in use. This jacket comes with a breathability system to keep you dry, even on the rainiest of days. Its reflection neon color selection will help pedestrians and cars on the road notice your presence.
A thermal jacket to stay warm in the winter
This Arsuxeo Winter Warmup Softshell Thermal Jacket will keep you dry and warm in the winter months. This jacket contains three layers of fabric with a windbreaker material on the top. Staying warm in the winter will give you the motivation to continue riding and enjoying your commute. 
4. Choose the right bike for daily commuting
To choose the right bike for you, you need to find one to ride comfortably and for long distances. The right bike is subject to the rider's opinion, but there are a few additions that you can add to your bike to make your commute as comfortable as possible. 
Gauge the terrain on your daily commute and determine what bike is right for you. If you find yourself commuting over hills and uneven terrain, look for comfortable mountain bike options. Mountain bikes offer larger gear ratios that can assist you when climbing hills or riding over rough terrain. Again, being able to enjoy your commute will help you avoid the potential of burning out when commuting daily. 
Another option to keep you more comfortable on your daily commute is to search for a bike with fenders. A bike that comes with fenders can be a lifesaver in rainier climates or just on rainy days. Fenders can keep the rain from spraying upward from your tires and soaking your bags or clothing.  
My winter riding guide also delves deeper into types of tires for all-terrain riding.
5. Challenge yourself to make it fun every day
Daily commutes can become grueling over time if you do not change up your route or ride without optimizing your comfort. If you are an avid bike rider or fitness enthusiast, challenging yourself on your daily commute could be the most fun part.
Finding time to work out can be another headache that could lead to burnout in your daily commute, but using your commute to time yourself against your personal best can be a great way to combine both, and save yourself some time. If you are a competitive person that finds joy in a challenge, then creating one during your daily commute could be something that prevents you from feeling burnt out by it. 
Conclusion
Commuting via bike daily is a possibility but can come with the occasional chance of feeling burnt out. Luckily, there are several tricks and tips you can follow to prevent burning out during your daily bike commute. From taking extra time to enjoy the scenery around you rather than rushing off to work to occasionally varying the route you take, following these tips can prevent potential burnout. 
Being comfortable during your ride is one of the best things you can do to avoid burnout. Choosing the correct gear to stay warm in the winter months and cool and dry in the summer months is one of the best ways to stay comfortable. Choosing the right bike for the terrain on your commute is also ideal for staying comfortable and avoiding burning out. 
---
My Recommended Gear for Year-Round Cycling on a Budget
It took me years of trial and error to figure out the best and most affordable setup for my daily bike commuting. I would only recommend the gear that is good quality for a good price. Here's my full year-round gear recommendation guide.
Want to know how much your cycling gear should cost? Check out my guide with different budget options here.
Ride on!
You should also read: