There are so many questions that come with getting a bike trailer and figuring out how to use it safely and comfortably—I've been there!
One of the first things new owners of bike trailers wonder is what kind of accessories are needed.
Luckily, there are not many additional accessories and attachments that are needed for most people.
I have attached every major bike trailer brand to many different types of bikes, including a cruiser, hybrid bike, mountain bike, road bike, and disc brake bike.
This article covers everything about accessories that you might need to get started riding with a bike trailer.
---
All of the needed accessories come with the bike trailer, including the hitch arm and coupler attachment. If a bike has disc brakes, an adapter can be purchased for around $60 to attach the coupler. In addition, bikes with hooded dropouts may need spacers to fit the coupler for around $10..
If you are riding with a child over 12 months old, you will need a child helmet. For children under 12 months old, you will need an infant insert or car seat.
There are a few important accessories you might need depending on the type of bike you have, which I've outlined below. I also recommend getting lights for your trailer to be more visible to cars and other cyclists.
---
Accessories for different types of bikes
Most bikes are compatible with all major bike trailers for kids, including road bikes, mountain bikes, cruiser bikes, hybrid bikes, e-bikes, and even disc brake bikes. Bike trailers come with all the needed attachments right out of the box, including the hitch arm, coupler attachment, and security pin.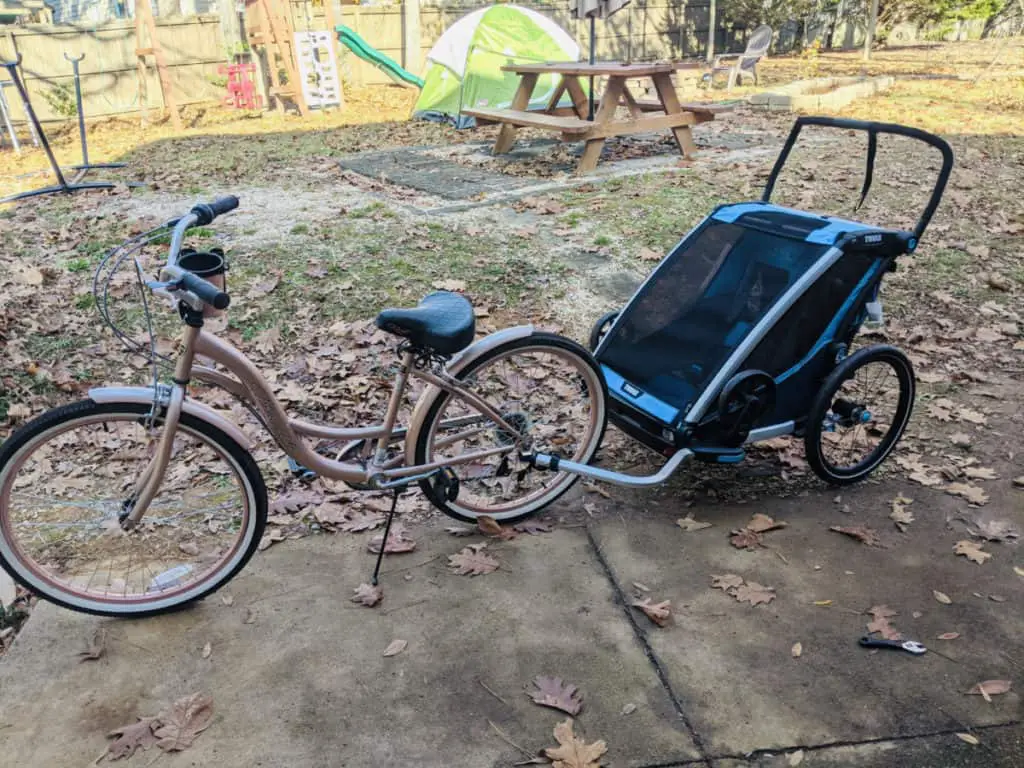 A common issue that you might come across when attaching a bike trailer is if you have a thru-axle disc brake bike, in which case you may need to get an adapter.
Adapters for disc brakes
Most bike trailers are compatible with disc brake bikes right out of the box, unless you have a 12mm thru-axle. In particular, Burley and Thule bike trailers will likely require you to purchase an extra attachment in order to adapt the bike trailer hitch to work with a 12mm thru-axle.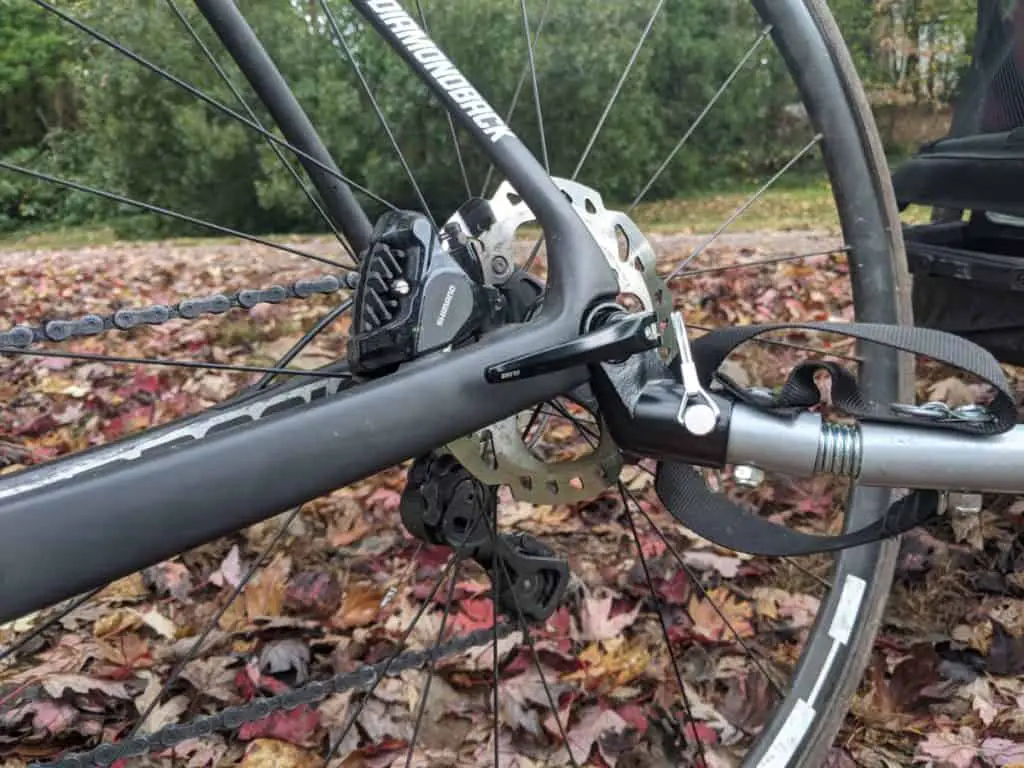 The issue with thru-axle disc brakes is that there are so many different sixes of thru-axles that it is very difficult for bike trailer manufacturers to keep up with it.
I've made a complete guide on how to attach a bike trailer to disc brakes. Check out that guide here.
Adapters for hooded dropouts
Hooded dropouts refer to a style of frame that comes out a bit over the axle hole. If you have hooded dropouts and your bike trailer coupler does not fit, then you will need to purchase spacers to allow enough clearance to attach the coupler. Depending on the trailer brand, there are a few options available for spacers.
See this complete guide on what spacers you will need for your hooded dropouts.
---
Helmets for kids
The industry-wide recommendation is that children aged 1 and up should always wear a helmet while riding in a bike trailer, regardless of local laws. However, it is not recommended that infants under 1 year of age wear a helmet because it adds additional weight to the neck and places the head in an uncomfortable position.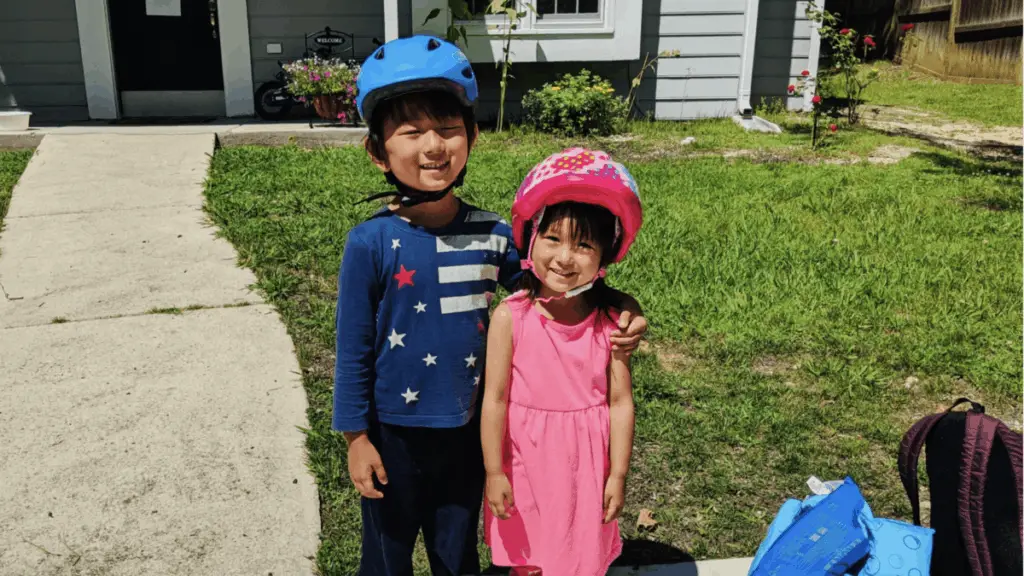 However, not all parents agree with this recommendation and even the bike trailer industry does not recommend using helmets under some circumstances.
You may be surprised to hear that there are several reasonable objections that some parents have to helmets on kids. While they are legitimate, it is important to educate children on the importance of safety at a young age.
I wrote this article about the pros and cons of kids using a helmet in a bike trailer. Check out that article here.
Here's a guide on riding with infants.
---
Lights for extra visibility
Flashing lights are highly recommended when riding with a bike trailer, especially when riding near cars. Especially when riding in the evening or in the winter months, lights are a must.
Even when riding during the day, it's important to have flashing lights at the front and rear of your bike to make sure that cars and other cyclists see you. This is especially important if you are riding in a city with lots of cars and pedestrians.
Front light
A good front light has different options to either flash or stay on. When riding in the day or early evening, use the flashing function. When it's completely dark, just keep the light on without flashing.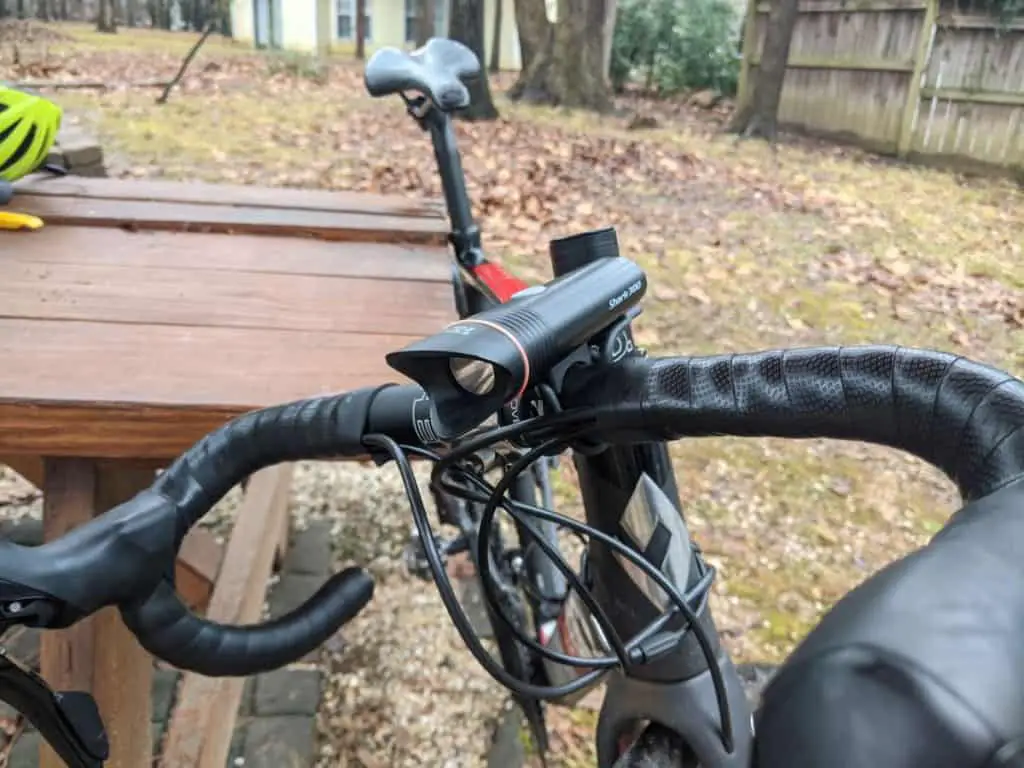 You will also want to make sure that your front light can be charged by USB, rather than powered by disposable batteries. You should be charging your lights at the end of every day, so USB charger is the way to go.
I have been using this front light from Cycle Torch for many years without any issues. It's super bright and has multiple flash frequency settings.
Rear light
The rear light should also have different flash options. You will definitely want to keep your rear lights on at all times when riding around cars or in the evening. A good rear light will be powered by a USB-chargeable battery, rather than disposable batteries.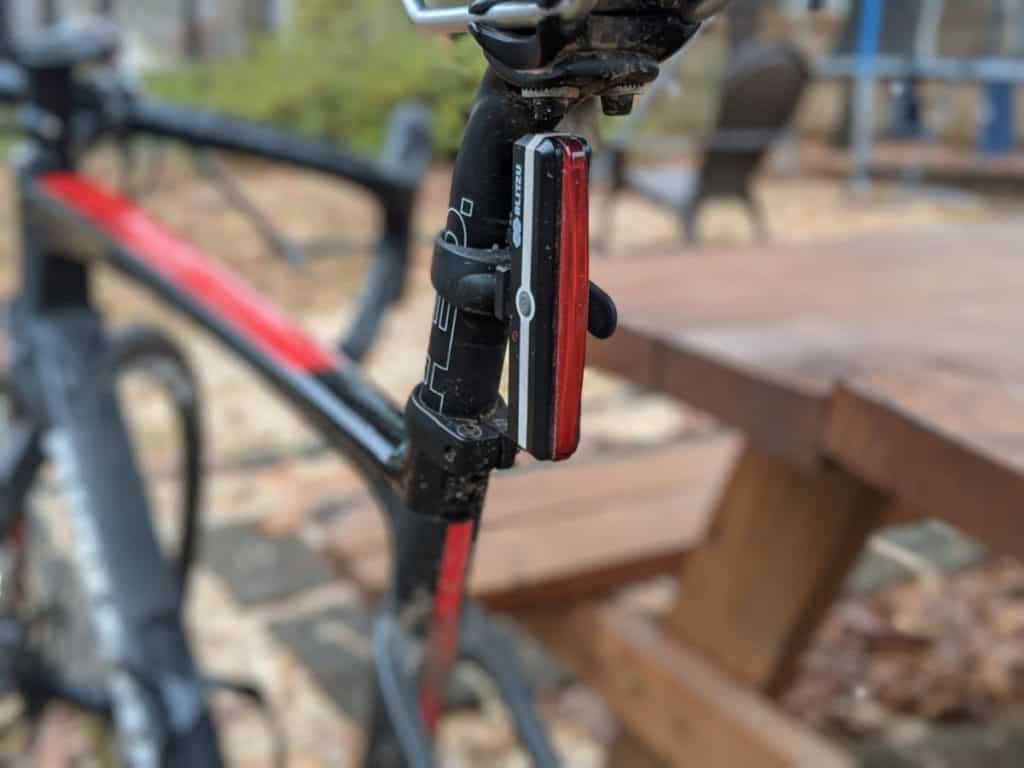 This rear light by Blitzu has never let me down through dark winters and freezing rain. It has different flash options, such as a rapid flash or a steady flash. It is also rather bright. Not dim at all for more than four years of constant use.
---
What kind of bike should you use?
Bike trailer manufacturers do a pretty good job at making sure their trailers are compatible with any type of bike that you might have.
Bike trailers use a hitch arm and coupler attachment that can easily attach to any kind of bike, including road bikes, mountain bikes, cruisers, hybrid bikes, e-bikes, and even thru-axle disc brakes.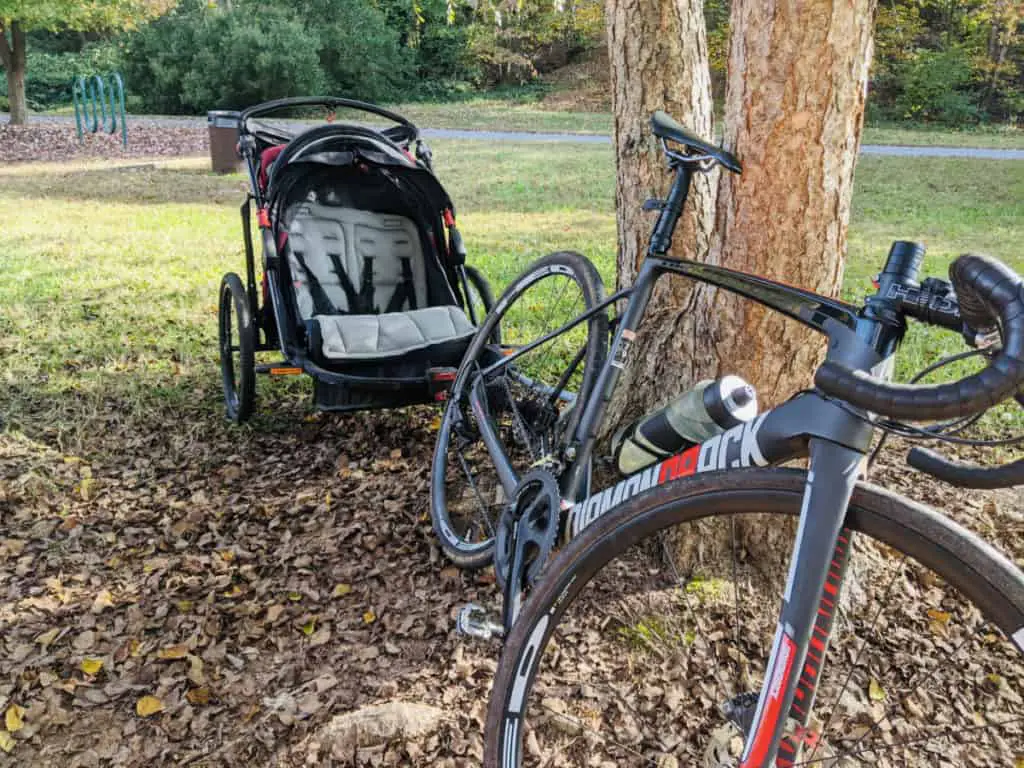 If you have an option to choose which bike to pull a trailer with, my recommended bike of choice is definitely a road bike. Road bikes offer more power that is transferred to your legs through the road bike's riding position.
I put together this article on pulling a bike trailer with a road bike, which you will find helpful.
---
Conclusion
You really don't need much to get started with riding with a bike trailer. All it takes is a working bike and the bike trailer itself. If you happen to have disc brakes on your bike, then you'll probably need to get an adapter, which you can learn more about here.
When riding with kids, you'll need to consider getting helmets, depending on their ages. Also, getting some lights for your front and rear visibility will not hurt.
Need help finding the right bike trailer?
If you need help finding the right bike trailer for you, my recommended trailer for most people is the Swhinn Joyrider, which is an affordable double-seater that converts beautifully to a stroller. Check out my full review with photos here.
Check out the Ultimate Guide to Buying a Bike Trailer for more help with choosing a trailer. I also have compiled a list of the top bike trailers for every common situation, which you can check out here.
Ride on!